I'm not sure what it is, but this week I have caught myself on the train daydreaming about sweets on more than one occasion. Sometimes I wonder what it would be like if the people I ride the train with could hear my thoughts. Yesterday, the woman on my left would have heard a buttery biscuit stuffed with juicy, roasted strawberries and whipped cream; and this morning, the man on my right, a moist, nutty carrot cake with rich cream cheese frosting and a fudgy chocolate brownie with salty caramel sauce. I'm not sure what it is, but I think maybe, just maybe, these 'sweet thoughts' are my brain's attempt to resist all of the "New Year's" diet advertising flooding TVs, magazines, and websites.
Because I too indulged a bit over the holidays, today I'm surrendering myself to the "New Year, new you" campaign with a light, easy, veggie focused dinner. I do love veggies and their ability to make you feel great.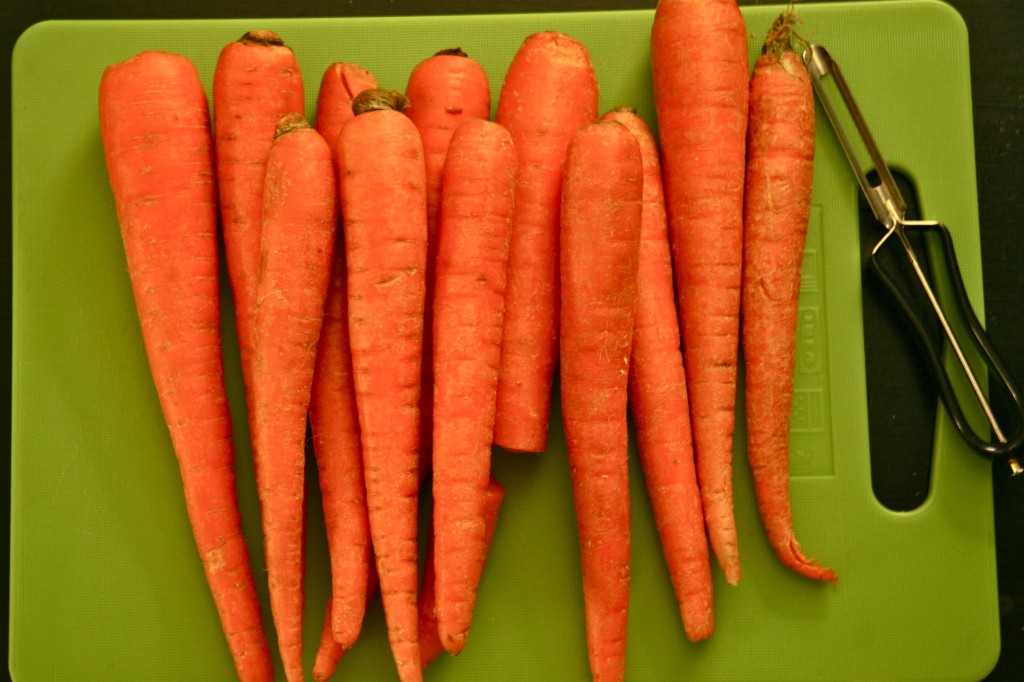 I chose this Carrot Ginger Soup for a number of reasons:
I really like making soup because I think the leftovers are perfect to bring to work for lunch.
It has very few ingredients and requires only a couple of dishes and one pot, which is something those of us without dishwashers love.
Carrots have been long associated with eye health, and anyone around me knows that I have been obnoxiously complaining about my weakening vision. If I tell my boyfriend, Greg, one more time that I can't see the score on the TV, the same TV I told him I couldn't see the score on the night before, and the night before, and the night before, I fear even the best gentleman may change the locks on the door!
So, with that, I give you the Carrot Ginger Soup I'll be enjoying the rest of the week. It's not necessarily groundbreaking, but is a great addition to the weeknight rotation a few times a year and would also be excellent as a first course at a dinner party.
I promise I'll also post something sweet this week to satisfy my cravings (and maybe yours!). If I don't, I'm afraid next time I might daydream so long I miss my stop!
Carrot Ginger Soup
Author:
Prep time:
Cook time:
Total time:
Ingredients
4 tablespoons butter
2 onions, peeled and chopped
2 pounds carrots, peeled and sliced
2 1/2 tablespoons grated fresh ginger
6 cups chicken broth
1 tablespoon soy sauce
Salt and pepper
Sour cream or Greek Yogurt, for serving (optional)
Scallions or chives, sliced thin, for serving (optional)
Instructions
Melt the butter in a large pot or Dutch oven. Add the onions, cover and cook over low heat until tender and lightly colored. About 25 minutes.
Add carrots, ginger and 4 cups chicken broth and bring to a boil.
Reduce heat, cover and simmer until carrots are very tender, about 30 minutes.
Either puree soup in batches with a blender or food processor or use an immersion blender right in the pot. Blend until smooth. If using a blender, return the soup to the pot.
Add soy sauce and 1-2 additional cups chicken broth to reach desired consistency. Season with salt and pepper and garnish with sour cream and scallions or chives.