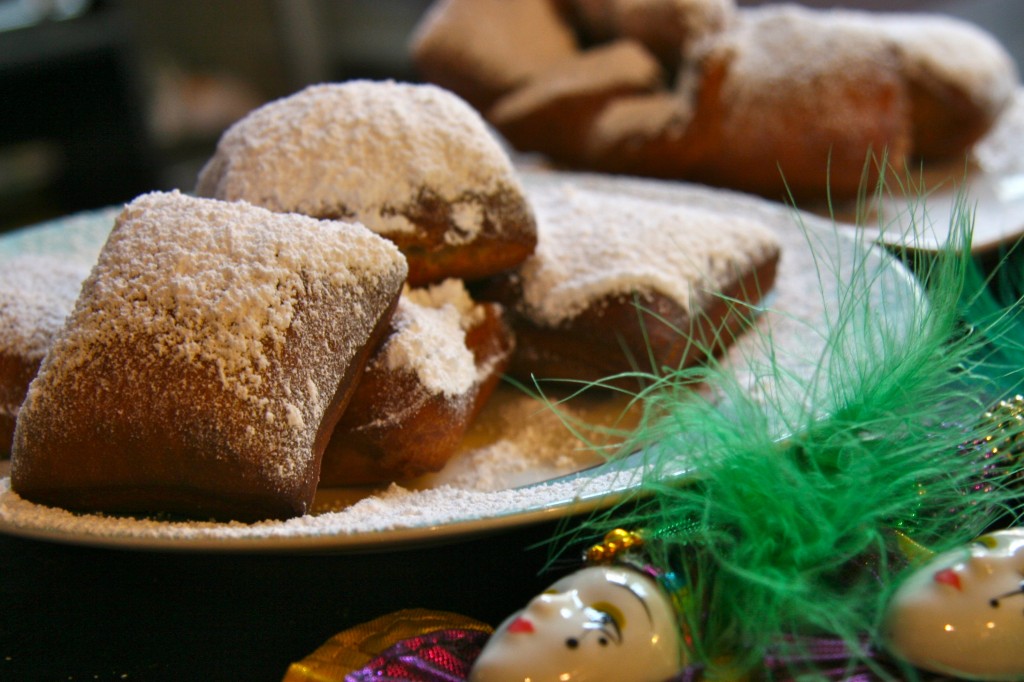 One year ago today Greg and I took our first real trip together. We were excited for a break from another frigid Boston winter, but we were more thrilled to go on an adventure in a city that has earned dozens of honors as "top U.S. city for food lovers." It's a city known as much for its parties as for its cuisine—The Big Easy; New Orleans.
Our long weekend was filled with food and fun. We listened to great jazz music on Frenchman Street, walked down the lively Bourbon Street, and watched the first Mardi Gras parade of 2013. Had a French 75 at the bar where it was created, explored voodoo shops and museums, and ate French Creole dishes at John Besh and Emeril Lagasse restaurants—as well as at tiny family run joints. We tried our first po' boys, gumbo, couchon, king's cake, and pralines. We did it all, but one of the most memorable parts of the trip was eating beignets covered in mountains of powdered sugar at the famous Café Du Monde.
Located on Decatur Street in heart the French Quarter, on the banks of the Mississippi river, Café Du Monde is the premier spot to get the classic French fried dough treat. Throughout our stay, whenever we passed their green and white awnings, Café Du Monde had a line that snaked around for at least half-a-block. We were lucky to catch an opening one sunny morning and enjoyed cafés au lait with a plate of hot rectangular beignets piled high with powdered sugar. It took every ounce of self-control for me not to blow the mound of powdered sugar across the table like snow. The texture of the beignet is a cross between an old-fashioned donut and fried dough. If you ever travel to New Orleans, I encourage you to add a trip to Café du Monde to your To-Do list.
To pay homage to our trip, I made my first batch of beignets thismorning. This recipe is adapted from a cookbook recently added to our collection, Family Table, by Michael Romano and Karen Stabiner. I had to prepare the dough last night to give it ample time to set.
beignets
Author:
Prep time:
Cook time:
Total time:
Ingredients
1 1/2 teaspoons active dry yeast
2 3/4 cups all-purpose flour
1/3 cup sugar
3/4 teaspoon salt
3 large eggs
1/2 vanilla bean split, seeds scraped out and reserved OR 1/2 tablespoon vanilla bean paste or extract
4 tablespoons unsalted butter (1/2 stick), at room temperature
Peanut oil, for frying (I have been told Canola works as well but can't vouch for any differences it may have)
1 cup confectioners' sugar for finishing
Instructions
Sprinkle the yeast over 2 tablespoons warm water in a small bowl and let stand for 10 minutes, or until foamy.
In the bowl of a stand mixer fitted with a whisk attachment, sift together the flour, sugar, and salt.
Change the mixer's attachment from whisk to dough hook and add in the eggs, yeast mixture, and vanilla. Mix on medium speed for 10 to 15 minutes. The dough will be sticky at first and then it will come together around the dough hook.
Reduce the speed to low, add the butter, and mix until it is incorporated, about 5 minutes.
Put the dough on a floured plate, cover with plastic wrap, and refrigerate at least 8 hours, preferably overnight.
Line a baking sheet with parchment paper. On a floured surface, roll out the dough to a ¼ inch thick rectangle. Cut the dough into 2×4 inch rectangles. Make a 1-inch vertical slit in the center of each piece and tuck one end of the rectangle through the opening to make a twist (I made some twists and some without).
Arrange the beignets on the baking sheet and let rest in the refrigerator for at least 10 minutes, up to 1 hour.
In a large deep saucepan, heat 2 inches of peanut oil over high heat until it reaches 350 degrees on an oil thermometer. Fry the beignets 2–3 at a time, to avoid crowding, for about 2 minutes on each side, until golden brown. Remove with a slotted spoon or wooden chop stocks and drain briefly on paper towels.
Shake confectioners sugar over the warm beignets and serve immediately.