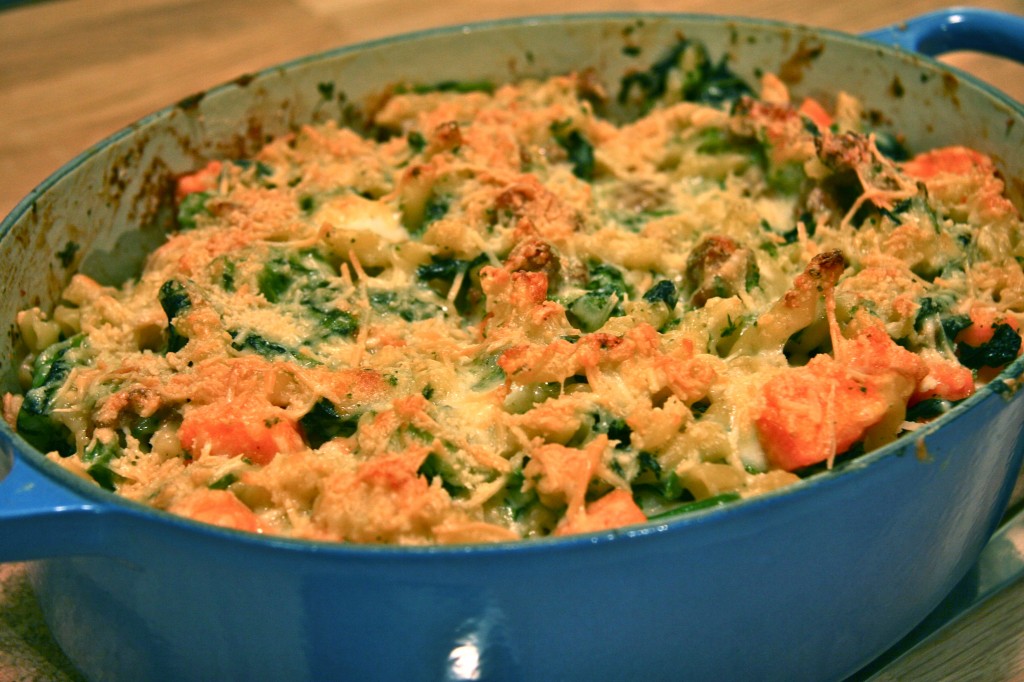 I like Boston seasons. Snow is so pretty. Winter isn't too long…
My brain has been trying to convince my body all of these things are true as I shiver through layers of blankets with my hood up and cinched. The unpredictable temperature is taking its toll.
Much to our frustration, we haven't been able to seek refuge from the cold within the ~500 sq. ft. of our apartment: old building + broken heaters + -10 degree weather outside = 40 degree weather inside. Because of this, I've been craving every warm food that fits into the "comfort food" category; a category that baked pasta certainly is part of. I've started relying on baked pasta as a meal that re-heats well throughout a busy week (and as a way to warm me up when no more layers will do!).
My current recipe of choice, adapted from The Smitten Kitchen, has just the right combination of gooey, creamy pasta on the bottom and crispy, cheesy burnt bits on top. Greg and I both go directly for the burnt bits. I try making myself feel better about the heavier béchamel base by always adding different vegetable combinations. Broccoli's slightly bitter brother, broccoli rabe, is a great choice because it holds up pretty well to cooking. It also has a nicely contrasting flavor to sweet additions like yam or butternut squash. If you can't find broccoli rabe, regular broccoli works just fine. Every time I make this I use a combination of sweet and hot Italian sausage. I find a touch of spice is well received.
The Smitten Kitchen recipe suggests multiplying the cheese and béchamel by 1 ½ if you prefer your baked pasta creamier. To me, this one is just perfect.
I'll continue it to make through the rest of winter, even with our new working heaters!
baked pasta with broccoli rabe and sweet potato
Author:
Prep time:
Cook time:
Total time:
Ingredients
Pasta and assembly—
1 pound chunky pasta of your choice (I prefer anything that sauce can sneak into)
1 bundle broccoli rabe, stems and leaves cut into 1-inch segments
1 cups diced sweet potato or yam (1 large potato peeled and diced into ¾ inch cubes)
1 pound Italian sausage (sweet or spicy pork or chicken), casings removed
2/3 cup grated parmesan or pecorino romano cheese
6 ounces mozzarella, cut into small cubes
Bechamel—
2 cups milk, full fat is ideal (I used 2%)
4 tablespoons unsalted butter
1/4 cup all-purpose flour
1/2 teaspoon table salt
Freshly ground black pepper
2 cloves garlic, minced
Few gratings fresh nutmeg
Instructions
Cook the pasta, rabe, and yam: Bring a large pot of well-salted water to a boil. Add pasta and five minutes before its cooking time is up, add the broccoli rabe and sweet potato. It will seem like too much for the water, but with a stir or two, the rabe should wilt and cook alongside the pasta. Drain the broccoli rate, sweet potato and pasta together and place in a large bowl.
Cook your sausage: Meanwhile, heat 1 to 2 tablespoons olive oil in a large, wide saucepan (you will use this for the bechamel in a few minutes; you could also use your pasta pot, once it is drained) over medium heat. When hot, add the sausage, breaking it up with a wooden spoon until it starts to brown, about five minutes. Remove with slotted spoon or spatula, leaving any fat behind. Eyeball the drippings (pork sausage will leave some; chicken usually does not) — use one tablespoon less butter next if it looks like there's a tablespoon there. Any less, don't worry about adjusting the butter.
Heat oven to 400 degrees.
Make the bechamel: Melt your butter in same saucepan over medium heat. Once melted, add your flour and stir it into the butter until smooth. Cook the mixture together for a minute, stirring constantly. Pour in a small drizzle of your milk, whisking constantly into the butter-flour mixture until smooth. Continue to drizzle a very small amount at a time, whisking constantly. Once you've added a little over half of your milk, you'll find that you have more of a thick sauce or batter, and you can start adding the milk in larger splashes, being sure to keep mixing. Once all of the milk is added, add the salt, garlic, nutmeg, and few grinds of black pepper, and bring the mixture to a lower simmer and cook it, stirring frequently, for 10 minutes. Taste and adjust seasonings if needed.
Assemble and bake: Add the sausage and bechamel to the bowl with the pasta, broccoli rabe, and sweet potato. Stir in mozzarella and half of grated parmesan or pecorino until combined. Pour into a deep 9×13-inch baking dish or 3-quart casserole dish and coat with remaining parmesan or pecorino. Bake for 20 to 30 minutes, until the edges are nicely bronzed.
Eat warm. Reheat as needed