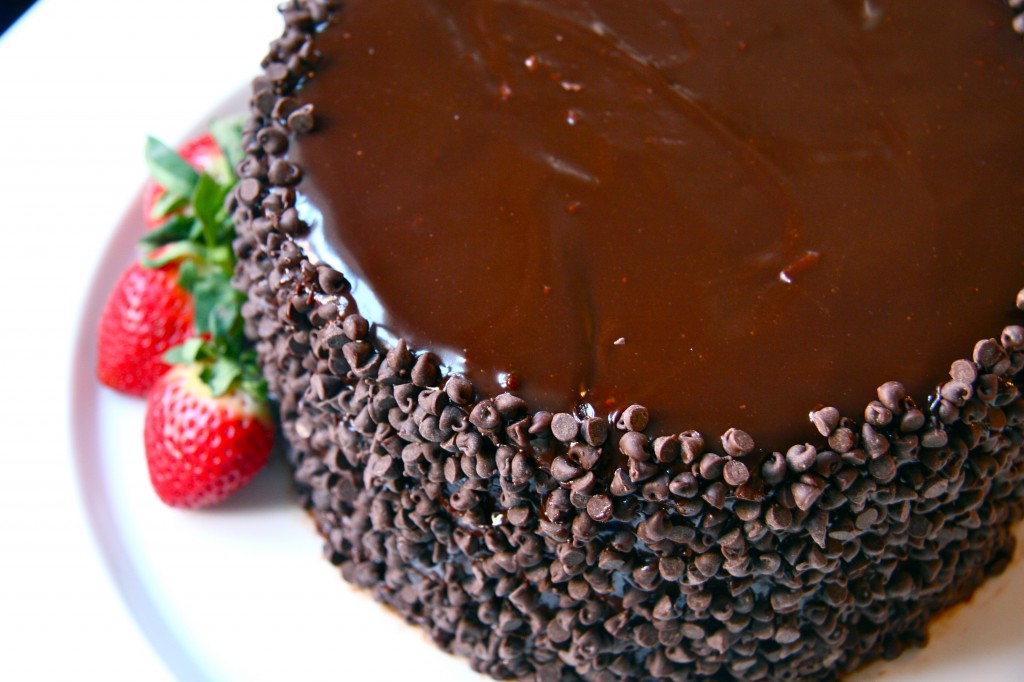 I was talking to my mom a couple weeks ago and told her I was about to make aunt Olga's cake—a layered torte that my chocolate-loving aunt frequently brings to family events. It's one of those cakes that shouts celebration; so decadent that just a sliver will do – alongside other holiday desserts, of course.
In this case, it was a Tuesday and the only thing Greg and I were celebrating was finishing the second season of Breaking Bad. My mom knows more than anyone that when I get a project in my head, I'm often set on executing it immediately. Luckily, on this specific Tuesday, she reminded me there was a perfect reason to wait to make this cake (much to Greg's chagrin). My aunts were hosting a dinner just a week later to celebrate the many January and February birthdays in the family.
This cake deserved so much more than to sit on our apartment counter. It was party worthy.
If you like brownies, even a little bit, you'll love this recipe.
The flourless chocolate cake is rich with lots of finely ground pecans added to the batter for texture. The layers can be made up to two days ahead and will stay moist in the refrigerator. Once assembled, they are separated by a fresh strawberry buttercream, a welcome balance to the fudge layers (the buttercream can also be made ahead).
Finally, the entire cake is covered in a smooth chocolate ganache for prettiness. I can promise you it stays good for days after it's made, as we've been nibbling on our doggie bag slices since the party.
**Unrelated note: I created an Instagram account for the site. If you have any interest in seeing some recipe previews or outtakes from my food adventures, you can follow @butterlc!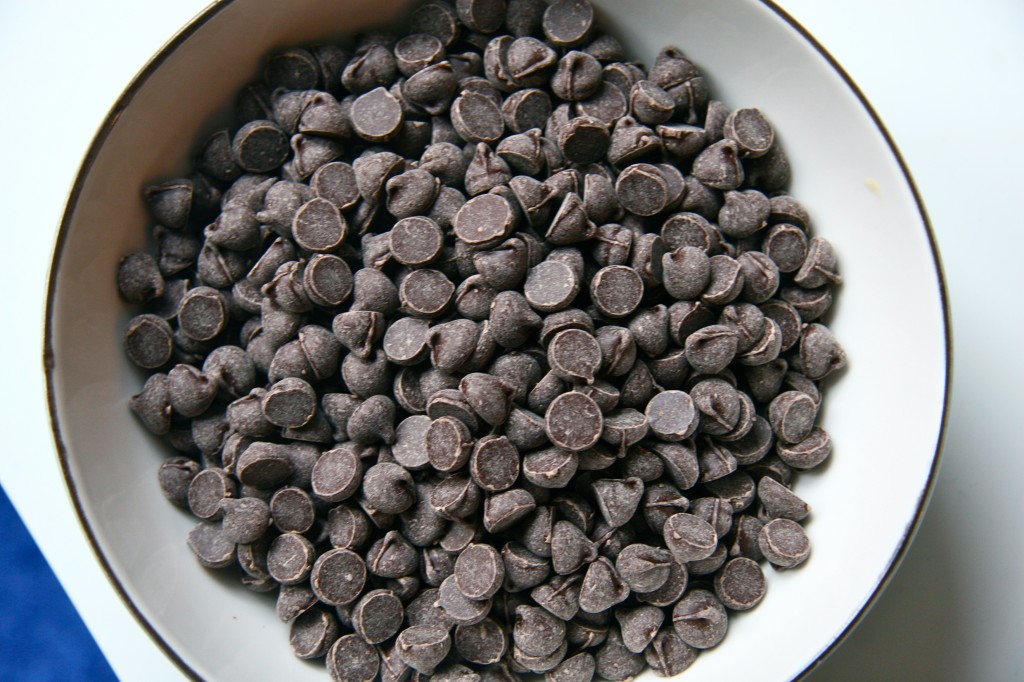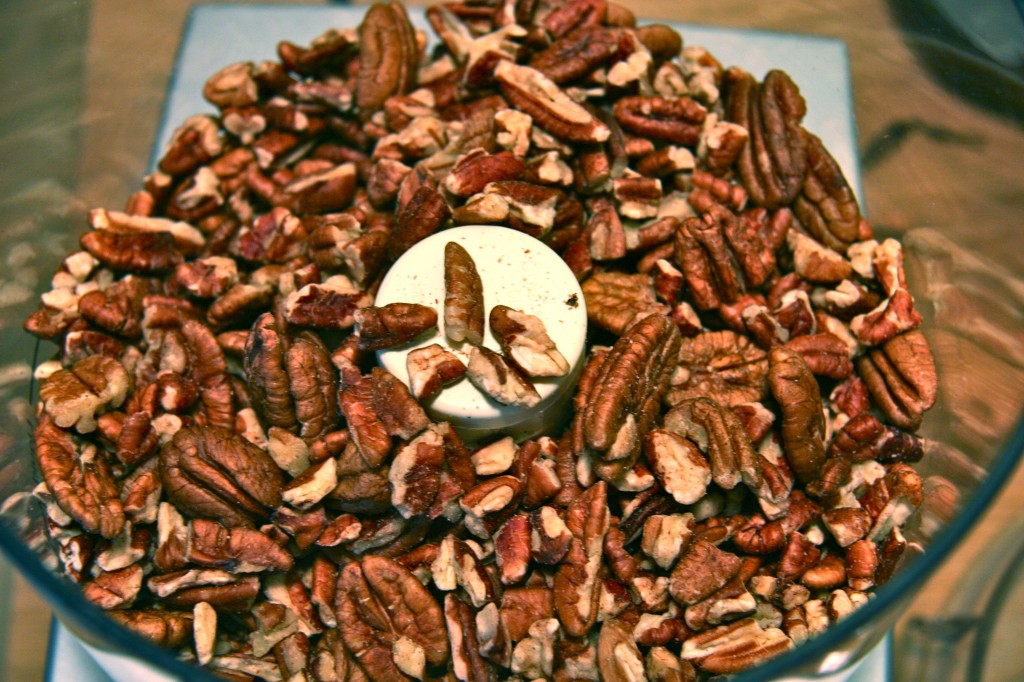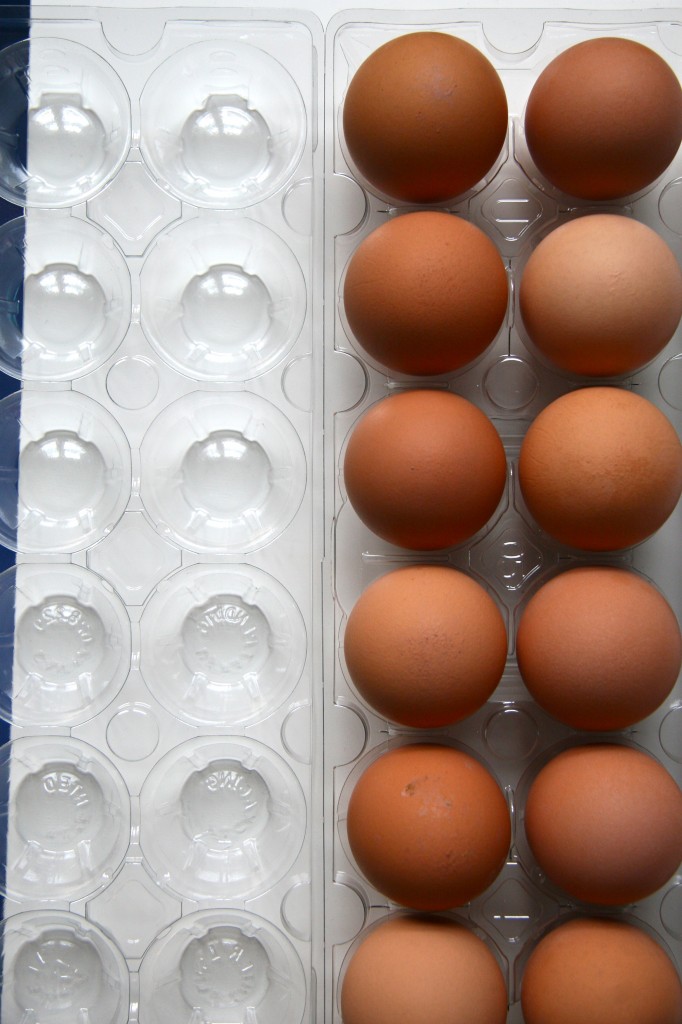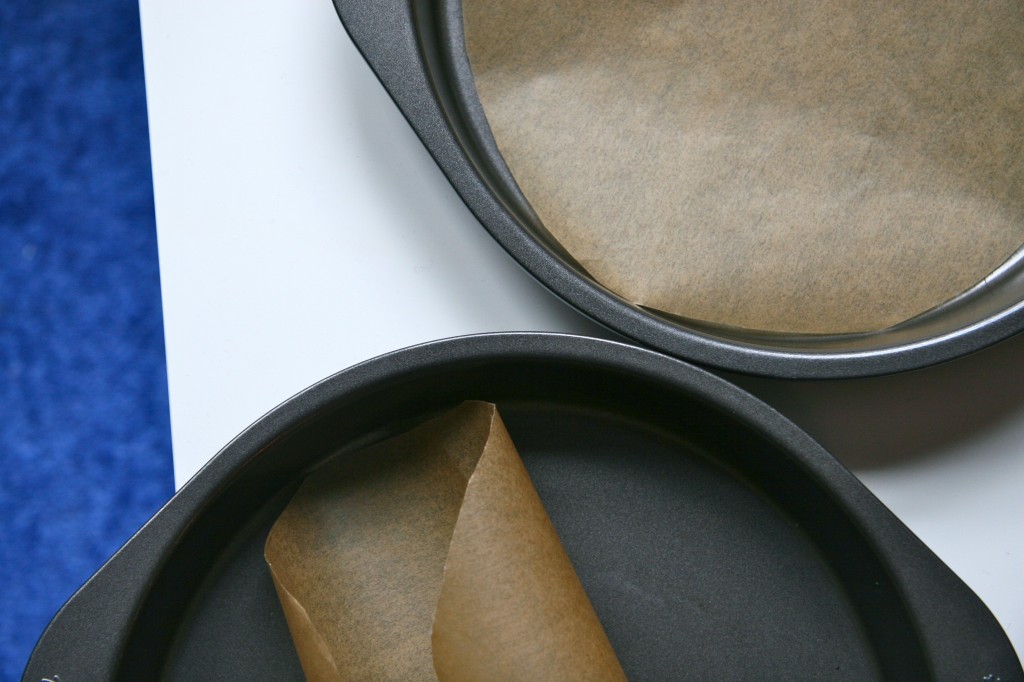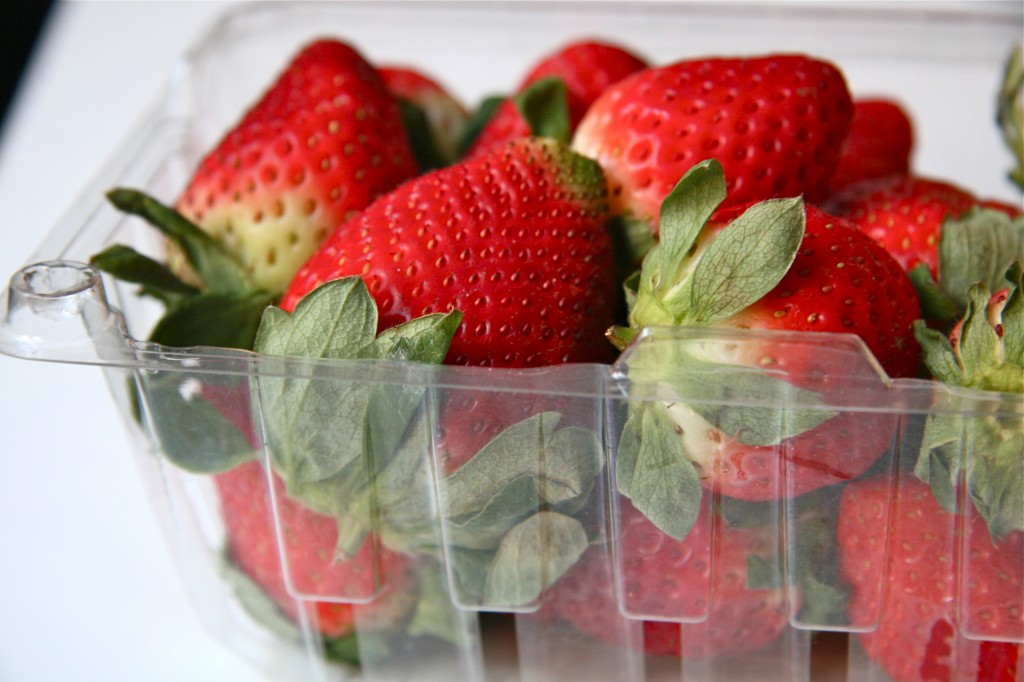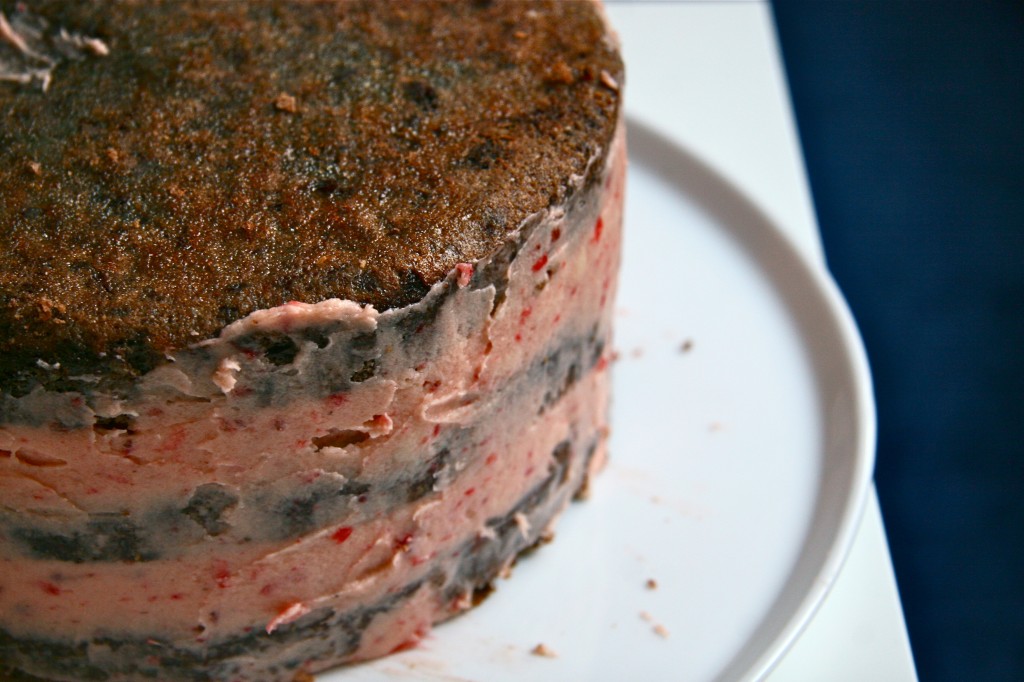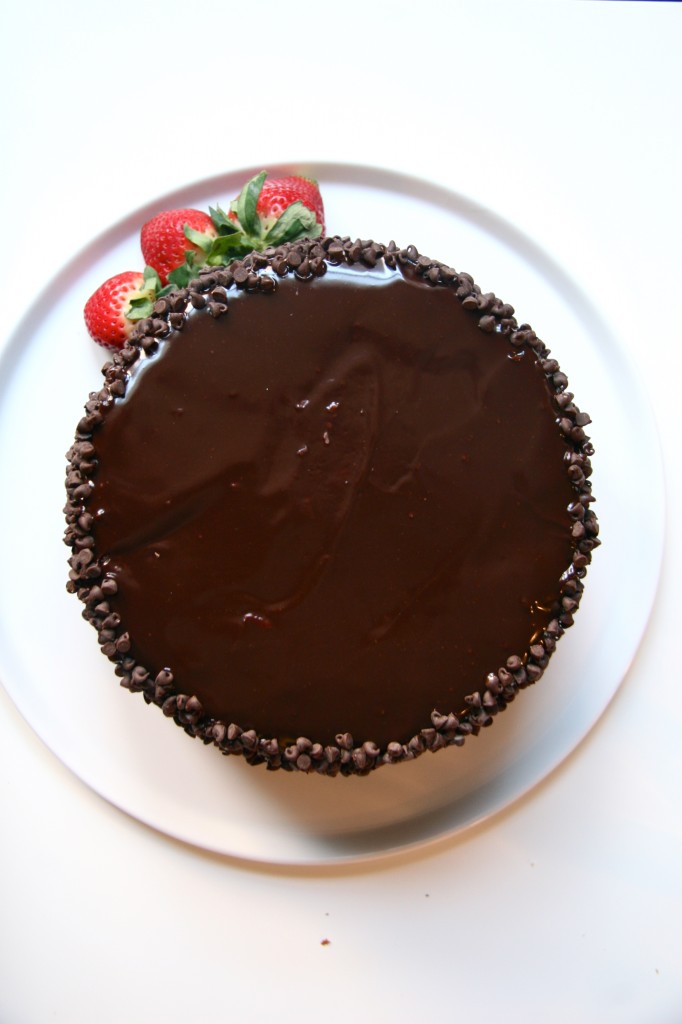 chocolate pecan torte with strawberry buttercream
Author:
Ingredients
——-For the Cake:
1 1/2 sticks unsalted butter room temperature
2 cups sugar
8 eggs
2 tablespoons vanilla
1/4 teaspoons salt
12 ounces good chocolate melted
3 1/2 cups pecan halves, very finely ground
——-For the Strawberry Buttercream (makes about 2 ½ cups):
2 1/2 sticks of butter, softened slightly
2 cups powdered sugar
4 egg yolks
1/2 cup pureed strawberries
3 Tablespoons strawberry preserves
——-For the Chocolate Ganache:
1 ¼ cup semisweet chocolate roughly chopped
1 cup heavy cream
2 tablespoons butter
1 1/2 cups mini chocolate chips, chilled, for covering cake sides (optional)
Instructions
Make the Cake: Preheat oven to 375. Butter three 9 inch round cake pans, line with parchment and butter parchment. Cream the butter until light, add the sugar and cream until light and fluffy. Beat in eggs one at a time, add vanilla and salt. Using rubber spatula, stir in chocolate and then pecans. Divide batter among the pans and bake until toothpick comes out fudgey but not wet, about 22 minutes. Top may crack. Cool for 5 minutes in pan, run knife around edge, invert onto rack and cool completely. May be done 2 days ahead, Wrap each layer in plastic and refrigerate.
Make the Buttercream: Cream butter and sugar until light and fluffy. Add egg yolks, then pureed berries and preserves. Cover tightly and refrigerate until set. May be made two days ahead. Let soften at room temp until spreadable.
Make the Ganache (wait to make this until you assemble the rest of the cake): Place the chopped chocolate in a medium sized heatproof bowl. Set aside. Heat the cream and butter in a small saucepan over medium heat. (Can also heat the cream and butter in the microwave.) Bring just to a boil. Immediately pour the boiling cream over the chocolate and allow to stand, without stirring, for a few minutes. Stir gently (as you do not want to incorporate air into the ganache) with a spoon or whisk until smooth.
To Assemble: Arrange one cake layer bottom side up on a platter. Spread 1 cup strawberry buttercream over layer, Repeat with next layer and buttercream, ending with cake bottom side up. Cover and refrigerate for at least 6 hours. Pour ganache over center of cake, smooth out from the center allowing it to drip over the sides. Smooth with a pastry spatula or knife. If using, gently press handfuls of the cold mini chocolate chips against the ganache on the sides of the cake. Can be arranged one day ahead and refrigerated. Let stand at room temp for one hour before serving.