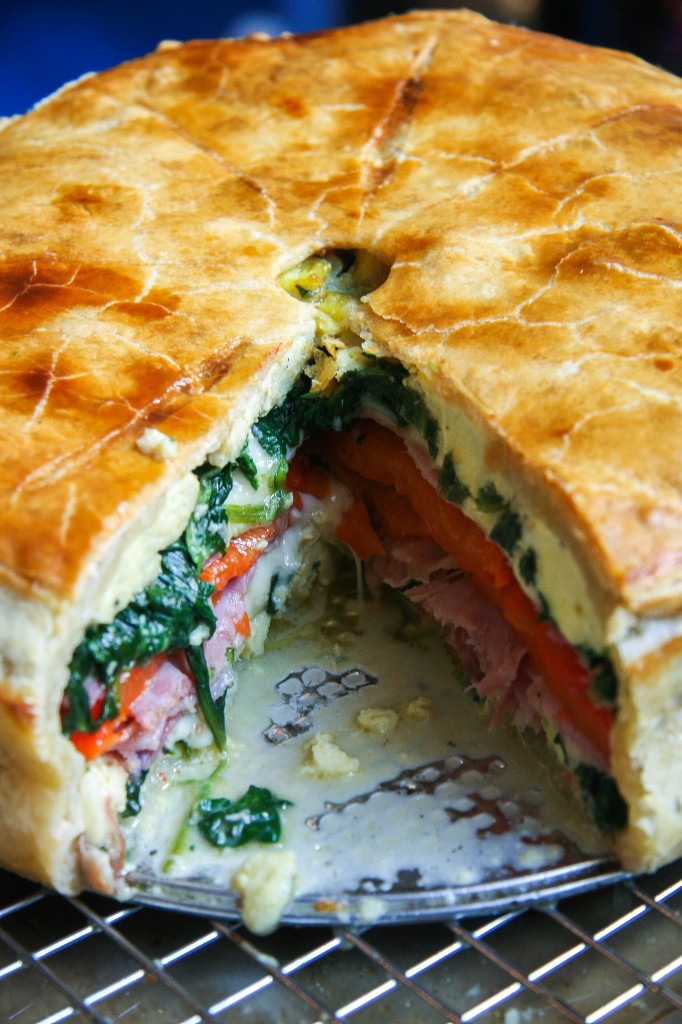 While brunching out is one of my favorite things to do—give me eggs 'beni' and a spicy bloody and I'm on cloud nine—there is something lovely about having brunch at home on a lazy weekend morning. It forces you and your company to slow down, catch up, and laugh into the afternoon with no real agenda.
Brunch, whether out or at home, often includes some sort of egg dish; a quiche, an omelet, the aforementioned eggs benedict, or, if you rewind to our apartment a few days ago, this Tourte Milanese. When flipping through cookbooks Saturday morning looking for a cookie recipe to make for Easter Sunday, I saw this tourte and said out loud "Oh!!! PRETTY! I'm making this!" Layers of herbed eggs, ham, cheese, spinach, and roasted red peppers all wrapped in a buttery puff pastry: it is a bold, beautiful thing. Little did Greg know, when I said I was making this, I meant I was making this this minute (not uncommon), and he was tasked as sous chef. The cookies had to wait.
This is a perfect recipe for brunch entertaining because you can prep and cook the entire tourte a day ahead and just bring it to room temperature or lightly warm in your oven before guests arrive. It saves you morning stress with the additional perks of extra shuteye, a tasty meal, and impressed friends.
At first glance, this tourte may look complicated, but it is really not hard to make at all. It has a few simple components that need to be prepared separately before assembly: scramble the eggs, sauté the spinach, and blister the red peppers under a broiler. The long instructions are only an illusion of difficulty, though I would suggest budgeting yourself a bit of time for the prep, chilling, and cook time.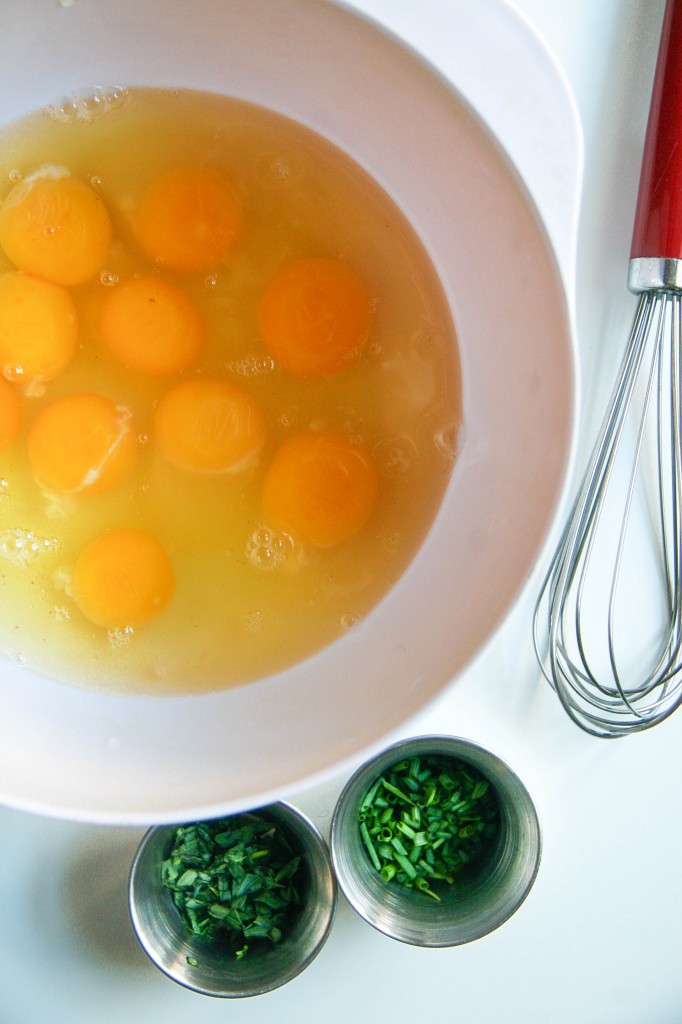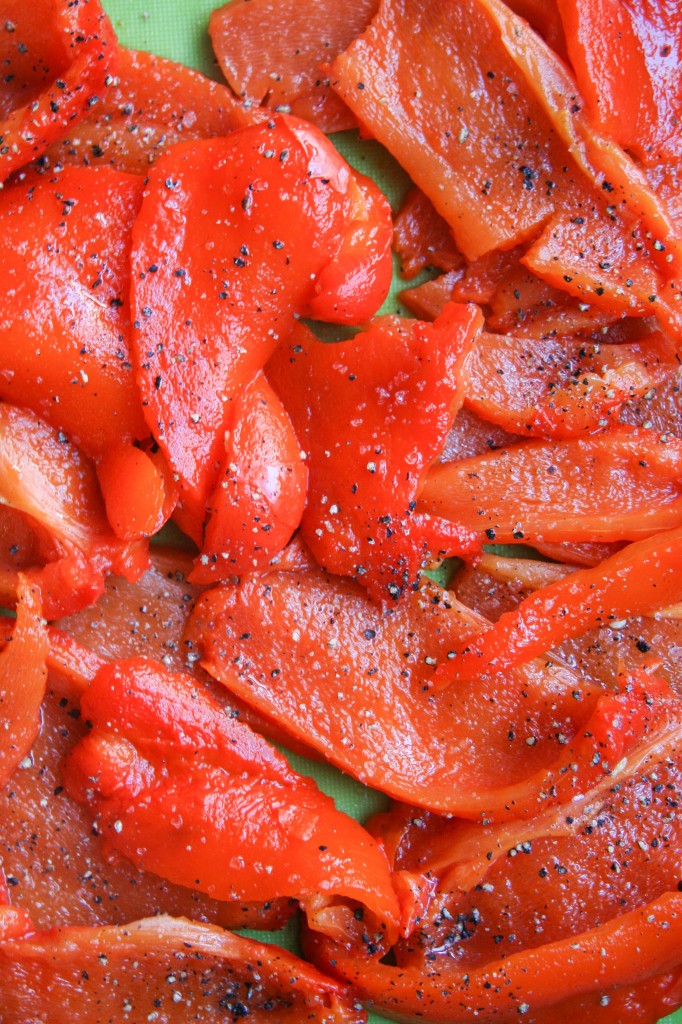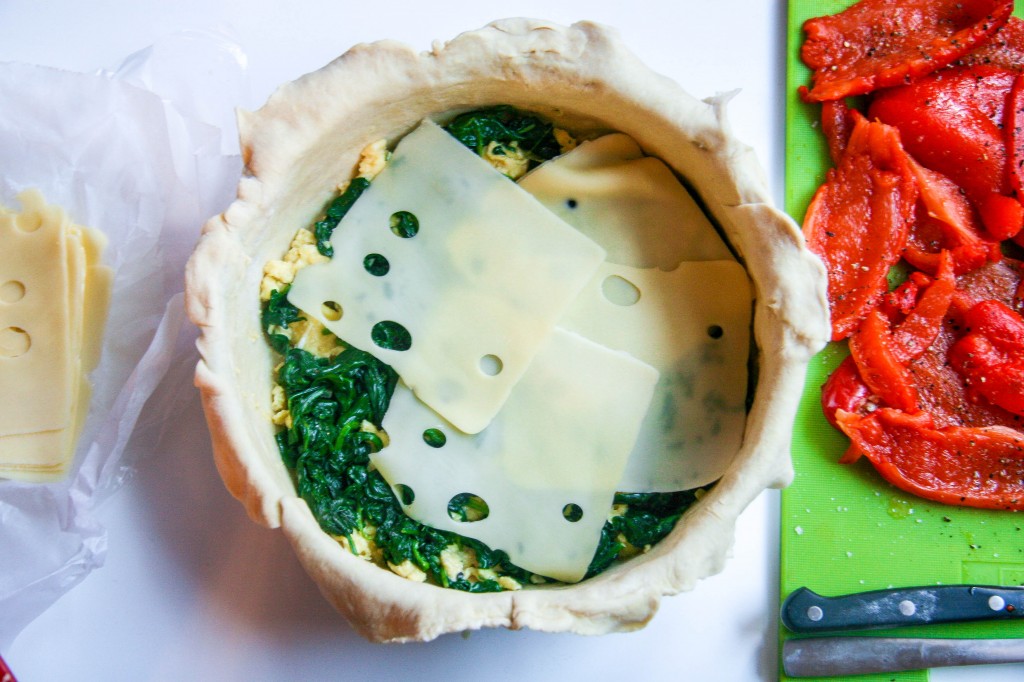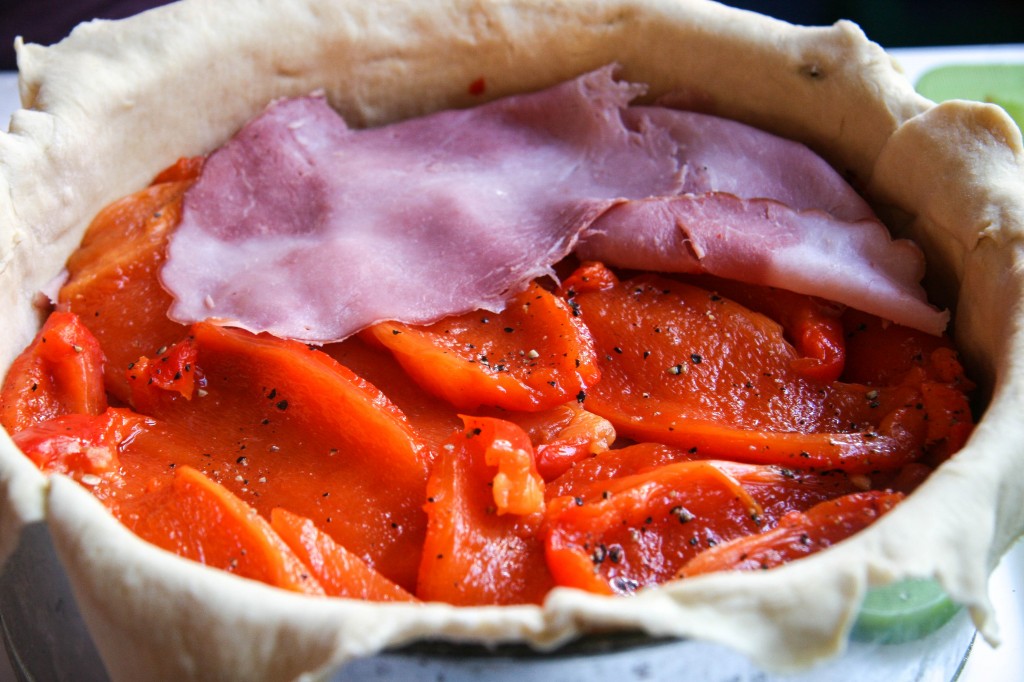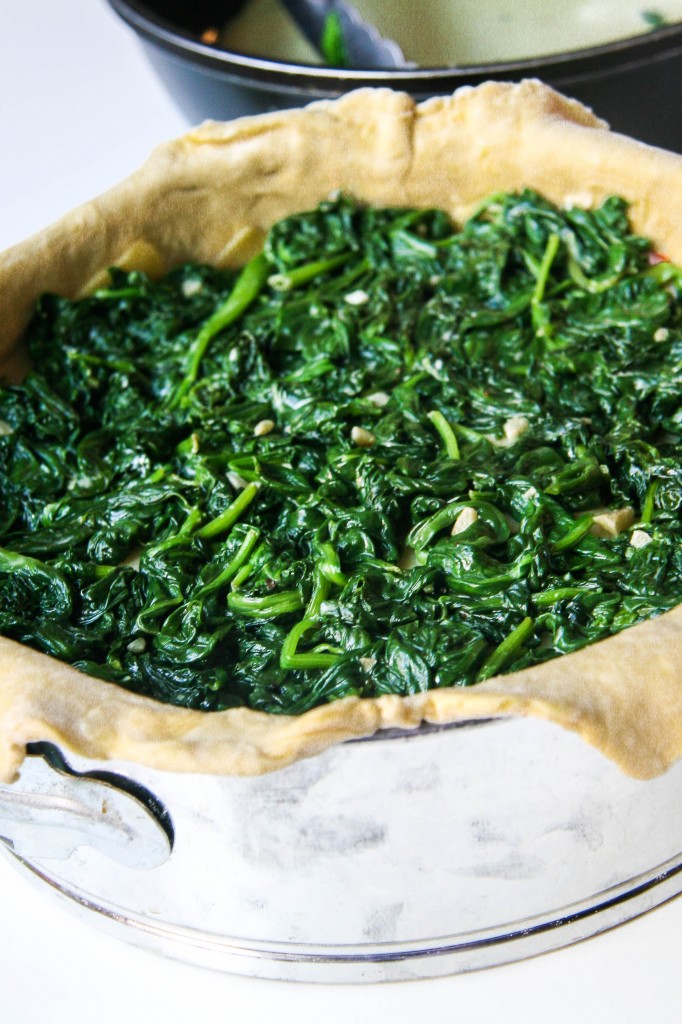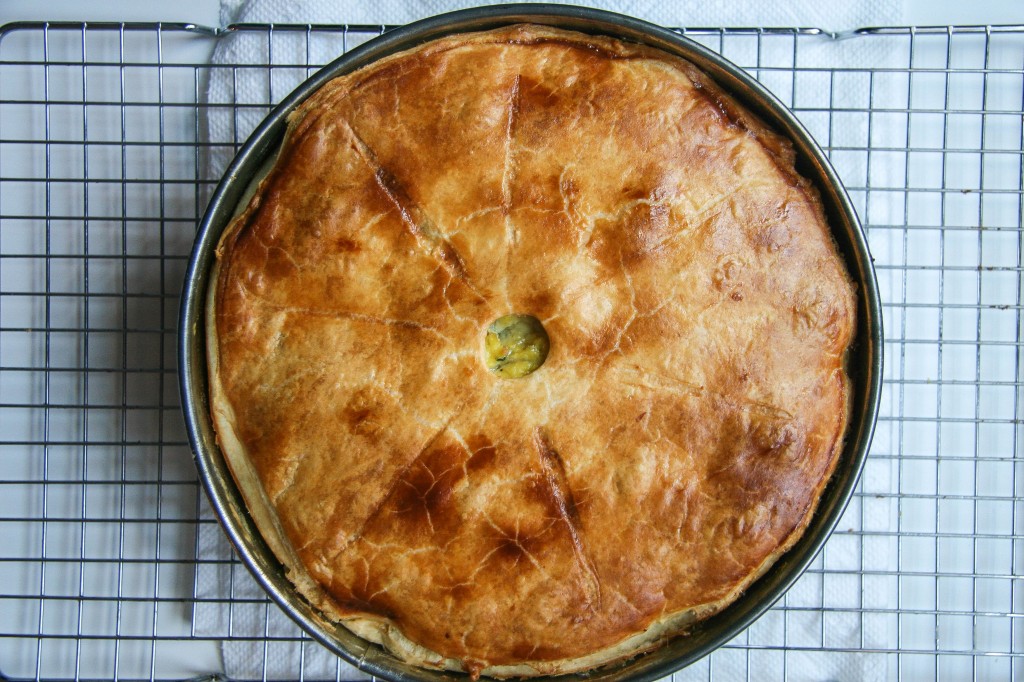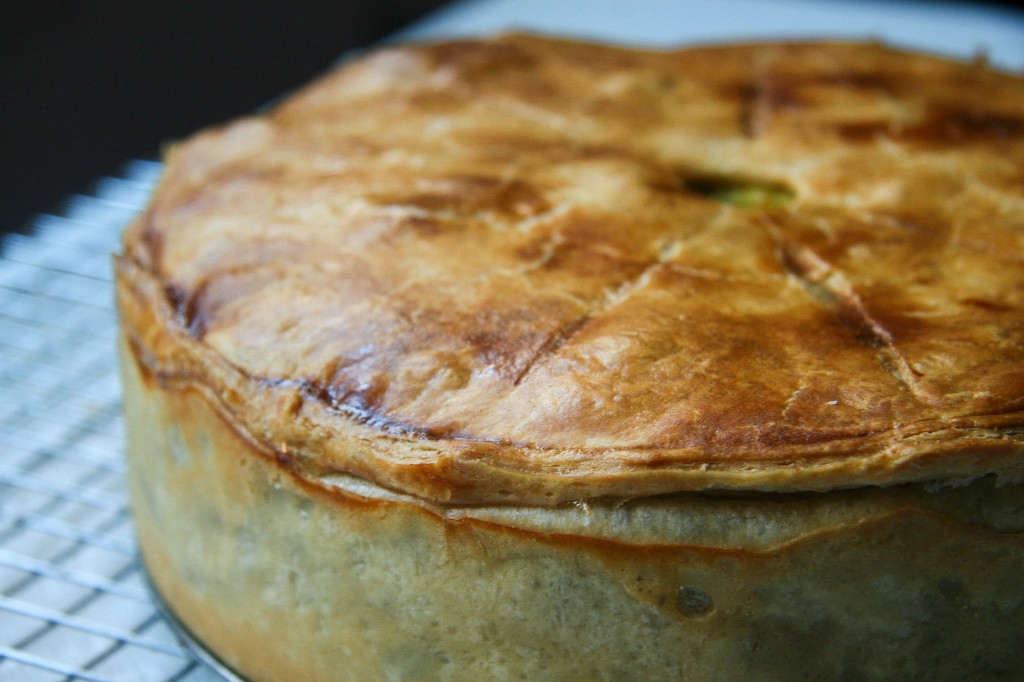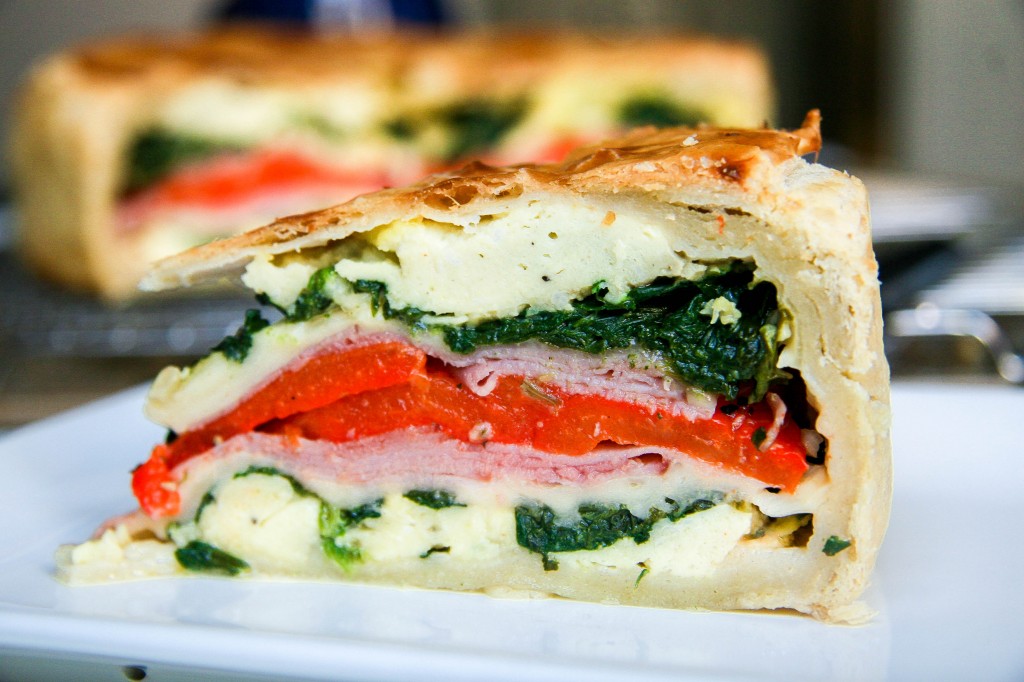 Tourte Milanese
Adapted from Michel Richard's recipe in Baking with Julia
Prep Time: 40 minutes
Chill Time: 30 minutes
Cook Time: 1 hour 10 minutes
Serves: 6–8
Ingredients:
1 pound puff pastry, homemade or store bought (If using store bought, it's often sold in 1.1 pound packages. This works great.)
4 large red bell peppers
salt and ground black pepper, to taste
4 tablespoons unsalted butter, divided
1 tablespoon olive oil
1½ to 2 pounds fresh spinach, trimmed
2 cloves garlic, minced
3 tablespoons heavy cream (optional)
½ teaspoon grated nutmeg
11 large eggs
1 tablespoon chopped scallions
2 teaspoons chopped chives
1 teaspoon chopped fresh tarragon
½ pound thinly sliced Swiss cheese
½ pound thinly sliced ham
1 egg beaten with 1 tablespoon water, for egg wash
Instructions:
Coat an 8-inch round spring form pan with butter or non-stick baking spray. Roll out ¾ of the puff pastry ¼-inch thick and line bottom and sides of pan leaving a 1-inch overhang. Roll out the remaining pastry into a ¼-inch thick circle (this will be the top of the tourte). Transfer onto a plate. Keep both pastries refrigerated while preparing the filling.
Prep Peppers: Turn on your oven broiler and fill a large bowl with cold water. Place the whole red peppers on a baking sheet and cook under broiler until skin begins to blister. Rotate peppers until all sides have blistered and then transfer peppers to the bowl of cold water. Using your hands, peel the skin off the peppers and discard. Remove the peppers to a cutting board, cut into flat 1 to 2 inch wide flat strips, trimming inside veins and discarding seeds. Set aside.
Prep Spinach: Heat oil and 1 tablespoon butter in a large skillet. Add spinach and garlic and sauté until spinach just wilts, about 3 minutes. Stir in heavy cream, if using. Season to taste with salt, pepper, and nutmeg. Remove from heat, set aside.
Prepare Eggs: In a large bowl, lightly beat all 11 eggs. Add the scallions, chives, tarragon, and salt to taste. Melt remaining 3 tablespoons butter in a large skillet over medium heat (you can use the spinach skillet, just remove spinach to a bowl, discarding extra liquid). Pour the egg mixture and stir briefly. As eggs start to set, lift edges so liquid can run under. Continue lifting and pushing the eggs to scramble until eggs are completely set but still moist (keep in mind they will be cooking further in the tourte). Transfer to a bowl, cover with plastic and let cool completely.
Assemble Tourte: Remove the lined pan from the refrigerator. Layer ingredients in following order: half of the eggs, half of the spinach, half of the cheese, half of the ham, all of the red bell peppers. Repeat layering in reverse order using the remaining ingredients. It need not be perfect. Fold the 1-inch overhang of puff pastry onto the top of the tourte and then brush the top of the pastry with egg wash. Remove the other circular pastry from refrigerator and place on top of tourte and seal edges with your fingers. Brush top with egg wash. With a sharp knife, cut a small hole in the center of the tourte as a vent. Cut any additional desired designs into the pastry, careful not to pierce through the dough entirely. Refrigerate assembled tourte for 30 minutes.
Cook Tourte: Position rack in lower third of oven, preheat to 350 degrees F. Remove tourte from refrigerator, place on a rimmed baking sheet, and bake until deep golden brown, about 1 hour 10 minutes to 1 hour 25 minutes (we I was impatient and took it out after 1 hour. It definitely needed a little more time to full cook all sides of the pastry). Cool for 30 minutes, release from pan. Slice and serve warm or at room temperature. *Can be made one day ahead, refrigerated. Bring to room temperature before serving.