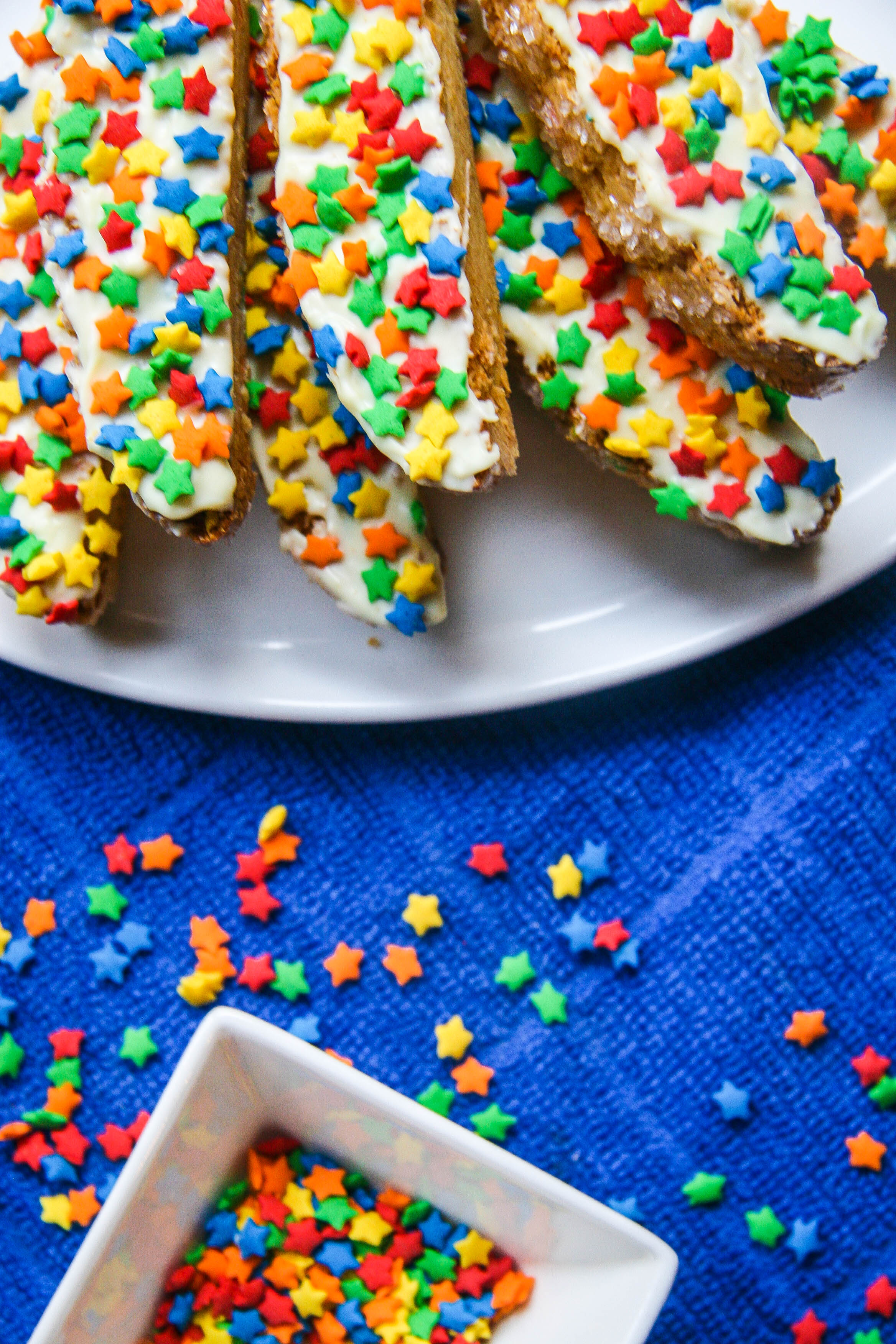 You might be sitting there thinking "Ugh, she's posting about biscotti? How lame!"
And, in some cases, you might be right. Biscotti doesn't have a reputation for being a fun food. No childhood birthday party has ended with a "Happy Birthday! Time for dessert! Bring out the biscotti!" (Maybe it has ended that way, actually . . . "Did they say biscotti? Sorry Suzy, I need to go home . . . and . . . um . . . clean my fish tank.) I think this is just because biscotti hasn't shown up to the party wearing sprinkles—Until now!
Maybe my eyes were still blinking sparkly lights after my recent girls' weekend in Las Vegas, but when I decided to make biscotti this week I wanted something a little more fun than the average fruits and nuts. I wanted something that was colorful and would be welcomed for a celebration or just with a cup of coffee. And for whatever reason, I also wanted something reminiscent of birthday cake batter.
I mixed up biscotti with a combination of vanilla bean, touches of almond and lemon zest, creamy white chocolate chips and sprinks (yes, I did that) both inside and out.
And after a few test batches, "party biscotti" was born.
The word "Biscotti" comes from the Italian roots 'bis' and 'cotti,' meaning twice-baked. As its name suggests, the dough hits the oven twice: first in logs and second sliced into rectangles after the logs have been partially cooked. Because these are supposed to be crunchy and somewhat dry they're long lasting making them a perfect cookie jar cookie. As a note, biscotti is the plural term for biscotto. In the U.S. I tend to hear the cookie referred to as biscotti whether referring to one or a full platter.
Fun fact: In Italy, Biscotti is also the generic term for any cookie. So, in Italy, if you bring a plate of biscotti to a kid's party, you're always super cool. Well played, Italy.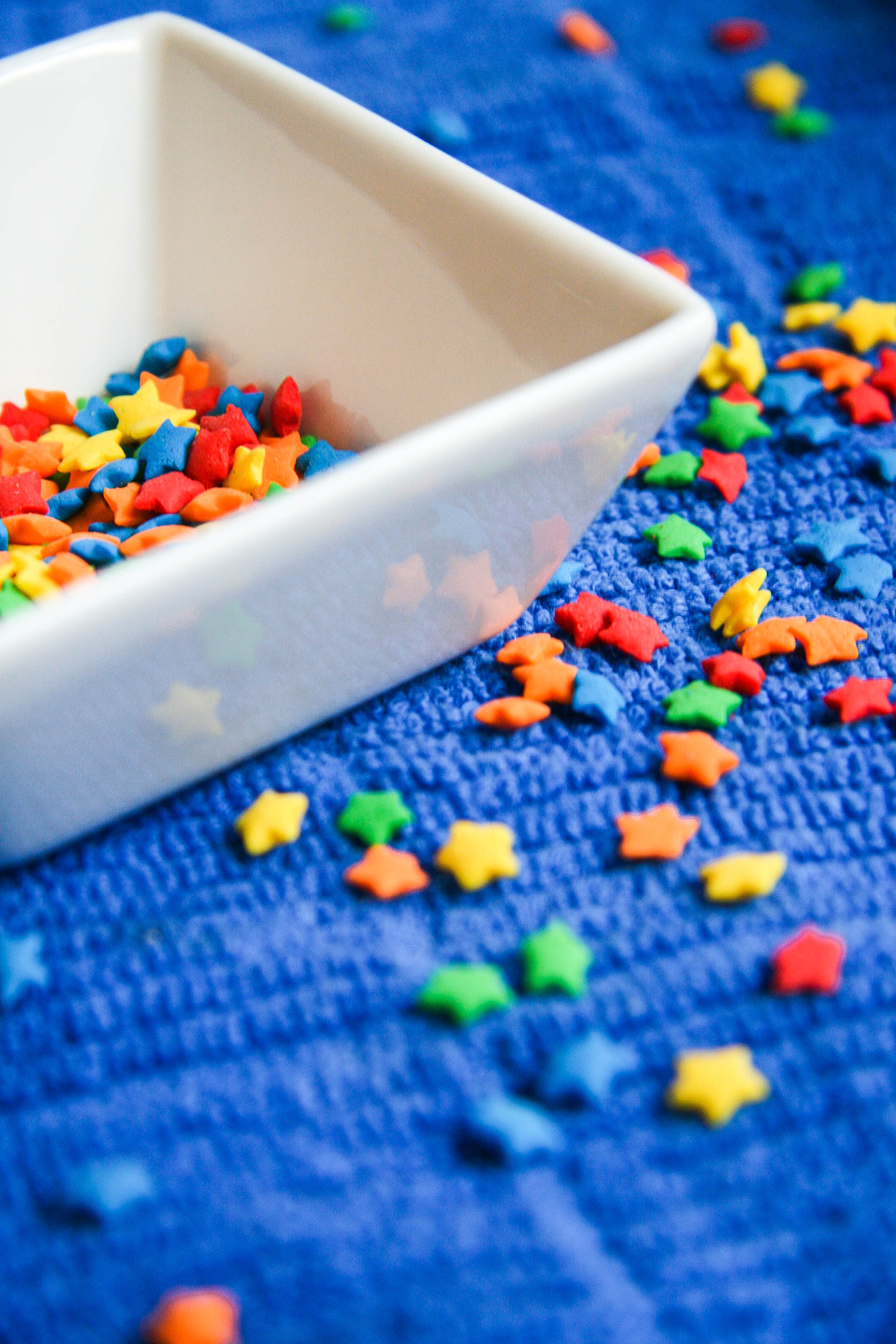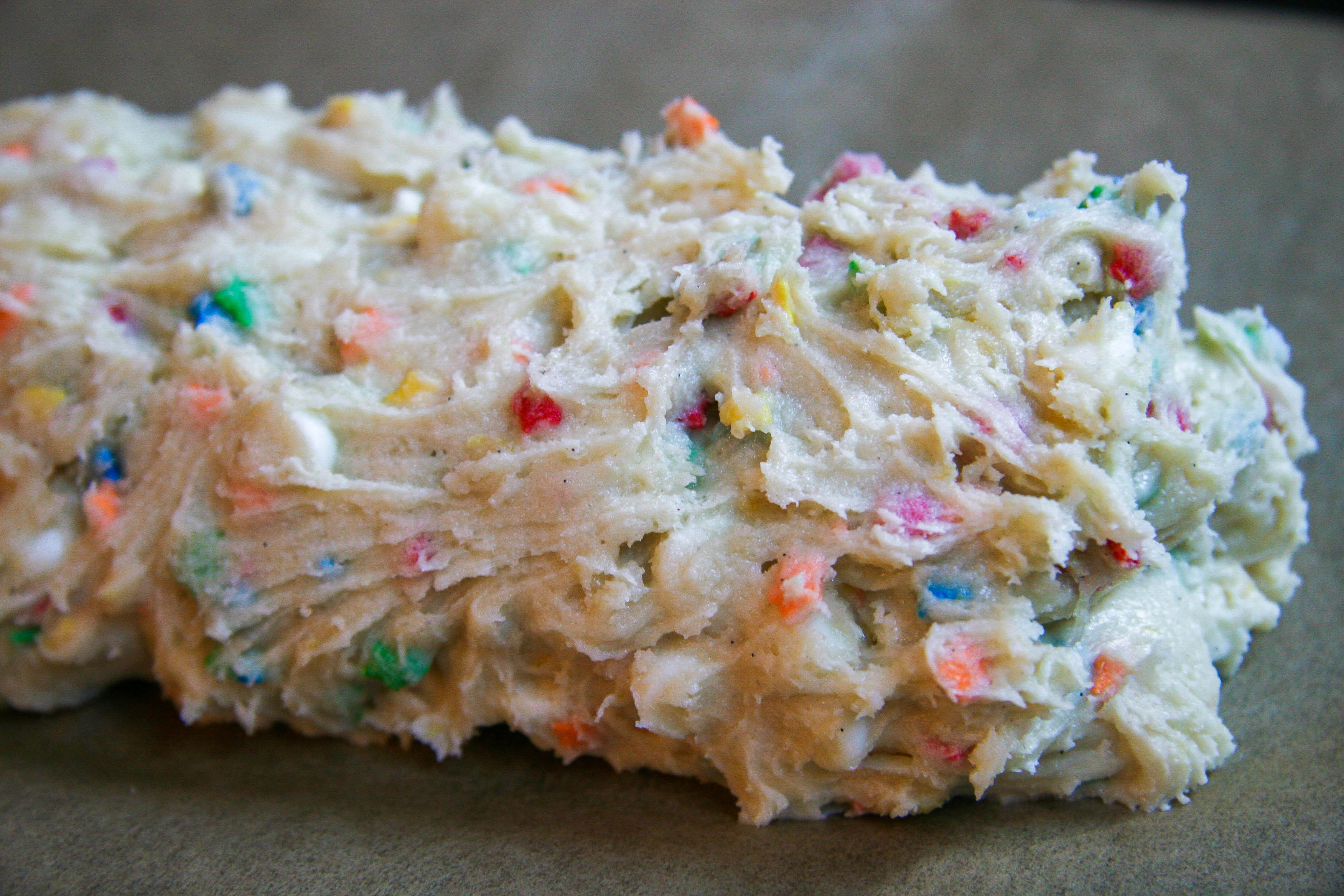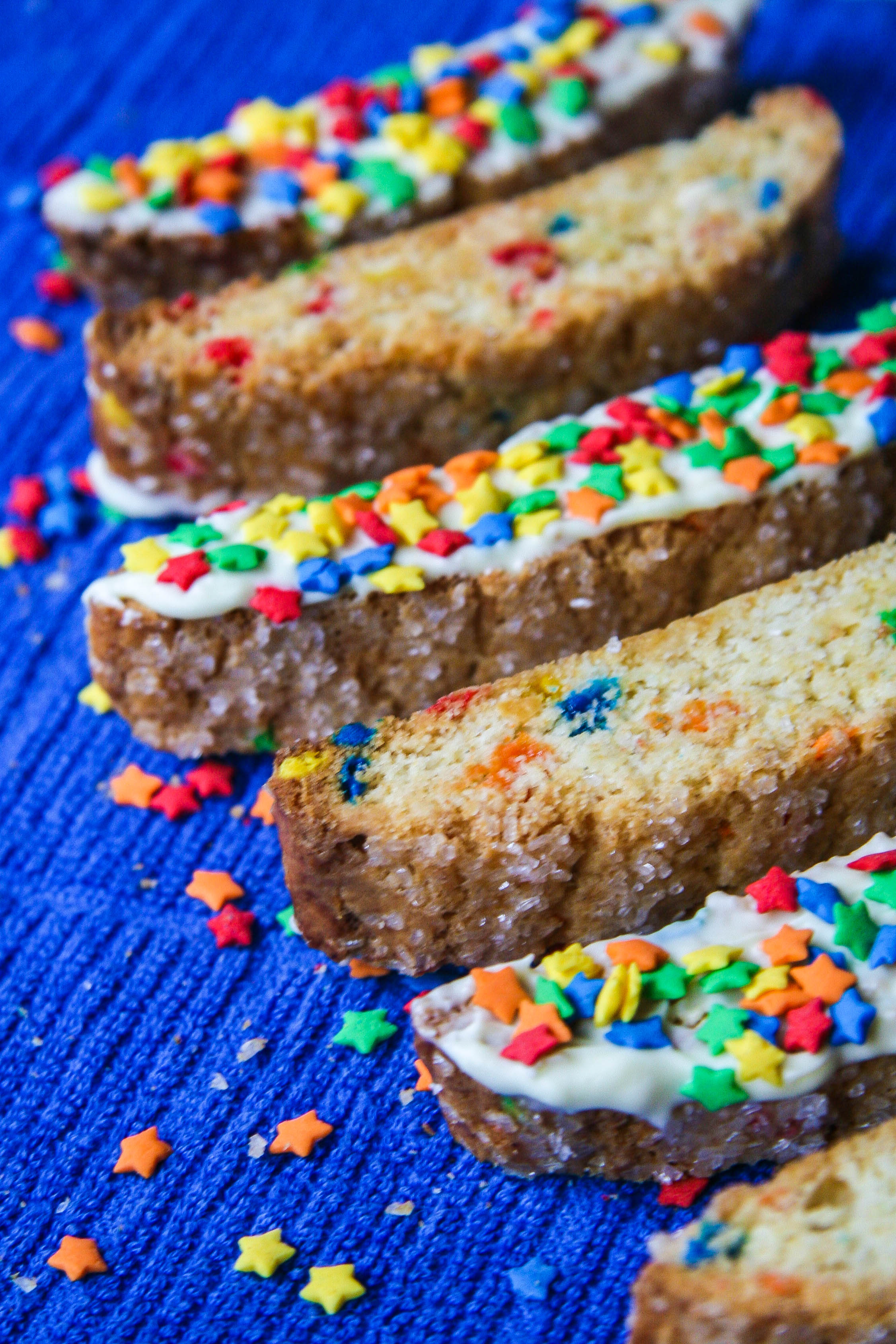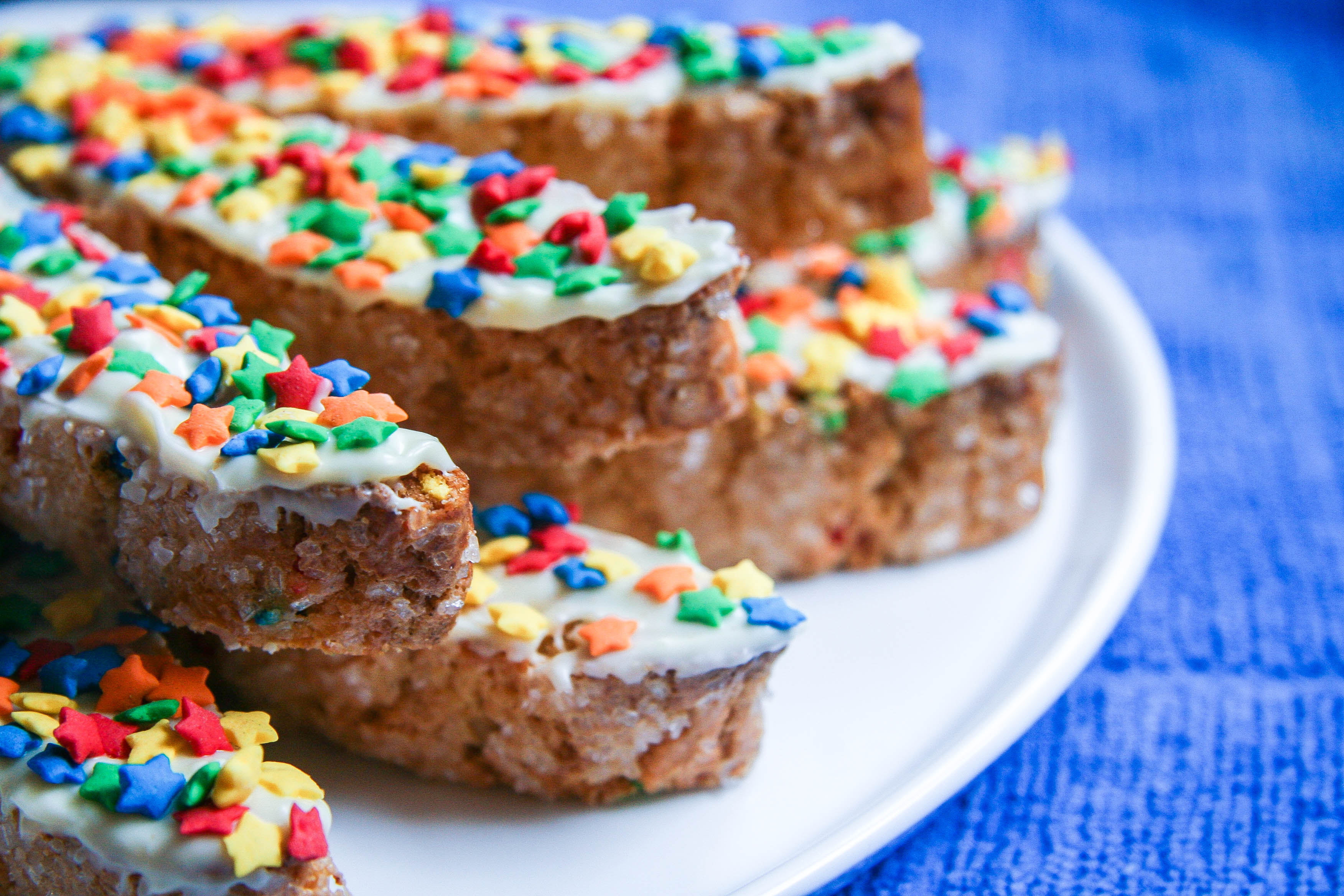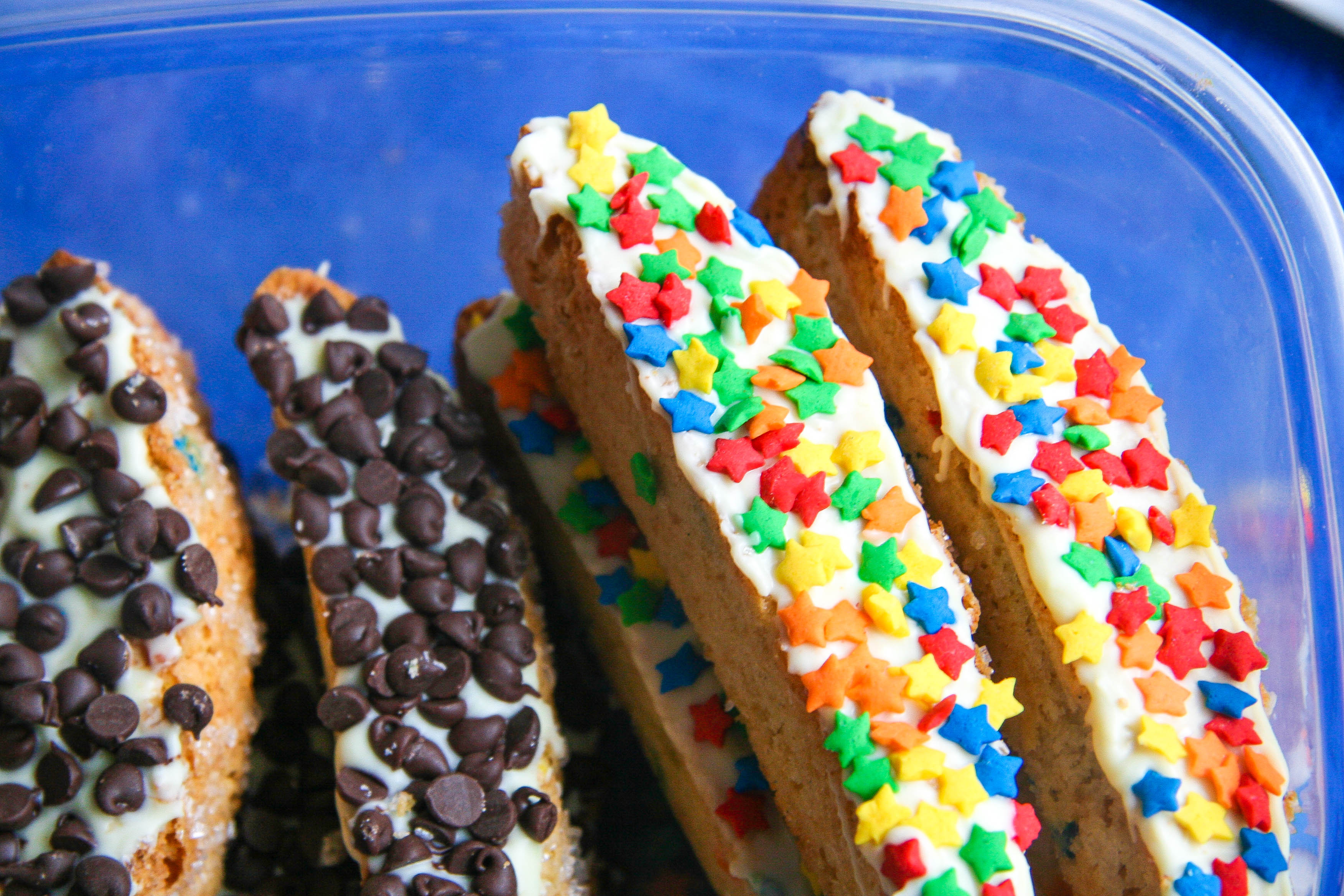 party biscotti
Adapted from Giada de Laurentiis
Prep Time: 30 minutes
Cook Time: 45 minutes
Total Time: 1 hr. 45 minutes (including cool time)
Makes: About 2 dozen biscotti
Ingredients:
2¼ cups all-purpose flour
1½ teaspoons baking powder
½ cup (1 stick) unsalted butter, softened
¾ cup sugar
1 teaspoon grated lemon zest
¼ teaspoon salt
2 large eggs
1 teaspoon vanilla bean paste or vanilla extract
¼ teaspoon almond extract
1 cup white chocolate chips or coarsely chopped white chocolate (I tried both and actually preferred the chips)
¼ cup rainbow sprinkles
1 egg, lightly beaten, for egg wash
¼ cup sparkling sugar, for topping egg wash (granulated sugar will also work)
1 cup white chocolate chips or coarsely chopped white chocolate, for garnish (optional)
Additional sprinkles or small candies for garnish (optional)
Instructions:
Preheat the oven to 350 degrees F and line a baking sheet with parchment paper.
In a small bowl, whisk together the flour and baking powder to blend. In a large bowl or the bowl of an electric mixer fitted with the paddle attachment, on medium speed, beat the butter and sugar together until light and fluffy. Add the lemon zest and salt until blended. Beat in the eggs 1 at a time, followed by the vanilla and almond extracts.
With the mixer on low, add the flour mixture to the butter and sugar mixture and beat just until blended. Mix in the white chocolate and sprinkles with the mixer on low, or by hand.
Form the dough into two 8-inch long, 3-inch wide logs on the prepared baking sheet. Brush with egg wash and sprinkle tops with sugar. Bake until lightly golden, about 35 minutes. Cool on sheet for 20 minutes.
Place the logs on the cutting board. Using a sharp serrated knife cut the logs into ¾-inch-thick slices. Place the biscotti, cut side down, back onto the baking sheet. Bake the biscotti until they are pale golden, about 6 minutes. Gently flip the biscotti over and cook with the other side facing up until pale golden, another 4–6 minutes. Transfer the biscotti to a rack and cool completely.
In a bowl set over a saucepan of simmering water stir the white chocolate with a rubber spatula or metal spoon until the chocolate melts. Dip one side of the biscotti into the melted chocolate. Gently shake off the excess chocolate. Dip or sprinkle with desired topping and place the biscotti on the baking sheet for the chocolate to set. Allow the chocolate to harden before serving or storing.