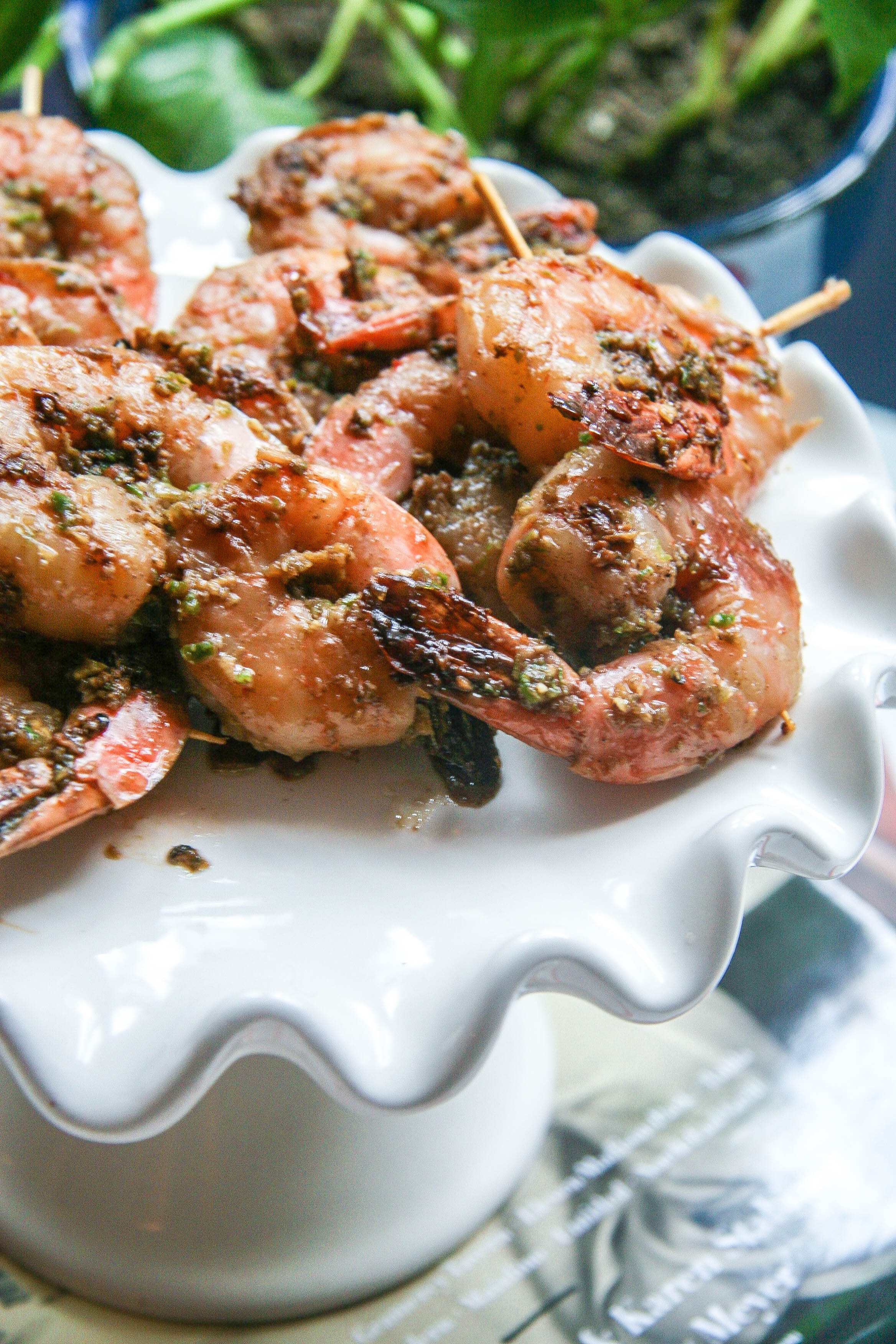 There are two kinds of jerks in this world. The first is the kind that, on a rainy day, accelerates their car through a puddle to drench pedestrians walking on an adjacent sidewalk. Bitter? Me? No way. And the second, ladies and gents, is the seasoning.  If only it were limited to that, the world would be a happier place!
Anyways, today, we'll be talking about the latter. The dry or wet—in this case wet—meat, poultry or seafood—in this case seafood—Jamaican marinade with a signature sweet heat. When I showed this recipe for jerk shrimp from Family Table to Greg, he told me it was right up his alley; which is funny because he is neither a jerk nor a shrimp.
What jumped out at him though were the bold flavors of the seasoning's ingredients: spicy ginger and jalapeno, warm cloves, cinnamon and allspice, salty soy sauce, garlic and scallions. If you're like me and are wondering why jerk is called jerk, my research says the terms comes from the word charqui, a Spanish term of Quechua (native South American) origin for jerked or dried meat. The term eventually evolved to jerky in English; hence beef jerky.
While this jerk shrimp may not be the most traditional jerk, it is easy and tasty. All you do is throw the ingredients in a food processor or blender until they form a paste. Then, slather over raw shrimp and refrigerate for an hour. Finally, you sauté the shrimp in a saucepan turning once (keep in mind that shrimp cook super fast) and voila! The original recipe calls for fresh Italian parsley, which I omitted because I didn't have any and am honestly not the herb's number-one-fan. After just one hour of marinating, the result is shrimp with layers of flavor and a slight, lingering heat. The shrimp are great on top of salads, in a pita or as an appetizer served alongside a simple yogurt dip.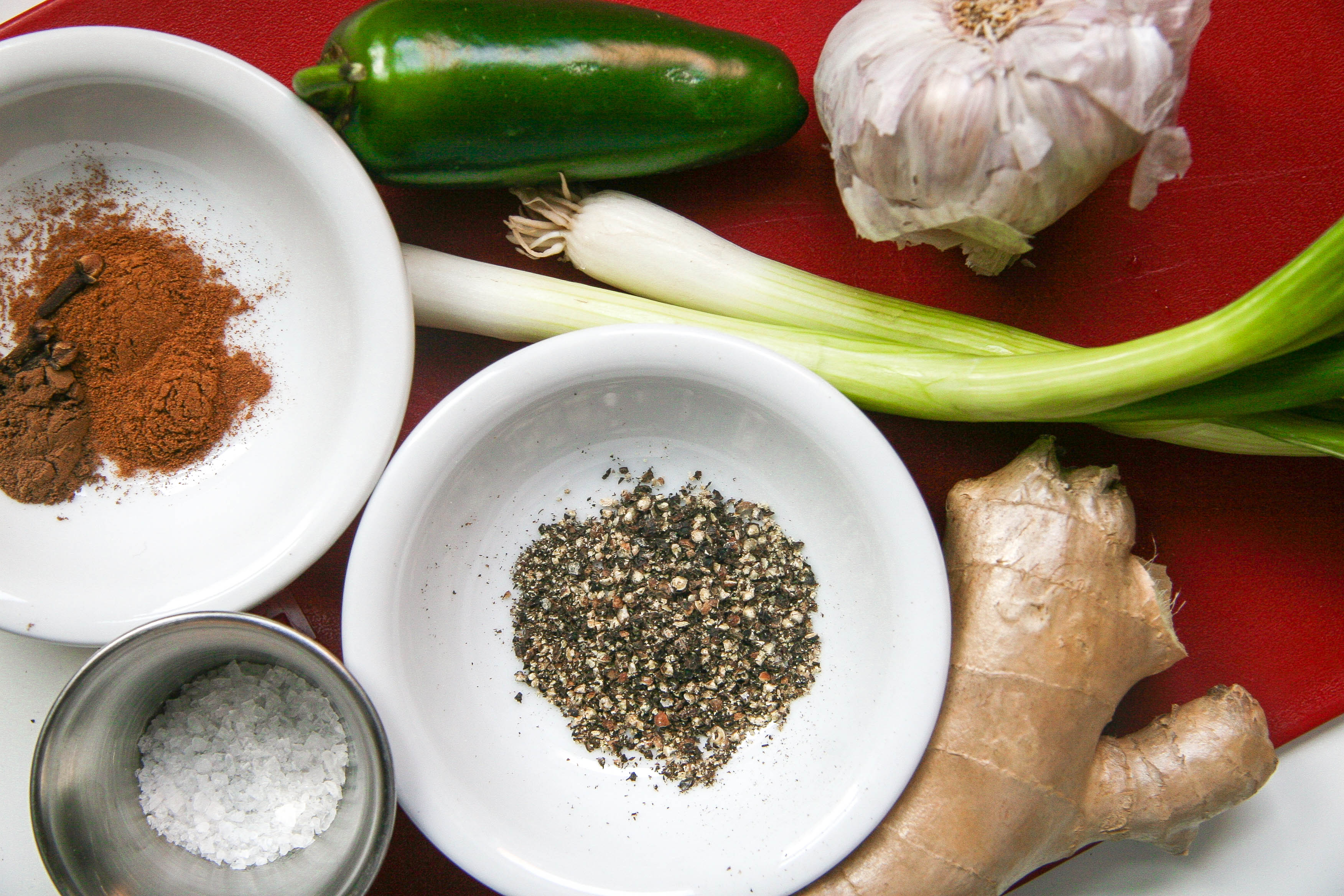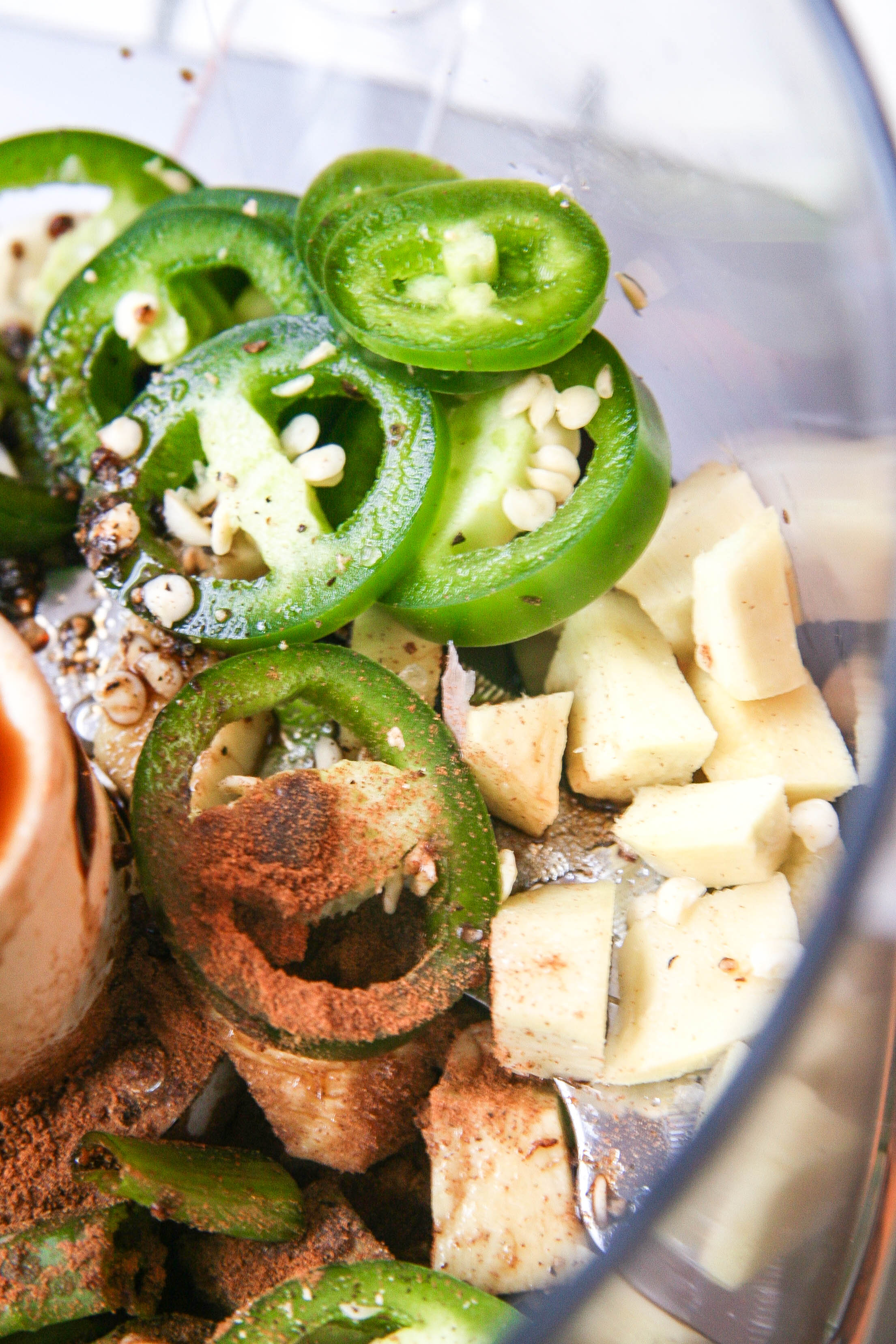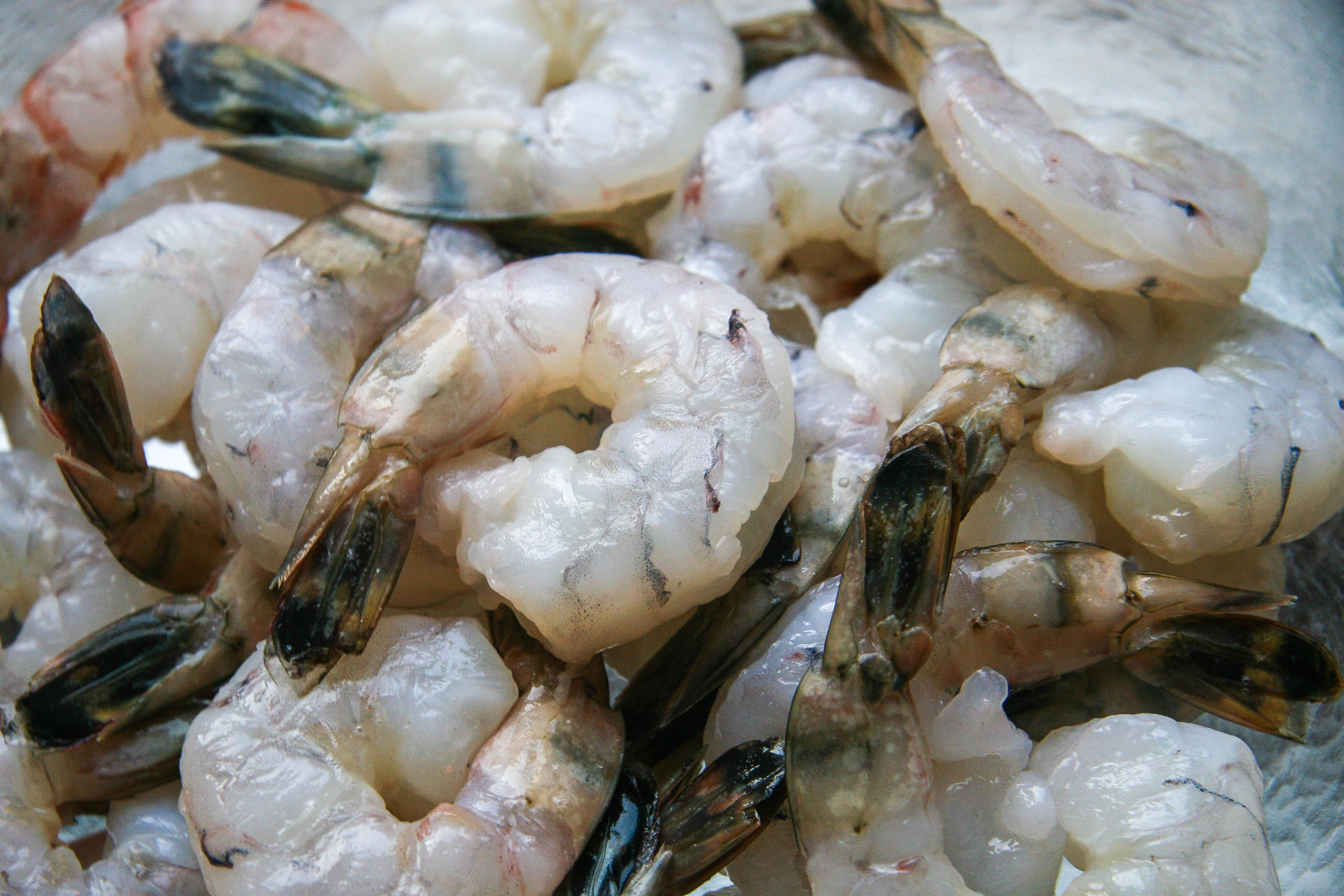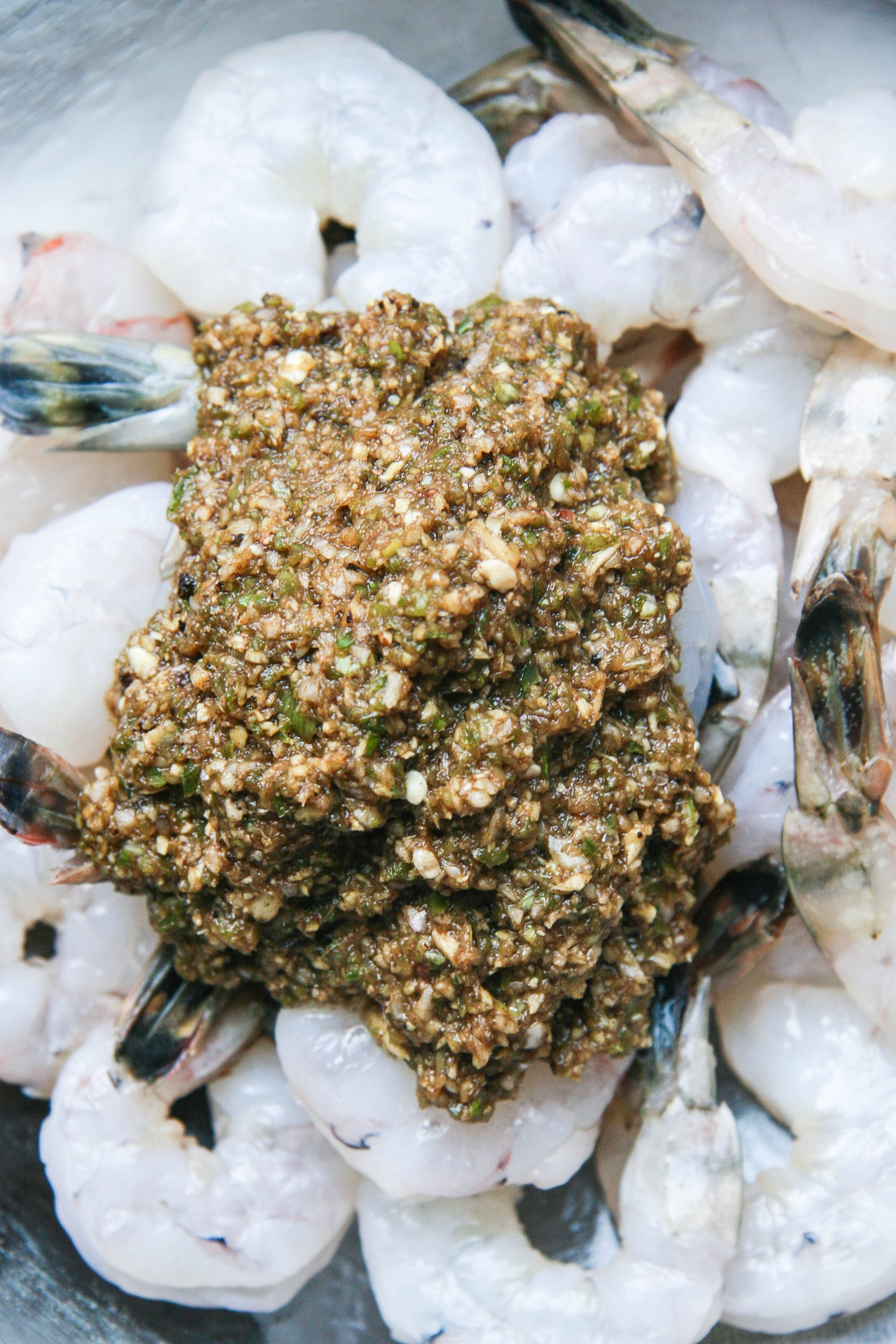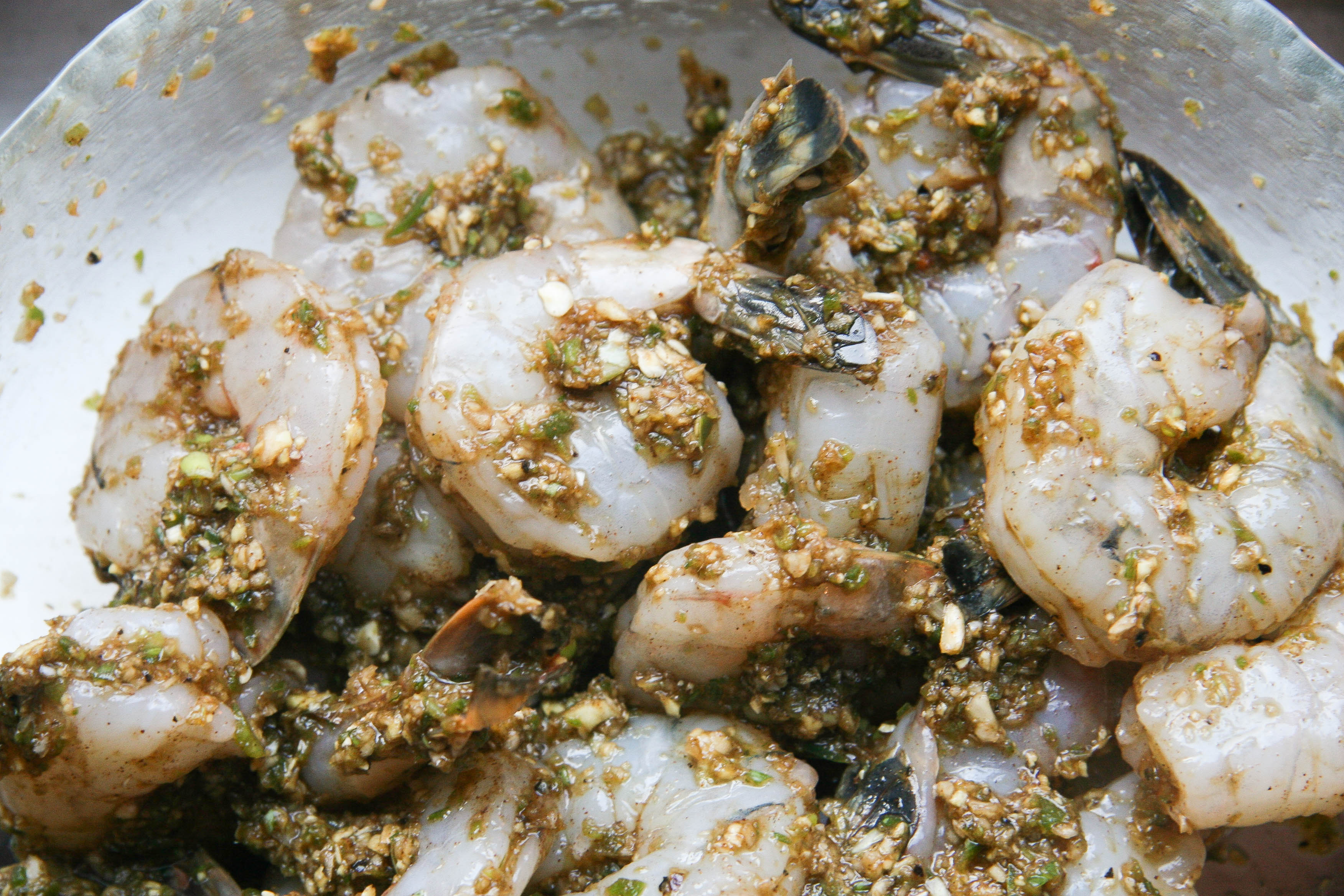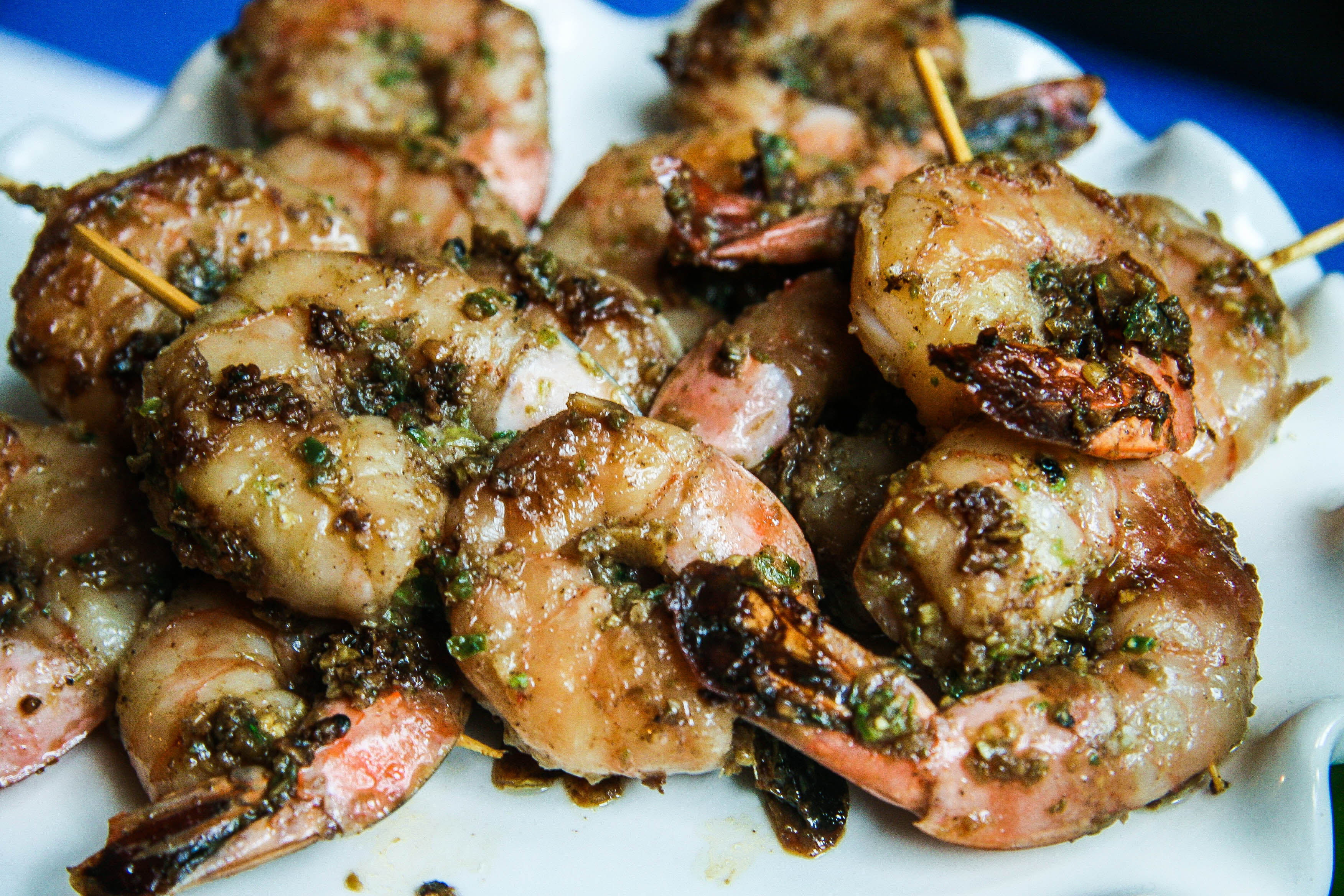 jerk shrimp
Adapted, barely, from Family Table
Prep Time: 10 minutes
Cook Time: 5-10 minutes
Total Time: 1 hour 15 minutes
Makes 1 pound shrimp (about 4 entrée servings or more if used as an app)
Ingredients:
½ cup coarsely chopped scallion (about 2-3)
¼ cup coarsely chopped peeled fresh ginger
¼ cup chopped fresh Italian parsley (I omitted)
8 garlic cloves, peeled
1 coarsely chopped jalapeno, seeds included
¼ teaspoon salt, plus more to taste
¾ teaspoon ground cinnamon
¼ teaspoon ground cloves
¼ teaspoon ground allspice
2 tablespoons canola or vegetable oil
2 tablespoons soy sauce, low-sodium if you have it
¼ teaspoon sugar
1 pound raw shrimp, peeled and deveined (20-24 medium, 25-30 small)
Instructions:
Place shrimp in a medium sized bowl.
In the work bowl of a food processor or in a blender, combine all ingredients from the scallion down to the sugar. Process until it resembles a paste. Pour over shrimp and stir to coat. Cover the bowl with plastic wrap and refrigerate for 1 hour.
Remove the shrimp from the refrigerator. Heat a large non-stick skillet over medium heat and add 1-2 tablespoons olive or canola oil (just enough to coat the bottom of the pan). Remove the shrimp from the bowl, skewer if desired, and put them in the pan (you can do this in batches if not all the shrimp fit in a single layer). Cook the shrimp, turning once, until browned on both sides, about 2 ½ minutes per side. Enjoy!