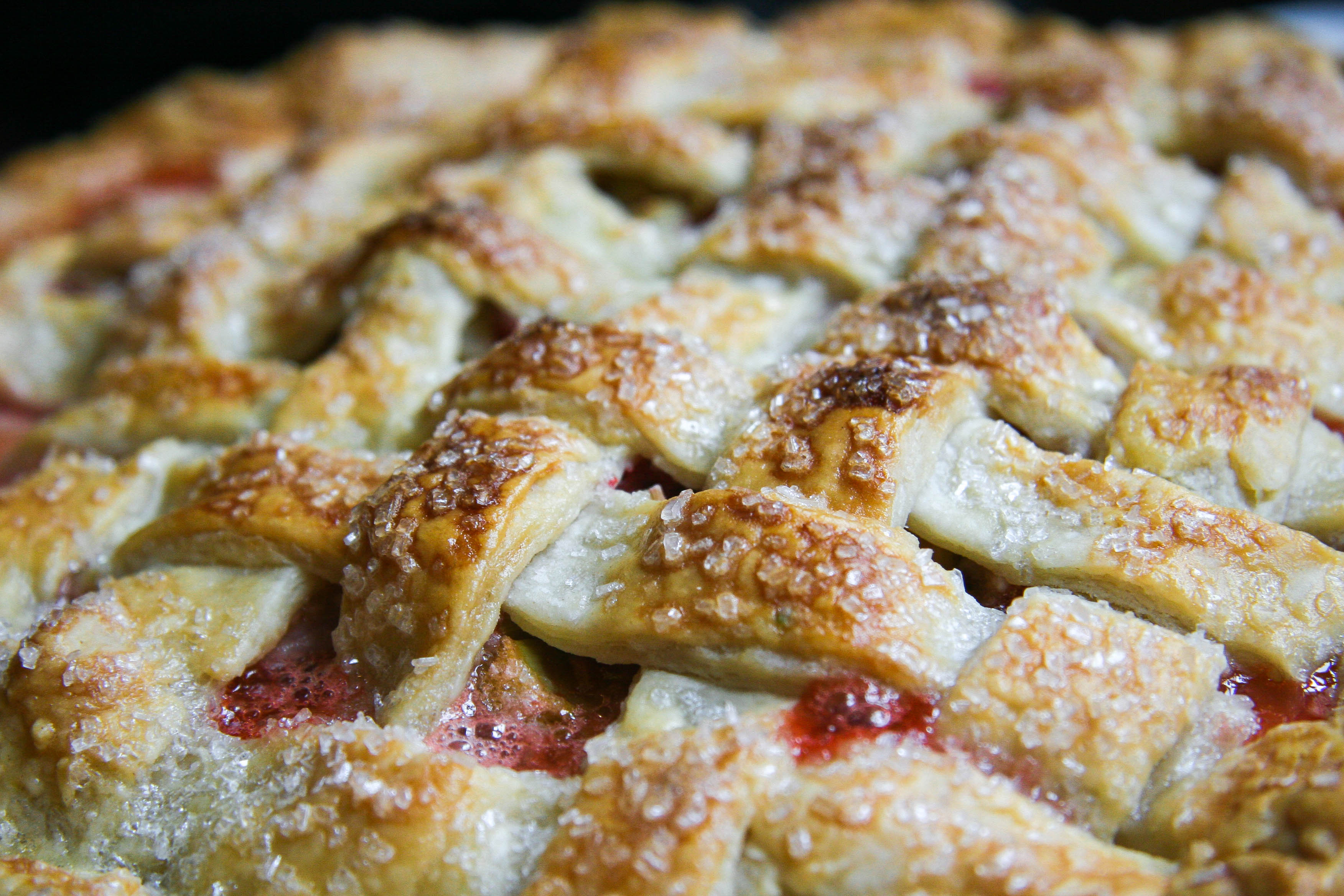 You know those people who know everything there is to know about fresh produce? The ones who can tell you exactly which plant is a perennial versus an annual, which grows better in the shade than the sun and which should be under-watered versus over-watered? The farmer's market-aficionados who know which is the best time of the year, the month or the week to buy every fruit or veggie because that's when it's at the peak of freshness?
I do.
And nope, I'm definitely not one of them.
I'm the puppy who follows those people around the farmer's market looking for tips. Maybe one day, I'll (creepily) collect enough pointers to come close to being one of those people, but, for now, I'm the one who stands behind them and says, "I'll have a pound of that too!"
My most recent market-stalking-reward was rhubarb. The woman in front of me "ooohed" at the pile of rhubarb, bought a pound and half and I followed suit. Guess what? The tart, greenish-red vegetable resembling celery stalk happened to be at the height of its season! Which I now know to be between late April and June (around Boston).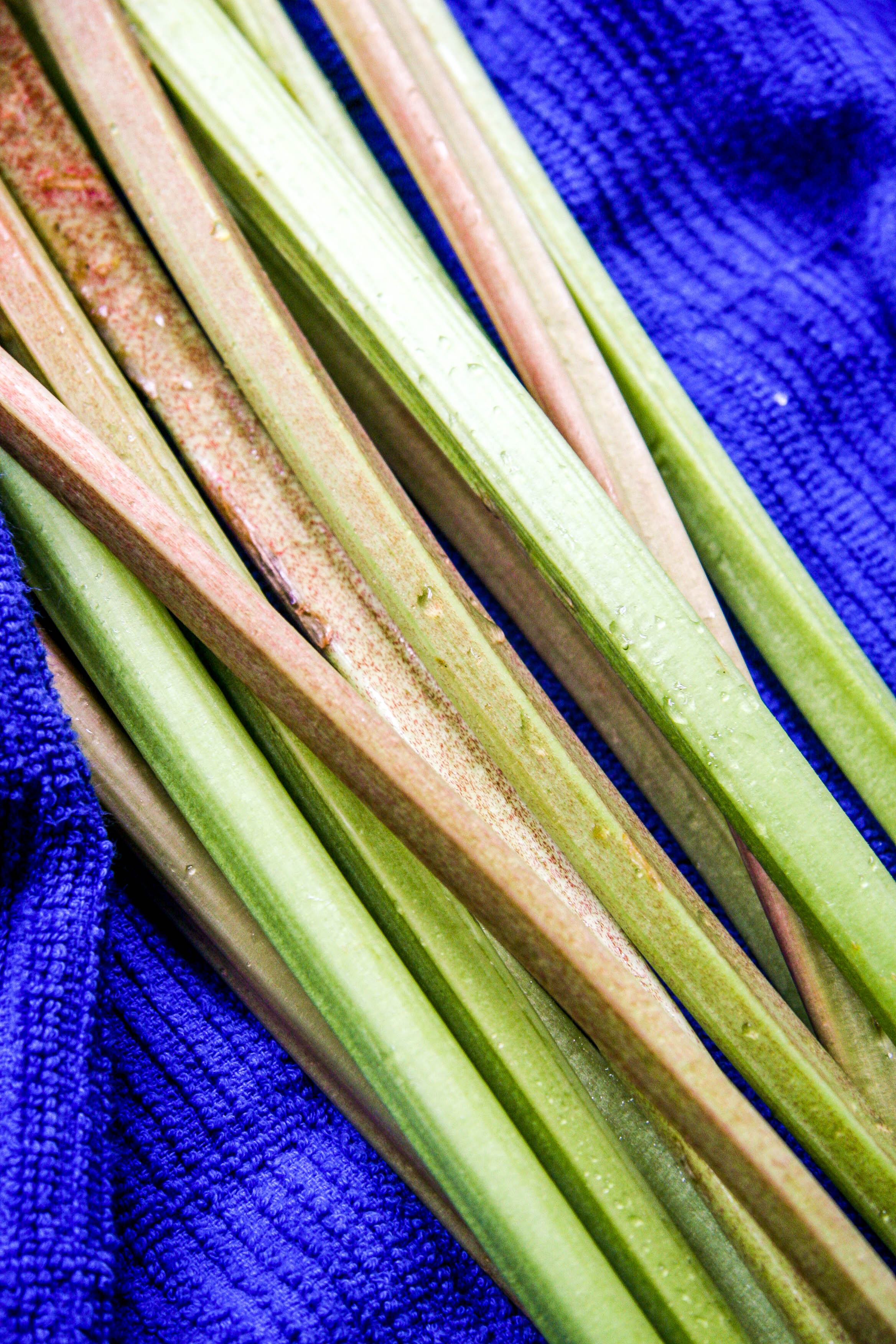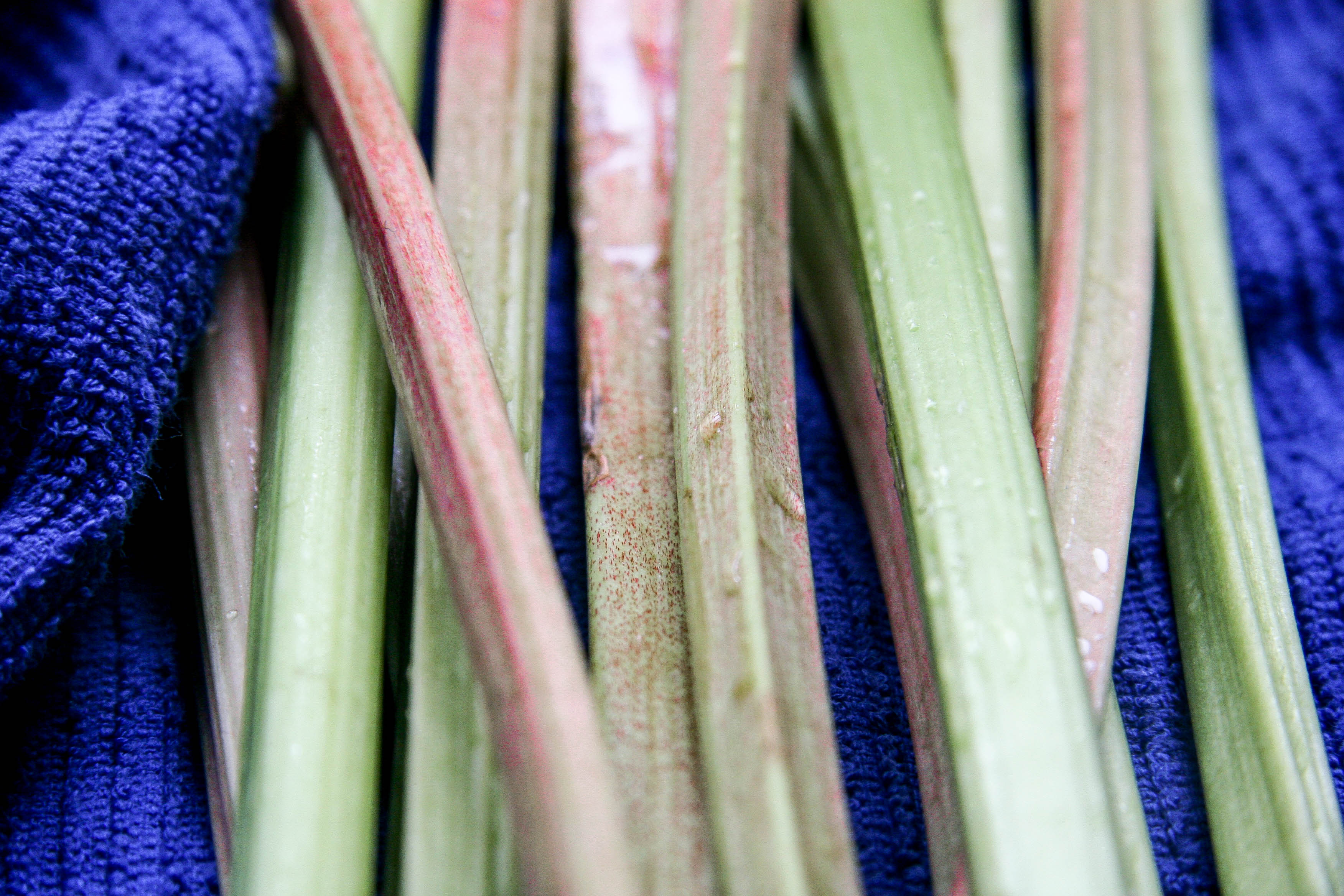 Rhubarb is often linked to strawberry—typically in Strawberry Rhubarb Pie—and it's no wonder why. Between two flaky, buttery crusts, the sharpness of the rhubarb is balanced by the juices of sweet, sugared strawberries resulting in the perfect spring showcase of fresh-dessert flavors.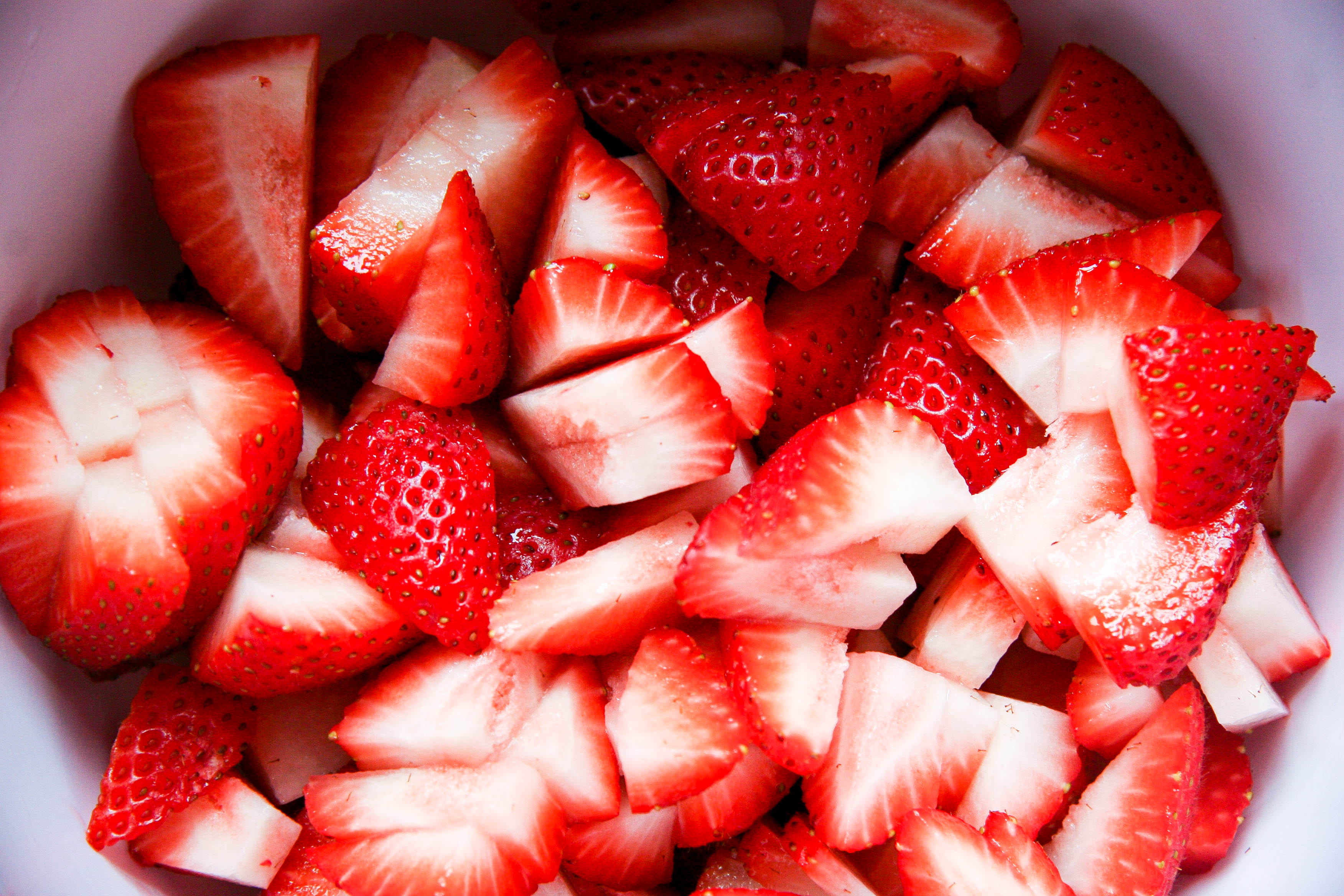 I've made strawberry rhubarb pie only once before and, while it was delicious, it came out very drippy. While I didn't want to shift completely to the jelly-like viscosity of some store bought pies, I wanted to make sure this pie held its form better.
Deb Perelman of The Smitten Kitchen, not surprisingly, got it just right. Her secret ingredient for thickening the filling is adding a ¼ cup of tiny tapioca pearls. It totally worked. We identified the tiny tapioca balls on our forks—sometimes—but it mostly blended completely into the texture of the fruit and did not change the flavor one bit. I barely changed a thing about Deb's recipe (I even followed her dough recipe!), so Deb, thank you for the scrumptiousness of this pie!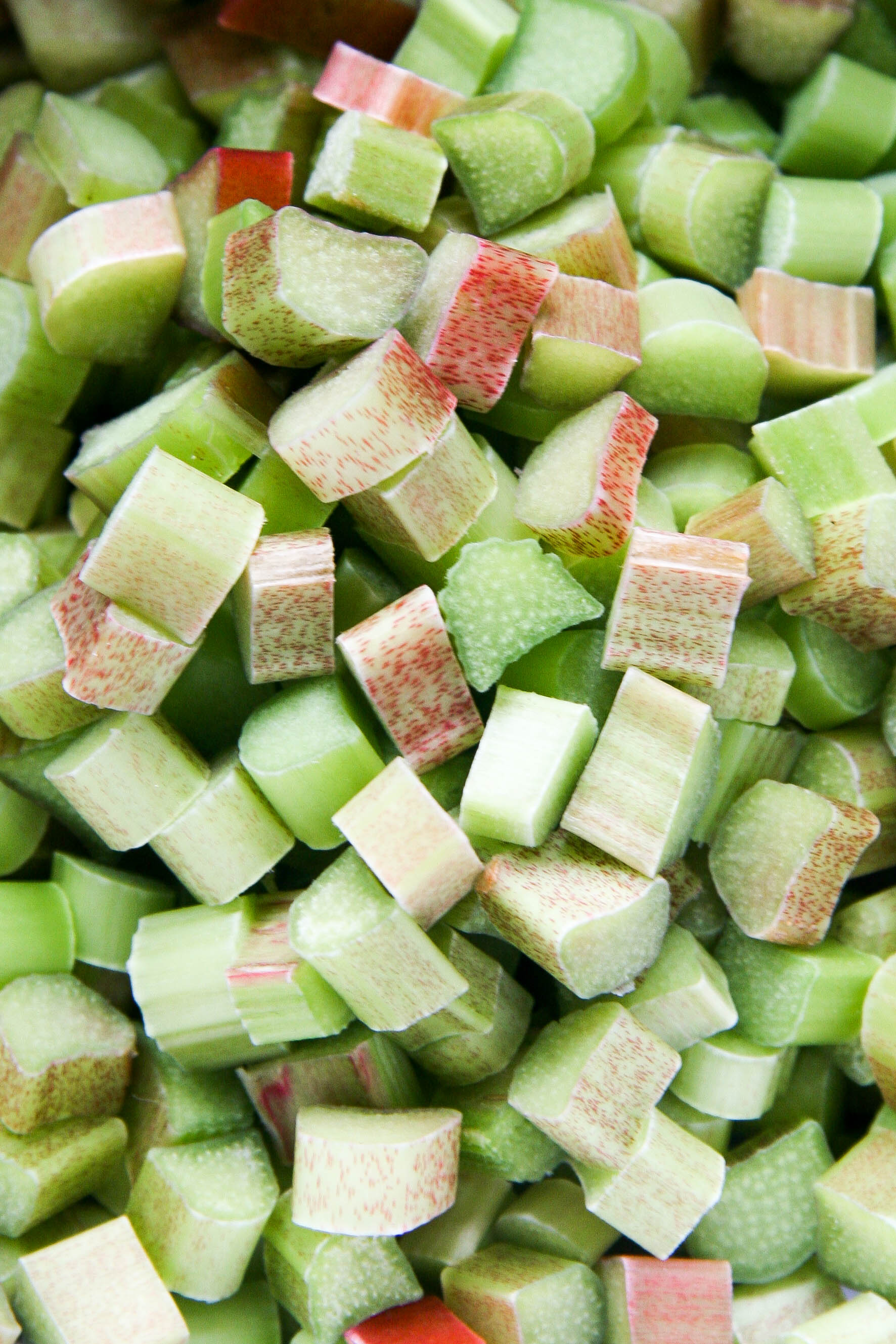 Now, here's the part where you expect a photo of the inside of the finished pie so you can see the gorgeous pink hues of sweet, tart goodness; proof of a perfect pie slice that's not too runny and not too gelatinous.
And here's the part where I disappoint. No strategically placed pie slices smiling for the camera. None. Nothing. I'm sorry! I brought the pie to my parent's house for a family dinner and after one bite my head was lifted to the pie clouds. One bite and I was swimming through the sky on pie. Before I ever came down from the clouds, we had eaten it all up. And, here's the part where I beg you to try it anyway. I really don't think you'll regret it. And neither will anyone you choose to share with (Or not!).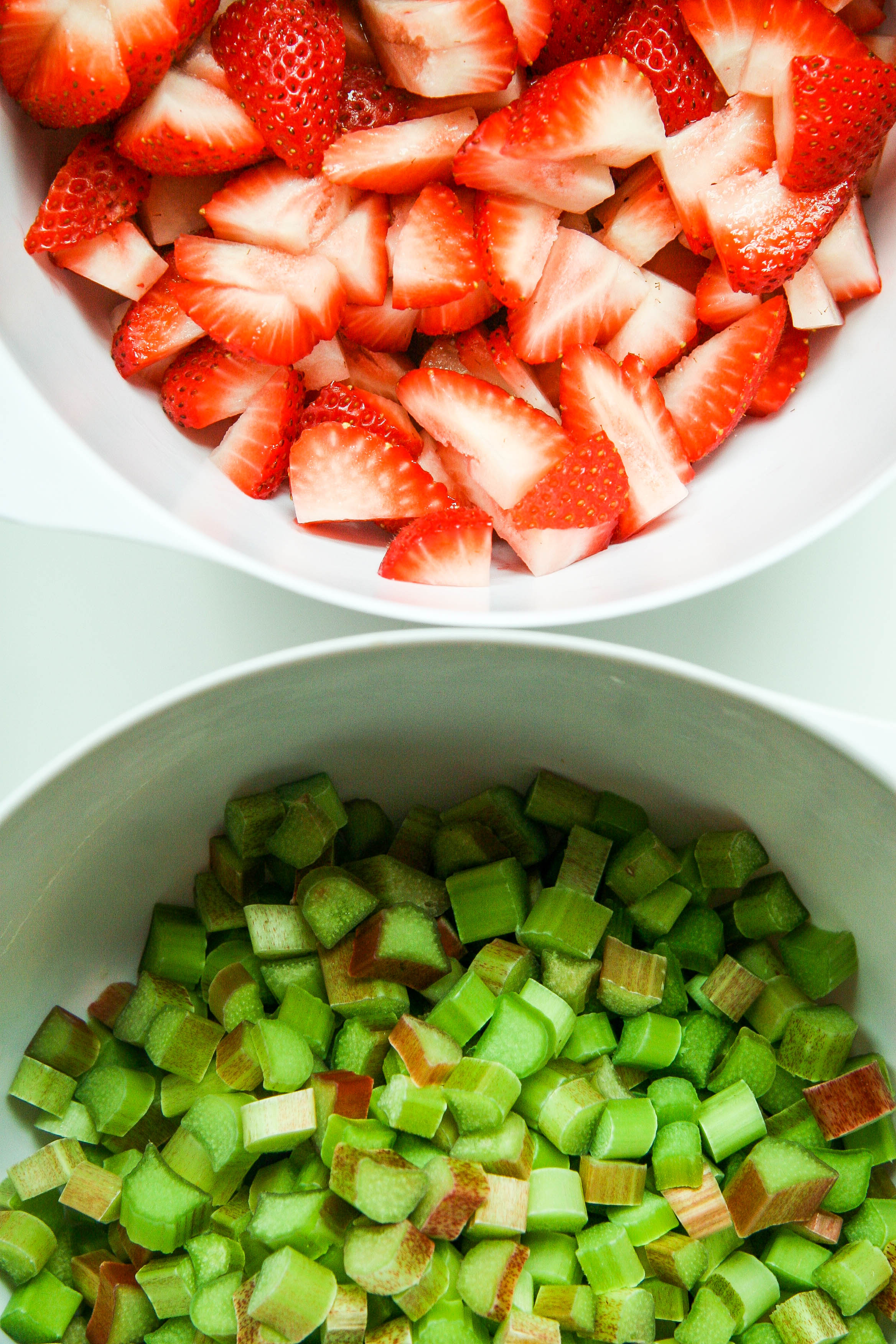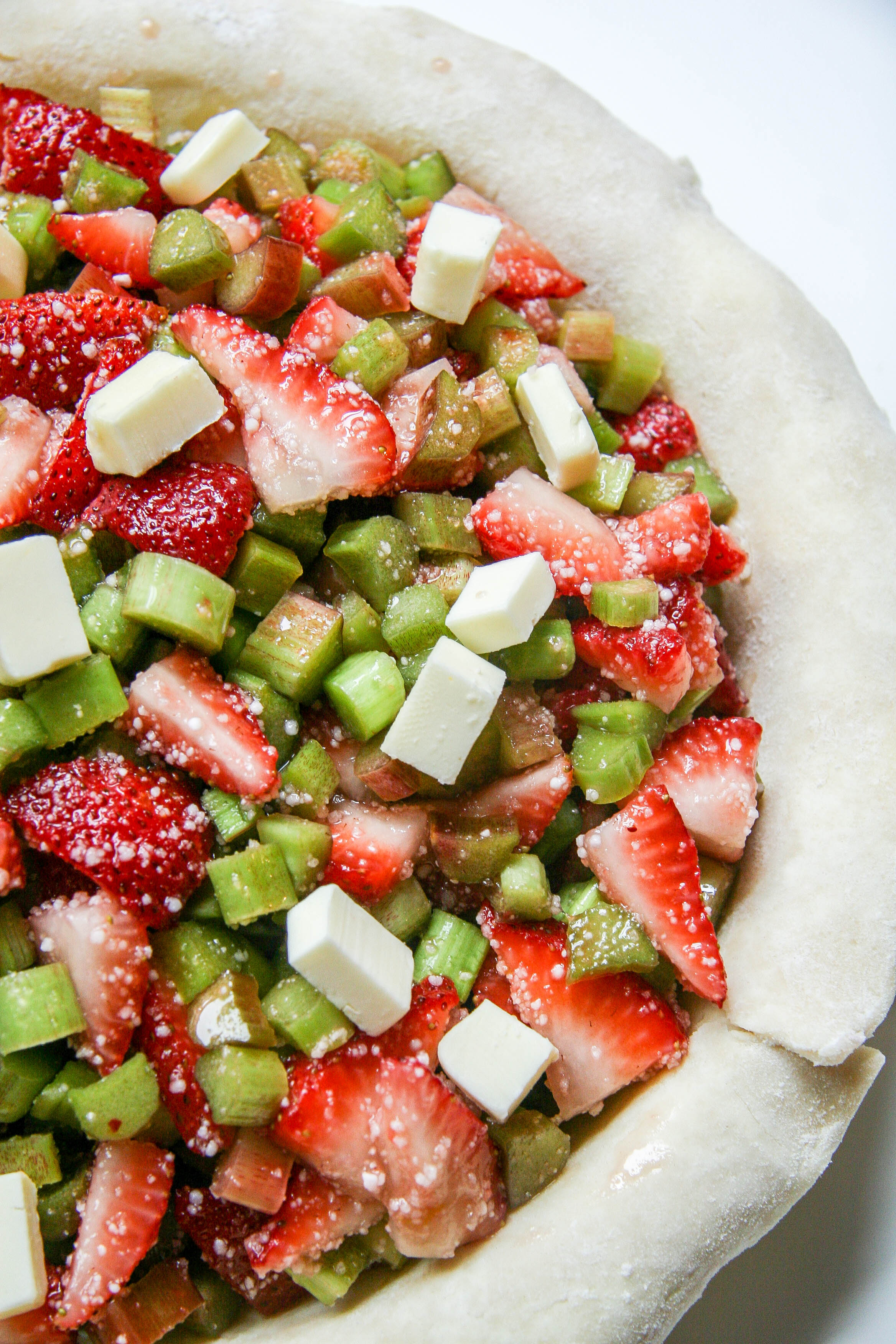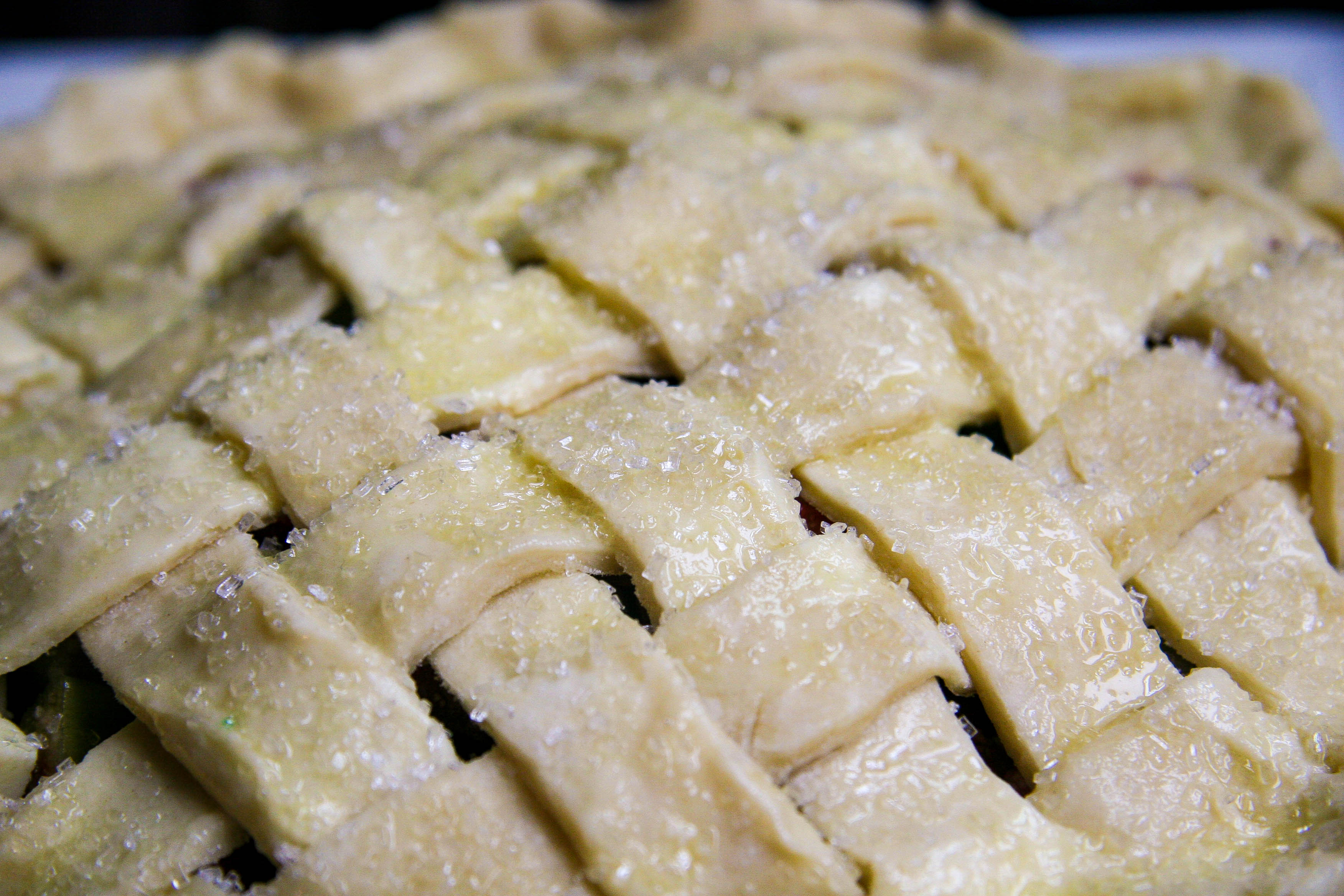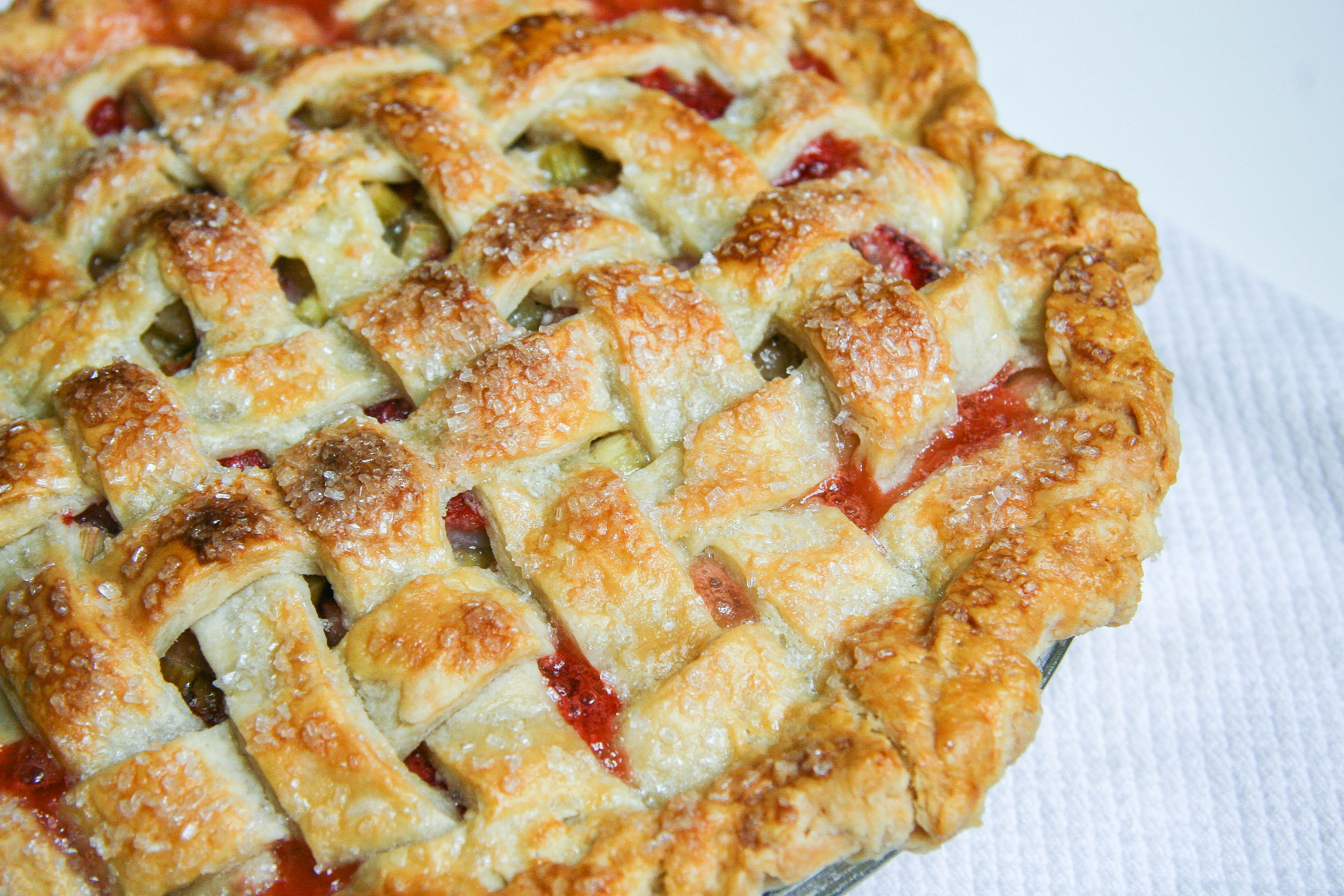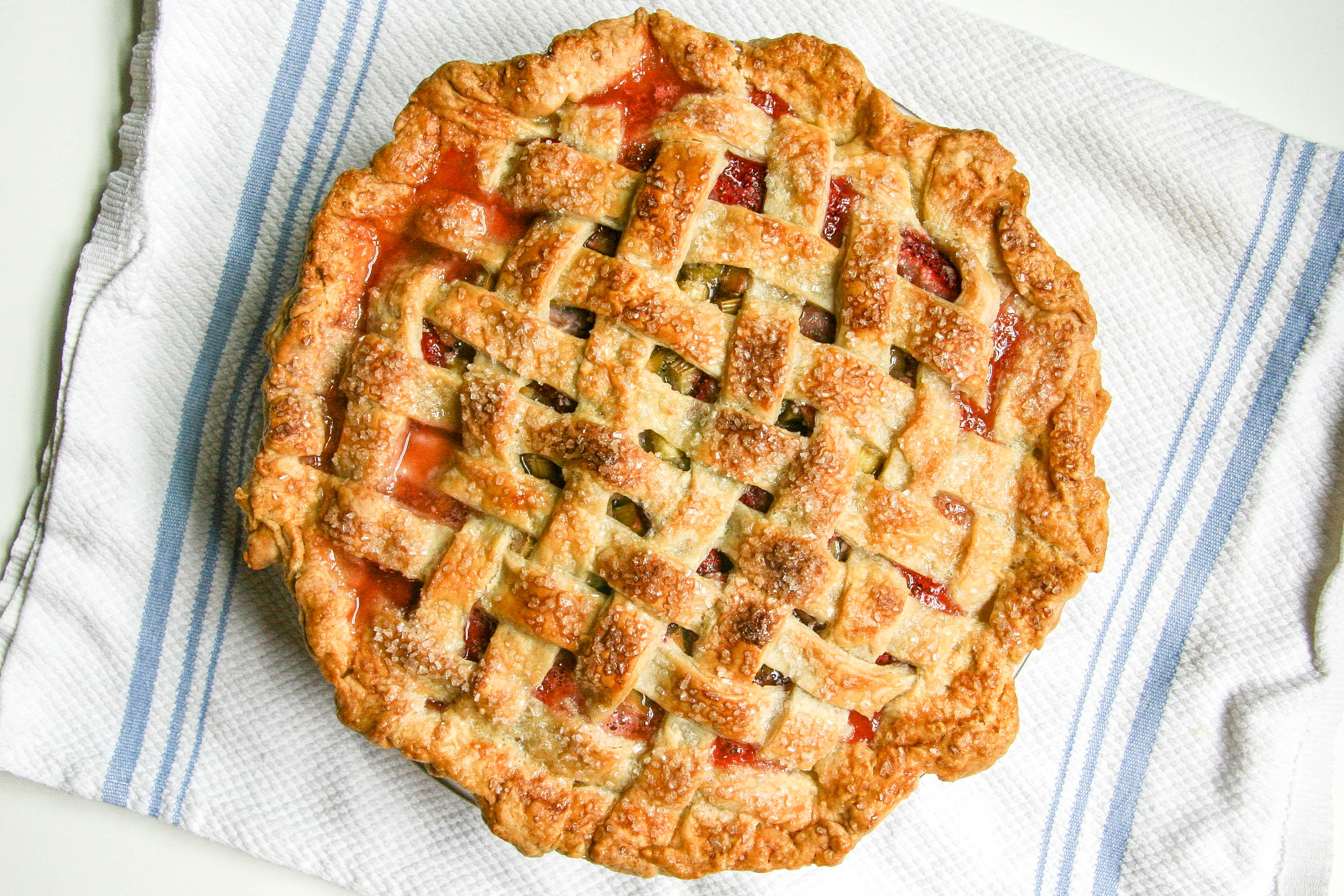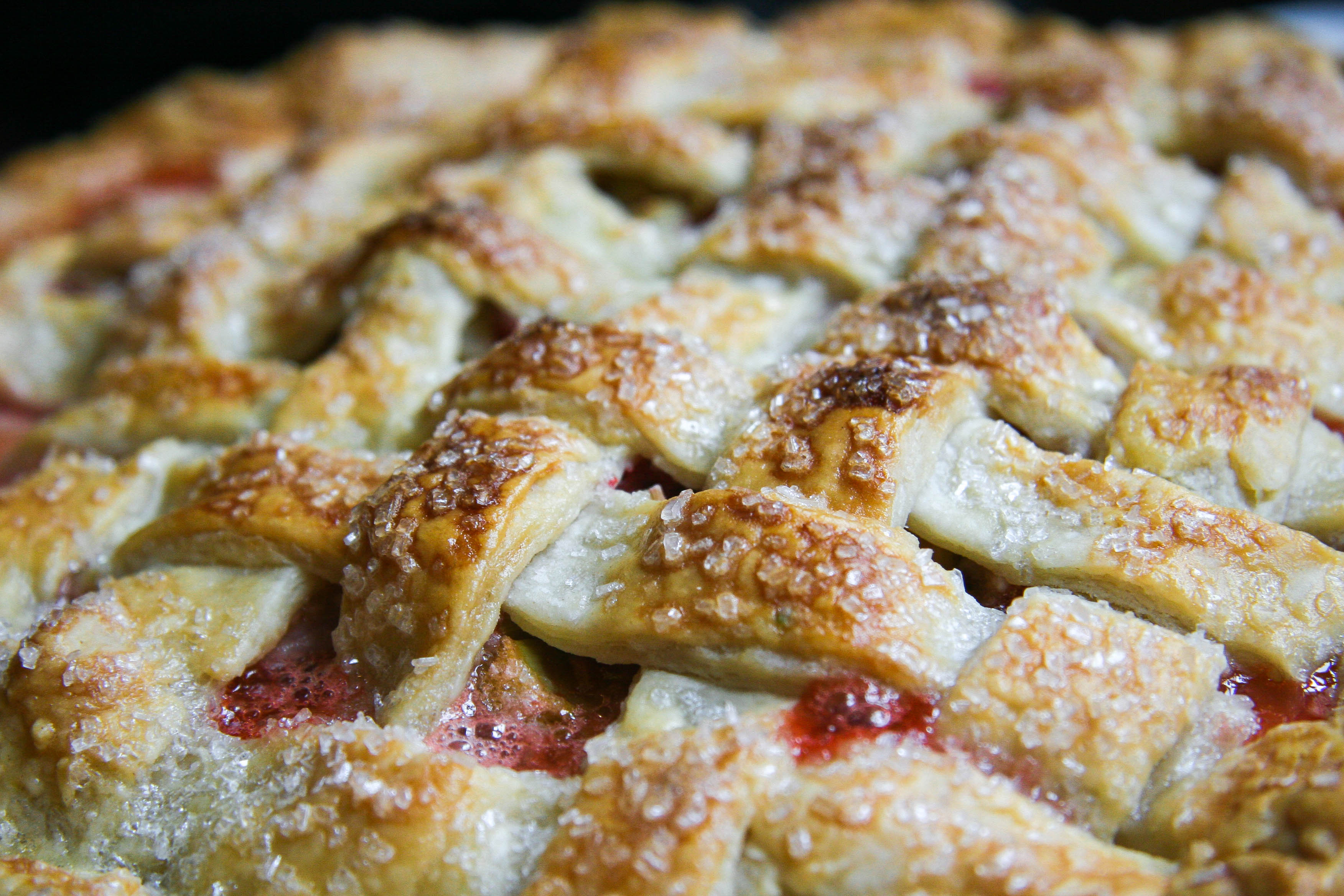 strawberry rhubarb pie
Adapted, barely, from Deb Perelman of The Smitten Kitchen
Prep Time: 20 minutes (includes rolling out dough, but not making it)
Cook Time: 50 minutes
Total Time: 1 hour 10 minutes (But leave plenty of time for cooling!)
Makes 1 double crusted 9-inch pie
Because rhubarb is tart, the resulting pie isn't crazy sweet. If you are looking for a pie on the sweeter side, Deb recommends upping the white sugar to ¾ cup. I did not up the sugar and, honestly, think it is just perfect with the ratios listed below.
Ingredients:
1 All Butter, Really Flaky Pie Dough or double-crust pie dough of your choice (Store bought is okay!), divided in two and chilled
3 ½ cups (about 1 ½ pounds, untrimmed) rhubarb, in ½-inch thick slices
4 cups (about 1 pound) strawberries, hulled and sliced into 4–6 pieces if big, halved if tiny
½ cup granulated sugar
¼ cup light brown sugar
1 tablespoon lemon juice
1 teaspoon finely grated lemon zest
¼ teaspoon salt
¼ cup quick-cooking tapioca
2 tablespoons unsalted butter, cut into small pieces
1 large egg yolk beaten to blend with 1 teaspoon water (for glaze)
Sparkling sugar, optional (for topping)
Instructions:
Preheat oven to 400 degrees. On a well-floured counter, roll half of chilled pie dough into a 12-inch circle and carefully transfer to a 9-inch pie plate. Refrigerate while you prepare the filling.
Stir together rhubarb, strawberries, sugars, lemon juice and zest, salt, and tapioca in a large bowl. Roll second half of chilled pie dough into an 11-inch circle and place on a sheet of parchment paper. Cut into 1-inch strips if making a lattice top or cut decorative slits in it if keeping a full crust. I like to weave my lattice tops on the parchment paper similar to the technique used in this old school video, rather than trying to weave it over the filling. Then I slide the full weave onto the pie during the next step. Return dough-topped parchment to the refrigerator for a few minutes to firm up.
Remove pie plate from the refrigerator and pile strawberry-rhubarb filling into it, spreading into the sides. Dot the top with the 2 tablespoons of butter pieces.
Remove pie top from the refrigerator and slide it off the parchment, centering it on top of the pie. Trim top and bottom pie dough so that the dough hangs over the pie plate edge only ½-inch. Tuck the rim of dough underneath itself and crimp it decoratively. Transfer pie to a baking sheet, brush egg yolk mixture over dough and sprinkle with sugar.
Bake for 20 minutes then reduce temperature to 350 degrees and bake for an additional 25 to 30 minutes, until the pie is golden and the juices bubble visibly. Transfer the pie to wire rack to cool. Allow the pie to cool for at least 2–3 hours before cutting to allow the juices to firm up a little bit.