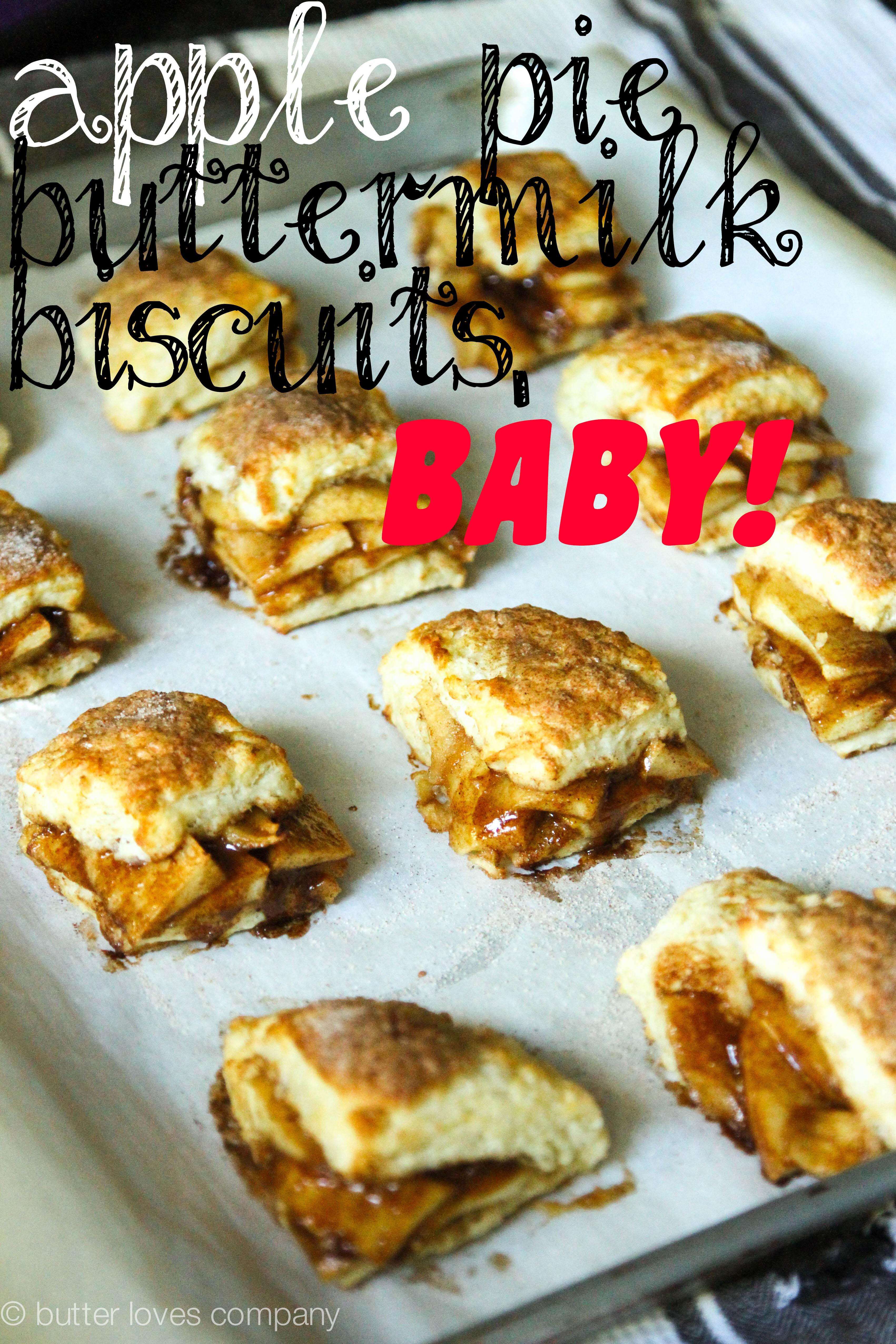 If you've ever found yourself craving apple pie for breakfast, these biscuits are for you. These fluffy treats are portable, completely 8am acceptable versions of apple pie with a sweet cinnamon apple filling folded into two fluffy, buttery buttermilk biscuit layers. Shopping for and making this recipe is extremely easy as it requires just one apple, one spice and no electric mixer of any sort. Let's consider this our simple stepping stone into the various apple-ly pies and treats we make in the coming months. Prepare to have a super awesome smelling kitchen!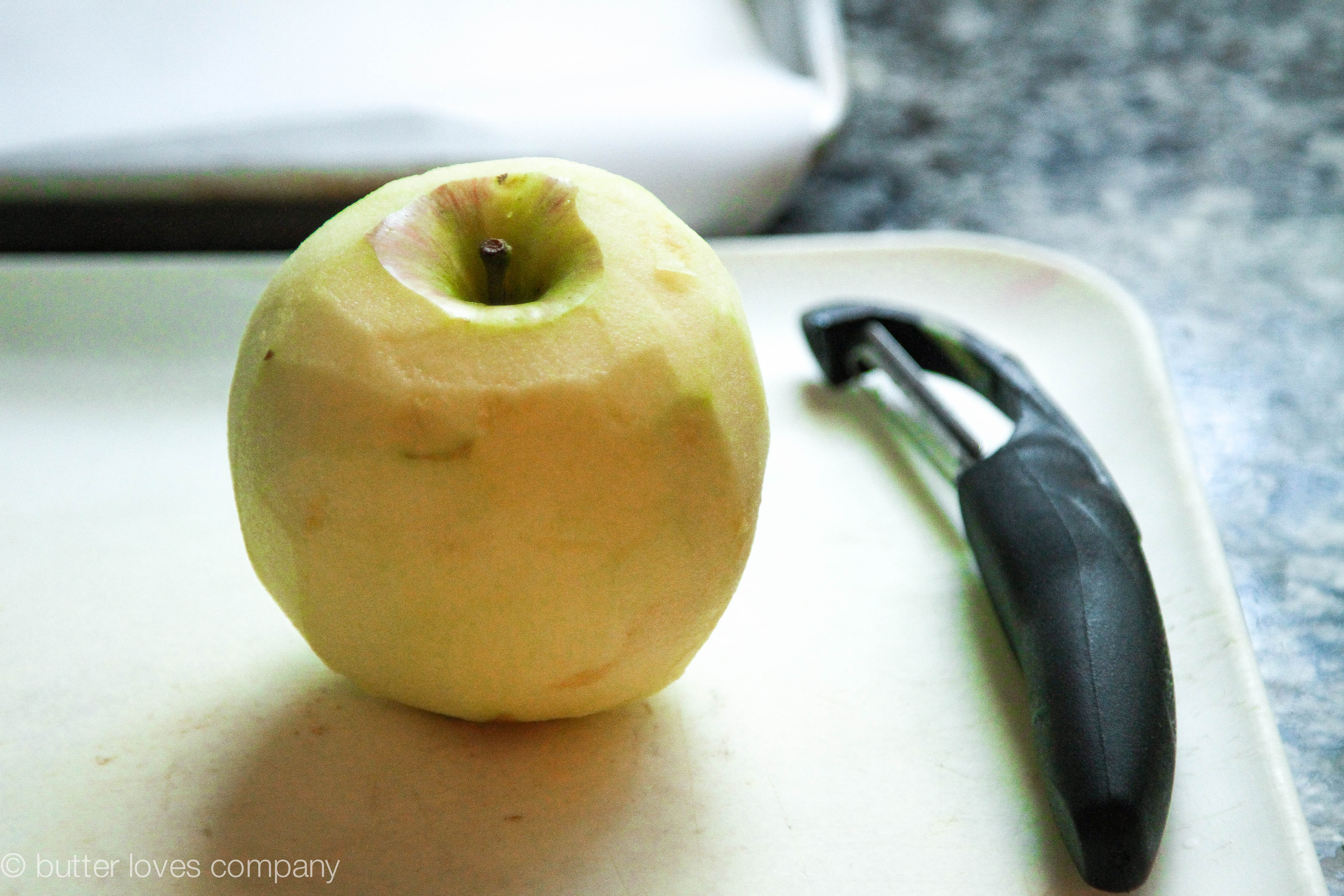 I made these last Sunday as part two of the Joy the Baker and King Arthur Flour Baking Boot Camp series. The concept of the series is simple: four recipe challenges using four different King Arthur Flours + photos + Instagram #bakingbootcamp = a chance to win awesome baking prizes. If you're interested in participating you can find out more details on Joy's blog. Also, if you have an Instagram account, I would love to see your results. I'm @butterlc. Let's be web buds!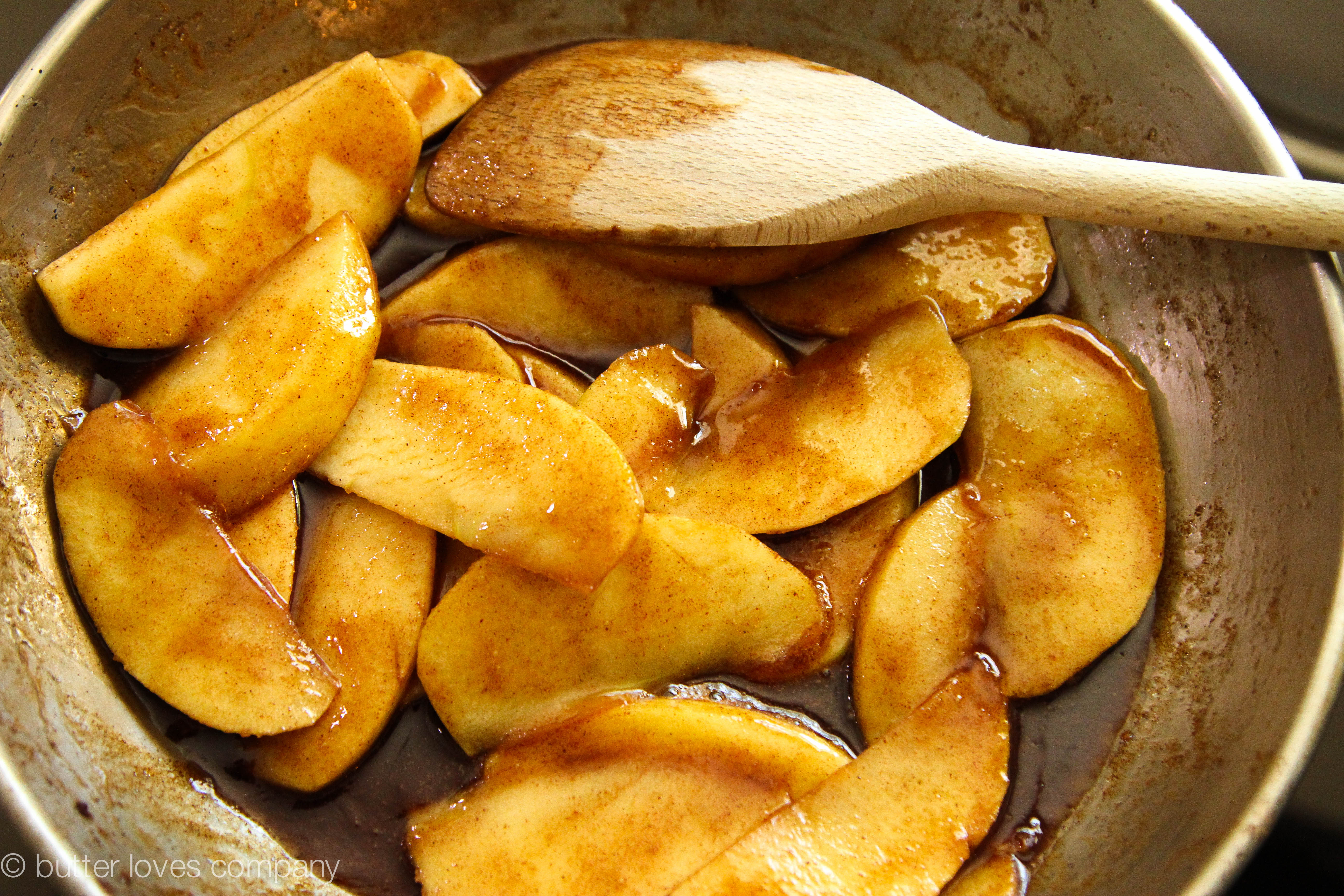 This challenge featured self-rising flour
, which I learned is made using soft wheat flour rather than the hard wheat flour that goes into all-purpose flour. This causes it to have a lower protein content (8.5%) than all-purpose flour (11.7%) which aids in making the flour light, and resulting tender and fluffy biscuits. Apparently, this type of flour also already contains non-aluminum baking powder and a dash of salt. Whoop, whoop! Cheers to learning! Love this stuff.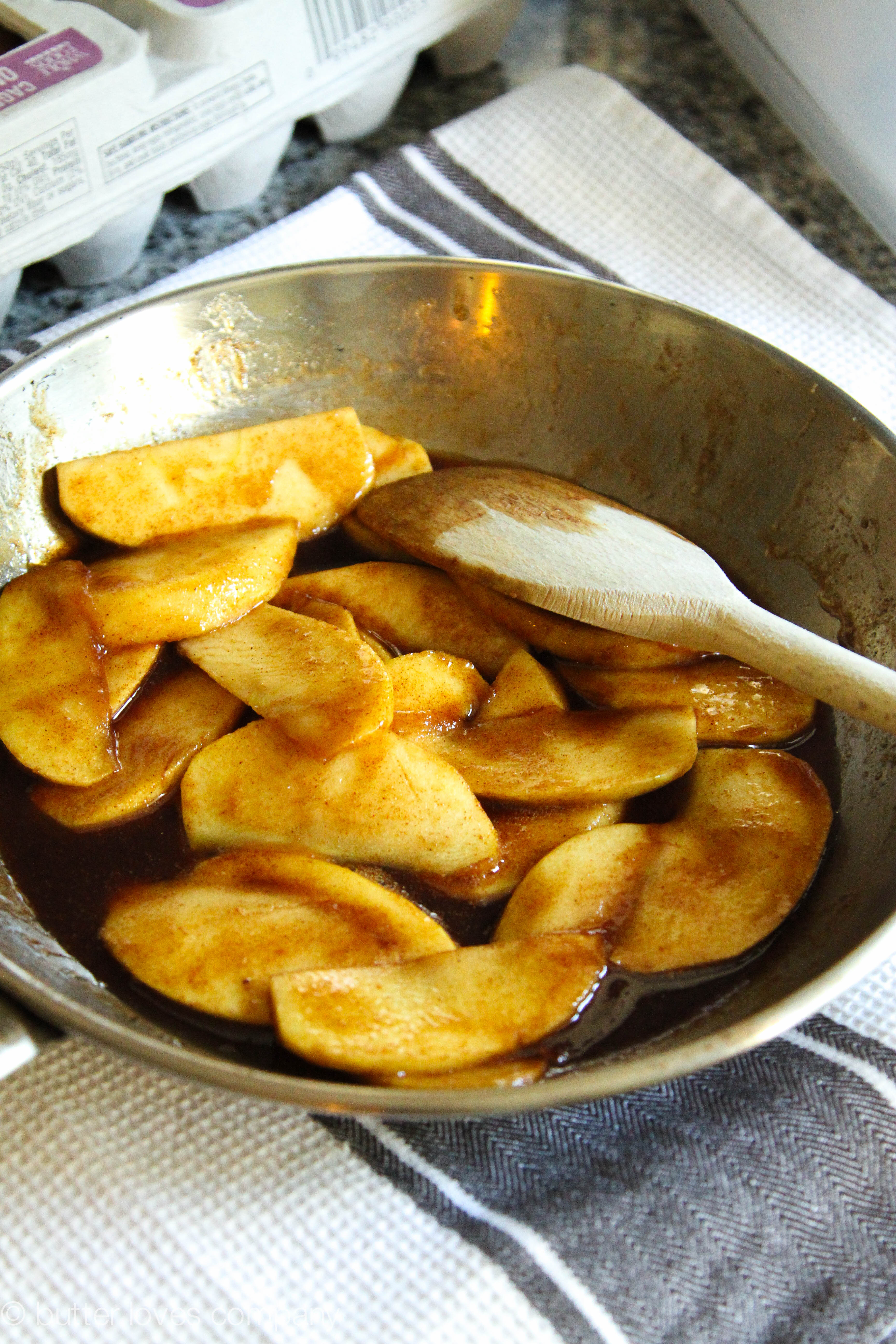 I don't know about you but I had five types of flour on hand, but self-rising was not one of them. Luckily, you can make your own using this easy formula: 1 cup all-purpose flour + 1 1/2 teaspoons baking powder + 1/4 teaspoon salt. Whisk this mixture together until thoroughly combined. You will need a double batch of this for the recipe below.
Aside from having these on a casual Sunday, I can picture serving them with brunch on a crisp fall day, or even into the Thanksgiving holiday season.
*Truthfully, if you find yourself craving apple pie for breakfast, please also feel free to eat the stinkin' pie. I know I have. That's the beauty of being an "adult."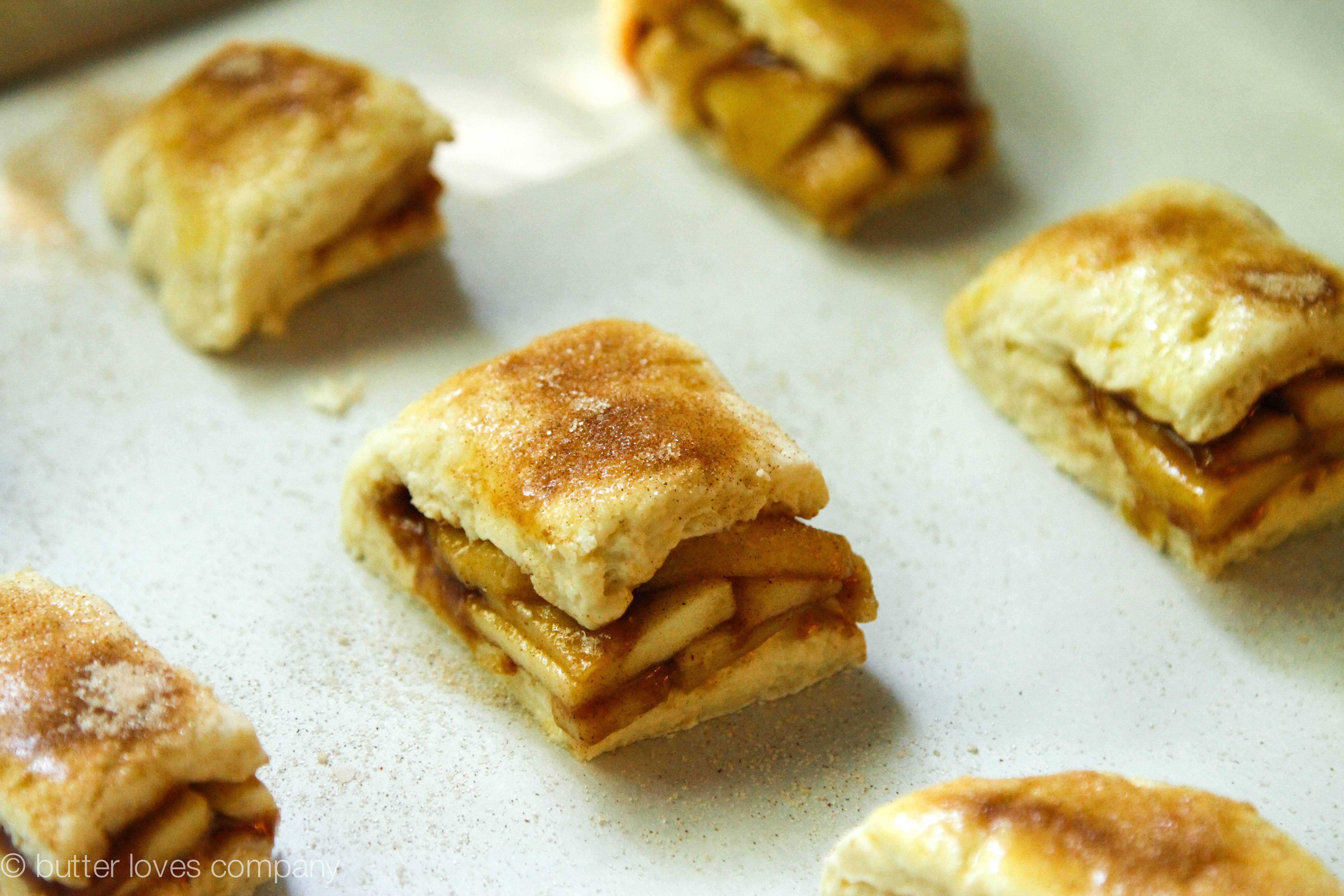 apple pie buttermilk biscuits
Joy the Baker
prep time: 15 minutes
cook time: 12–14 minutes
total time: 30–40 minutes
makes 12 biscuits
Ingredients:
For the Apples:
1 Fuji or other baking apple of choice, peeled, cored and sliced very thin
2 tablespoons unsalted butter
1 teaspoon ground cinnamon
2 tablespoons packed brown sugar (I was generous with this)
For the Biscuits:
2 cups King Arthur Unbleached Self-Rising Flour, or your own self-rising flour mixture (directions above)
1/4 cup cold unsalted butter, cut into small cubes
2 tablespoons granulated sugar
2/3 to 3/4 cup cold buttermilk
For the Topping:
1 large egg, beaten
2 tablespoons granulated sugar
1/2 teaspoon ground cinnamon
pinch of salt
Instructions:
Place a rack in the center of the oven and preheat to 425°F. Line a baking sheet with parchment paper and set aside.
Prepare the apples: Melt butter in a medium skillet over medium heat. Add the apples, cinnamon and brown sugar. Toss the apples until the sugar is melted and the mixture on the apples is warm and glossy. The apples will be coated but won't be cooked through. Remove from the heat and set aside to cool.
Prepare the biscuit dough: Place flour in a medium bowl. I used a baking dish with a nice flat bottom and wide top so I could get my hands in easily. Add the cold butter cubes and use your fingers to quickly break the butter down into the flour until some of the butter bits are oat-sized and others pea-sized. Stir in the granulated sugar.
Create a well in the center of the flour mixture and pour in 2/3 cup buttermilk. Stir the mixture together until it is well moistened and holds together if you gently gather it together into a ball. Add the remaining buttermilk as needed. If you're using your own homemade self-rising flour, you'll want to add the full 3/4 cup of buttermilk.
Lightly dust a work surface with all-purpose flour. Gently gather the dough into a ball and transfer it to the floured surface. Pat it into a small rectangle.
Assemble: Use a rolling pin to gently roll the dough into a rectangle 1/2-inch thick, about 7-inches x 10-inches. Arrange the cooled apples in a single layer over one half of the rolled-out biscuit dough. Fold the empty side of the dough over the apples and gently seal in the apples by pressing the edges of the dough together. You can use your hands to pat the dough into a 6-inch x 8-inch rectangle and smooth the edges.
Use a sharp knife to slice the dough into 12 squares. Use a spatula to place each biscuit onto the prepared baking sheet, about 2-inches apart.
In a small bowl, whisk together sugar for topping, cinnamon and salt.
Brush each biscuit top with beaten egg and sprinkle generously with the cinnamon sugar mixture.
Bake for 12 to 14 minutes until the biscuits are risen and golden brown. Remove from the oven and serve warm, or cool completely before storing in an airtight container. Biscuits are best enjoyed within two days of baking.