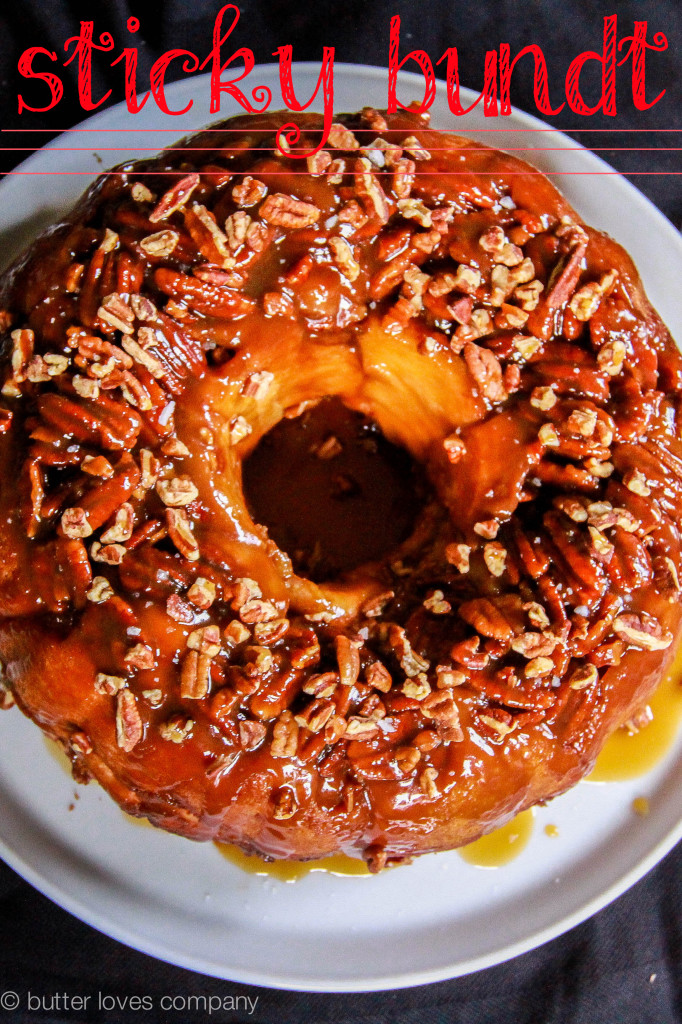 This is a sticky bun/bundt cake hybrid which I've aptly named a sticky 'bun'dt (Get it, get it?). I made a batch of fluffy sticky buns and baked them in a bundt pan literally for the sole purpose of saying sticky bundt all day. Lucky for me, the resulting sticky-sweet, pecan-studded cake tasted amazing, so I'm excited to share the recipe with you while I humbly pat myself on the back. 😉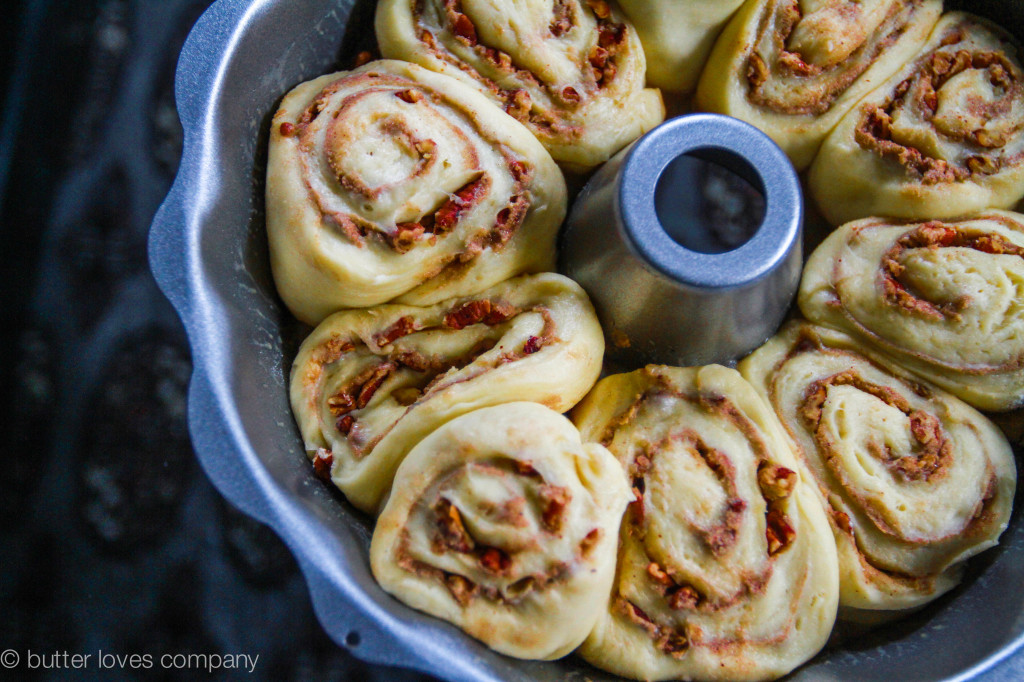 look at these sweet dough pinwheels getting personal! they love each other!
If you are a fan of sticky buns, you're definitely open to a bit of butter and sugar. Plenty of pecans adhere to a sticky-sweet—but more of a mature not-too-sweet, sweet—dark brown sugar topping, all of which jumps aboard a nutty, buttery cinnamon roll train. Hopefully, the train is headed for a brunch table near you!
Making sticky buns requires a bit of patience as you've got to proof the dough twice; first, right after preparing the yeasted sweet dough, and second, after filling and rolling the dough into pinwheeled buns. I promise you this sticky bun bundt cake cake is worth the extra effort as the bundt is as tasty as it is visually stunning.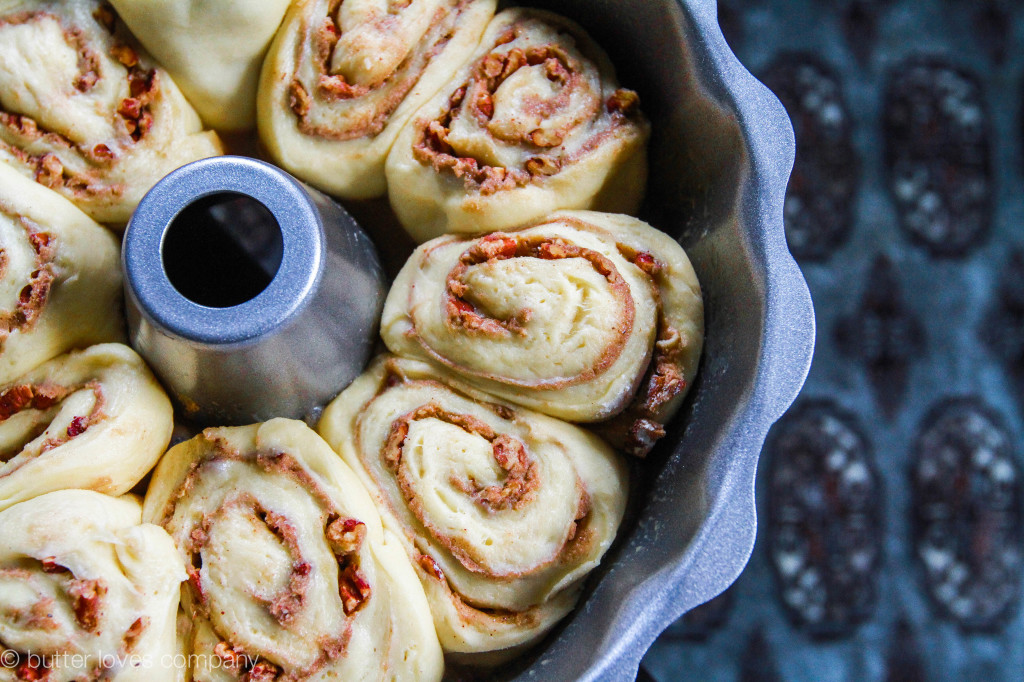 There are three main elements to this sticky bun bundt cake: the dough, the filling, and the topping. Broken down into three parts it is totally manageable and you can even prepare and assemble the buns a day ahead of time so you will be able to sleep in and still impress your family and friends at Sunday brunch. Just allow the chilled buns to get to room temperature about an hour and a half before baking in the morning.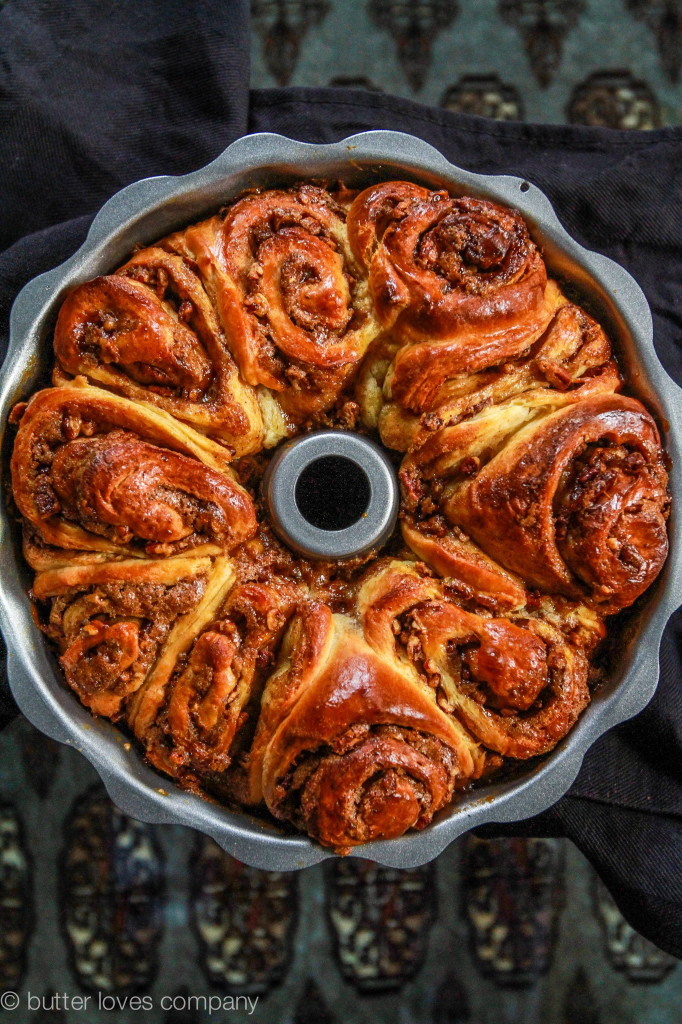 the pecan cinnamon rolls will rise up into these layers and you will feel like a superhero for making this happen.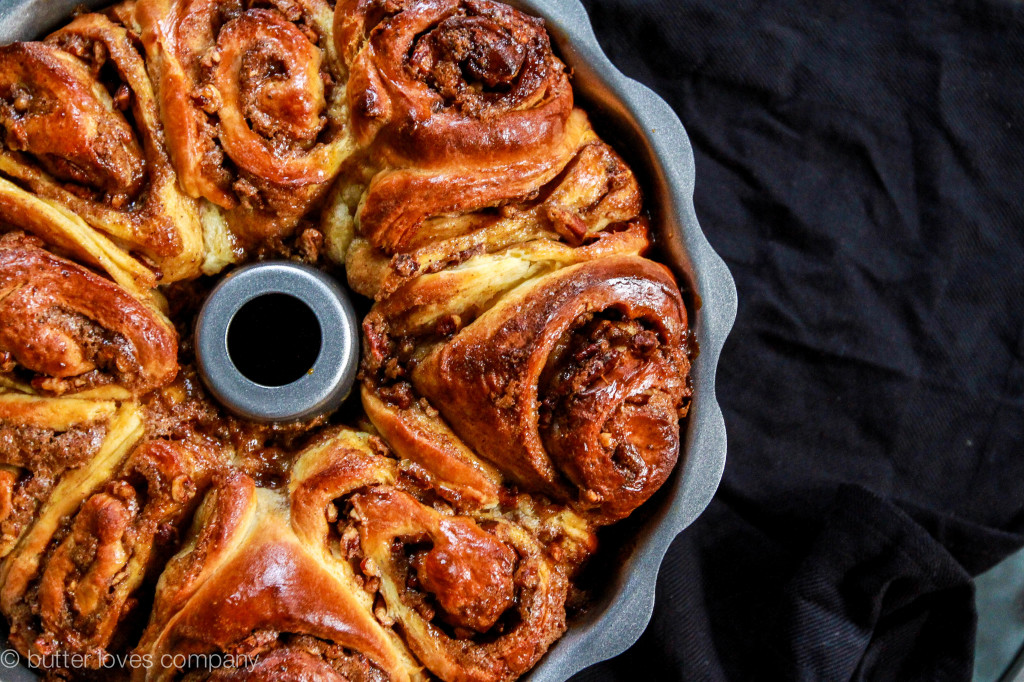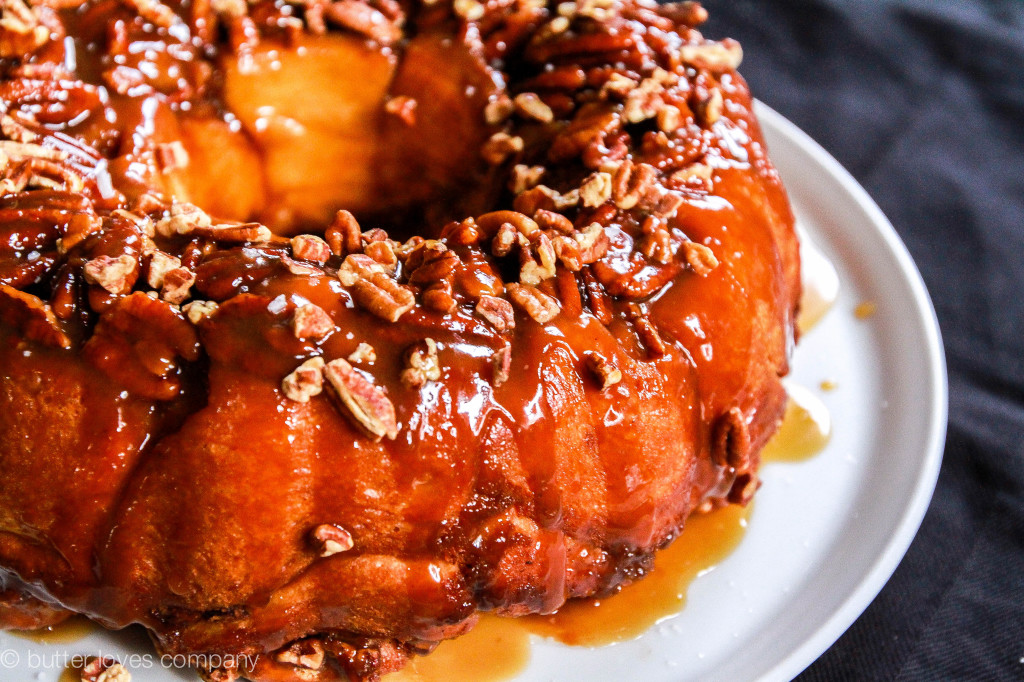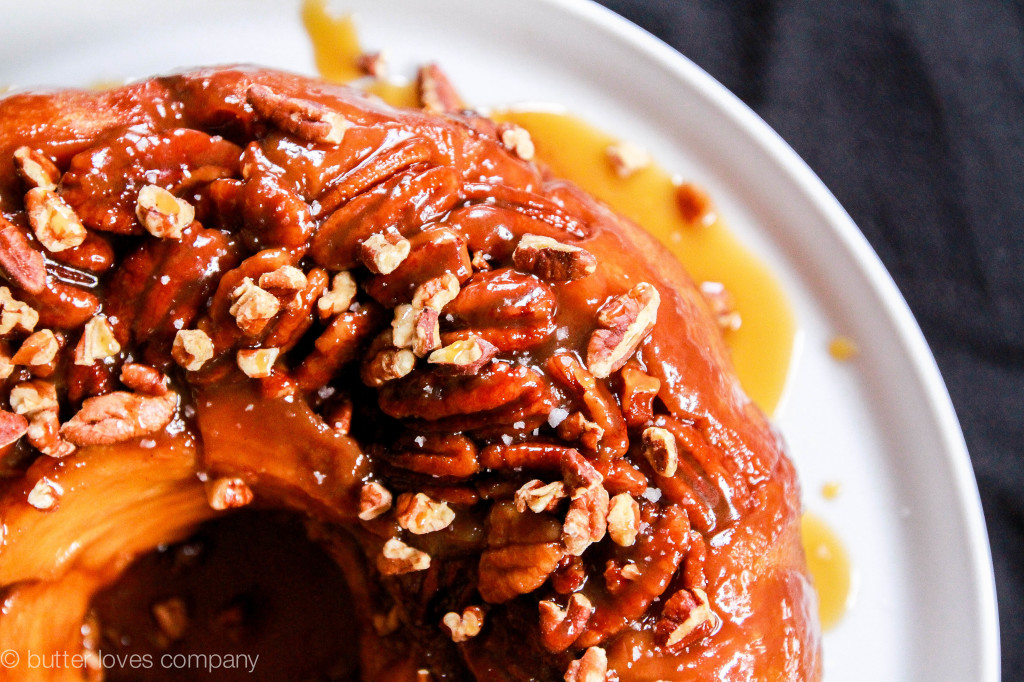 sticky bundt
Adapted from Bon Appetit, April 2012
prep time: 30–40 minutes (plus time to chill and rise)
cook time: 50 minutes
total time: 5 hours (includes minimum time to chill and rise)
Makes: One 10-inch bundt cake or 10 individual sticky buns prepared in an 8x8x2″ metal baking pan
Ingredients:
Sweet dough:
2/3 cup whole milk
5 tablespoons sugar, divided
1 3/4 teaspoons active dry yeast (from one 1/4-ounce envelope)
2 large eggs, room temperature
2 3/4 cups all-purpose flour
1 teaspoon salt
1/2 cup (1 stick) unsalted butter, cut into 1″ pieces, room temperature, plus 1 tablespoon melted butter for greasing bowl
Topping:
2 cups chopped pecans (I like to keep about 1/2 cup whole to top the bundt, but up to you.)
1/2 cup (1 stick) unsalted butter
3/4 cup (packed) dark brown sugar
1 tablespoon vanilla extract
3/4 cup heavy cream
1/3 cup honey
1/4 teaspoon salt
1/4 teaspoon finely grated orange zest (optional)
2 teaspoons orange liqueur or rum (optional)
Filling/bun assembly:
1/2 cup (1 stick) unsalted butter, room temperature
1/2 cup (packed) dark brown sugar
1 teaspoon vanilla bean paste or extract
3/4 teaspoon ground cinnamon
1/2 teaspoon freshly grated nutmeg
1/8 teaspoon salt
1 large egg (for egg washing buns)
Coarse sea salt (such as Maldon) for finishing
Instructions:
Make the sweet dough:
In a small, microwave-safe bowl, heat milk in microwave until an instant-read thermometer registers 110–115°F. Stir in 1 tablespoon sugar. Sprinkle yeast over milk and whisk to blend. Let sit until yeast is foamy, about 5 minutes. Whisk in eggs until smooth.
Combine remaining 4 tablespoons of sugar, flour, and salt in the bowl of a stand mixer fitted with a dough hook. Add milk mixture and combine on low speed. With mixer still running, add the room-temperature butter, 1 piece at a time, incorporating each piece fully before adding the next one. After you've added the last piece, mix on medium speed for 1 minute. Increase speed to medium-high and knead until dough is soft and silky, about 10 minutes.
Brush a medium bowl with melted butter; place dough in bowl. Brush top of dough with remaining melted butter; cover with plastic wrap and let sit room temperature until about doubled in size, about 45 minutes to 1 hour. Transfer to refrigerator and chill dough for 2 hours.
Meanwhile, make the topping:
Preheat oven to 350°F. Toast pecans on a rimmed baking sheet until fragrant and slightly darkened, 10–12 minutes. Let cool completely. Set 1 1/2 cups nuts aside for inside the buns.
Melt butter in a small, heavy saucepan over medium heat. Stir in brown sugar, vanilla, cream, honey, salt, orange zest and liqueur, if using. Bring to a boil, reduce heat to medium, and simmer until glaze is golden brown, glossy, and slightly thickened, 3–4 minutes. Pour a third of the glaze into your bundt pan, tilting to coat bottom and sides. Set aside remaining glaze. Sprinkle 1/2 cup toasted pecans over bottom of pan and let cool.
Make the filling and assemble:
Using an electric mixer on medium speed, beat butter, sugar, cinnamon, nutmeg, and salt in a medium bowl until light and fluffy, 2–3 minutes. Set filling aside.
Remove dough from refrigerator and transfer to a floured work surface. Lightly dust top with flour and roll out the dough into a 12×16″ rectangle about 1/4″ thick. Spread the cinnamon-sugar mixture over dough with a knife or your hands. Sprinkle 1 cup chopped pecans over the cinnamon-sugar mixture.
Beginning with the long edge closest to you, roll the dough tightly into a log. Once you finish rolling, arrange the log seam-side-down on the work surface.
Using a sharp knife (you can wet the knife slightly to help make a clean cut), cut the log crosswise into 10 equal pieces. Don't worry about making perfect rolls especially if you'll be putting into a bundt pan. Turn the buns cut-side-up and gently tuck the end of each roll under the bun so it won't unroll while baking. Place the buns in prepared pan; space them evenly apart. If making the sticky bundt, the buns will touch. If making individual buns in a 8x8x2″ metal baking pan the buns will likely not touch each other. At this point, you can cover and chill buns and remaining glaze separately. Store remaining pecans airtight at room temperature.
Loosely cover pan with plastic wrap or a kitchen towel. Let buns rise in a warm, draft-free area until doubled in size, 45 minutes to 1 hour, or 1 1/2–2 hours if dough has been chilled overnight.
Arrange a rack in middle of oven; preheat to 350°F. Whisk egg with 1/2 teaspoon water in a small bowl. Brush tops of buns with egg wash. Bake, rotating pan halfway through and tenting with foil if browning too quickly, until buns are golden brown, filling is bubbling, and an instant-read thermometer inserted into center of buns registers 185°F, about 50 minutes. Let cool for 5 minutes and then invert onto a platter. Spoon remaining glaze over sticky bundt. Sprinkle with 1/2 cup pecans. Lightly sprinkle with sea salt. Serve sticky bundt warm or at room temperature.