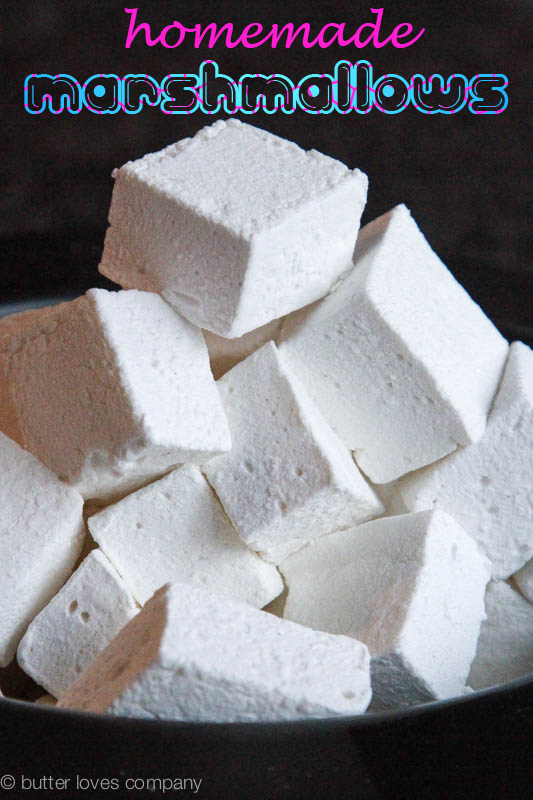 Have you ever eaten a fresh marshmallow? It's like a puffy cloud pillow with a soft texture outside and a sticky sweet inside. Dropped into rich hot chocolate, fresh marshmallows are the cure-all for the winter blues. Eaten alone, they are a light, sweet snack. And toasted and smooshed between graham crackers and chocolate, you have one of the best s'mores ever.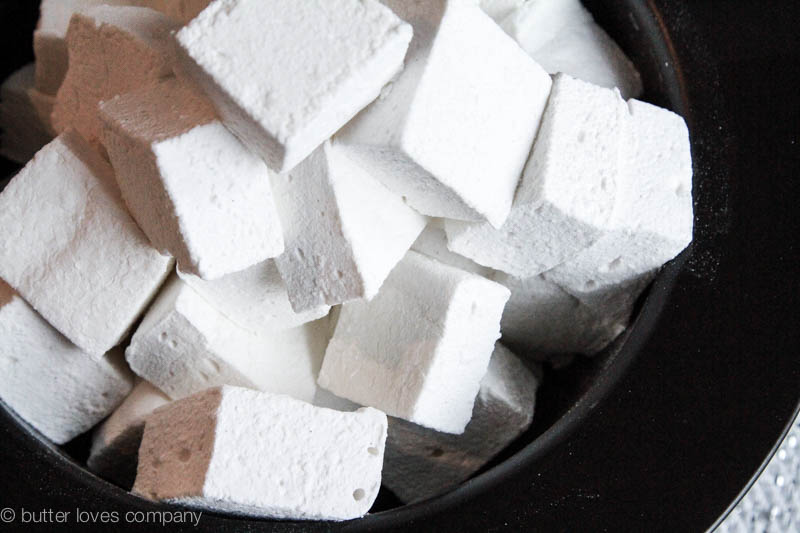 As soon as you see how easy it is to make marshmallows at home you'll be wondering why you haven't tried it sooner. I've made them a few times now and have started experimenting with other flavors like coconut and Crème de Violette.
There are a few things I need to mention before you dive in though. First, you'll need to have a candy thermometer on hand as you'll be heating the mixture to exactly 240°F. Second, after you've whipped all the ingredients into a thick, bright white, fluffy mixture, you'll pour/scrape it into a greased and sugar-dusted baking pan. Here's the key: you will NOT be able to get all of the marshmallow out of your stand mixer's bowl. It is just too gosh darn sticky. Don't worry about this and don't try too hard to scrape out every speck or you will end up looking like the Stay Puft Marshmallow Man covered in all the sticky marshmallow strings.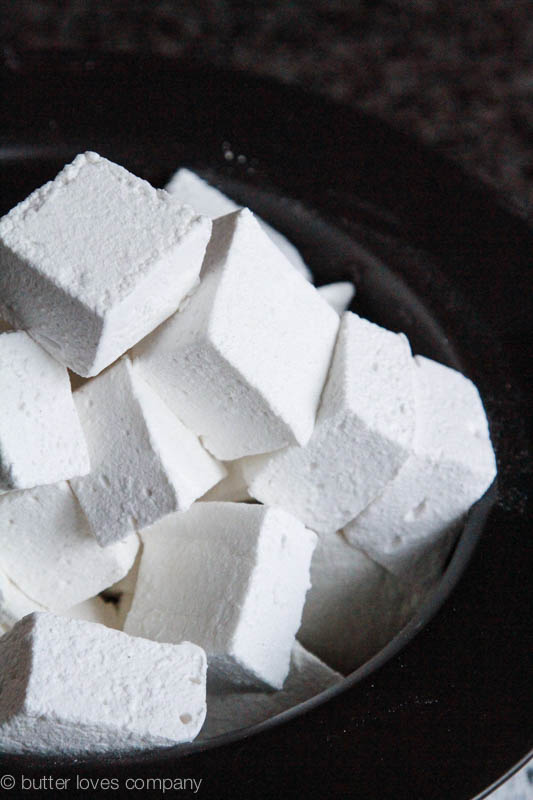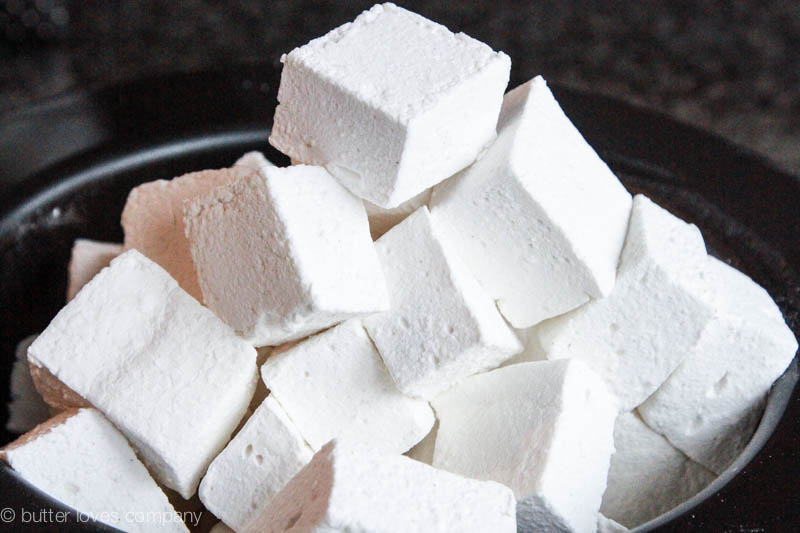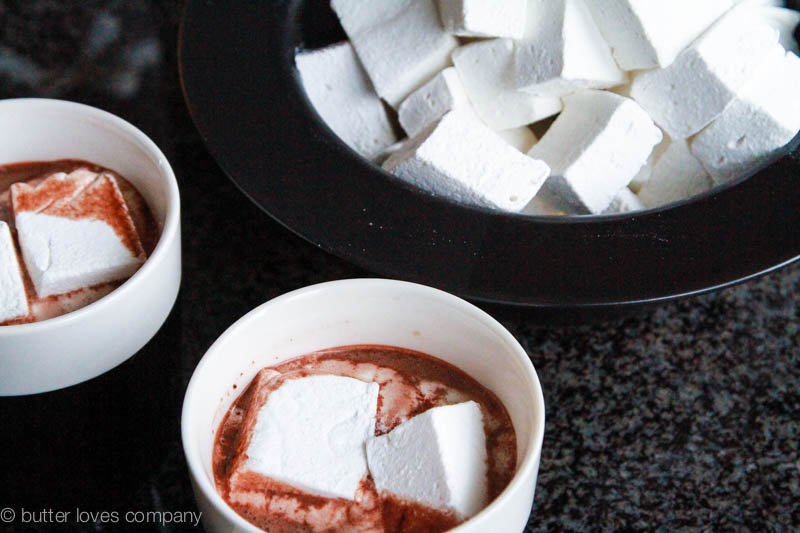 fluffy homemade marshmallows
recipe from Alton Brown
prep time: 30 minutes
total time: 4 hours, 30 minutes (includes time to set)
makes about 9 dozen 1-inch marshmallows
Ingredients:
3 packages unflavored gelatin
1 cup ice cold water, divided
1 1/2 cups granulated sugar
1 cup light corn syrup
1/4 teaspoon salt
1 teaspoon vanilla extract
1/4 cup confectioners' sugar
1/4 cup cornstarch
Nonstick spray
Instructions:
Place the gelatin into the bowl of a stand mixer along with 1/2 cup of the water. Have the whisk attachment standing by.
In a small saucepan over medium high heat, combine the remaining 1/2 cup water, granulated sugar, corn syrup, and salt. Cover and allow mixture to cook without touching it for 3 to 4 minutes. Uncover, clip a candy thermometer onto the side of the pan and continue to cook, untouched, until the mixture reaches 240°F, about 7 to 8 minutes. Once the mixture reaches this temperature, immediately remove from heat.
Turn the stand mixer on low speed and slowly pour the sugar syrup down the side of the bowl into the gelatin mixture. Once you have added all of the syrup, increase the speed to high. Continue to whip until the mixture becomes very thick and the outside of your mixing bowl feels lukewarm to the touch, about 12 to 15 minutes. Add the vanilla extract during the last minute of whipping. Meanwhile, prepare the pan.
Combine the confectioners' sugar and cornstarch in a small bowl. Spray a 13 x 9-inch metal baking pan with nonstick cooking spray. Generously sprinkle about a third of the sugar and cornstarch mixture onto the pan and shake until it completely coats the bottom and sides. Reserve the remaining confectioners' sugar mixture for later use.
When the marshmallow mixture is ready, pour/scrape it into the prepared pan using a lightly oiled spatula which will help you spread the top evenly into each corner of the pan (Remember, you will not be able to get all of the mixture out of the bowl!). Dust the top with some of the remaining sugar and cornstarch mixture. Reserve the rest for later. Allow the marshmallows to sit, uncovered, for at least 4 hours and up to overnight.
Turn the marshmallows out onto a cutting board and cut into 1-inch squares using a pizza wheel dusted with the confectioners' sugar mixture. Once cut, lightly dust all sides of each marshmallow with the remaining sugar mixture, using additional if necessary. Drop some into your hot cocoa or store in an airtight container for up to 3 weeks.