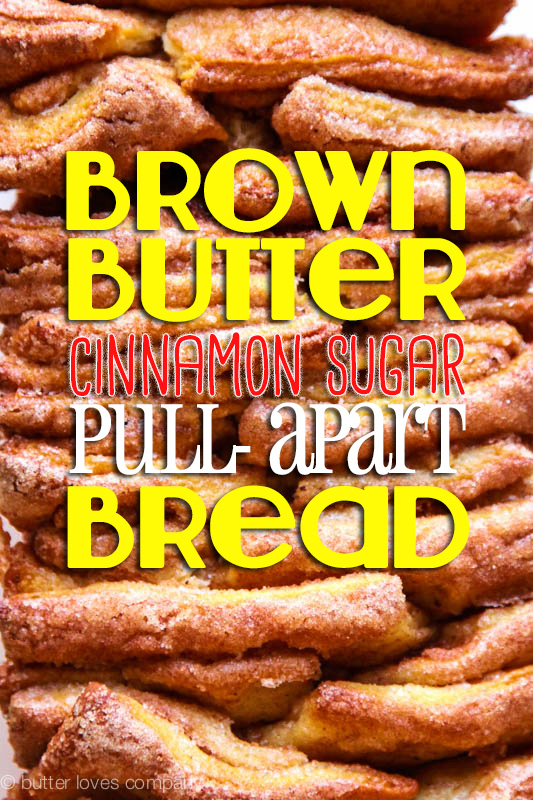 WARNING: This is the kind of bread you can easily polish off in a single sitting. The second you peel the first layer of this buttery sweet dough off the loaf and smell the warm cinnamon sugar filling, your other hand will already be reaching for your next piece. Maybe it's best if you keep some friends around to share. Or, be greedy and have it all—I would. You won't even need to waste time slicing because this is homemade PULL-APART bread. Hands-on food is fun. Nothing like instant gratification.
I love making breads and things with yeasted dough. It makes me feel like a superwoman because I used to think only professional bakers could work bread magic (for one of my favorite yeasted dough recipes, see here). Just take a look at the layers completely transform before and after baking. It's amazing! It's like a science experiment in the kitchen and, man, it makes me just love science. I hope you will too.
While there are few combinations better than the simple cinnamon and sugar, you can get as weird as you want with this pull-apart bread recipe. Maybe toss in some chocolate chips … or raspberries … or even go savory and swap out the cinnamon sugar for olives and cheese. Whatever you do, you'd better get ready for carb satisfaction!
P.S. This bread pairs excellently with a Bloody Mary. We had to test, you know, to be sure. 🙂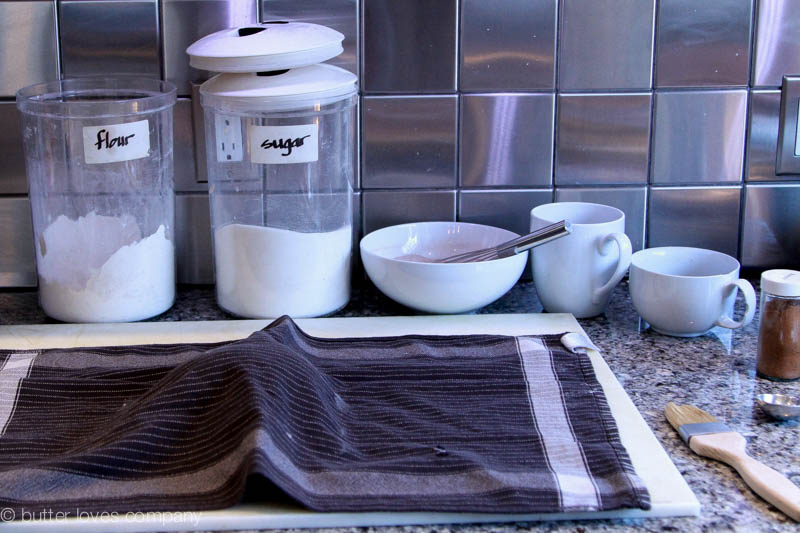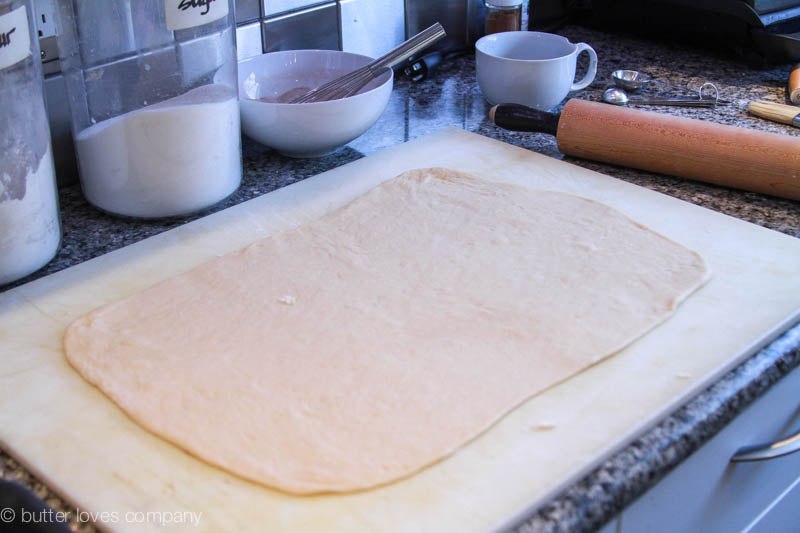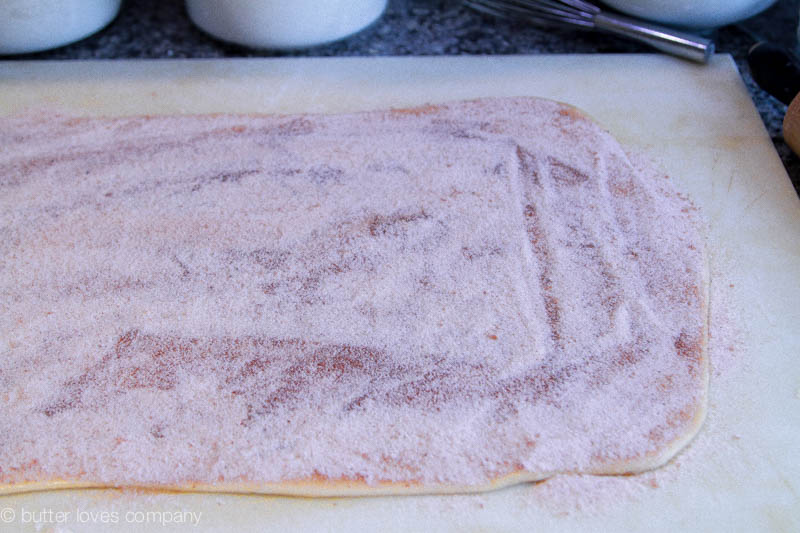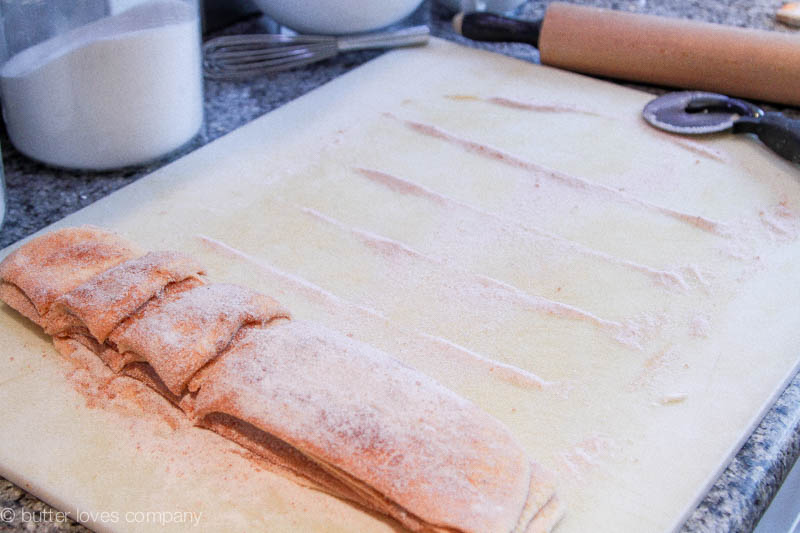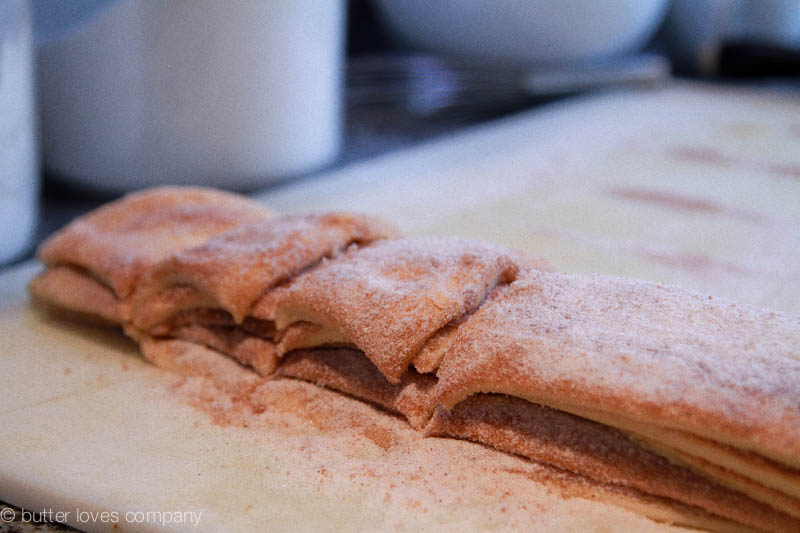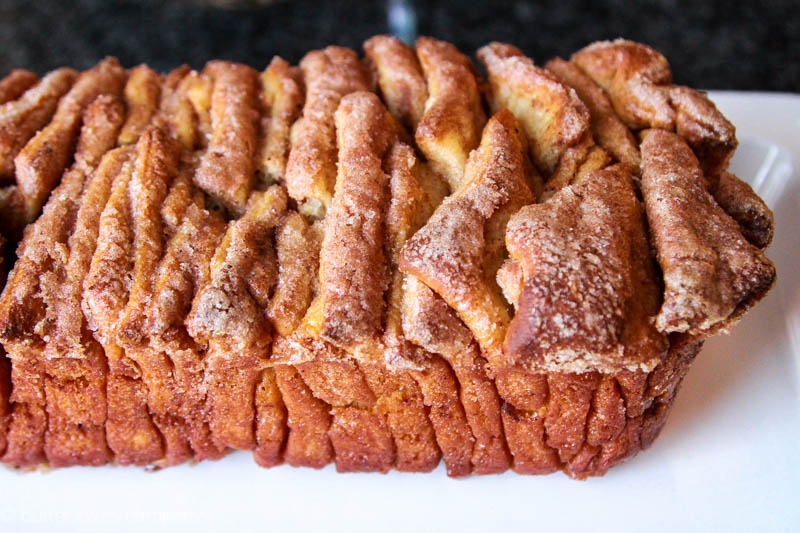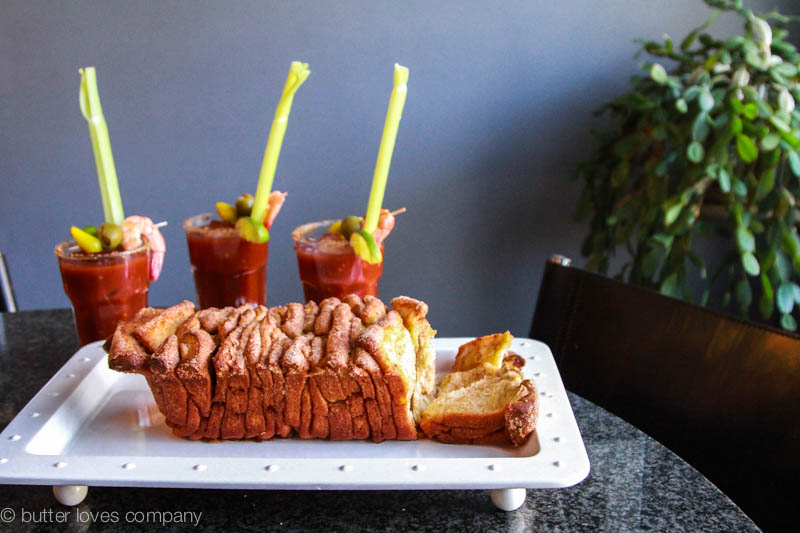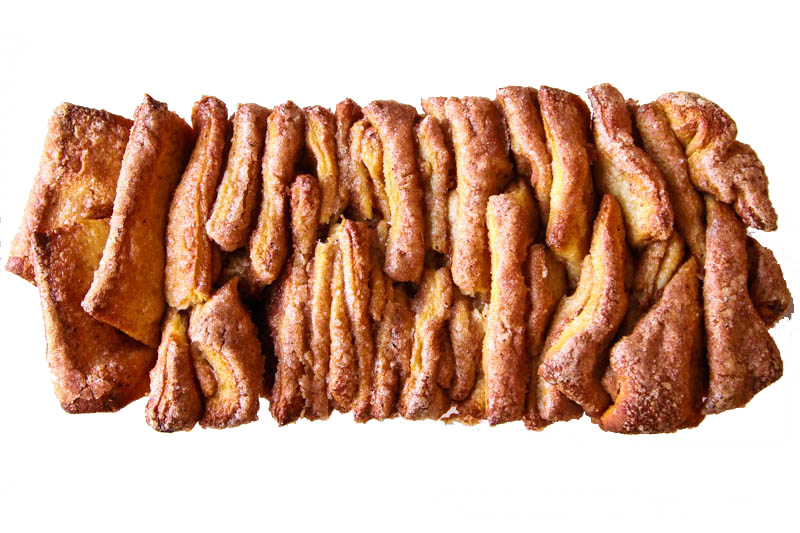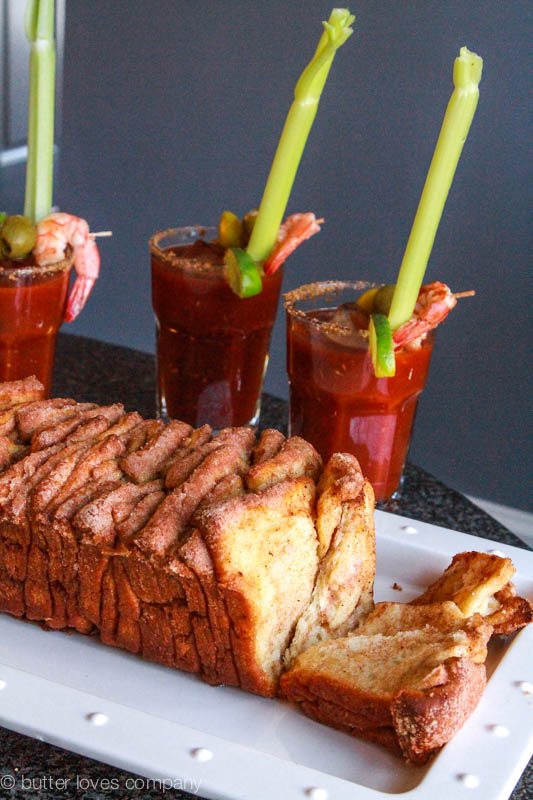 brown butter cinnamon sugar pull-apart bread
recipe adapted from joy the baker
prep time: 30 minutes
cook time: 35 minutes
total time: about 3 hours (includes time for dough to rise)
makes: one 9x5x3-inch loaf
Ingredients:
For the Dough:
2 1/4 teaspoons (1 envelope) active dry yeast
3 tablespoons warm water (between 105°F and 115°F)
3 cups all-purpose flour
1/4 cup granulated sugar, plus a pinch (divided)
1/2 teaspoon salt
2 ounces unsalted butter
1/3 cup whole milk
1/4 cup water
2 large eggs, lightly beaten
1 teaspoon pure vanilla extract
For the Filling:
1 cup granulated sugar
2 teaspoons ground cinnamon
1/2 teaspoon fresh ground nutmeg
2 ounces unsalted butter, melted until browned
Instructions:
Activate your yeast: 

In a small bowl, sprinkle the yeast over 3 tablespoons of warm water. Stir until the yeast begins to dissolve. Add the pinch of granulated sugar and allow the mixture to sit for about 5 minutes, until the mixture is foamy and frothy.

Prepare the dough: In the bowl of a stand mixer fitted with a paddle attachment, whisk together 2 cups flour, 1/4 cup sugar and salt. Set aside.
In a small saucepan, melt together milk and butter until butter has just melted. Remove from the heat and add water and vanilla extract. Let mixture stand for a minute or two, or until the mixture registers 115°F to 125°F.
Pour the milk mixture into the dry ingredients and mix on low until combined. Add the yeast mixture, followed by the eggs and stir until the eggs are incorporated into the batter. It may take a little while to come together. Add 3/4 cup of the remaining flour and mix on low for about 2 minutes. The mixture will be sticky.
Place the dough in a large, greased bowl. Cover with plastic wrap and place in a warm space to rest until doubled in size, about 1 hour. Make ahead: After you let the dough rise to double its size, it can be refrigerated overnight to use in the morning. If you're using this method, let the dough rest at room temperature for 30 minutes before continuing the recipe.

Prepare the filling: 

While the dough rises, whisk together the sugar, cinnamon, and nutmeg. Set aside. Melt 2 ounces of butter until browned. Set aside. Grease and flour a 9x5x3-inch loaf pan. Set aside.

Assemble and bake: 

Deflate the risen dough and knead about 2 tablespoons of flour into the dough. Cover with a clean kitchen towel and let rest for 5 minutes. On a lightly floured work surface, use a rolling pin to roll out the dough. The dough should be about 12-inches tall and about 20-inches long. Use a pastry brush to spread the melted brown butter across all of the dough. Sprinkle with all of the cinnamon and sugar mixture.

Slice the dough vertically, into six equal-sized strips. Stack the strips on top of one another and slice the stack into six equal slices once again so you are left with six stacks of six squares. Layer the dough squares on their sides in the loaf pan. Place a kitchen towel over the loaf pan and allow to rest in a warm place for 30 to 45 minutes or until almost doubled in size.

Place a rack in the center of the oven and preheat to 350°F. Place loaf in the oven and bake for 30 to 35 minutes, until the top is very golden brown. You will want to make sure the dough in the center is cooked so don't be nervous if the top reaches a deep golden brown. That's what you're looking for.

Remove from the oven and allow the loaf to cool for 20 to 30 minutes before running a knife around the edges of the pan to loosen the bread and invert onto a platter. Serve warm.