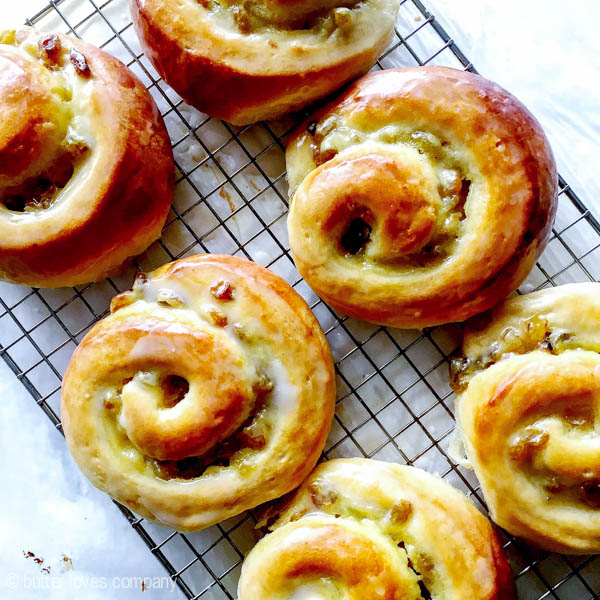 As part of my ongoing quest to become a Parisian woman (Happy Bastille Day!), I am teaching myself to make every traditional French pastry that I'm introduced to. This Pan aux Raisin is the next step in this journey of mine (see you soon almond croissant and kouign amann). Inspired by those sold at Flour Bakery and Cafe in Boston, these 'tres chic' brioche swirls are filled with pastry cream and plump golden raisins.
Bread with raisins? Total snooze-fest, right? I get it. I would've said the same thing before I made them but now I understand why they are Flour founder, Joanne Chang's favorite pastry. They are a perfect subtly sweet, creamy, and doughy treat even for raisin haters (just go light-handed on the raisins or skip completely—they'll still be good, I promise).
The basic brioche recipe here yields enough for two batches of Pan aux Raisins or you can freeze half the dough and save it to make plain brioche buns in a pinch. For ease and sanity, I suggest you prepare the brioche and the pastry cream the night before you'd like to enjoy the completed Pan aux Raisins. This will allow the brioche to proof in the refrigerator overnight and will also give the pastry cream time to cool and come to its thick, creamy, pudding-like texture. On the morning of baking, all of your components will be ready so all you'll have to do is assemble, let rise for an hour or two, and then bake!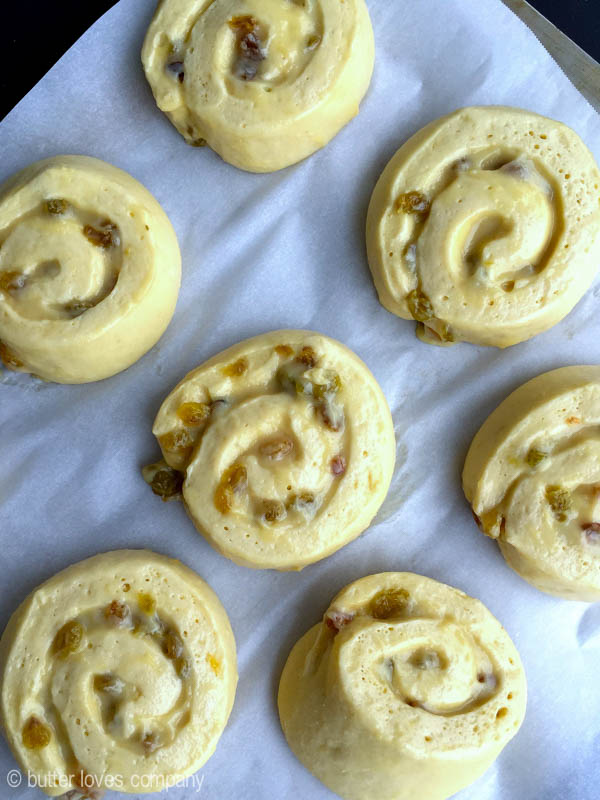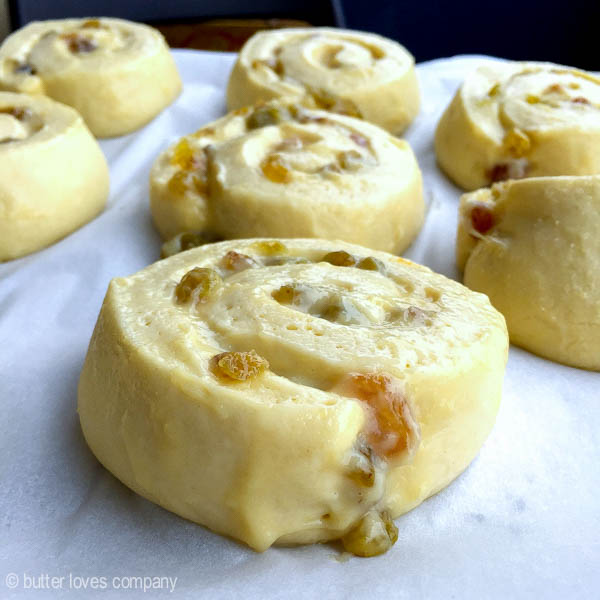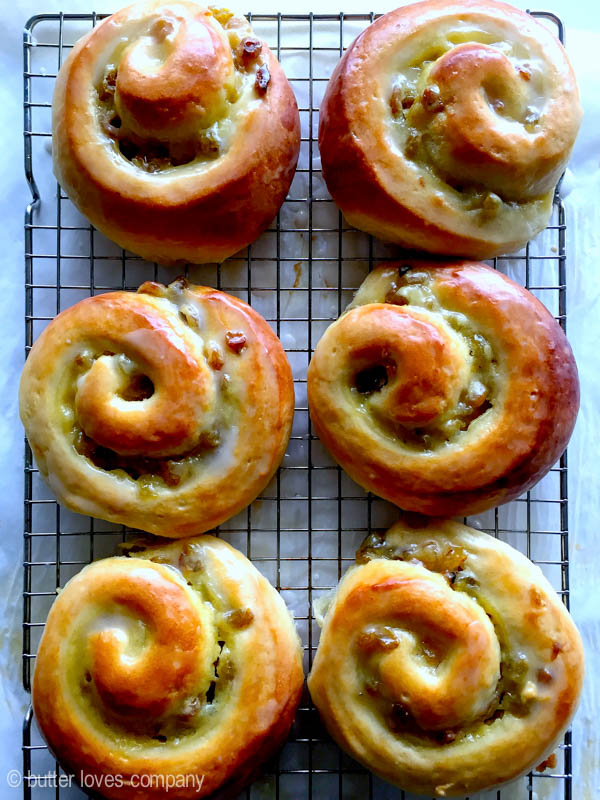 Pain aux Raisins
Recipe from Flour: Spectacular Recipes from Boston's Flour Bakery + Cafe
prep time: 1 hour (plus overnight for proofing of dough/cooling of pastry cream
cook time: 30–40 minutes
total time: 12–14 hours (includes proofing time)
makes 10–12 pastries
Basic Brioche Dough (makes 2 loaves)
Ingredients:
2 1/4 cups (315g) all-purpose flour
2 1/4 cups (340g) bread flour
1 1/2 packages (3 1/4 tsps) active dry yeast
1/3 cup plus 1 tbsp (82g) sugar
1 tablespoon salt
1/2 cup (120g) cold water
5 large eggs
1 cup plus 6 tablespoons (310g) unsalted butter, at room temperature, cut into 10 to 12 pieces
Instructions:
In a stand mixer fitted with the dough hook, combine the all-purpose flour, bread flour, yeast, sugar, salt, water, and the eggs. Beat on low speed for 3 to 4 minutes, or until all of the ingredients have come together and all the flour is incorporated into the wet ingredients. Once the dough has come together, beat on low speed for another 3 to 4 minutes.  The dough will be very stiff and seem quite dry.
With the mixer on low speed, add the butter, one piece at a time, mixing after each addition until it disappears into the dough. Once you have added all the butter, continue mixing on low speed for about 10 minutes, stopping the mixer occasionally to scrape the sides and bottom of the bowl to make sure all of the butter is mixed in very thoroughly.
Once the butter is completely incorporated, turn up the speed to medium and beat for another 15 minutes, or until the dough becomes sticky, soft, and somewhat shiny. It will take some time to come together. Once it has, turn the speed to medium-high and beat for about 1 minute.  You should hear the dough make a 'slap-slap-slap' sound as it hits the sides of the bowl. You can test the dough by pulling at it. It should stretch a bit and have a little give. If it seems wet and loose and moves more like a batter than a dough, add a few tablespoons of flour and mix until it comes together. If it breaks off into pieces when you pull at it, continue to mix on medium speed for another 2 to 3 minutes, or until it develops more strength and stretches when you grab it. It is ready when you gather it all together and pick it up in one piece.
Place the dough in a large bowl or plastic container and cover it with plastic wrap, pressing the wrap directly onto the surface of the dough. Let the dough proof in the refrigerator for at least 6 hours or up to overnight. At this point, you can freeze all or half the dough in an airtight container for up to 1 week.
Pastry Cream (makes about 2 cups)
Ingredients:
1 1/4 cups (300g) whole milk
1/2 cup (100g) sugar
1/4 cup (30g) cake flour (if you don't have it, here is a tutorial on how to make cake flour out of all-purpose flour at home)
1/2 teaspoon salt
4 large egg yolks
1 teaspoon vanilla extract
Instructions:
In a medium saucepan, scald the milk over medium-high heat (bubbles start to form around the edge of the pan, but the milk is not boiling). While the milk is heating, in a small bowl, stir together the sugar, flour and salt. (Mixing the flour with the sugar will prevent the flour from clumping when you add it to the egg yolks.)  In a medium bowl, whisk the egg yolks until blended and then slowly whisk in the flour mixture (it will be pasty).
Remove the milk from the heat and slowly add it to the egg-flour mixture, a little at a time, whisking constantly (you want to make sure that you only add a little at a time so the hot milk doesn't cook the eggs in the mixture). When all of the milk has been incorporated, return the contents of the bowl to the saucepan and place over medium heat. Whisk continuously and vigorously for about 3 minutes, or until the mixture thickens and comes to a boil. At first, the mixture will be very frothy and thin; as it cooks longer, it will slowly start to thicken until the frothy bubbles disappear and it becomes more viscous. Once it thickens, stop whisking every few seconds to see if the mixture has come to a boil. If it has not, keep whisking vigorously. As soon as you see it bubbling, immediately go back to whisking for just 10 seconds, and then remove the pan from the heat. Boiling the mixture will thicken it and cook out the flour taste but if you let it boil for longer than 10 seconds, the mixture can become grainy.
Pour the mixture through a fine-mesh sieve into a small heat-proof bowl. Stir in the vanilla, then cover with plastic wrap, placing it directly on the surface of the cream. This will prevent a skin from forming (Kind of like pudding!). Refrigerate for at least 4 hours, or until cold, or up to 3 days.
Pain aux Raisins
Ingredients:
1/2 recipe Basic Brioche dough
1 recipe pastry cream
1 cup (160g) golden raisins
1 cup (140g) confectioners' sugar
2 to 3 tablespoons water
1/4 teaspoons vanilla extract
Instructions:
Line a baking sheet with parchment paper.
On a floured work surface, roll out the dough into a rectangle about 16 by 12 inches and 1/4 inch thick. It will have the consistency of cold, damp Play-Doh and should be fairly easy to roll. Position the rectangle so a long side is facing you.  Spread the pastry cream evenly over the entire surface of the dough and then sprinkle the raisins evenly over the cream.  Starting from the long side farthest from you and working your way down, roll up the rectangle like a jelly roll.  Try to roll tightly, so you have a nice round spiral. You can even-off the ends by trimming about 1/4 inch from either side.
Use a sharp, serrated knife to cut the roll into 8–10 equal pieces, each about 1 1/2 inches wide.
Place the pieces, cut-sides down, evenly on the prepared baking sheet. Cover the baking sheet lightly with plastic wrap and place in a warm spot to proof for 2 hours, or until the dough is puffy, pillowy and soft.
Position a rack in the center of the oven, and heat the oven to 350°
Bake the pastries for 30 to 40 minutes, or until they are golden brown on the edges of the spiral and pale brown in the center.  Let cool on the baking sheet on a wire rack for 20 to 30 minutes.
While the pastries are still hot, prepare the glaze. In a small bowl, whisk together the sugar, 2 tablespoons of the water, and vanilla until smooth. Add more water as needed to thin the glaze enough to make it spreadable. Generously brush the tops of the still-warm pastries with the glaze. The pastries are best served warm or within 4 hours of baking. They can be stored in an airtight container at room temperature for up to 1 day, and then warmed in a 300°F oven for 5 minutes before serving.