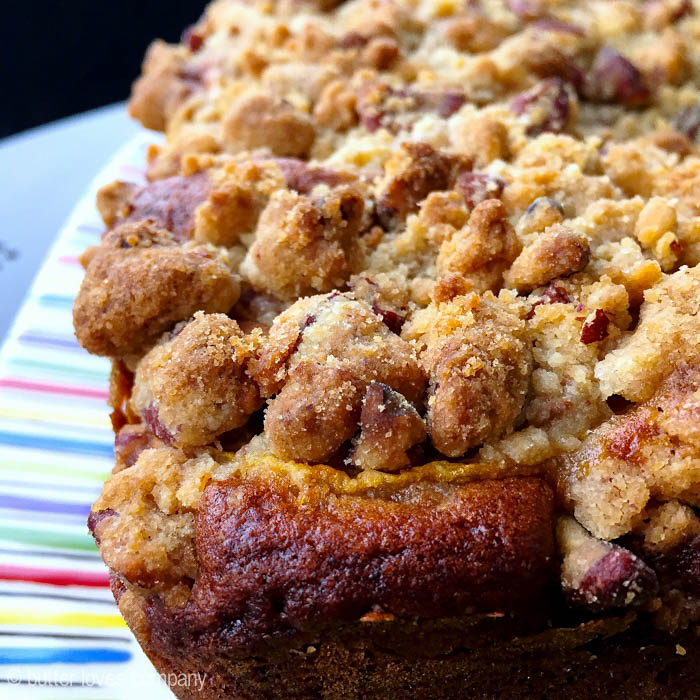 Summer time and the livin's easy…scratch that, the livin' is peachy!
It's stone fruit season, which means it's time to pick up all those fruits with large, "stone-like" seeds or pits. Think peaches, nectarines, plums, apricots, and even cherries. I recently purchased a few perfectly ripe, fresh peaches with the best intentions of using them for nutrient-rich smoothies or to top light summer salads.  Within moments, I accidentally reached for the butter and cinnamon and forget all about my original plans. When your hands are baking supply magnets, there is just no controlling them. As a result, today we are making this fresh peach coffee cake!
This easy recipe for fresh peach coffee cake has tang from sour cream, sweetness from juicy peaches, warmth from cinnamon, and crunch from double streusel. It is quick to prepare which is essential for those summer days when you don't want to break a sweat in the kitchen.  Its crumb is dense yet moist so it holds its structure when sliced while its center remains tender to the bite. I always like to double my streusel, which is reflected in the proportions below. The more sweet, nutty clusters, the better, as far as I'm concerned. Feel free to serve this cake for breakfast or add a dollop of vanilla ice cream and a drizzle of honey for a sweet dessert.*
Like most coffee cakes and quick breads, this can be made ahead, but because of the fresh peach slices in this one, it is best eaten within a couple of days. Because it only calls for three fresh peaches, it is also the perfect option when you don't have enough peaches to make a pie (another one of my peach favorites).
*I plan on making this for a Rihanna-themed dinner party. I shall call it Peach Better Have My Honey. It'll accompany items like Love the Way You Pie, Where Have You Bean, Shut Up and Chive…I need to be stopped.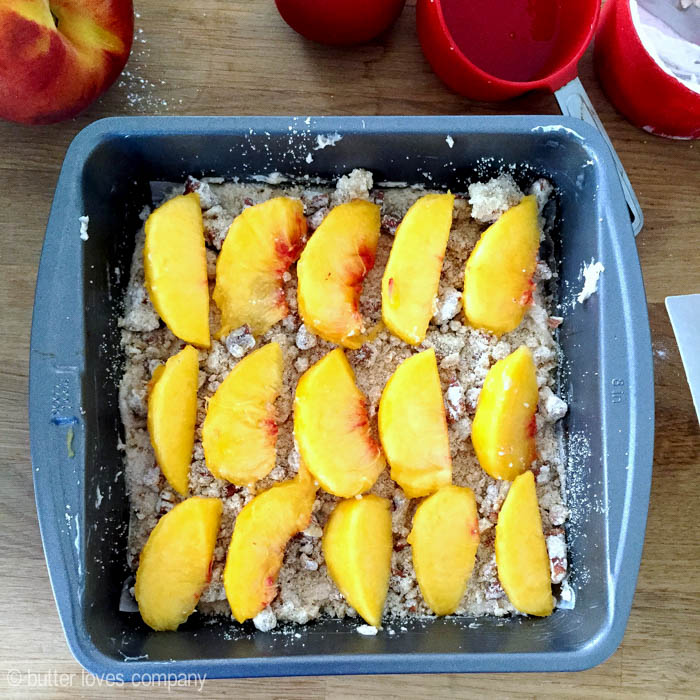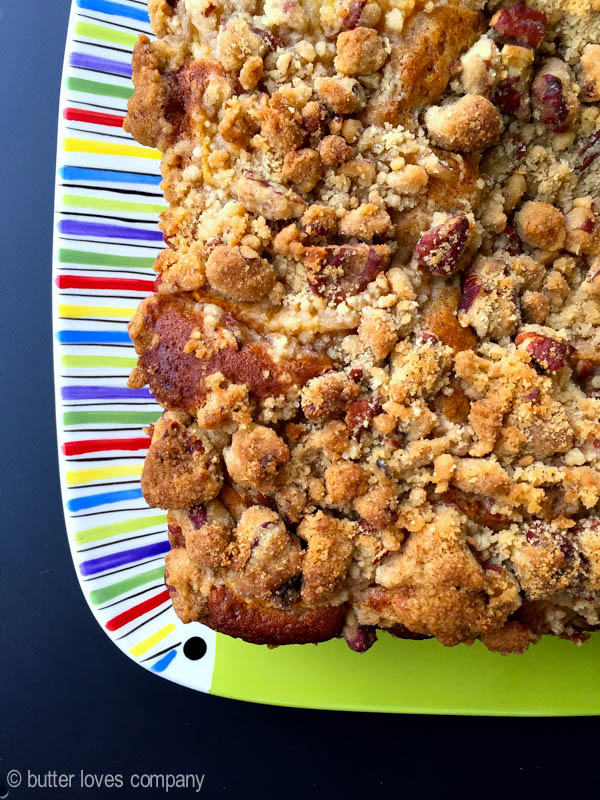 fresh peach coffee cake
adapted from Ina Garten
prep time: 20 minutes
cook time: 45–55 minutes
total time: about 1 hour and 30 minutes
makes one 9-Inch Square Cake
Notes: To be sure your cake doesn't spill over during baking, try to use a pan with at least 2-inch edges. For mine, I used an 8-inch pan with 2.2-inch edges.
Ingredients:
1/2 cup (1 stick or 8 tablespoons) unsalted butter, at room temperature
1 cup granulated sugar
2 large eggs, at room temperature
1 cup sour cream or full fat Greek yogurt, at room temperature
1 teaspoon pure vanilla extract
2 cups all-purpose flour
1 teaspoon baking soda
1 teaspoon baking powder
1/2 teaspoon salt
1 teaspoon ground cinnamon
3 large, ripe peaches, peeled, pitted, and sliced
Streusel:
1 cup all-purpose flour
1/2 cup light brown sugar, packed
1/2 teaspoon salt
6 tablespoons unsalted butter, at room temperature
1 cup chopped pecans, toasted (you can toast them in the oven while it preheats)
Instructions:
Preheat the oven to 350° Grease a 9-inch square baking pan (or an 8-inch pan with high edges), and then line the bottom of the pan with parchment paper and grease the paper.
In the bowl of an electric mixer fitted with the paddle attachment, beat the butter and sugar for 3 to 5 minutes on medium speed, until light and fluffy. With the mixer on low, add the eggs, one at a time, until combined. Add the sour cream and vanilla, and mix until the batter is smooth.
In a separate medium bowl, sift together the flour, baking soda, baking powder, salt, and cinnamon. With the mixer on low, slowly add the dry ingredients to the batter and mix just until combined.
In a medium bowl (or the now-empty bowl you used for the flour mixture), prepare the streusel by combining the flour, light brown sugar, salt, butter and pecans. Using your hands, break the butter pieces into the flour. It is ready when most of the flour/sugar mixture sticks to the butter and forms little clumps.
Spread half of the cake batter evenly in the pan. Top with half of the peaches, then sprinkle with half of the streusel. Spread the remaining batter on top and then arrange the remaining peaches on top of the batter, followed by the remaining streusel.
Bake the cake for 45 to 55 minutes, until a toothpick inserted in the center comes out clean. Serve warm or at room temperature.
If you like coffee cake, you should also check out this Brown Butter Banana Bread, with Crumble!