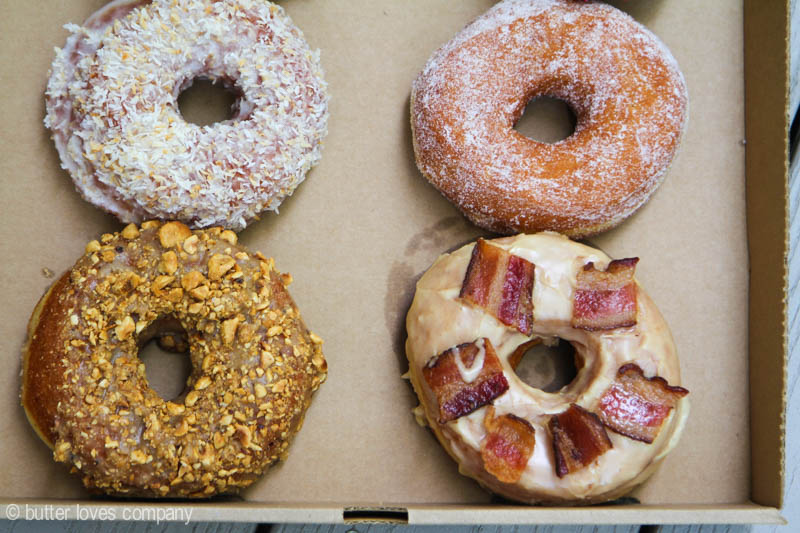 White flour clouds billow over a work surface where yeasted brioche-inspired dough is being hand rolled and hand cut. As each donut is precisely placed on large baking sheets, I catch a glimpse of a freshly inked tattoo across one team member's forearm, "Donut Stop Dreaming," it says. Underneath the inspiring words is an image of a perfectly glazed Chocolate Marble donut and the shop's name, "Union Square Donuts."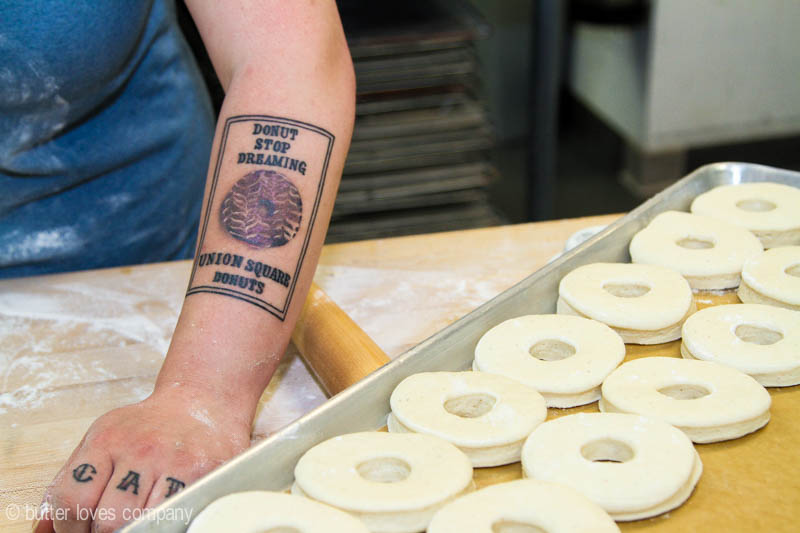 It's no surprise the Somerville, MA artisan donut shop has experienced such growth within just two short years. The dedication from the team—and the community—is palpable.
The shop, co-owned by Josh Danoff and pastry chef Heather Schmidt, was not born out of a lifelong, or even week long, donut obsession, but rather a phone call from Danoff's brother a couple years back: 'we gotta do donuts,' he said. At the time, Danoff and his siblings had been selling popsicles at farmer's markets with their bicycle food cart business, Culinary Cruisers. But once the donut idea came up, gears quickly shifted. Danoff, who is actually a stonemason by trade, enlisted Heather Schmidt for her culinary expertise.
"Neither one of us had ever made a donut before," says Danoff. "But Heather had been working on a dough recipe for a while so we were able to play with it to make it work for donuts."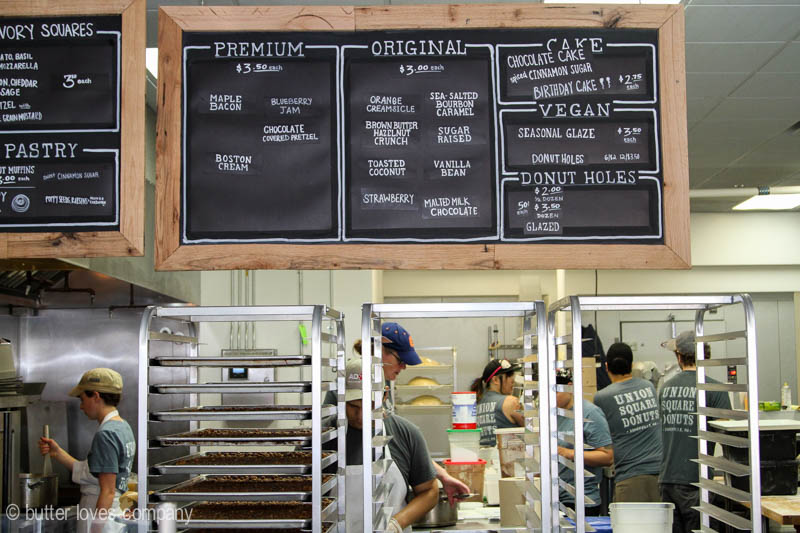 With the head start on a base recipe and the logistical infrastructure built by the popsicle production, things moved very quickly. The time between the team's first meeting and their first event selling donuts was a mere two weeks; before they even had a website. From there, things took off.
Over the next two years, Union Square Donuts grew from only selling at farmer's markets, to having their own shop with a shared kitchen, to moving into their current space—which is double the size of the first.
"It's one of those things where, we had the product," says Danoff. "We didn't have a website, we didn't have Instagram yet, I think that we started Twitter and Facebook accounts the day before we opened. We didn't have T-Shirts. We just had really good donuts."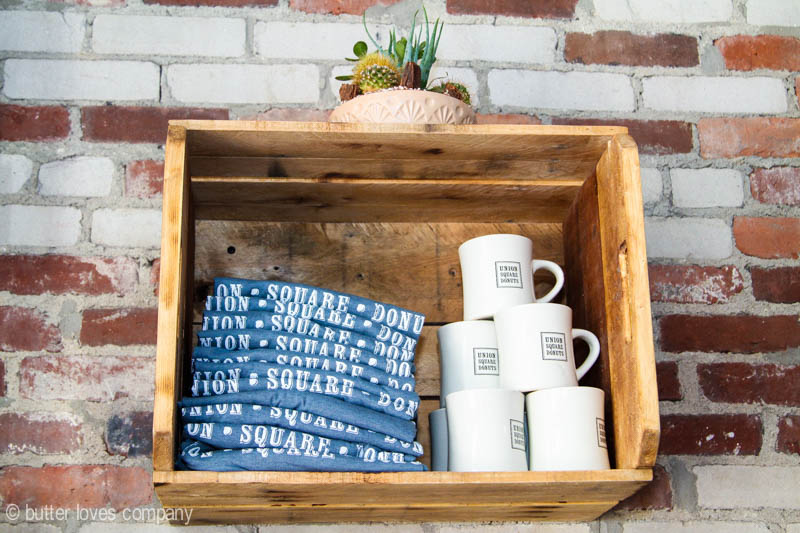 And the team at Union Square Donuts doesn't seem to be slowing down. Tickets to a recent event in collaboration with Harpoon Brewery sold out in less than one minute.
Fan art adorns the walls in Union Square Donuts' bright and sunny 15-seat shop. One wall is lined with colorful post-it notes from guests; a number of which include cat drawings…which makes sense if you've ever visited the hyper-hip Somerville. Lines of hungry donut lovers continue to spill out their doors and onto the streets of Union Square waiting to get their fried treat. Arrive too late—even before noon—and you may find empty trays and your favorite donut (Boston Cream for me) sold out for the day. But, don't worry, picking another flavor is hardly settling.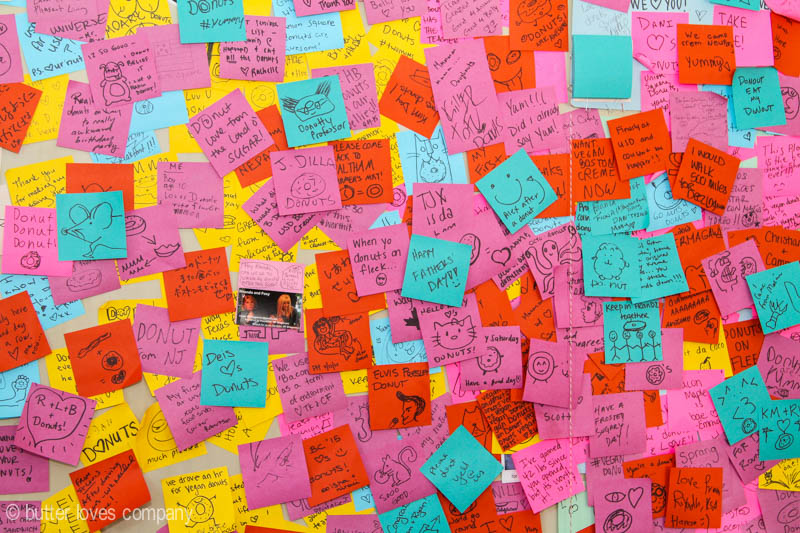 Each light and buttery donut is made using traditional pastry techniques and carefully crafted ingredients, but the team has been know to put some pretty interesting spins on things.
On a Monday, when the shop is closed to the public, members of the now 24-person crew are busy prepping dough and house-made glazes, sugars, jams, and creams. Music echoes through the kitchen; often hip-hop, sometimes Beyoncé, and for a short while both of David Hasselhoff's albums made it into the rotation.
The smell of sweet dough is balanced with that of smoky bacon destined to top homemade maple glaze for their best-selling donut: The Maple Bacon. It comes as no surprise that the maple portion of this decadent donut comes from a special batch made exclusively for Union Square Donuts by a couple with a small sugar shack in Vermont.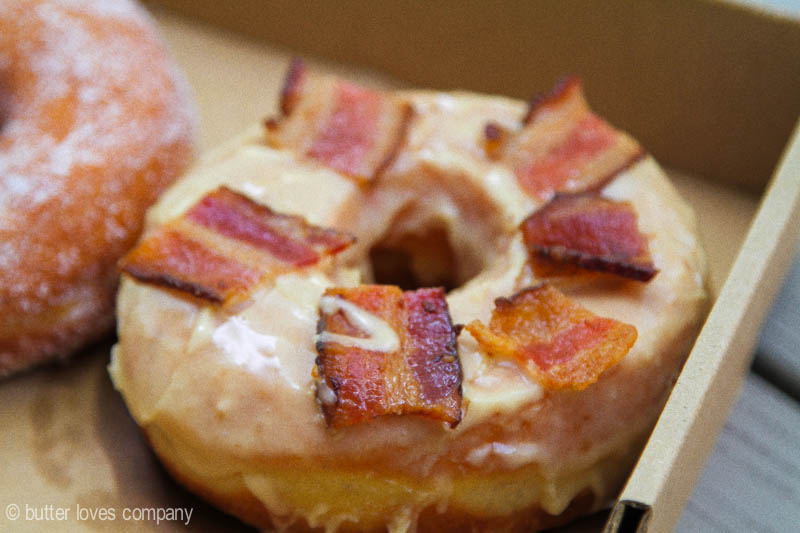 "It's like a pancake breakfast you don't need a knife and fork for," says Danoff.
The Maple Bacon is a menu staple along with other flavors like Brown Butter Hazelnut Crunch, Sea Salted Bourbon Caramel, and Danoff's favorite, the Sugar Raised.
"It's tossed in superfine sugar, but the donut is just simple," says Danoff about his donut of choice. "What I like most about the Sugar Raised is it highlights the dough and how good [it] is. When it's warm, you get the sugar, the crunch and it is just soft and delicious."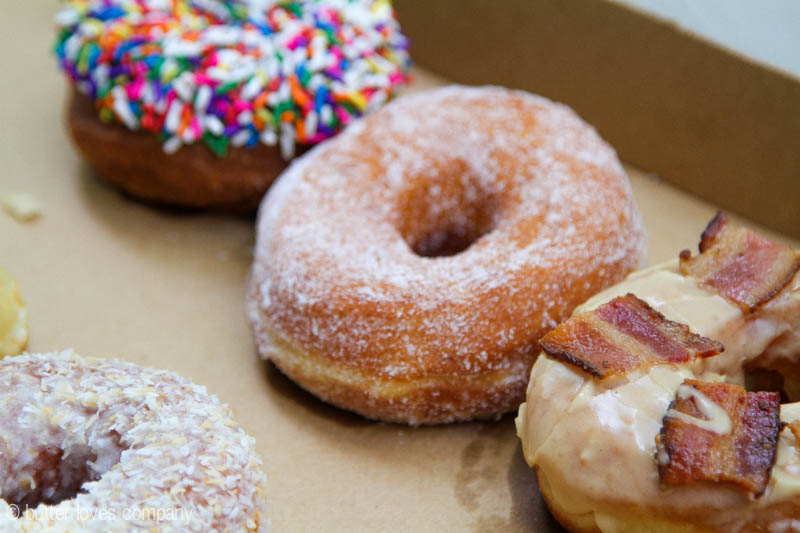 The team offers seasonal specials like: Carrot Cake, Orange Creamsicle, and Coffee Pastry Cream Filled. Each and every flavor of donut undergoes an intensive and satiating R&D process where the crew dissects the pastry layers and glazes until they find the perfect combination.
While the attention to the product has been a constant, some things have changed as the shop has grown. "There's a brand now," says Danoff. "In everything that we do we have to now think about 'how does this represent us?'"
Greater attention is being paid to everything from social media messaging and images to what music is playing in the shop. The team is always thinking about how each part ties together as a whole brand. As Union Square Donuts continues to grow, so do the business discussions around sales trends, flavor launches, merchandise, and expansion.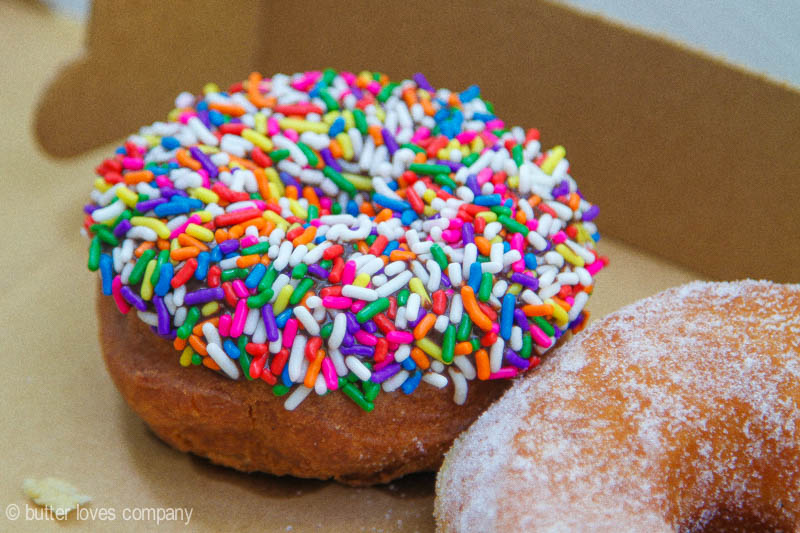 Even with all these new considerations, Danoff likes to keep things in perspective:
"The great thing is we have to do all the same things that other businesses have to go through, but our endgame is donuts."
Visit the incredibly cool crew of Union Square Donuts at their shop at 20 Bow Street in Somerville, MA and grab a box of their incredible donuts to-go (your friends will thank you). And, if you can't stop dreaming about donuts when you're on the other side of the Charles, check out the team's upcoming space in Boston's soon-to-open Public Market where they'll be joined by other local growers and producers.