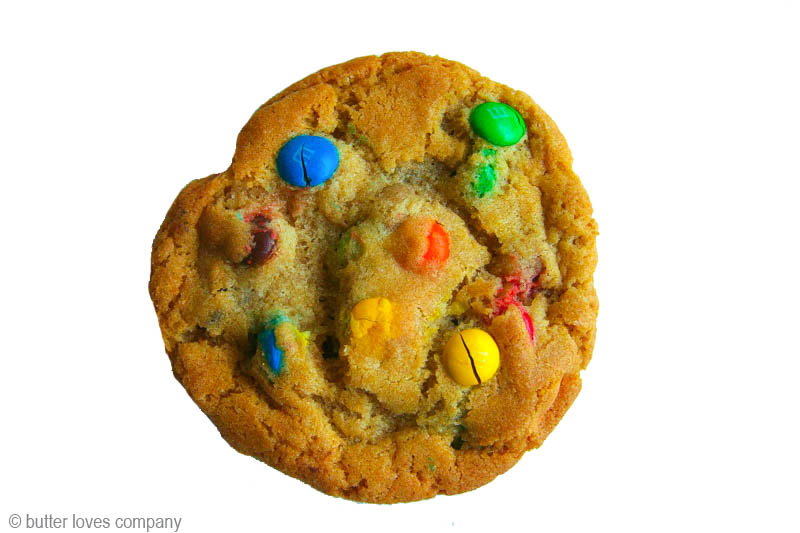 I would marry these cookies if I could. Seriously, they are my favorite. They are chewy, crunchy, sweet, colorful, comforting, fun, and yum, yum, yum.
I can't even tell you how many times I have made these and they are always a hit. If you're at all a fan of M&M cookies, you will love this recipe. The edges are crispy with a slightly caramelized flavor, and center remains chewy so you can still recognize the cracking of the M&M candy shells as you bite through. These are not 'soft baked' M&M cookies but they aren't fully crisp either. They bend a little before they break, if that makes sense (cue Dashboard Confessional flashbacks).
To balance out the sweetness of the milk chocolate candies, I like to add some bittersweet chocolate chips. They keep the cookie from being single noted. Semisweet works too, but it is best if they have at least 60% cocoa content. I use some from Surfas that are 72% cocoa.
Here's the part you're going to hate: the dough really gets better if you let it chill 24 to 36 hours before you bake it. As the dough chills, it will gradually dry out, concentrating the flavors of all the ingredients. Concentration=flavor. If you can't resist, bake a few cookies after letting the dough chill for 2 hours and then keep the remaining dough in the fridge for a day or two before you bake the rest. Oh, and this dough freezes amazingly well, so you can make it when you have some time, refrigerate for 24 to 36 hours and then transfer it to the freezer for up to a month. When you're ready to bake, remove the dough from the freezer and let it sit out for a few minutes until it is scoop-able, but still cold, and then bake as usual.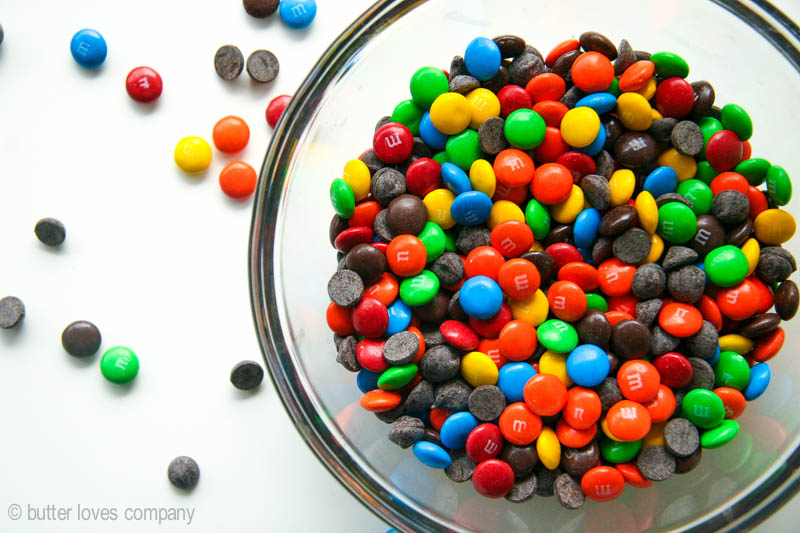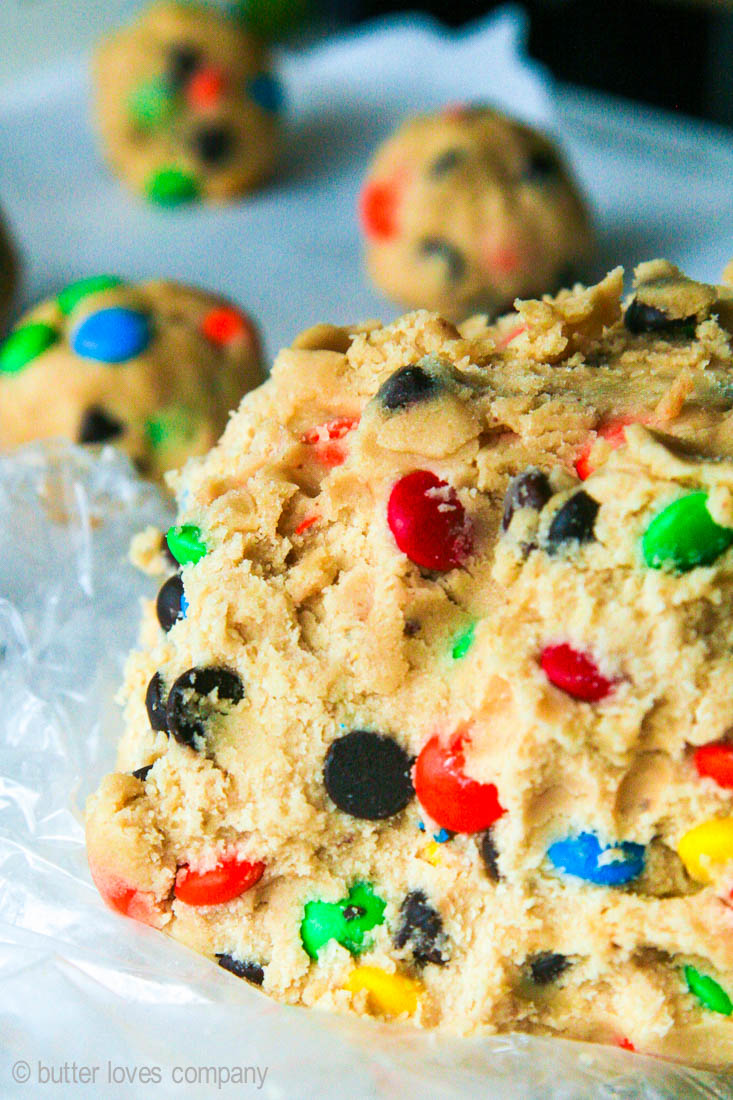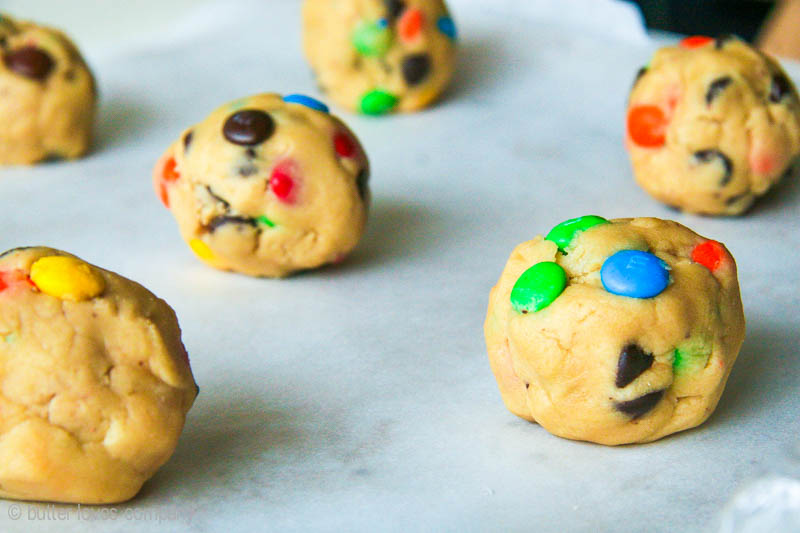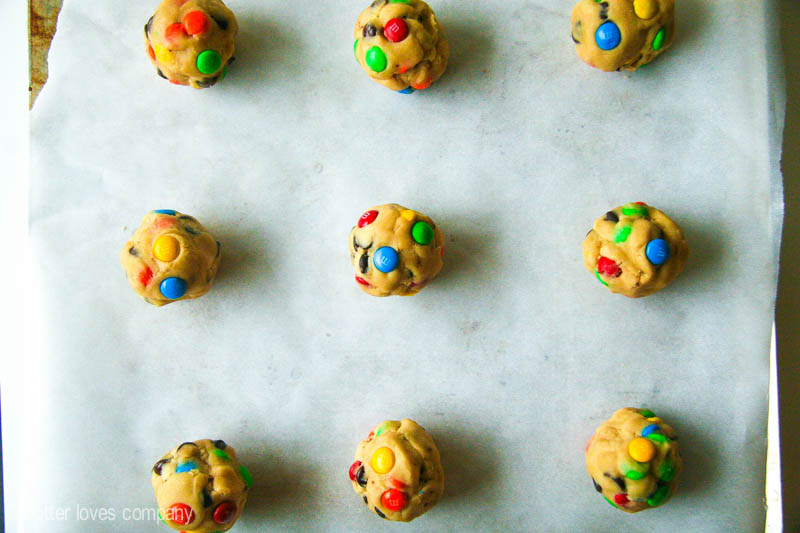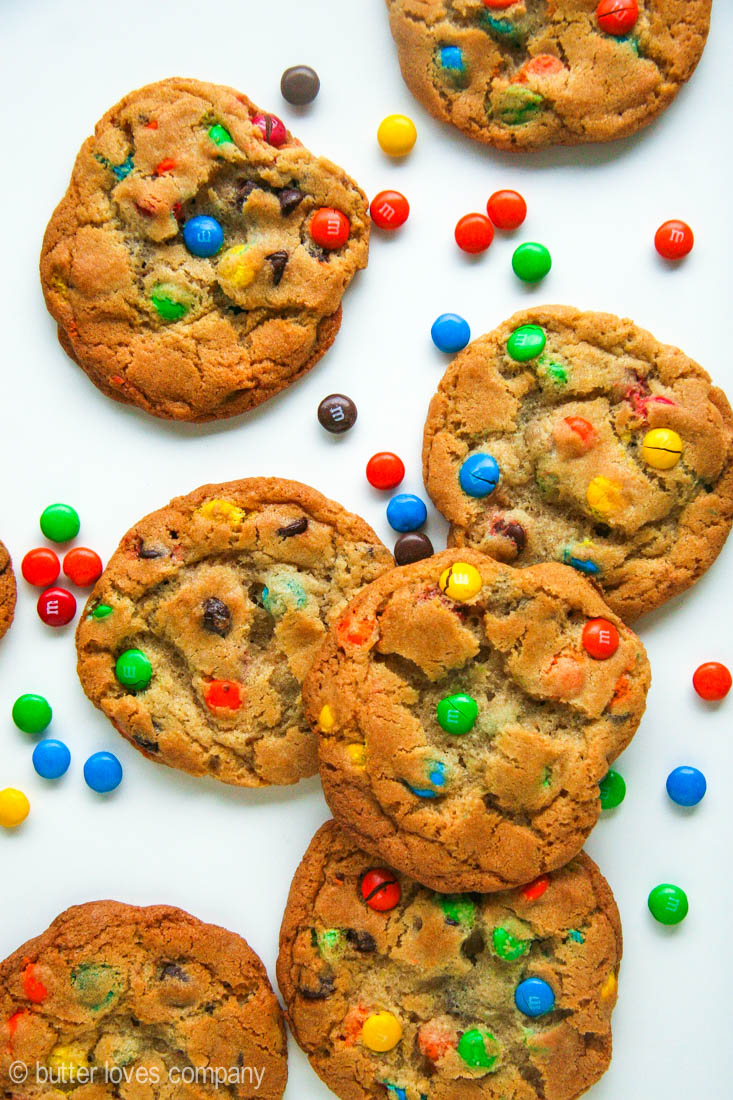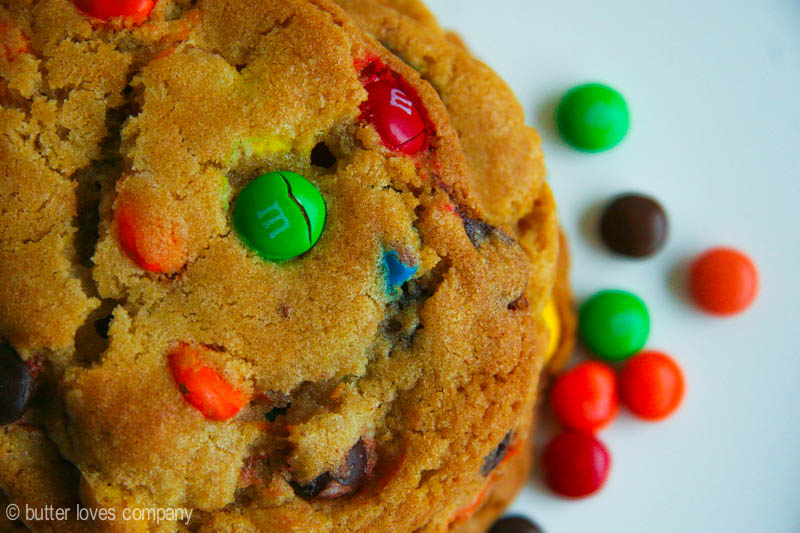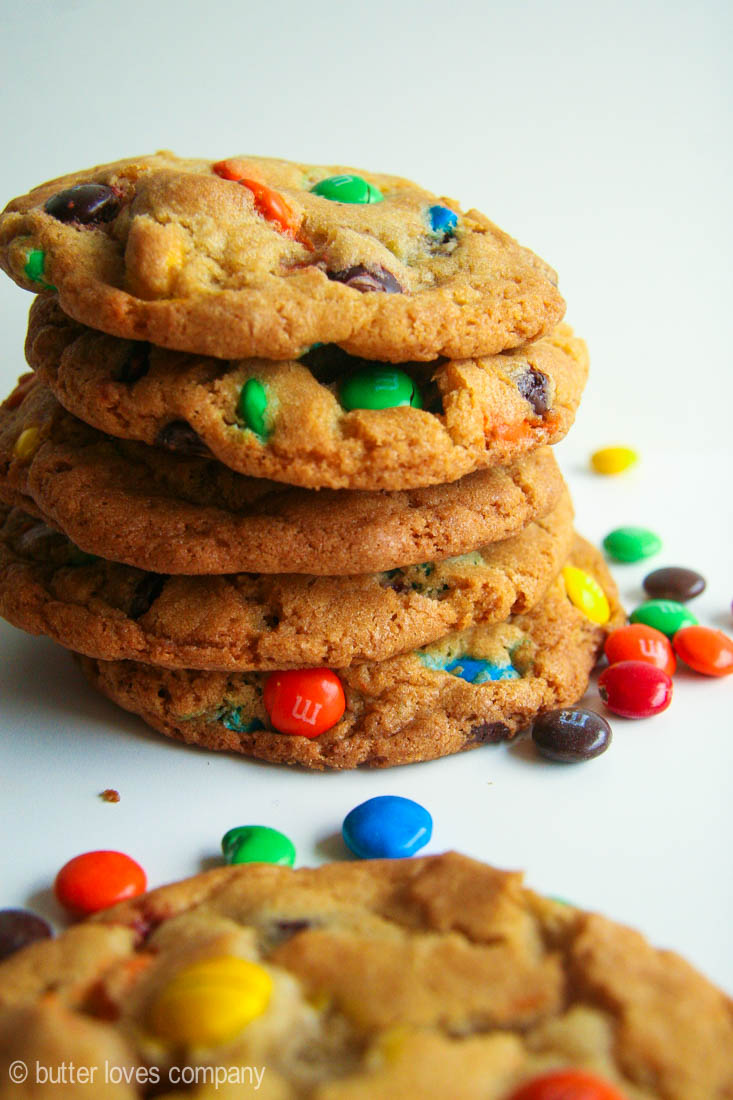 favorite m&m cookies
Adapted from Jacques Torres in The New York Times
Prep Time: 15 minutes
Cook Time: 18 minutes
Total Time: 2 hours and 40 minutes (includes the minimum chill time)
Makes 1 1/2 dozen 5-inch cookies (Or a lot more smaller ones!)
Ingredients:
2 cups minus 2 tablespoons (8 1/2 ounces) all-purpose flour
1 2/3 cups (8 1/2 ounces) bread flour
1 1/4 teaspoons baking soda
1 1/2 teaspoons baking powder
1 1/2 teaspoons coarse salt
2 1/2 sticks (1 1/4 cups) unsalted butter
1 1/4 cups (10 ounces) light brown sugar
1 cup plus 2 tablespoons (8 ounces) granulated sugar
2 large eggs
2 teaspoons natural vanilla extract
16 ounces (about 2 cups) M&M candies
3 ounces (about 1/2 cup) bittersweet or semisweet chocolate chips (best if at least 60 percent cacao content)
Instructions:
Sift flours, baking soda, baking powder, and salt into a bowl. Set aside.
Using a mixer fitted with paddle attachment, cream butter and sugars together until very light and fluffy, about 5 minutes. Add eggs, one at a time, mixing well after each addition. Stir in the vanilla. Reduce speed to low, add dry ingredients and mix until just combined but not fully incorporated, 5 to 10 seconds. Drop chocolate pieces and candy in and mix on low until just incorporated. Wrap the dough in plastic wrap and refrigerate for 24 to 36 hours (or at least 2 hours).
When ready to bake, preheat oven to 350°F. Line a baking sheet with parchment paper. Set aside.
Scoop dough into about 2 1/2-ounce golf ball-sized rounds and place on the baking sheet with about 3 1/2 inches between cookies. Bake until golden brown, but still soft, 18 to 20 minutes. Remove from oven and let cool on the sheet for 5 minutes before transferring to a wire rack to cool completely. (Or until you just start eating them.) Repeat with remaining dough, or reserve dough, refrigerated, for baking remaining batches the next day You may also freeze the remaining dough for up to a month; make sure you triple wrap in plastic before doing so.