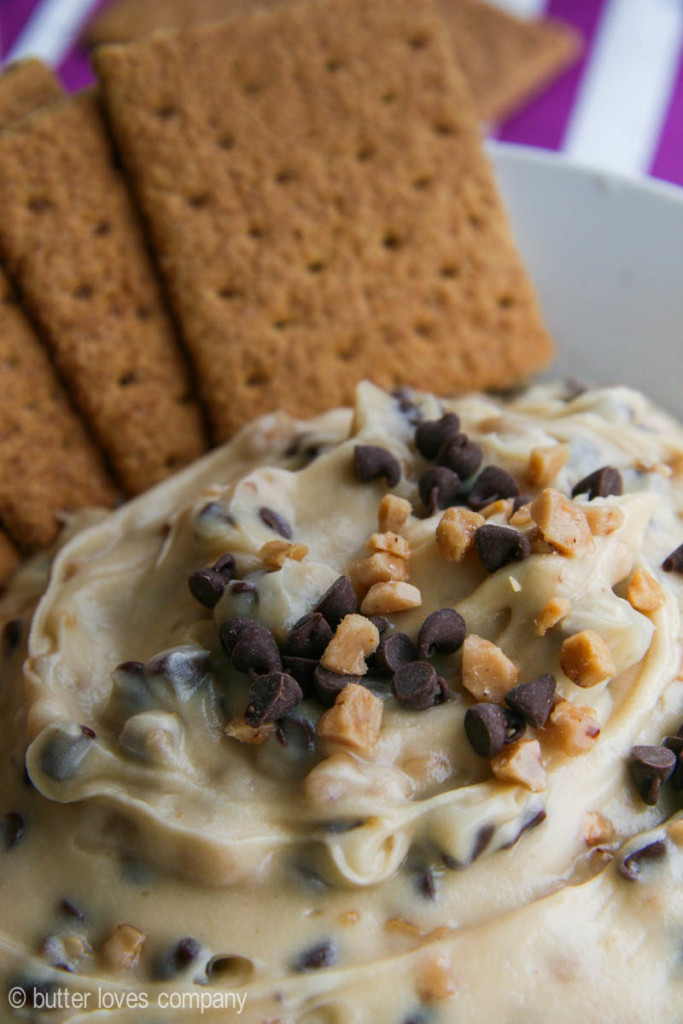 This brown butter cookie dough dip brings me right back to slumber parties as a kid and one of my greatest culinary triumphs…But I'll get to that in a minute. During these epic sleepovers, my friends and I would watch scary movies, eat junk food, and film ourselves quoting our favorite movies and making comedy sketches with a camcorder the size of an toaster oven.
Our 'short films' were essentially all bloopers. We would watch the tapes back and howl into the early morning about how off our attempted-British accents were. We would write embarrassing things in journals (that I still have, thank goodness!) and mastered our 'pretending to be asleep' skills when my parents would tell us to go to bed. Sound familiar to anyone?
We were 90's kids with no cell phones, limited Internet, and wild imaginations that led us to some great ideas. In my opinion, the most impressive idea we had (Here's the promised culinary triumph.) was to dip chocolate bars into tubs of frosting. Yes, you read that right. And yes, we did it. We were living the life!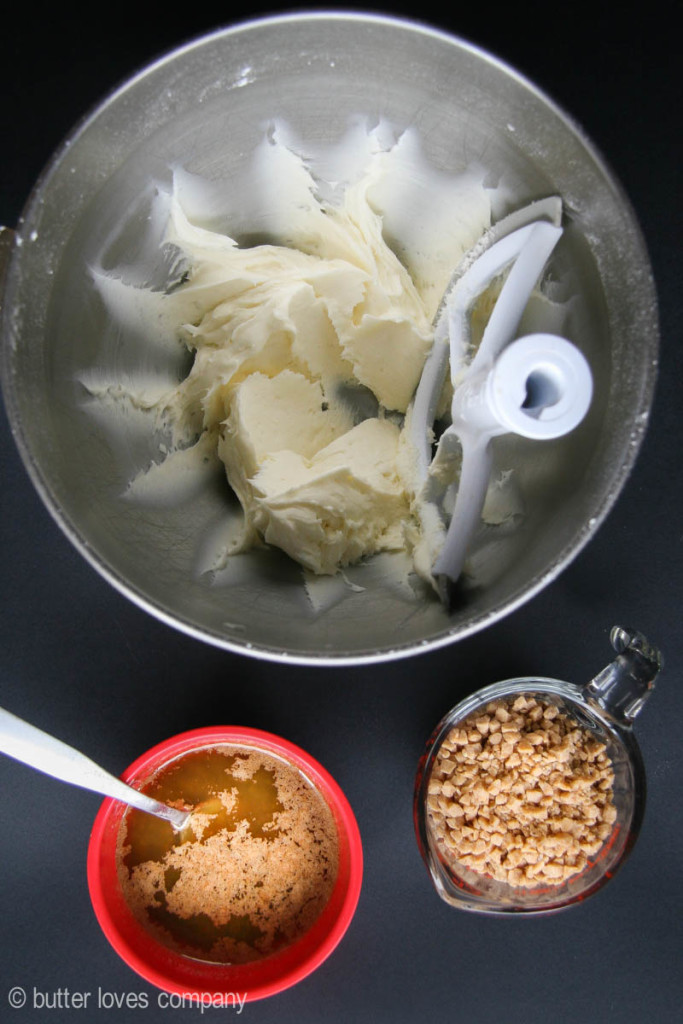 The minute I saw that cookie dough dip was a thing, I was transported right back to those frosting dip nights. Just as chocolate bars dipped in buttercream was, cookies dipped in cookie dough dip is decadence to the core: creamy, sweet, and (if you do it like I do) sprinkled with crunchy chocolate chips and buttery toffee bits. Whether you choose to serve this with cookies, graham crackers, sliced apples, or chocolate bars—for old times' sake—there is no question that this dip is a perfect party treat.
To up the flavor profile, we're browning the butter in this recipe first. It's going to add a little more nutty, caramelized flavor to the entire dip. Is it obvious that I love brown butter? (See: brown butter cinnamon sugar pull apart bread and brown butter banana bread).
Anyways, if you start making this cookie dough dip now, you can have this dip on your table in 20 minutes. Just in time for the festivities you may have in store this weekend. How easy is that?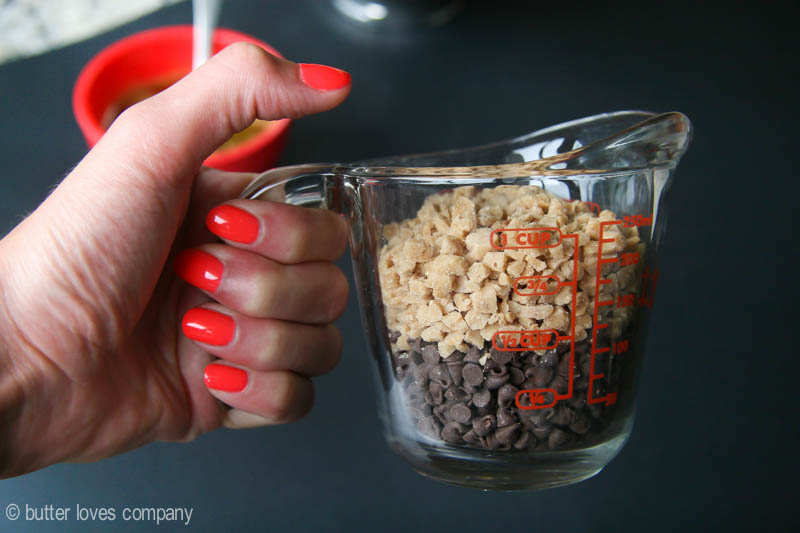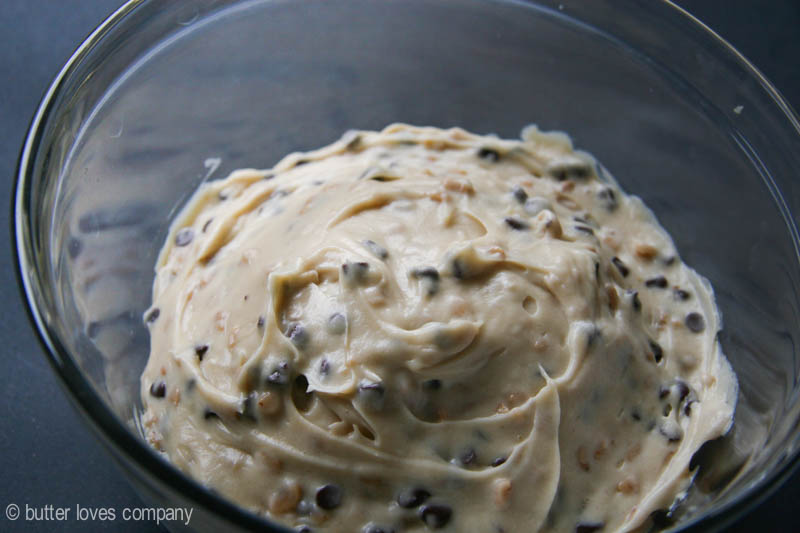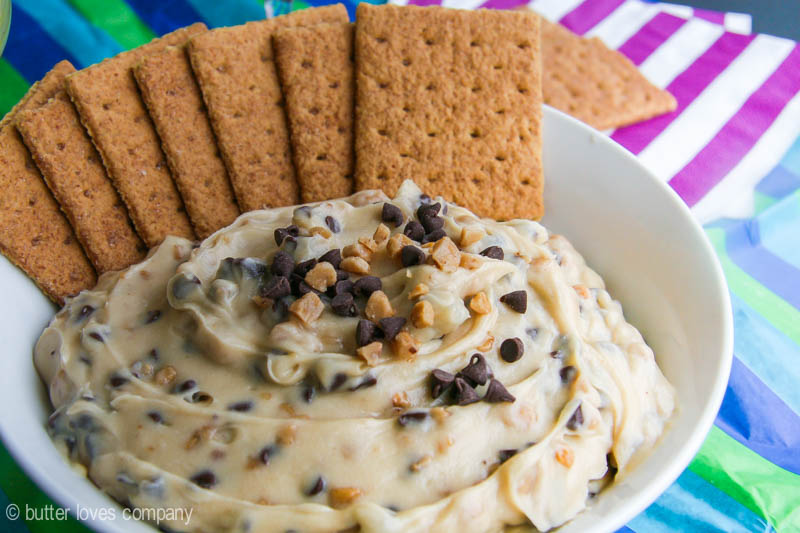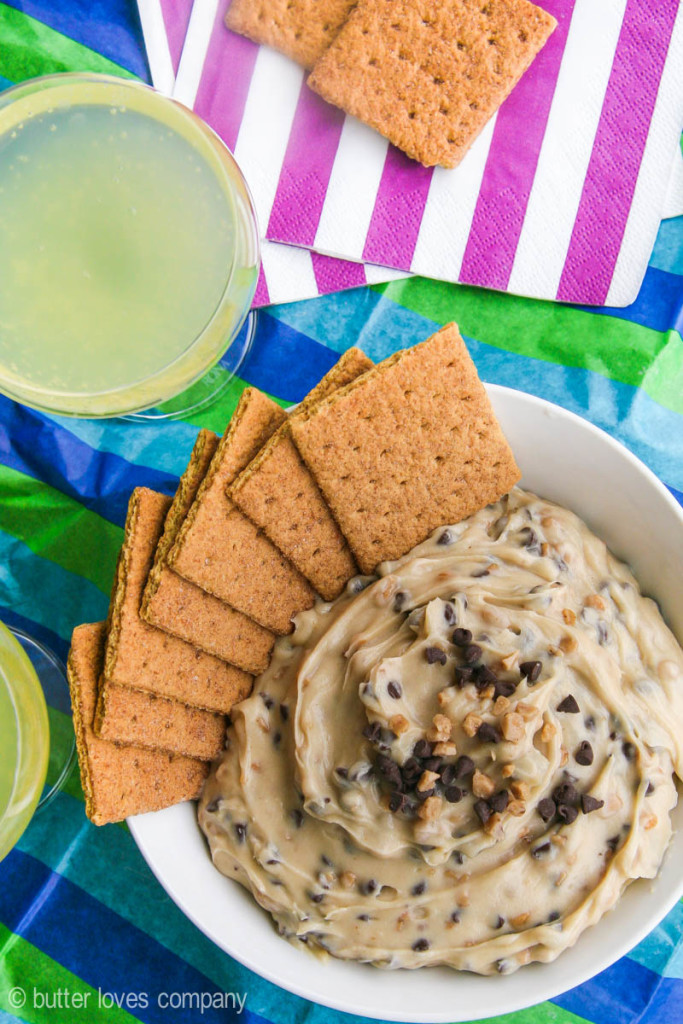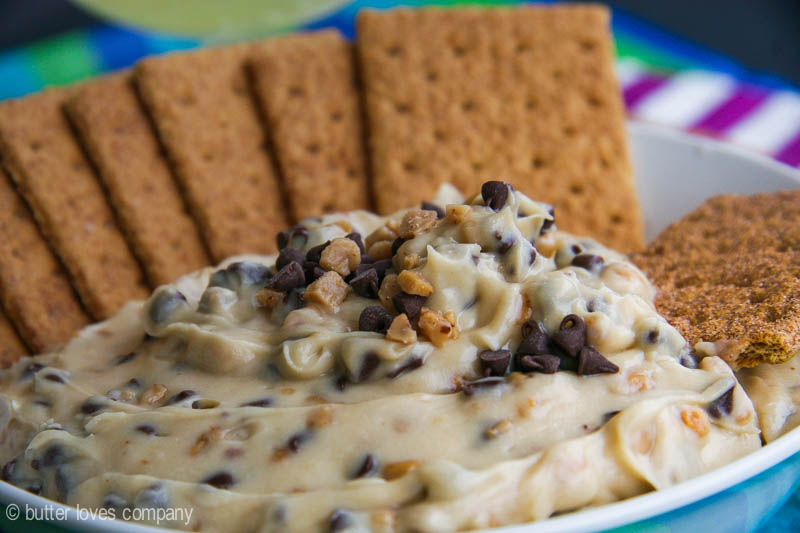 brown butter cookie dough dip
Party perfect brown butter cookie dough dip: creamy, sweet, and sprinkled with crunchy chocolate chips and buttery toffee bits. Serve with cookies, graham crackers, sliced apples!
Ingredients
1/4 cup light brown sugar
1/2 cup unsalted butter, at room temperature
1 teaspoon vanilla extract
8 ounces (1 standard package) cream cheese
1/2 cup powdered sugar
1/4 teaspoon salt
1/2 cup mini semisweet chocolate chips
1/2 cup toffee bits
graham crackers, cookies, or apple slices, for dipping
Instructions
Place the light brown sugar in a small, heatproof bowl and keep it nearby while you brown the butter.
In a small saucepan over medium heat, melt the butter completely. Keep the melted butter on the heat as it starts popping and crackling. Once the crackling subsides, the butter will begin to brown—if you stir or swirl your pan, you can see little brown bits settle to the bottom. Continue swirling the butter around the pan until it is golden brown and gives off a nutty scent. Once this happens, immediately remove from the heat and carefully pour the butter into the small bowl with the brown sugar. Stir together to help dissolve some of the brown sugar. Stir in the vanilla extract. Set aside to cool to room temperature.
In the bowl of an electric mixer fitted with the paddle attachment, whip the cream cheese until it is smooth. Add the powdered sugar and salt and mix on medium to high speed until it is fluffy, about 1 minute. Pour in the butter mixture and mix first on low speed and then increase to medium speed until incorporated, about 1 minute. With the mixer on low speed, add the chocolate chips and toffee bits and stir until distributed throughout. Transfer the dip to a bowl and, if not serving immediately, cover and refrigerate until 15 minutes prior to serving. Serve with cookies, graham crackers, chocolate bars, fruit slices, spoons—whatever you come up with!
Notes
https://www.butterlovescompany.com/2015/08/21/brown-butter-cookie-dough-dip-recipe/
butter loves company | jenna larsson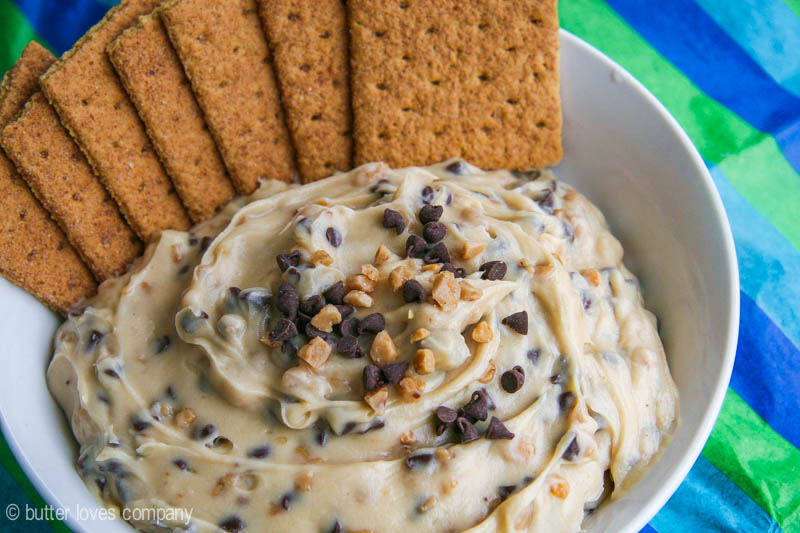 <a href="http://www.bloglovin.com/blog/11682291/?claim=w9jcs38c7yq">Follow my blog with Bloglovin</a>