The ultimate sticky bun babka recipe with tons of buttery, cinnamon, pecan swirls between buttery brioche dough. Don't let the recipe length scare you…each step is totally manageable and your efforts will be rewarded with a show-stopping breakfast!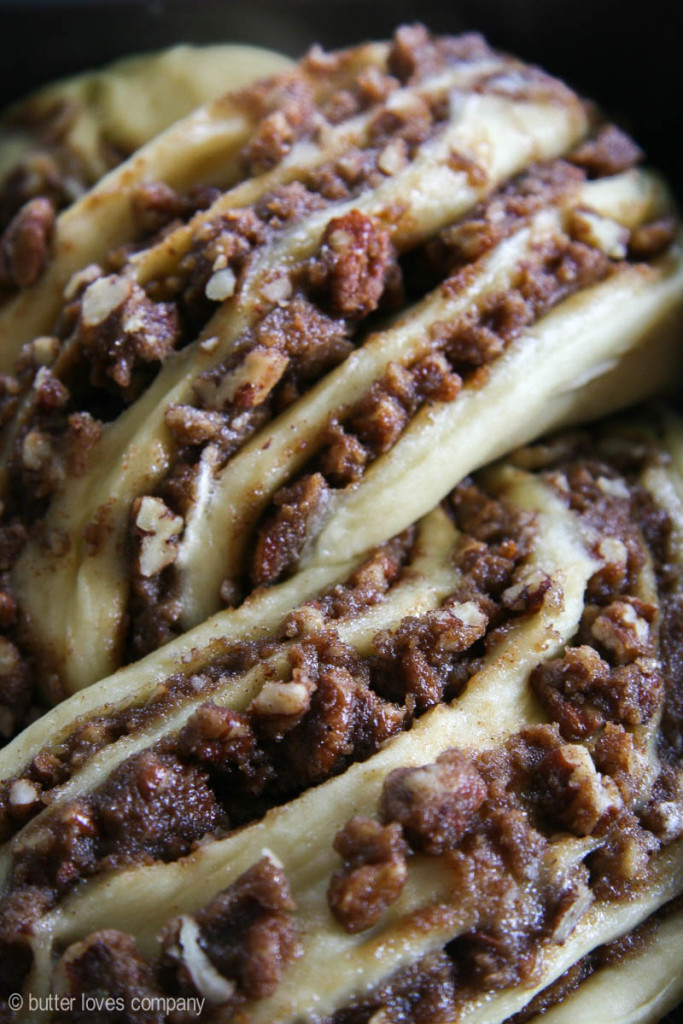 Whoa! Is it really the end of October? Where has the time gone? Sorry for my recent absence…life has been very busy between moving apartments, starting new projects, travel, birthdays—all exciting and amazing things, but, the bottom line is, I miss you!
Will you accept this Pecan Sticky Bun Babka as an olive branch for leaving you for so long? I think you'll love its sweet, caramel scent and beautiful nut-studded swirls. And I hope you'll embrace its messy, ooey-gooey glory! If you're looking for a great special occasion breakfast item or brunch recipe, this is certainly one to add into the rotation.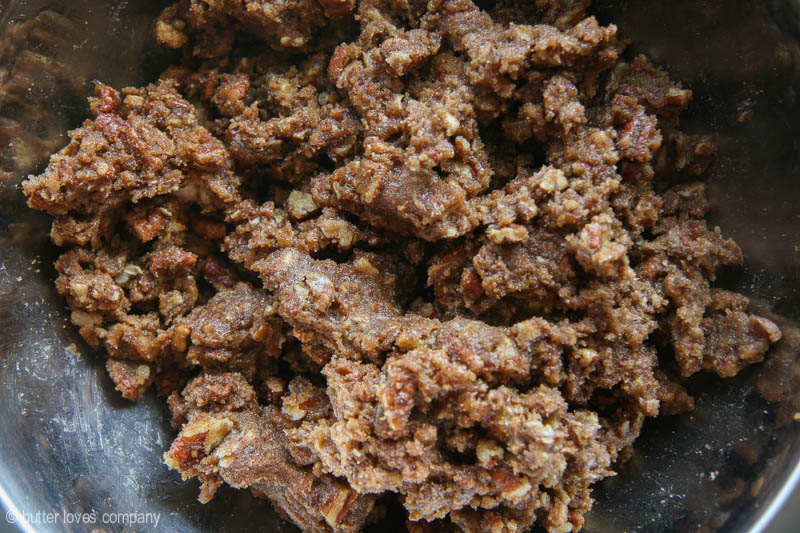 For the dough, we're going to use the same basic brioche recipe as we used for the Flour Bakery Pan aux Raisins. You'll only need half of the basic brioche dough for one babka loaf though. If you'd like to make two babka loaves, double the filling recipe below. Otherwise, wrap the extra half of the uncooked brioche dough tightly in a double layer of plastic and freeze for your next craving.
Note: This is one of those breads that can take a while to cook in the center. You will likely have to tent some foil over the top after it has been in the oven for a half hour or so to prevent it from browning too much before it is cooked through.
Please don't fear the steps! While not a speedy snack, it makes for a great weekend project! As always, feel free to reach out to me with questions! Oh, and definitely use any extras for a bread pudding. Because, um, hello, it would be dangerously delish.
If you like this sticky bun babka recipe or sticky bun things, you should totally check out this Sticky Bun Bundt Cake. It's one of my faves!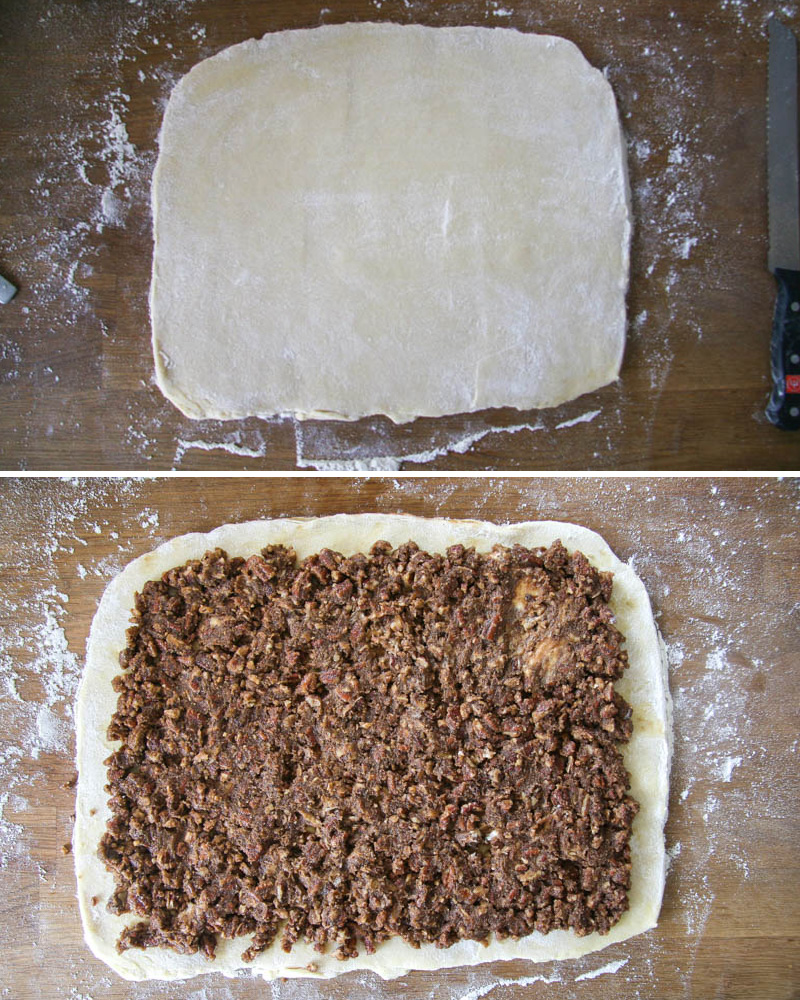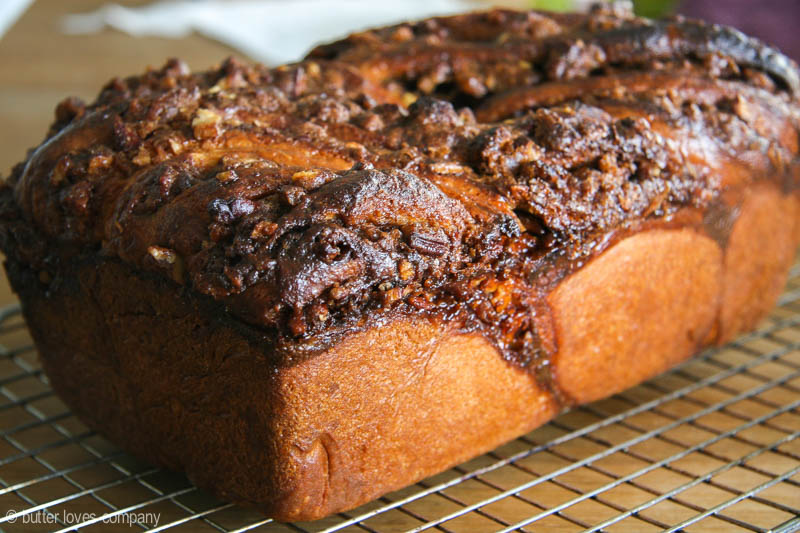 One Month Ago: Triple Chocolate Cookies
Six Months Ago: Hong Kong Style Bubble Egg Waffles (eggettes)
One Year Ago: Warm, Lemony Crab Dip
pecan sticky bun babka recipe
Ingredients
For the basic brioche (makes enough for two loaves, but we will only use half for this babka recipe):

2 1/4 cups (315g) all-purpose flour
2 1/4 cups (340g) bread flour
1 1/2 packages (3 1/4 tsps) active dry yeast
1/3 cup plus 1 tbsp (82g) sugar
1 tablespoon salt
1/2 cup (120g) cold water
5 large eggs
1 cup plus 6 tablespoons (310g) unsalted butter, at room temperature, cut into 10 to 12 pieces
For the filling:

2 cups pecans
10 tablespoons (1 1/4 stick) unsalted butter
1 cup packed dark brown sugar
3 teaspoons cinnamon
1 large egg, for egg wash
Instructions
Prepare the brioche:

In a stand mixer fitted with the dough hook, combine the all-purpose flour, bread flour, yeast, sugar, salt, water, and eggs. Beat on low speed for 3 to 4 minutes, or until all the flour is incorporated into the wet ingredients. Beat on low speed for another 3 to 4 minutes. The dough will be very stiff and seem quite dry.
With the mixer on low speed, add the butter, one piece at a time, mixing after each addition until it disappears into the dough. Once it has all been added, continue mixing on low speed for about 10 minutes, stopping the mixer occasionally to scrape the sides and bottom of the bowl to make sure all of the butter is mixed in very thoroughly.
Turn the speed up to medium and beat for another 15 minutes, or until the dough becomes sticky, soft, and somewhat shiny. It will take some time to come together. Once it has, turn the speed to medium-high and beat for about 1 minute. You should hear it make a slapping sound as it hits the sides of the bowl. To test: pull at the dough, it should stretch a bit and only have a little give. If it seems wet and loose and moves more like a batter than a dough, add a few tablespoons of flour and mix until it comes together. If it breaks off into pieces when you pull at it, continue to mix on medium speed for another 2 to 3 minutes, or until it develops more strength and stretches when you grab it. It is ready when you can gather it all together and pick it up in one piece.
Place the dough in a large bowl and cover it with plastic wrap, pressing the wrap directly onto the surface of the dough. Let the dough proof in the refrigerator for at least 6 hours or up to overnight.
Prepare the filling:

Heat the oven to 350°F and, on a piece of foil on top a cookie sheet, toast the pecans until they are a few shades darker and very fragrant, about 10 minutes. Turn the oven off and transfer the hot pecans to a cutting board and chop them finely until the pieces are just larger than the size of a grain of rice.
In a medium bowl, mix together the pecans, softened butter, brown sugar, and cinnamon until the nuts are evenly distributed and you have formed a crumbly paste. Set aside.
Form the babka:

Once the dough has proofed, generously grease a 9 x 5 inch loaf pan and cover the bottom with parchment paper. Grease the parchment and set aside. Remove the dough from the fridge, cut in half and wrap one half in plastic and freeze for up to a week for another use. Sprinkle your work surface generously with flour and scrape the remaining half of dough onto the surface. Using a floured rolling pin, roll the dough out into a thin rectangle, roughly 10 inches wide by 12 inches long.
Scatter the pecan filling over the surface of the dough and, using your hands or a spoon, spread into an even layer, leaving about an inch of clear border at the top.
Starting with the short end closest to you, carefully roll the dough into a log. If any filling falls out, just tuck it back in. When done rolling, pinch the edges of the dough to seal it closed. Dip a very sharp knife in water and gently, but swiftly, slice the log down its entire length, creating two halves with the inner layers revealed.
Turn the halves so that the filling is facing up. Pinch together the tops of the two halves, then twist the halves around each other twice creating a spiral. Press the halves together again at the bottom. Lift and place the loaf into the prepared pan. Cover loosely with plastic or a clean dishtowel and let rise until puffy and just starting to dome over the tops of the pan, 1 to 1 1/2 hours.
Bake the loaf:

About a half hour before baking, place oven racks in the center and lower third of the oven and preheat to 350°F. Whisk the yolk with a splash of water to make the egg wash and gently brush it all over the surface of the loaf. Transfer loaf to the center rack of the oven and slide a baking sheet on the lower rack to catch any syrupy drips. Bake for 45 to 55 minutes until the center is around 200°F and a toothpick inserted into the middle comes out free of wet dough (it's okay if it has some filling on it though). Check the loaf after about 30 minute and cover with foil if the edges are starting to brown too quickly.
IMPORTANT: When you remove the loaf from the oven, let it cool in the pan for 20 minutes to firm up but not much longer or the sticky filling will make it hard to get out of the pan. Run a knife around the edges of the loaf to release it from the pan, and then invert onto a cooling rack to cool completely. Best served still slightly warm, but actually stays tasty for several days after. Store covered at room temperature for up to a week or wrap tightly and freeze for up to 3 months.
Notes
Total time: 45 minutes for baking, up to overnight for proofing
Adapted from The Kitchn
https://www.butterlovescompany.com/2015/10/27/sticky-bun-babka-recipe/
butter loves company | jenna larsson