Warming Turkey Quinoa Poblano Chili is your answer for cold days, game days and all the days you want to curl up with some 'healthier' comfort food. Also, it's perfect for feeding a group!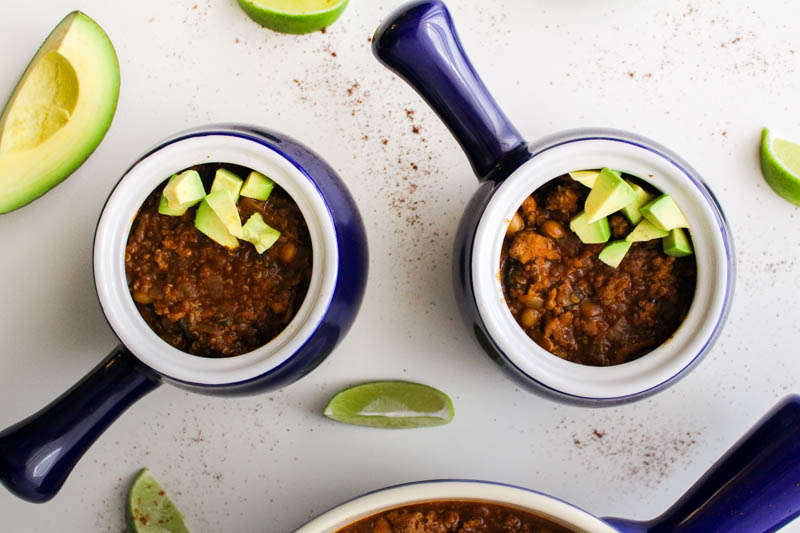 I've made this easy turkey chili recipe a handful of times within the past year and, each time, Greg and I seem to be surprised by how delicious it is. The more I think about it, though, the more I'm surprised that we're surprised. With tender turkey, mildly spice from the poblanos, and slight nuttiness of quinoa all simmered with the heat of chili powder and cayenne, plus a touch of sweet from cinnamon and cloves, this dish has so many comforting flavors. When topped with creamy avocado, tangy lime and a dollop of cooling Greek yogurt, you really can't go wrong with this not-surprisingly delicious turkey chili.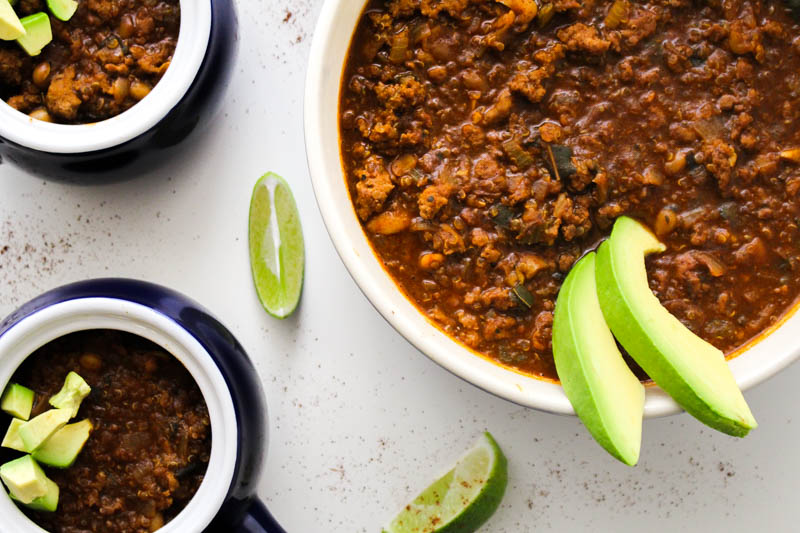 While this chili is a great alternative to the traditional beef chili when celebrating game day, you could also make a batch to have for lunch throughout the week. I bet you could even make this one vegetarian if you wanted to sub out the turkey for a variety of different beans and the chicken broth for a vegetable broth.
Depending on your brand of chili powder and the specific poblano peppers you use, the heat level can vary. If you are wary of spice, I would recommend starting with about half of the chili powder and then adding more to taste.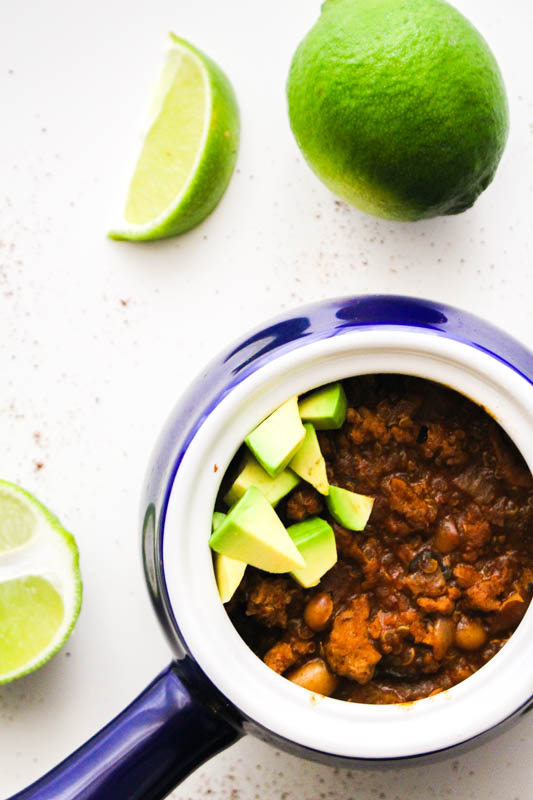 turkey quinoa poblano chili
Ingredients
3 tablespoons extra virgin olive oil
1 large yellow onion, chopped
4 cloves garlic, minced
2 large poblano chilis (or 3 medium), seeded and diced
1 celery stalk, diced
2 pounds ground turkey meat (not breast only)
1 tablespoon all purpose flour
1/4 cup tomato paste
4 tablespoons chili powder
11/2 tablespoons ground cumin
1 teaspoon dried oregano
1/2 teaspoon ground cinnamon
1/4 teaspoon ground cloves
1 1/2 tablespoons dark brown sugar
1 teaspoon salt, plus more to taste
1/2 teaspoon fresh ground black pepper, plus more to taste
3 cups low sodium chicken broth
1 15-ounce can cannellini beans, rinsed and drained
1 cup cooked quinoa
Avocado, lime and/or Greek yogurt for serving (optional)
Instructions
In a large heavy pot or Dutch oven, heat the olive oil over medium high heat. Stir in the onion, garlic, poblanos, and celery. Cook until the vegetables soften and the onions are translucent, about 6 or 7 minutes.
Add the ground turkey and stir to distribute, breaking up the turkey with a spoon as you go. Sauté until no longer pink, about 7 to 8 minutes. Add the flour and stir to combine. Add the tomato paste, chili powder, cumin, oregano, cinnamon, cloves, sugar, salt, and pepper and stir to blend. Cook 4 to 5 minutes.
Pour in the chicken broth and bring to a boil. Reduce heat to a simmer and cook for 10 minutes, stirring often. Add in the beans and cook until the chili thickens, about 20 minutes. Stir in the cooked quinoa and simmer 5 minutes more. Turn off heat—it's ready to serve!
Notes
https://www.butterlovescompany.com/2016/01/13/turkey-quinoa-poblano-chili-recipe/
butter loves company | jenna larsson