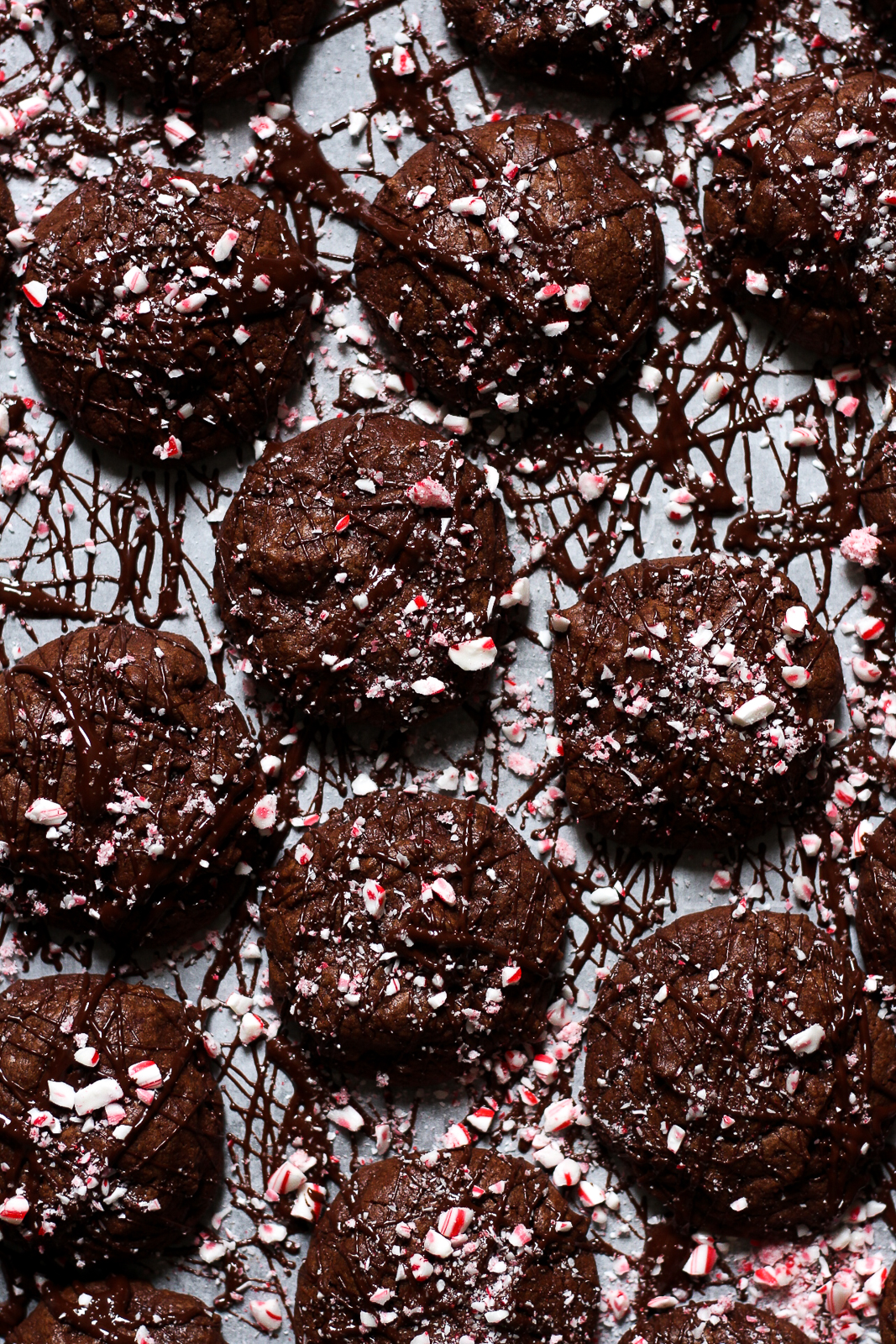 I'm very aware that the "chocolate with mint" camp is a divided one. On the one side, there are those who treasure the combination of rich chocolate with refreshingly herbaceous mint and leap at the opportunity to lick mint chocolate chip ice cream or crunch on a Girl Scout Cookie Thin Mint. On the other side, there are those who believe mint should be reserved for things like toothpaste and gum—adding the fragrant herb is simply not something they cannot get behind.
That said, while these chocolate peppermint cookies are mainly for those who appreciate the flavor combination, I think naysayers would be pleasantly surprised with the subtly of the peppermint as a complement to this cookie's rich chocolate flavor.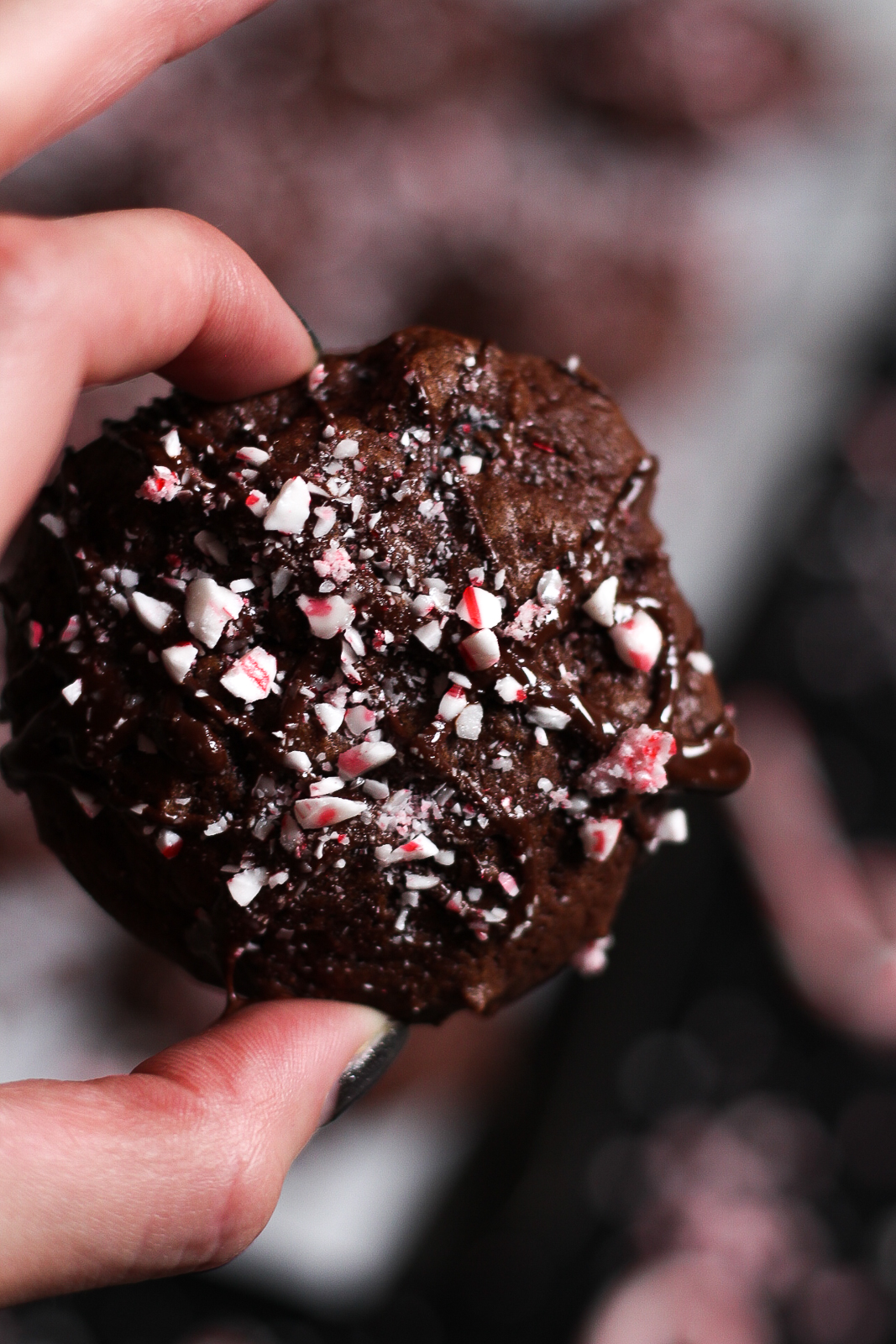 With melted bittersweet chocolate in the batter, along with chocolate chips, followed by chocolate drizzle on top, these cookies do not lack chocolate. There is just a dash of peppermint extract in the batter (which could actually be omitted) and festive candy cane crumbles on top resulting in just enough peppermint essence to give you a cooling freshness between bites of chocolate, but not too much to be overpowering.
These chocolate peppermint cookies keep well in the freezer (fully baked, sealed tightly, for up to 3 weeks); making them a perfect option for baking ahead around the holidays. They also look beautiful on a holiday dessert table—you may even see your uncle who hates chocolate and mint together grabbing for one.
drizzled chocolate peppermint cookies
Ingredients
2 1/2 cups bittersweet chocolate chips (60% cacao or below), divided
1/2 cup (1 stick) unsalted butter, room temperature
1 cup granulated sugar
1 teaspoon vanilla extract
1/4 teaspoon peppermint extract
2 large eggs
1 1/2 cups all purpose flour
1/4 cup natural unsweetened cocoa powder (not Dutch-processed)
1 teaspoon baking powder
1 1/4 teaspoon instant espresso powder
1/2 teaspoon salt
4–6 peppermint candy canes (depending on size), crushed, for topping
Instructions
Preheat your oven to 375°F and line 2 cookie trays with parchment paper. Set aside.
In a medium microwave safe bowl, melt 2 cups chocolate chips in the microwave until just smooth—I like to do this in 15- to 30-second intervals as to avoid overheating the chocolate—stirring with a rubber spatula each time. Separate out 1/2 cup of the melted chocolate and reserve in a separate small bowl for drizzling on the cookies after they've baked. You should be left with 1 1/2 cups melted chocolate—this will be used for the batter.
In the bowl of an electric mixer fitted with the paddle attachment, cream the butter and sugar together until light and fluffy, about 5 minutes. Beat in the eggs and both extracts until smooth. Beat in remaining 1 1/2 cups melted chocolate.
In a separate medium bowl, whisk together the flour, cocoa powder, baking powder, espresso powder, and salt. Slowly add dry ingredients to the butter mixture, beating until just combined. Mix in the in remaining 1/2 cup un-melted chocolate chips. Scoop heaping tablespoons of dough, rolling to form balls, place on prepared baking sheets leaving 1 1/2 inches between each.
Bake until the edges have set and the tops having some cracks, about 8 to 10 minutes. Cool cookies on baking sheet until room temperature before drizzling.
Using a fork, drizzle the remaining melted chocolate over cookies (rewarm briefly in the microwave first, if needed). Sprinkle crushed candy canes over the top. Baked cookies can be made 3 weeks ahead. Store airtight in freezer and bring to room temperature before serving.
Notes
https://www.butterlovescompany.com/2016/12/12/chocolate-peppermint-cookies/
butter loves company | jenna larsson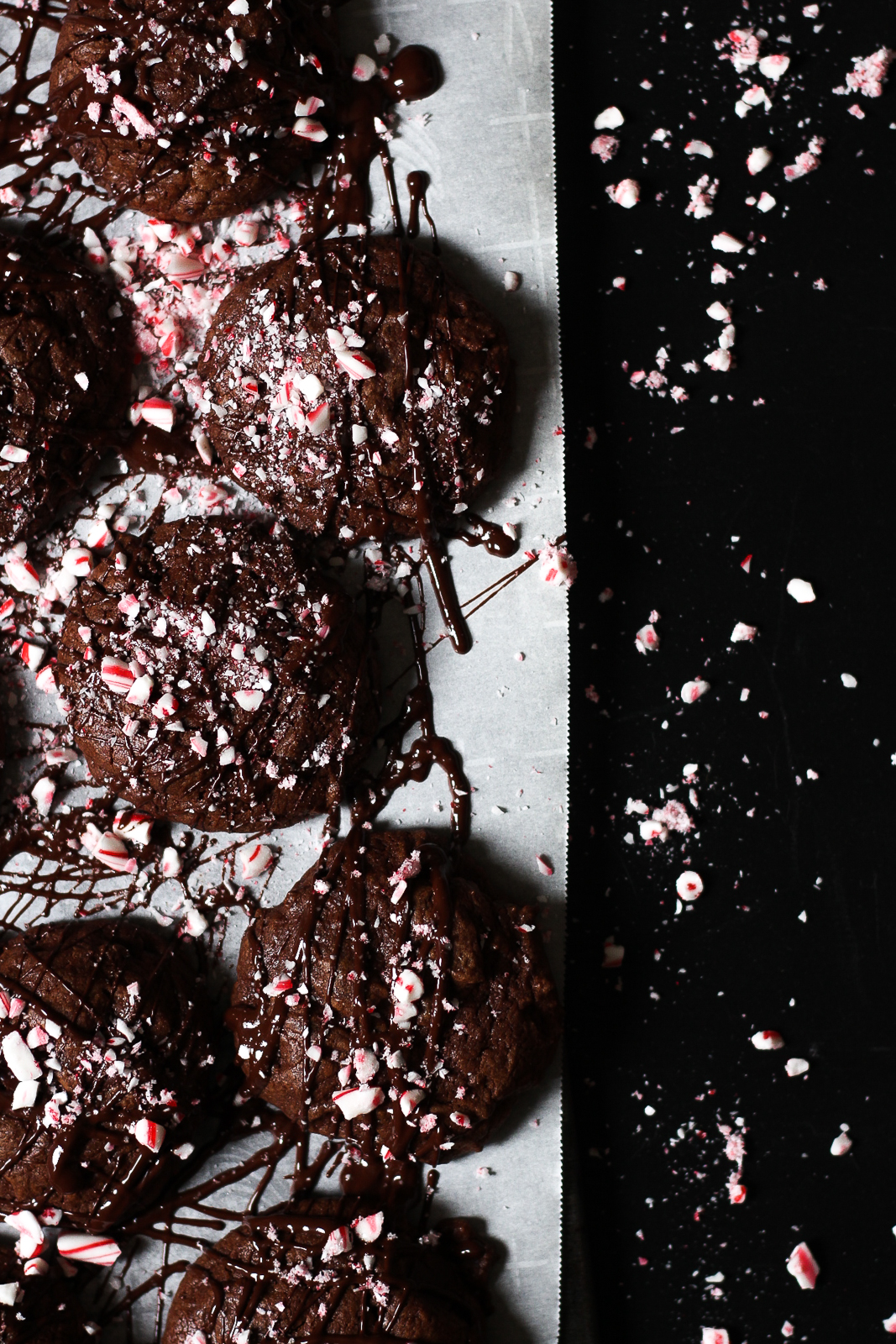 More for your chocolate lovers:
chocolate pecan torte with strawberry buttercream