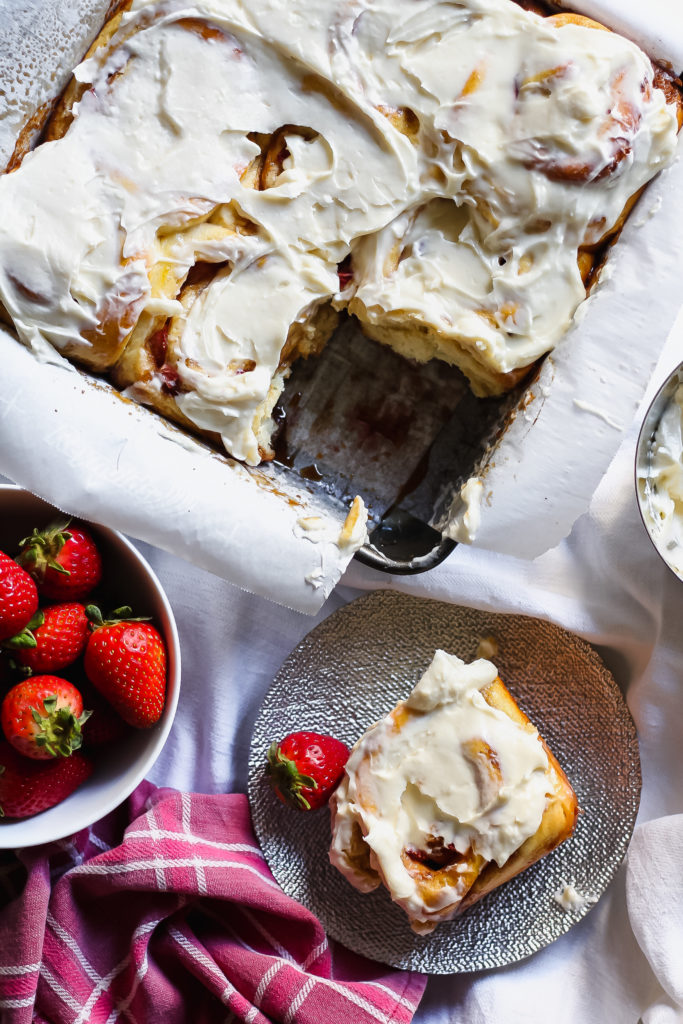 Malls have taken quite the turn since I first remember going to Limited Too to buy matching velour outfits with my best friends. These days, malls have been moving towards becoming destination centers fitted with high-end shops, courtyards, theaters, restaurants, gourmet food halls, and seasonal event programming. While the scents of too much cologne wafting from teen clothing stores are being overtaken by the smells of charcuterie boards and fresh pasta, there is still one enduring mall scent that I hope never leaves us. That is the scent of freshly baked, dripping with gooey icing, cinnamon buns. The sinfully sweet, beautifully buttery smell of puffy dough swirled with warming cinnamon, slathered in too much cream cheese icing is almost too good to be legal.
After dabbling in a little in-store holiday shopping this year (I know, what a concept!), I was reminded of how tremendous the smell of cinnamon rolls is. While I, albeit narrowly, avoided purchasing said cinnamon rolls on the spot, the seed was planted. I needed cinnamon rolls in my life. Not long after, we were devouring these homemade Strawberry Cinnamon Rolls.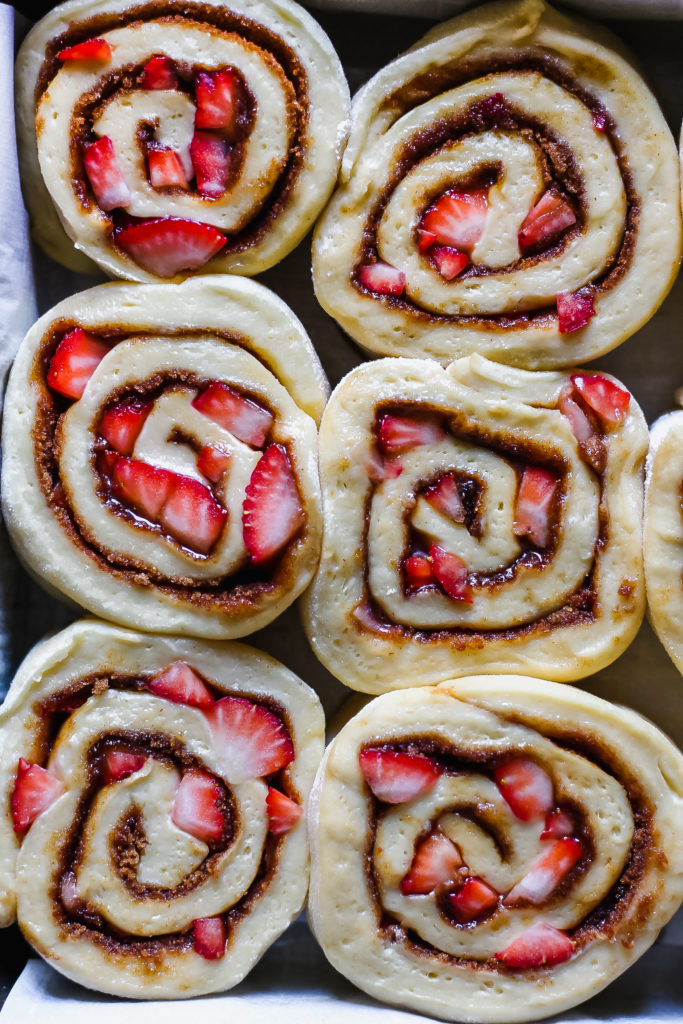 Now, I've made a variety of cinnamon rolls in my life, but I have never been fully satisfied with the flavor and texture of the dough. It was either too dry or too sticky, resulting in a mediocre cinnamon bun. The buck stops here! This is the cinnamon roll recipe I will stick with for life. Of all the yeasted doughs I have worked with, this one may be the dreamiest. It is fluffy but sturdy, puffy but not too airy. A cinch to roll out and fill with cinnamon sugar goodness, without becoming a sticky mess.
The trick to this dough's especially amazing flavor is all in the ingredients. In the dough, I used Vital Farms Pasture Raised Eggs, and their Pasture Raised Butter within the dough, filling, and frosting. Vital Farms eggs come from natural pastures, which are never treated with herbicides, pesticides, or artificial fertilizers. As we think more about the impact our food has on our bodies and environment, it is incredible to read about the humane treatment of their hens and cows.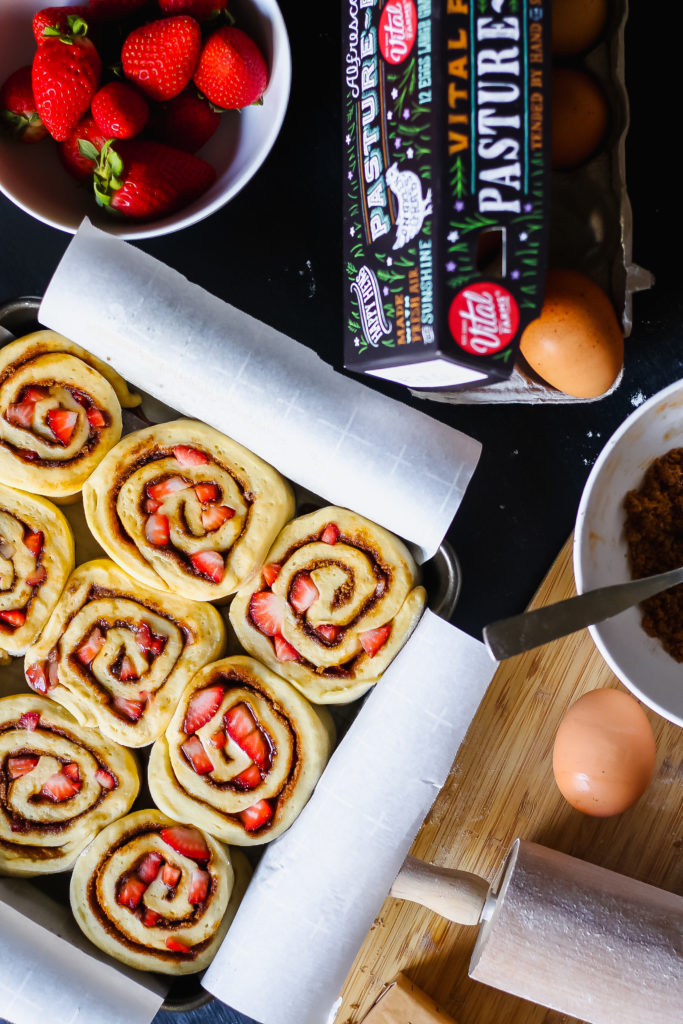 The yolks in the Vital Farms eggs are a stunning golden orange that you won't find an a standard grocery store egg. During our holiday brunch, we also used them within a veggie tart, which had a noticeably supreme eggy flavor. I tend to think that the eggs, combined with the rich butter, cinnamon sugar, strawberries, and cream cheese all combined here to form a perfect cinnamon roll bliss. Greg declared these the best cinnamon rolls I've ever made and I have "forced" him to taste test quite a few.
When strawberries bake, they transform into a deep juicy tart sweet bursts. I liken it to what happens when you roast a tomato. As is, they are amazing. But roasted? The process brings out a whole new depth of flavor that hits the all the right zones. That's what happens to the chunks of strawberries that are tucked in the swirls of these cinnamon rolls. If you are feeling traditional, simply omit the strawberries here!
Bookmark this one for a Valentine's or Gal-entine's morning treat. The strawberries give the rolls a festive pop of red color and a little extra sweetness. I declare these our new go-to cinnamon rolls. No trip to the mall required.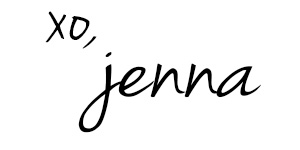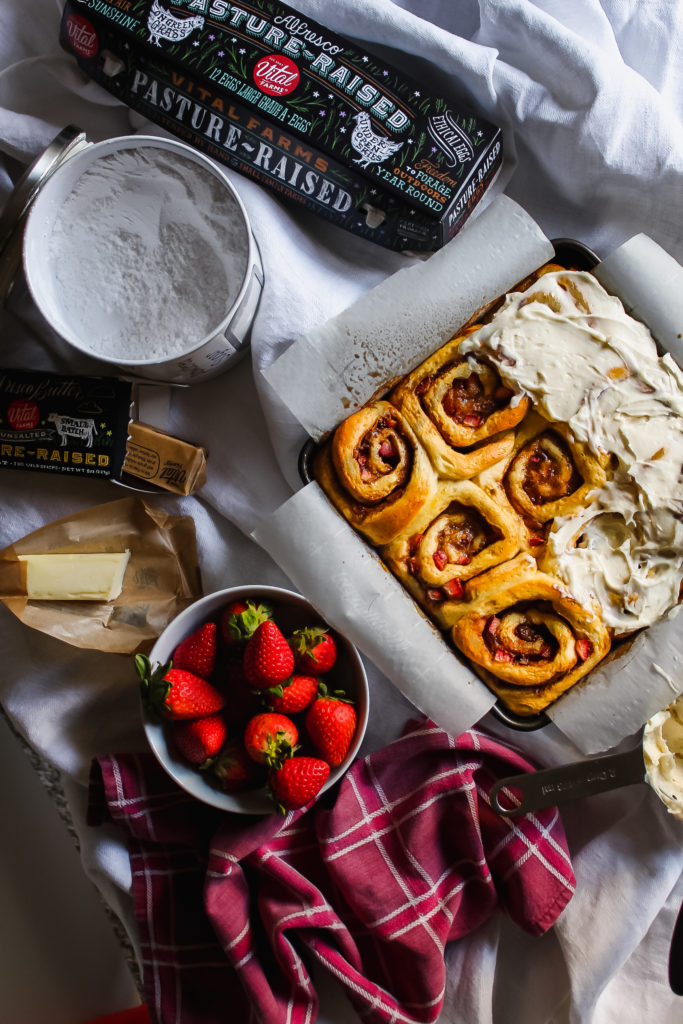 strawberry cinnamon rolls
Ingredients
3/4 cup warm milk (110°F)
2 1/4 teaspoons active yeast (1/4-ounce package yeast)
1/4 cup granulated sugar
1 egg plus 1 egg yolk, at room temperature (save the egg white for an egg wash)
1/4 cup unsalted butter, melted, and cooled slightly
3 cups bread flour
1 teaspoon salt
For the filling:

2/3 cup dark brown sugar, packed
1 1/2 tablespoons ground cinnamon
1/4 cup unsalted butter, softened
1 cup fresh strawberries, washed and cut into 1/2 inch pieces
For the cream cheese frosting:

8 oz (one standard block) full fat cream cheese, softened
1/4 cup unsalted butter, softened
1 cup powdered sugar
1/2 teaspoon pure vanilla extract
Instructions
Lightly oil a medium bowl and set aside. We will use this to proof the dough.
In the bowl of an electric mixer, stir together the warm milk and the yeast. Let it sit until foamy, about 5 minutes. If your yeast doesn't foam, discard the mixture and begin again, as the yeast has not activated. Fit the mixer with the dough hook.
Pour in the sugar, egg, egg yolk, and melted butter and mix on medium speed until well combined. Turn the speed to low and add the flour until incorporated. Increase the speed to medium and let the dough knead until it forms a slightly sticky dough ball, about 8 to 10 minutes.
Transfer dough ball to the oiled bowl, cover with plastic wrap and allow to rise at room temperature for 1 hour to 1 1/2 hours, or until doubled in size.
Meanwhile, grease a 9 x 9 inch baking pan and line with parchment paper and set aside.
Transfer risen dough to a well-floured surface and roll out into an approximate 14x9 inch rectangle. Spread the softened butter for the filling over dough, leaving a 1/4 inch perimeter.
In a small bowl, mix together brown sugar and cinnamon and then sprinkle mixture over the buttered dough pressing with your hand to help it stick a bit. Sprinkle the fresh cut strawberries evenly across the cinnamon mixture.
Beginning with a short side, tightly roll the dough up and place it seam-side-down to seal. Cut into 9 sections with a serrated knife.
Place cinnamon rolls in the prepared baking pan and cover with plastic wrap (At this point, you can refrigerate overnight, if desired. When you are ready to bake, remove from the fridge and start from here). Let rise again for 30 minutes.
Preheat oven to 350°F. Remove plastic wrap, brush the tops with the reserved egg white, and bake cinnamon rolls for 25 to 30 minutes or until golden brown on the edges. If you want to test with a kitchen thermometer, the interior of the dough should reach around 185 degrees. Allow them to cool for 5 to 10 minutes before frosting.
To make the frosting: In the bowl of an electric mixer, beat together cream cheese, butter, powdered sugar, and vanilla extract until smooth and fluffy. Spread over warm cinnamon rolls and serve immediately.
Notes
https://www.butterlovescompany.com/2018/01/10/strawberry-cinnamon-rolls/
butter loves company | jenna larsson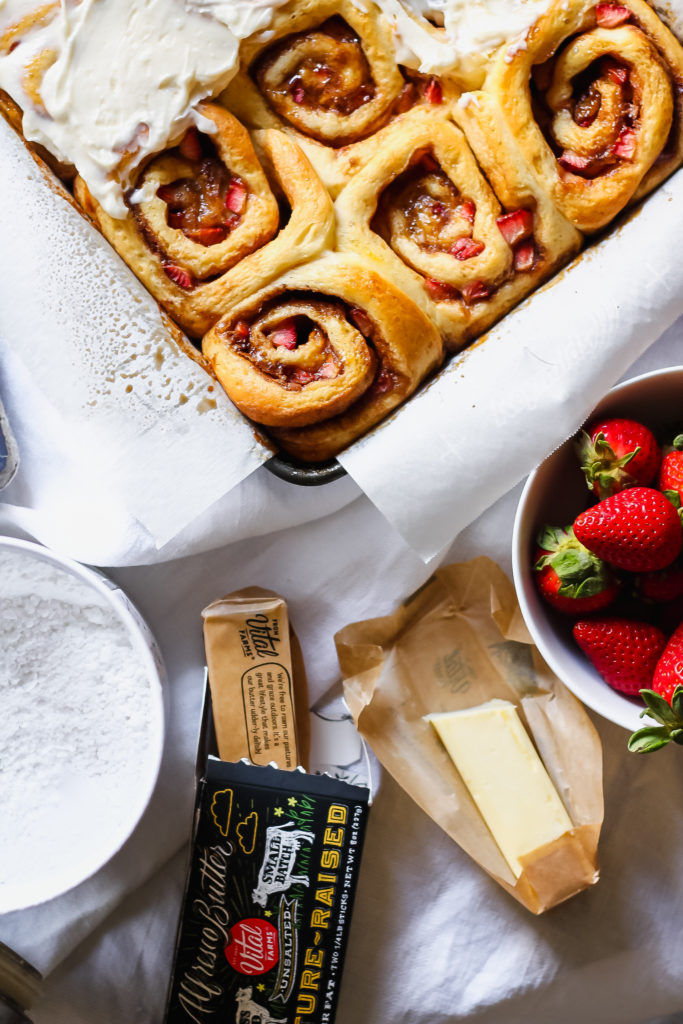 A big thanks to Vital Farms for partnering with me on this post. All opinions are my own. And, thank YOU for supporting food that matters and the brands who make Butter Loves Company possible!