Chewy, eggy, braided mini challah loaves—perfect with butter, for sandwiches or treat them like bagels and smear them with cream cheese. Be sure to use the extras for challah french toast—dreamy!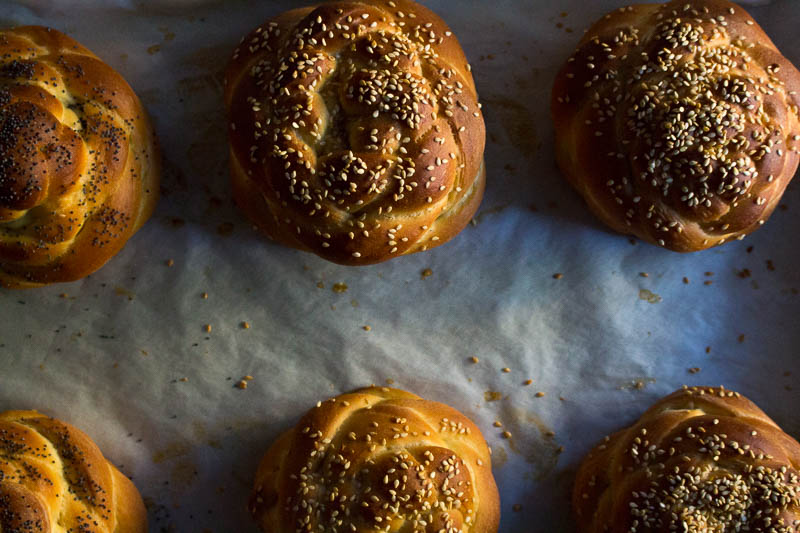 From my plane ride to Boston, something a little different…
—–
She settles deep into her window seat for the six-hour flight and pops open her book to where she left off. She's barely a chapter in but she leafs back a few pages—another vivid daydream had taken her away from the words her eyes scanned for the past fifteen minutes. Or, had she fallen asleep? Tough to tell these days.
It takes only a few moments for the lids to weigh down over her brown eyes. Her thoughts drift away to the sounds of twin toddlers giggling in the row in front of her. They're bouncing in their seats beaming with excitement to be flying across the country, "Mom, look! We're in the CLOUDS!"
They each wore French braids, just like she had nearly every day of her childhood. In this moment, they epitomize pure happiness. She sighs.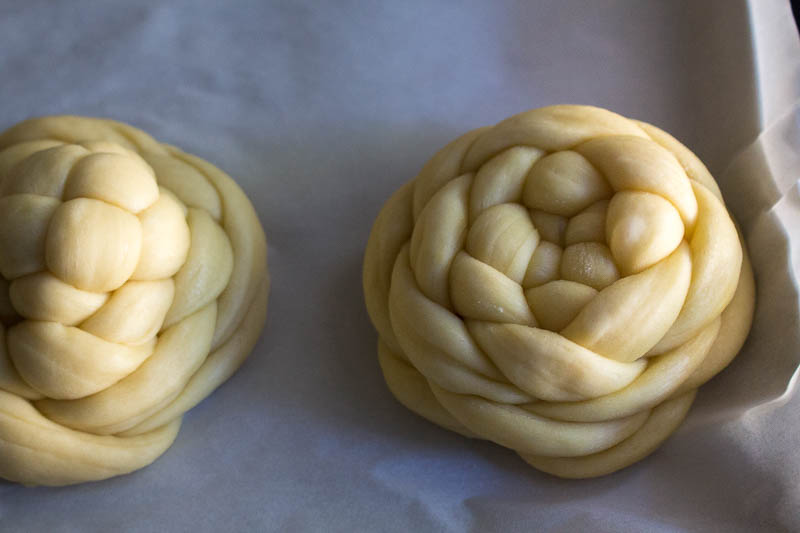 She drifts further into memories and transports back to the day she made challah bread for the first time. She had woken early from a nightmare and began to braid the challah dough she had prepared the night before to get her mind off things. It was profoundly therapeutic; rolling and twisting the eggy dough.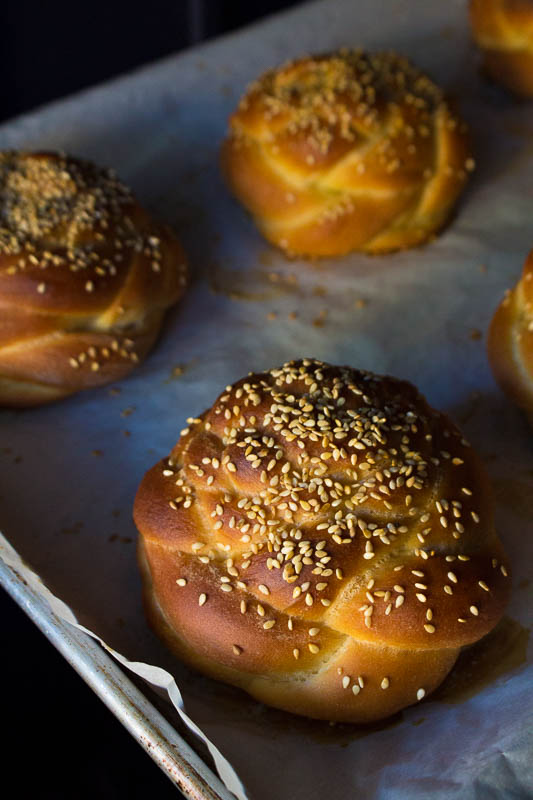 The buns had barely hit the cooling rack before she ripped into the puffy loaves, spreading their soft centers with butter and sprinkling with flaky salt. Her boyfriend, now awake to the smell of freshly baked bread, hurried over to grab a bite of his own. Their eyes locked and they both smiled. It was so good. In this moment, she imagined herself as one of those giggling toddlers: she was purely happy. This time trading those braids in the hair for another, much more delicious, braid she could share with everyone around her.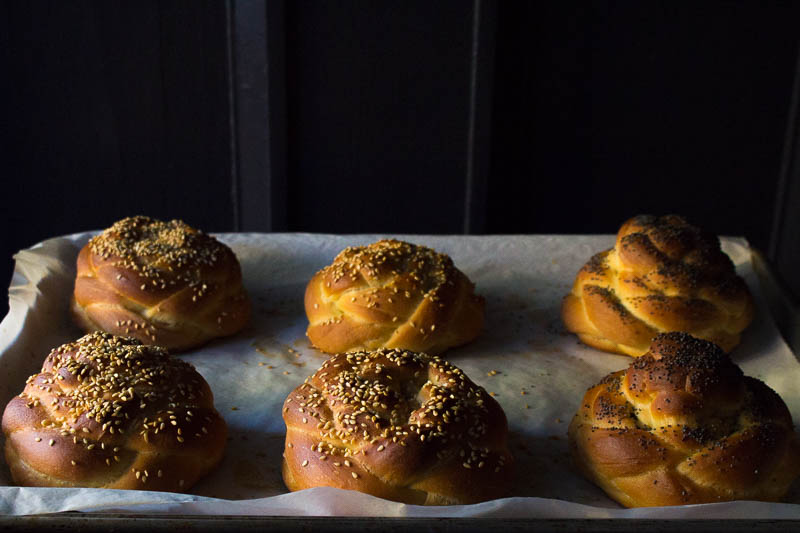 Ingredients
For the starter:

1 cup all purpose flour
1 cup lukewarm water
2 1/4 teaspoons active dry yeast (1 packet)
For the dough:

the starter
3 1/2 cups all purpose flour
1 3/4 teaspoons salt
1/3 cup sugar
1/4 cup vegetable or olive oil
2 large eggs + 1 yolk (reserve leftover egg white for wash, below)
For the egg wash and topping:

1 egg white, saved from above
1 teaspoon sugar
1 tablespoon water
poppy or sesame seeds, optional
Instructions
Make the starter by mixing the 1 cup flour, 1 cup water and yeast together in the bowl of a stand mixer. Let the mixture sit for about 45 minutes. It should be bubbly.
Fit the mixer with the paddle attachment, and add all the dough ingredients to the starter. Mix on low until the dough starts to come together. Stop the mixer and remove the paddle attachment—scraping any sticking dough into the bowl—replacing it with the dough hook. Knead on low-medium speed for 8- to 10-minutes, until smooth and silky and moist, but not sticky.
Grease a medium bowl lightly with vegetable or olive oil. Scrape the dough from the mixer's bowl and pat into a ball. Place into the prepared bowl, rolling it once to grease all sides. Cover lightly with plastic wrap and let rise for 1 1/2 hours, until doubled in size.
Line a baking sheet with parchment paper and set nearby. Turn the dough out onto a very lightly floured surface and pat down with your fingers to release some of the air bubbles. Divide into eight equal pieces and then cut each of those pieces into four strands (you'll end up with 8 groups of four). Roll each strand to about 8- to 10-inch long logs. Braid into your round four-strand mini loaves—instructions to do so can be found in this video. Place each braided loaf onto the prepared baking sheet.
In a small bowl, make the glaze by mixing together the reserved egg white, sugar, and water. Brush loaves, reserving some for a second application.
Cover the loaves with a clean damp towel and let rise for 45 minutes to 1 hour, or until almost doubled in size. When the loaves have about 15 minutes left to rise, preheat the oven to 375°F.
Brush the loaves again with the egg wash and sprinkle with poppy or sesame seeds, if using. Bake for 20 to 25 minutes, or until the challah bread loaves are deep golden brown. Remove from the oven and let cool completely before slicing (Or just go right ahead and tear off a bite, lather with butter, sprinkle with salt, and repeat.). Bread keeps well for several days, well wrapped at room temperature.
Notes
https://www.butterlovescompany.com/2016/08/22/mini-challah-loaves/
butter loves company | jenna larsson