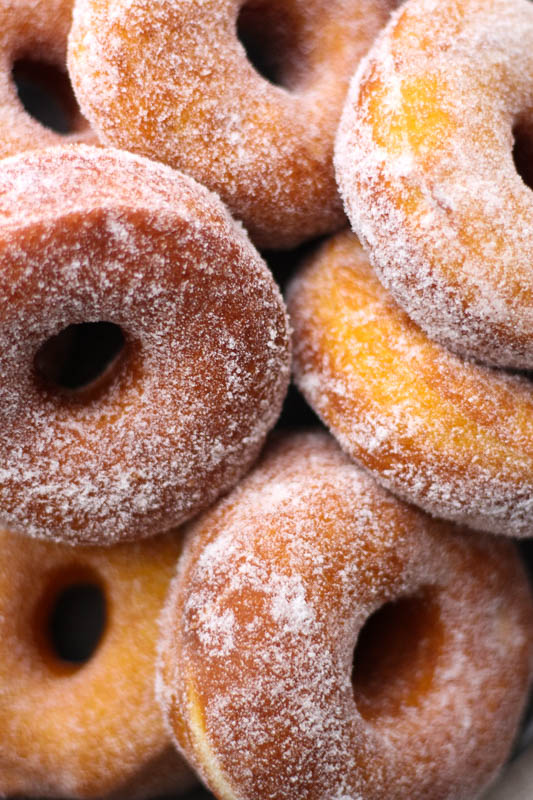 Check. Check 1-2. Check 1-2-3-4.
Hello…
it's me!
I am (honestly) in California dreaming about who we used to be. That is, food friends! Life has been quite busy lately and I'm going to blame my temporary break on the new doughnut in my life. No, I'm not talking about these sugared brioche doughnuts that I hope you're grabbing for on the screen (they are that good, I promise). I'm referring to the newest member of the Butter Loves Company family, our precious calico kitten—say hello to Nori! She is my new kitchen assistant, contributing mostly by sleeping curled into an adorable doughnut shape. I couldn't be happier to be her mama.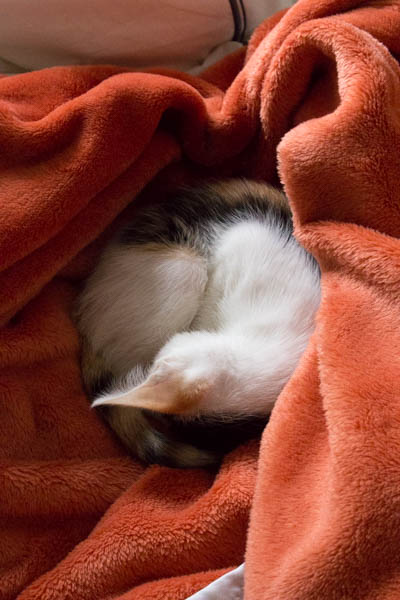 Cute cats aside, I am bursting with excitement to share this recipe with you. Imagine biting into a sweet, buttery cloud with egg-y richness and a kiss of vanilla. Sounds pretty amazing, right? That's what you'll get with this perfect sugared brioche doughnut recipe. As soon as I tried Thomas Keller's recipe from Bouchon Bakery, it was game over.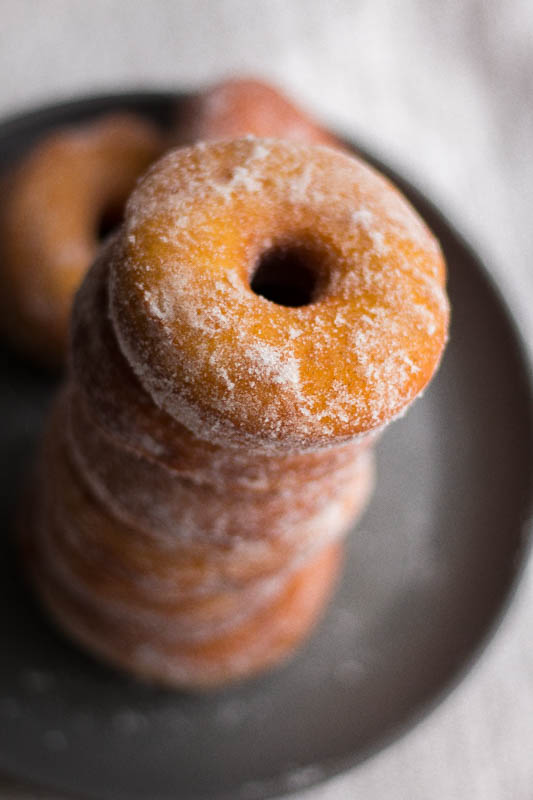 If you're thinking, "Homemade doughnuts? That seems difficult," let's take it step-by-step. You'll prepare a simple dough, which is a mostly hands-off process, allowing your stand mixer to do the heavy lifting. You'll let the dough proof for an hour and then again overnight in the fridge. You'll roll out and cut the dough into your doughnut shapes. You'll heat the oil and fry those pretties for just a couple minutes. Remove from the oil, let cool and toss them in vanilla sugar. Give one to everyone you see around you—well, maybe not the cats!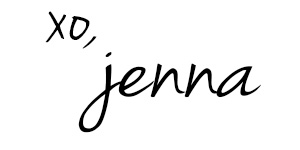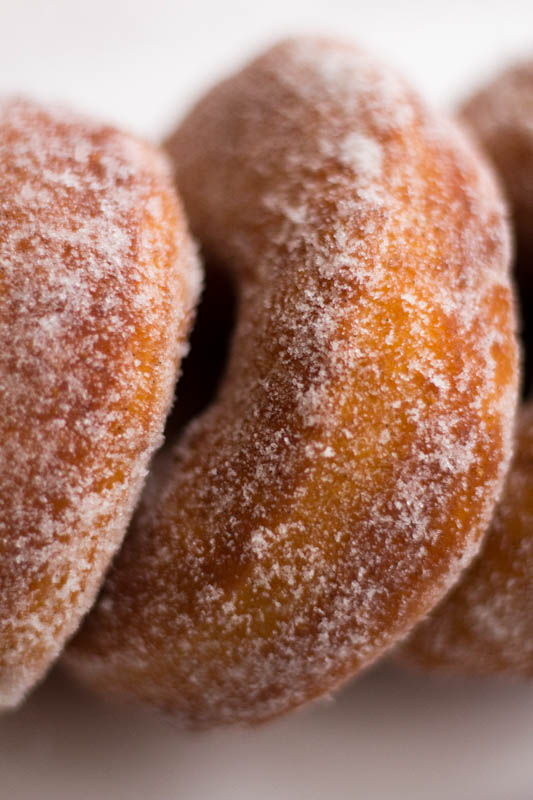 sugared brioche doughnuts
Ingredients
518 grams all-purpose flour (3 1/2 cups plus 3 tablespoons)
10 grams instant yeast (1 tablespoon)
74 grams granulated sugar (1/4 cup plus 2 tablespoons)
9 grams table salt (1 tablespoon)
212 grams warm whole milk (3/4 cup plus 1 1/2 tablespoons; at about 75°F)
111 grams egg (1/4 cup plus 3 tablespoons; about 2 large eggs)
9 grams vanilla extract, vanilla bean paste, or vanilla bean caviar (1 1/2 teaspoons)
55 grams unsalted butter, at room temperature, cut into cubes (2 ounces)
Canola oil, for frying (enough to fill your Dutch oven or pot 3 inches deep)
300 grams granulated sugar or vanilla sugar (1 1/2 cups; sugar massaged with leftover vanilla bean pod)

Other tools:

Round doughnut cutter or circular cookie cutters (you could use two round cookie cutters: one large one for the outside and one small one to cut out the doughnut centers)
Candy thermometer
Instructions
Spray a medium bowl with non-stick spray and set aside.
In the bowl of a stand mixer fitted with the dough hook, mix together the flour and yeast. Add the sugar, salt, milk, egg, and vanilla and mix on low speed until incorporated. Continue mixing on low speed for 30 minutes (the dough may stick to the side of the bowl).
With the mixer running, gradually add the butter, a cube at a time, incorporating each cube completely before adding the next. Continue until you've added all the butter, scraping down the bowl periodically. Mix for 5 more minutes.
Scrape the dough onto a lightly floured surface and pat into a rectangular shape, using only enough flour so it doesn't stick to the surface. Stretch and fold the left side of the dough to over 2/3 of the dough, and then stretch the right side and folder over the left (Like you would fold a letter, if people still sent letters!). Repeat once more, this time folding the top down and then the bottom up. Place in prepared bowl seam-side down. Cover with plastic wrap or a clean dishtowel and let sit at room temperature for an hour.
Turn the dough out onto a lightly floured surface and gently pat the dough down pressing large air bubbles to the edge to release. Repeat the stretching and folding process and then return the dough to the bowl, seam-side down, cover, and refrigerate overnight.
Line a baking sheet with parchment paper, spray with non-stick spray, and set nearby. Turn the chilled dough out onto a lightly floured surface and roll it out to about 11-inches wide and about 1-inch thick. Working quickly using your doughnut cutter or round cookies cutters, cut rounds from the dough. Dust off excess flour and place onto prepared pan. Gently lay a sheet of plastic wrap over the dough and allow to proof at room temperature for 1 to 1 1/2 hours, or until the dough has doubled in size and when you gently press with your finger, the imprint remains.
Fill a Dutch oven or heavy stockpot with 3 inches of canola oil. Fit with your candy thermometer and heat oil to 350°F/177°C. Set a cooling rack over a baking sheet and pour your sugar or vanilla sugar into a wide, shallow bowl—ready for dipping! Gently lower 2 to 4 doughnuts (depending on how large your pot is—the doughnuts should be able to float freely) into the oil and fry for 30 seconds, without moving them. Flip doughnuts over with tongs, a spoon, or chopsticks and fry for 45 seconds. Flip back over once more and fry another 45 seconds, or until they are golden brown. Adjust the heat as needed throughout frying to maintain the temperature. Transfer the doughnuts to the prepared rack to cool while you start the second batch. While the second batch is frying, toss the first batch in the sugar to coat on all sides, and transfer to a serving platter. Repeat with remaining batches.
The doughnuts are best enjoyed the day they are fried—heavenly eaten fresh, fresh, fresh! They do last another day or two in a covered container but their texture will be much more dense and the sugar coating will moisten.
Notes
Recipe by Thomas Keller from the Bouchon Bakery cookbook, process adapted slightly.
https://www.butterlovescompany.com/2016/08/11/brioche-doughnut-recipe/
butter loves company | jenna larsson