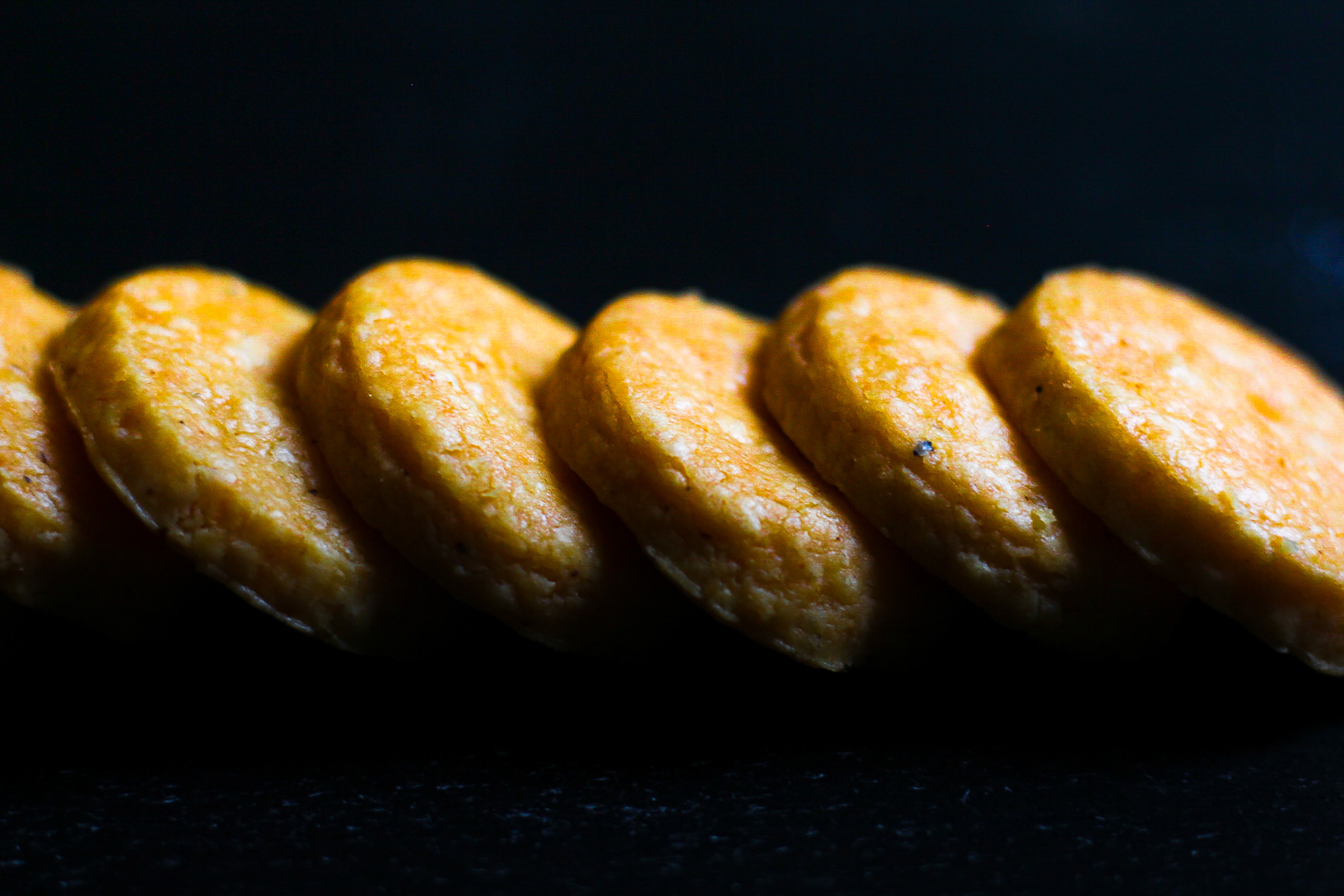 A few weeks ago, my best friend became my *fiancé*—what a word and what a whirlwind! I really can't imagine having anyone else by my side to laugh with for life. Supergreg, as you know him via this site, is the most thoughtful person I've ever met. I'm one lucky girl!
Despite all of the many things we've been through together since we've met, and how much we've learned and changed personally, there is one thing that still rings true. Greg can demolish a box of Cheez-It crackers in one sitting (Love you boo!).
This recipe for homemade cheese crackers is my personal gift to Greg. A cracker honoring the great Cheez-It that we can from this point forward make at home. These are your adult Cheez-Its: deeply cheesy, salt-forward with a smoky undertone thanks to paprika and cayenne. Sharp cheddar cheese leads the way with Gouda by its side. If you can find aged Gouda—I used 3-year aged—it is wonderful for adding a funky-in-a-good-way cheesy stink. I'm really selling it, huh? If you can't find aged Gouda, a smoked Gouda could be substituted for a slightly smokier alternative.
These homemade cheesy crackers teeter on the cookie line, since they don't shatter like some crackers as they meet your teeth, but if you roll them thin, you'll achieve that cracker-y crunch. They also pair perfectly with wine or beer as a cocktail hour snack.
Go on and enjoy the marriage of cheeses!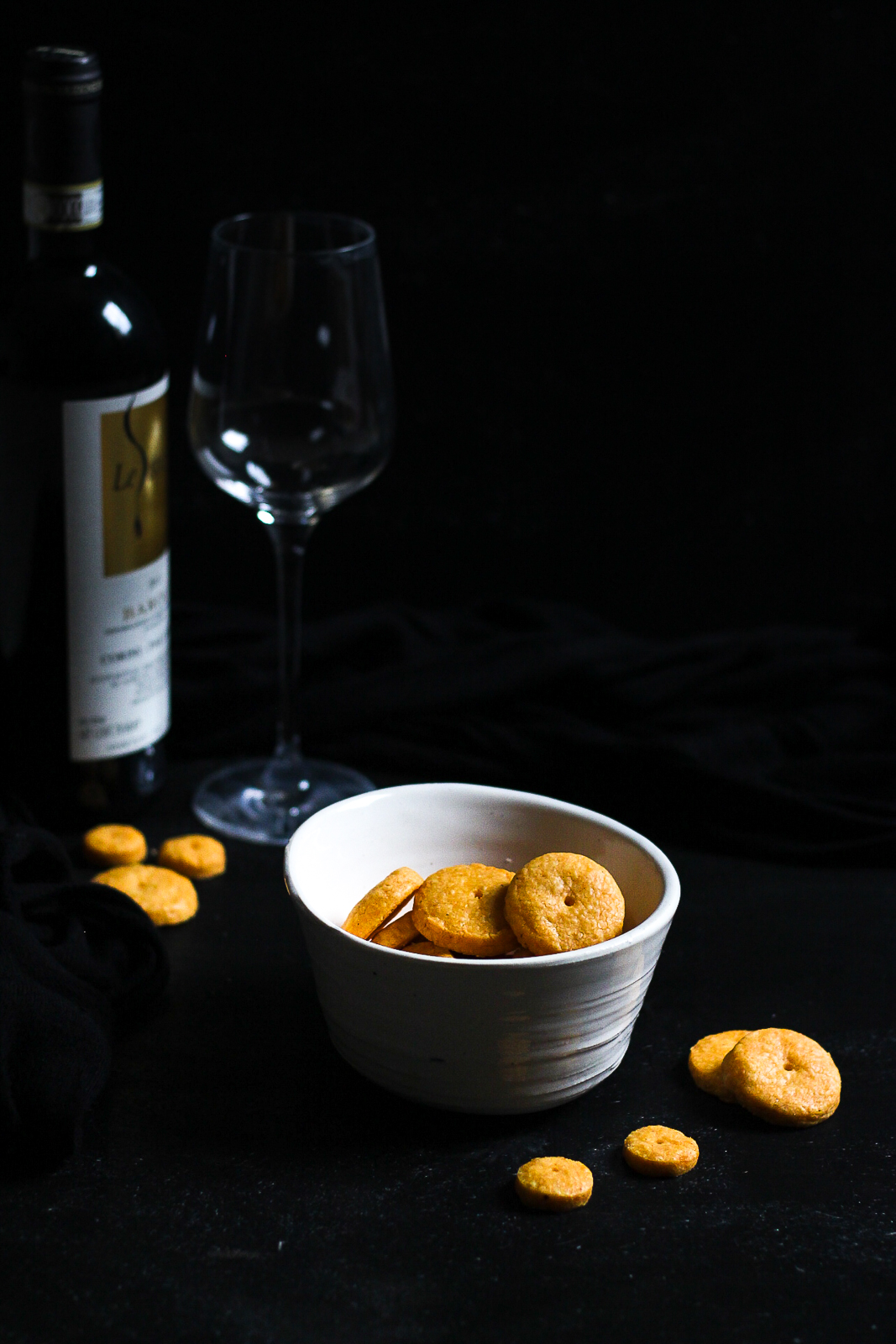 Ingredients
1/2 cup (1 stick) cold unsalted butter, cut into 16 cubes, and re-chilled
1 cup sharp cheddar cheese, grated
1/4 cup aged Gouda cheese, grated (can substitute a firm smoked Gouda)
3/4 teaspoon salt
1/4 teaspoon pepper
1/4 teaspoon smoked paprika
1/8 teaspoon cayenne pepper
1 1/4 cups all-purpose flour
Instructions
In the bowl of a food processer, pulse together the cold butter, the cheeses, salt, pepper, paprika, and cayenne until the butter is in little distinguishable bits and the mixture is crumbly. Add in the flour and pulse until absorbed and the mixture starts to come together in moist chunks. Transfer dough onto a clean sheet of parchment paper and pat together into a disk with your hands. Top the disk with another sheet of parchment so the dough is sandwiched between the two sheets and, using a rolling pin, roll the dough out to 1/4-inch thick (or thinner for crispier crackers). Freeze for at least 30 minutes.
When you're ready to bake, preheat the oven to 350°F. Peel the top layer of the parchment off the dough and set it on a cookie sheet. Set nearby. Using a cookie cutter or knife, cut the dough into desired shapes and place shapes on prepared cookie sheet, leaving 1 1/2 inches between each. Bake for 16 to 18 minutes or until the edges appear golden brown. Remove from oven and let cool completely on the cookie sheets.
Notes
https://www.butterlovescompany.com/2016/12/16/homemade-cheese-crackers/
butter loves company | jenna larsson