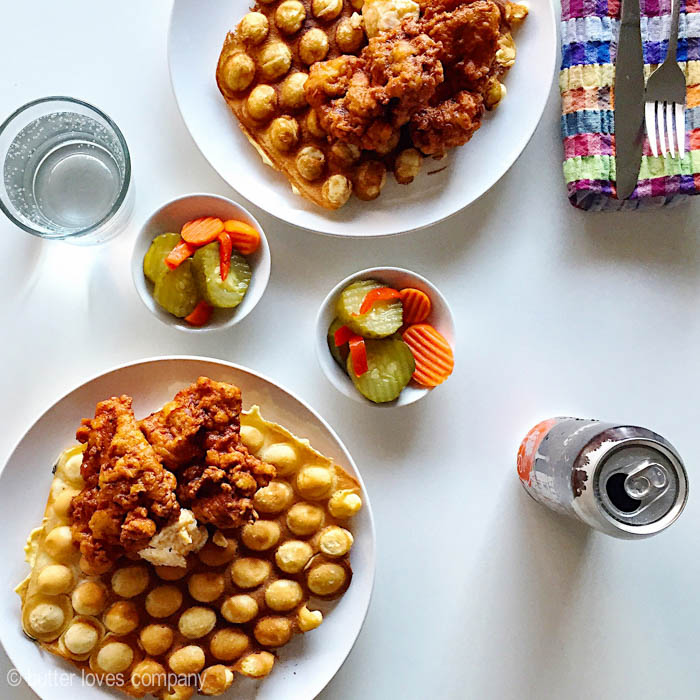 Bubbly for breakfast? Yes, please. No, not mimosas. This time, we're talking about bubbly waffles!! These funky looking, egg-y waffles are a classic Hong Kong street food and with the magic of this bubble waffle iron
plus the below recipe, you can make them at home.
Greg and I first had bubble waffles at this great restaurant Shojo in Boston's Chinatown where they were served with fried chicken and Szechuan peppercorn maple syrup, alongside tiki drinks and old kung fu movies (I mean, amazing). As soon as we popped off our first bubbles, we were immediately hooked. The chew of the puffed bubbles paired perfectly with the crispy parts of the batter dividing them.
One of the main differences between these bubble waffles, sometimes called eggettes, and traditional waffles is the addition of sweetened condensed milk. I think this is what gives the waffle its lightly sweet custard flavor.
Pair the waffles with sliced berries and a sprinkling of confectioners sugar, some syrup, or go savory with fried chicken. They are great eaten warm but I even like to make a big batch and pick at them throughout the day at room temperature. They are the perfect whimsical treat for your brunch table!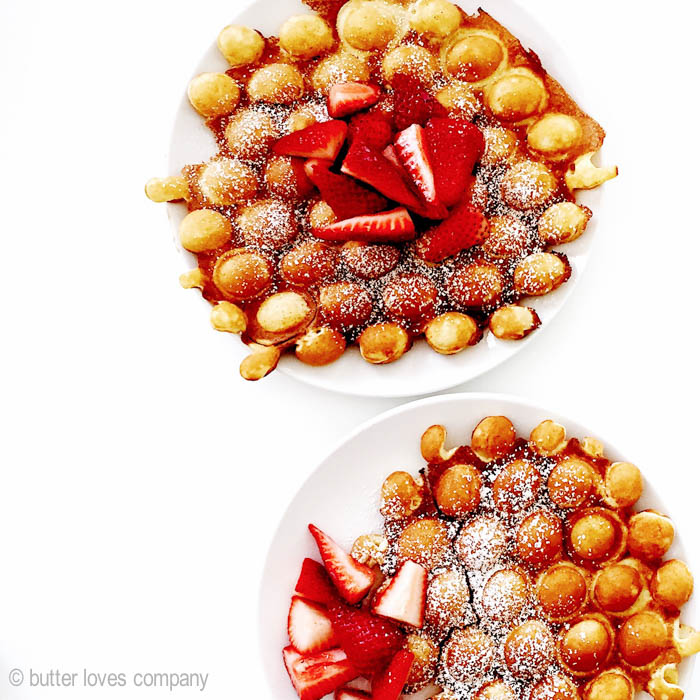 hong kong style bubble egg waffles (eggettes)
adapted from Ginger and Scotch
special equipment: bubble waffle iron
prep time: 10 minutes
cook time: 15 minutes
total time: about 30 minutes
makes 4-5 bubble waffles
Ingredients:
1 cup (4 oz or 120 g) all-purpose flour
1 teaspoon baking powder
1 teaspoon tapioca starch or corn starch
2 large eggs
1/3 cup plus 2 tablespoons sugar
1 tablespoon vegetable oil
1 teaspoon vanilla extract or paste
2 tablespoons sweetened condensed milk
5 oz (150 mL) water
vegetable oil or non-stick spray for coating egg waffle pan
Instructions:
In a large bowl using a whisk or in the bowl of your electric mixer, mix together the flour, baking powder, and tapioca or corn starch.
Add the eggs, sugar, vegetable oil, and vanilla and mix on low speed until combined.
Add the sweetened condensed milk and water. Mix thoroughly. It may be a little bit lumpy, which is fine. You can let it sit for a few minutes in the fridge or at room temperature to help the lumps subside.
Separate and pre-heat each half of the bubble waffle iron on separate burners over medium-high heat until hot, 3-5 minutes.
Lightly brush or spray each pan with vegetable oil.Pour ¾ cup of the batter into the middle of one side of the egg waffle pan and shimmy the pan a little to distribute some of the batter to the outer holes. Immediately place the other side of the pan on top, flip the pan over and cook for 2 minutes. Flip again and cook for another 2 to 3 minutes, until the bubbles are golden and in-between is deep golden. The timing may vary based on your stove but you want to cook it until the bubbles pull away from the pan easily. 

Open the pan and invert the waffles onto a plate. Repeat with remaining batter. Enjoy!