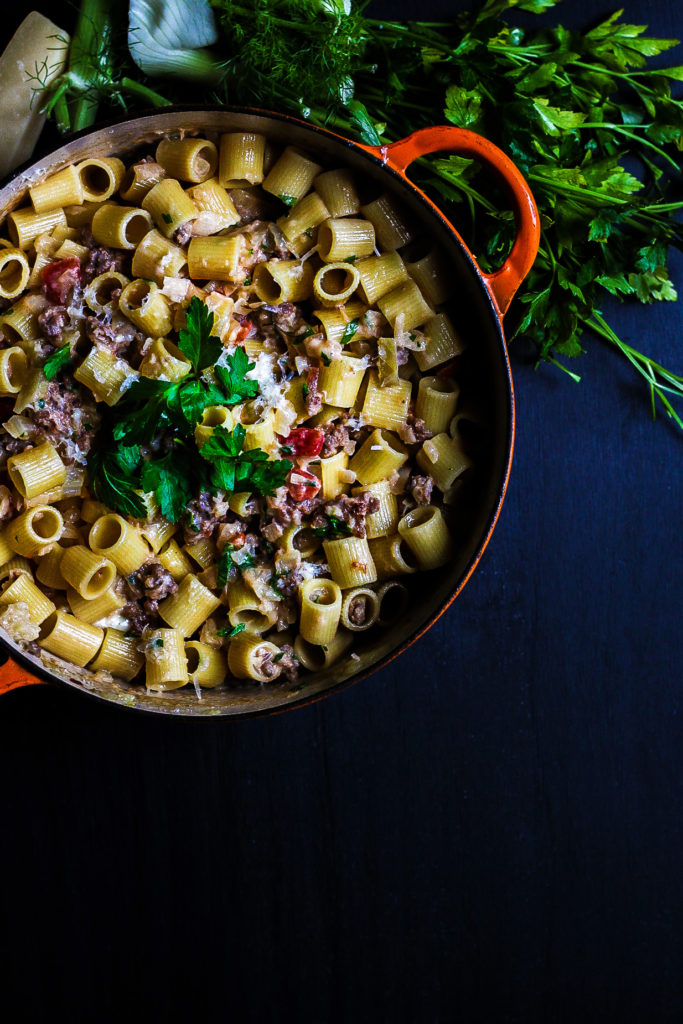 This Rigatoni with Sausage and Fennel is just the hearty meal you need to comfort you after a long day. I recently made this dish as part of Tasting Table's cookbook club (Thanks to the lovely Evi of Ev's Eats for inspiring me to join!). The January book—which I got this recipe from—was Ina Garten's Cooking for Jeffrey: a compilation of great recipes inspired by cooking for the ones you love.
This is an adaptation of what became one of the most popular recipes for the group to make. I ended up making a few ingredient swaps based on what we had in the pantry at the time and loved the results. Whenever I see a recipe using Italian sausage, I pretty much always include hot Italian sausage just because my personal "Jeffrey" loves spice. As do I. Not feeling sausage? This would be great with mushrooms as a 'meaty' vegetarian alternative.
The tenderness and light licorice essence of the fennel balances the creamy sauce, acidic tomatoes, and meatiness, heat, saltiness of the sausage. Of course, there's also the crispy cheesy bits you get on the tops of the baked pasta—swoon!
While you could substitute any pasta for the rigatoni, I'd highly recommend the little tubes as they perfectly capture little chunks of sausage in their centers resulting in extra-delicious bites. Supergreg doesn't care for fennel and cleaned his bowl(s) so if you're hesitant about the fennel, I urge you not to let it stop you!
This makes a lot of pasta, which was fine because you'll want to heat up leftovers throughout the week when you just can't think about cooking dinner.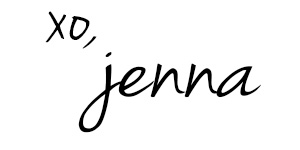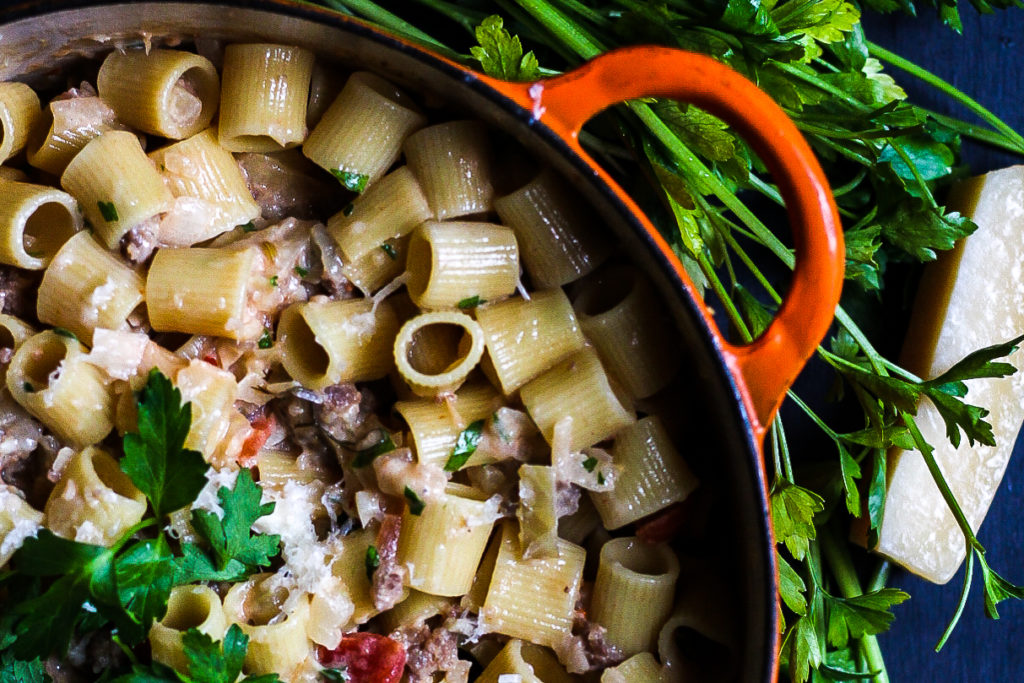 rigatoni with sausage and fennel
Ingredients
3 tablespoons olive oil
3 cups fennel (1 large bulb), diced
1 1/2 cups yellow onion, diced
1 1/4 pounds Italian Sausage (I use half hot and half mild Italian)
2 cloves garlic, minced
1/2 teaspoon red pepper flakes
salt and pepper
1 cup dry white wine
1 cup heavy cream
2/3 cup half and half
2 cups canned diced tomatoes
1 pound dried rigatoni
1 cup freshly grated Parmesan cheese, divided
Instructions
Heat olive oil in a heavy, oven-safe pot or Dutch oven over medium heat. Add the sausage and allow to brown, stirring occasionally and breaking it into small pieces with the back of a wooden spoon. Remove sausage with a slotted spoon and transfer to a bowl and set aside. There should be some fat leftover from the sausage in the pot. If not, add a little more olive oil. To the pot, add the diced fennel and onion and sauté, stirring occasionally, under tender, about 8 to 10 minutes. Stir in the garlic, red pepper flakes, 2 teaspoons of salt and 1 teaspoon of freshly cracked pepper and cook for 1 minute. Stir the sausage back into the pot. Pour in the wine and bring to a boil. Add the heavy cream, half and half, and tomatoes. Bring back to a boil and then reduce the heat and simmer for about 20 minutes, until the sauce reduces somewhat and thickens up.
Meanwhile, bring a separate pot of salted water to a boil and preheat the oven to 450°F. Add the rigatoni to the boiling salted water and cook according to the package directions, shaving off two or three minutes of cook time so your rigatoni is very al dente. Drain and add the al dente pasta to the sausage fennel sauce and stir to coat. Remove the pot from the heat and stir in parsley and 1/2 cup Parmesan. Add salt and pepper to taste. Sprinkle the top of the pasta with the remaining 1/2 cup of Parmesan and then bake uncovered in the pre-heated oven for 5–10 minutes, or until the cheese on top melts and you start getting some crispy bits. Remove from oven and serve.
Notes
https://www.butterlovescompany.com/2017/02/16/rigatoni-sausage-fennel/
butter loves company | jenna larsson