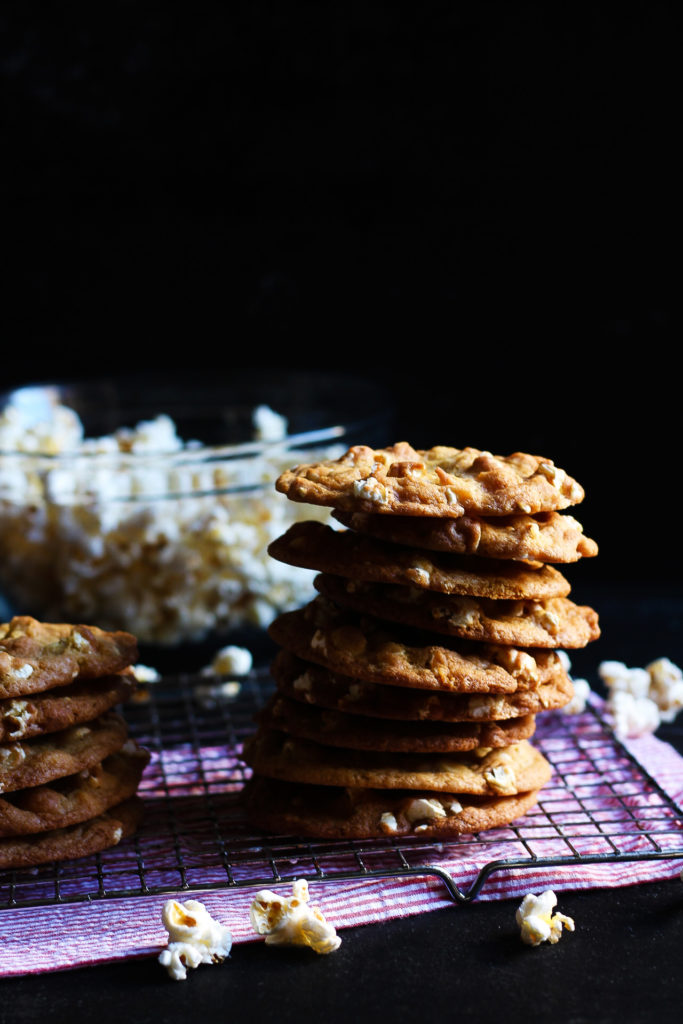 If you've spent any time in my parents' house, at some point, you've certainly smelled or heard popcorn popping in the kitchen. It's likely we've sat together on the couch, grabbing salty popcorn by the handfuls and nibbling on it for hours. You've probably seen big bowls of popcorn on the counter covered with tin foil for days, while almost everyone sneaks a couple kernels of stale popcorn on each trip to the kitchen.
My Mom—not one for sweets—has been popping popcorn multiple nights a week after dinner since before I can remember. Her popcorn pot is seasoned better than an antique cast iron skillet. Like I said, popcorn has just always been a staple in my parents' house. Now, whenever I'm feeing homesick, I know making popcorn will give me a beautiful sense of comfort, and that's a wonderful feeling.
These Salty Buttery Popcorn Cookies are inspired by my Mom's popcorn but are appropriate for those who also do like sweets. They are distinctly salted with a mix of crunch and chew, thanks to the brown sugar and ample popcorn mixed in. I felt like white chocolate would be a natural addition, so ran with that, and had no regrets. I know white chocolate is polarizing so feel free to skip if you're inclined.
The recipe is adapted from the recipe for popcorn cookies in Deb Perelman's The Smitten Kitchen Cookbook. When I first flipped to the page and saw bits of popcorn poking out of golden brown cookie mounts, I knew they would be a favorite.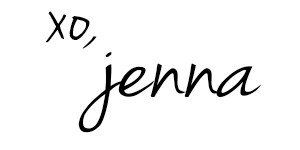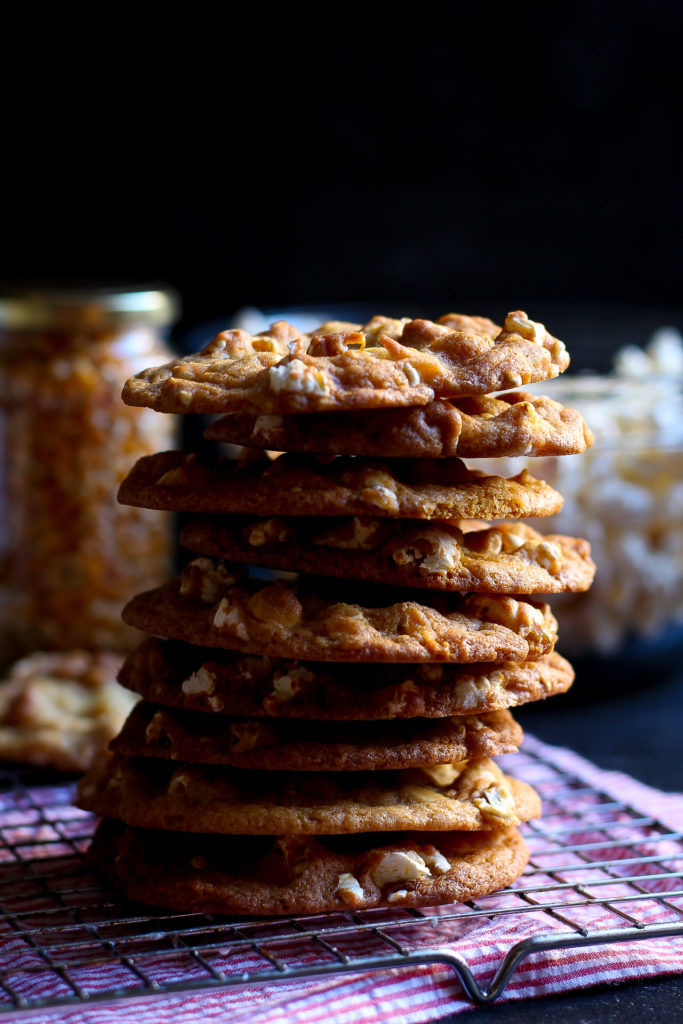 Salty Buttery Popcorn Cookies
Ingredients
2 tablespoons (30 ml) coconut oil or vegetable oil
1/4 cup (45 grams) popcorn kernals (will be about 4 to 4 1/2 cups popped popcorn)*
1/2 teaspoon salt
3 tablespoons unsalted butter, melted
1/2 cup (115 grams or 1 stick), unsalted butter at room temperature
1/2 cup (95 grams) light brown sugar, packed
1/3 cup (65 grams) granulated sugar
1 large egg
1 teaspoon vanilla extract
1 1/4 cup (155 grams) all-purpose flour
1/2 teaspoon baking soda
1/4 teaspoon baking powder
1/4 teaspoon salt
1/2 cup white chocolate chips (optional)
Instructions
Have a large bowl standing by. Pour the oil into a medium heavy saucepan (with a lid) and add the popcorn kernels shaking the pan a little so they lay in one layer. Cover and heat over medium-high heat, allowing the popcorn to pop (if your cover does not have a little steam hole, off-set the lid so there is a tiny crack of open air for the steam to come out). Keep over heat until the continuous popping subsides, turn off the heat and carefully pour the popcorn into the large bowl. Toss with the 1/2 teaspoon salt and 3 tablespoons melted butter to coat. Set aside to cool. You should have 4 to 4 1/2 cups of popped popcorn.
Preheat the oven to 350° and line 2 cookie sheets with parchment paper. In the bowl of an electric mixer fitted with the paddle attachment, cream together the butter, light brown sugar, and granulated sugar until light and fluffy, about 5 minutes. Add the vanilla and egg and mix to combine.
In a separate bowl, whisk together the flour, baking soda, baking powder, and salt. Gradually pour the flour, followed by the white chocolate chips (if using) into the butter sugar mixture and mix to incorporate. Remove the bowl from the mixer and, using a spatula, fold in the cooled popcorn, carefully so as not to mix in any kernels that did not pop. Continue folding it in until it is incorporated—it is okay if some of the popcorn breaks. Scoop heaping tablespoons of the dough onto the prepared baking sheets, leaving 2 1/2 inches between each mound. Bake for 10 to 12 minutes or until the edges are golden brown and the centers don't look completely gooey. Let cool on the sheets a few minutes to set before transferring to a wire rack to cool completely.
Notes
Adapted from Deb Perelman's popcorn cookie recipe in The Smitten Kitchen Cookbook. *You could also use microwave popcorn if desired. Since they are typically buttered/salted, I would skip adding more butter and salt to the popcorn once popped.
https://www.butterlovescompany.com/2017/01/22/popcorn-cookies/
butter loves company | jenna larsson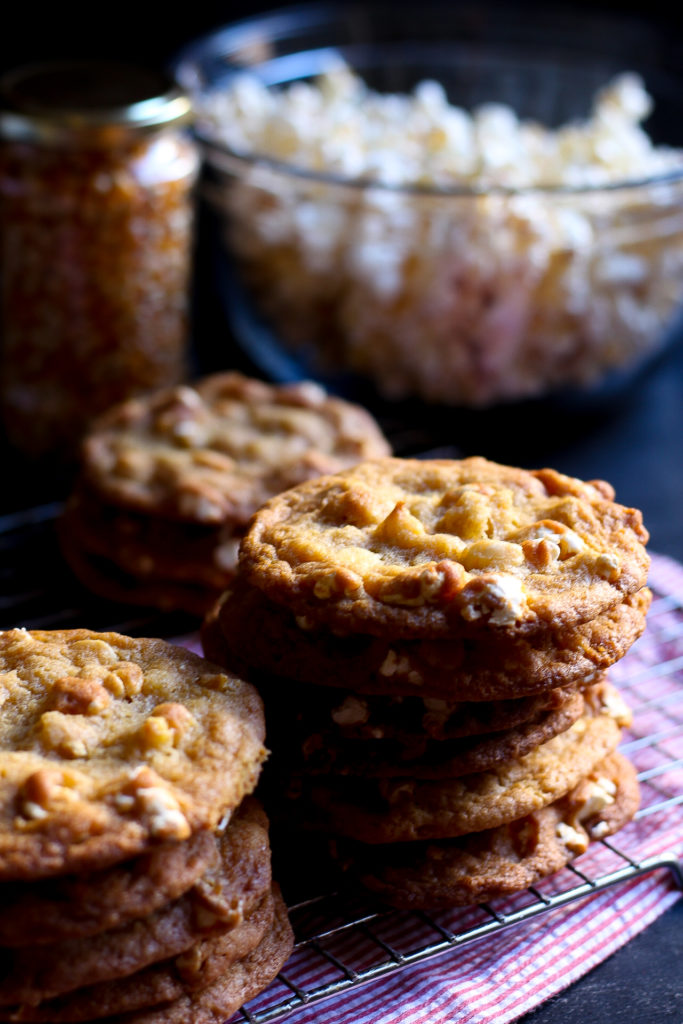 THIS POST INCLUDES ONE OR MORE AFFILIATE LINK; MEANING IF YOU CLICK ON THE LINK AND MAKE A PURCHASE, BUTTER LOVES COMPANY RECEIVES A VERY SMALL PERCENTAGE OF THE SALE AT NO EXTRA COST TO YOU. AS ALWAYS, ALL OPINIONS ARE MY OWN!