When someone tells you that you have ruined other scones for them forever, you know you have a winning recipe. That is what my (now) boyfriend said after biting into one of the Maple Oatmeal Scones with Maple Glaze I brought to the restaurant we both worked at a few years ago. To me, scones are a very underrated baked good and they are fairly often my breakfast pastry choice. At a time of day when my eyes are usually adjusting the to light of day, scones have just the amount of sweetness I need.
Whether savory or sweet, one important detail in making scones is the texture. I've tried recipes that ended up too dry or too soggy, too crumbly or too hard.  Of all the scone recipes I have tried, this has to be my goldilocks. It is the 'just right' texture I had been looking for. Because it has a light flavor, it is good accompanied by nice butter or jam. It can also act as a canvas for other scone creations. When I made them most recently, I added in about a cup of dried cranberries and omitted the glaze.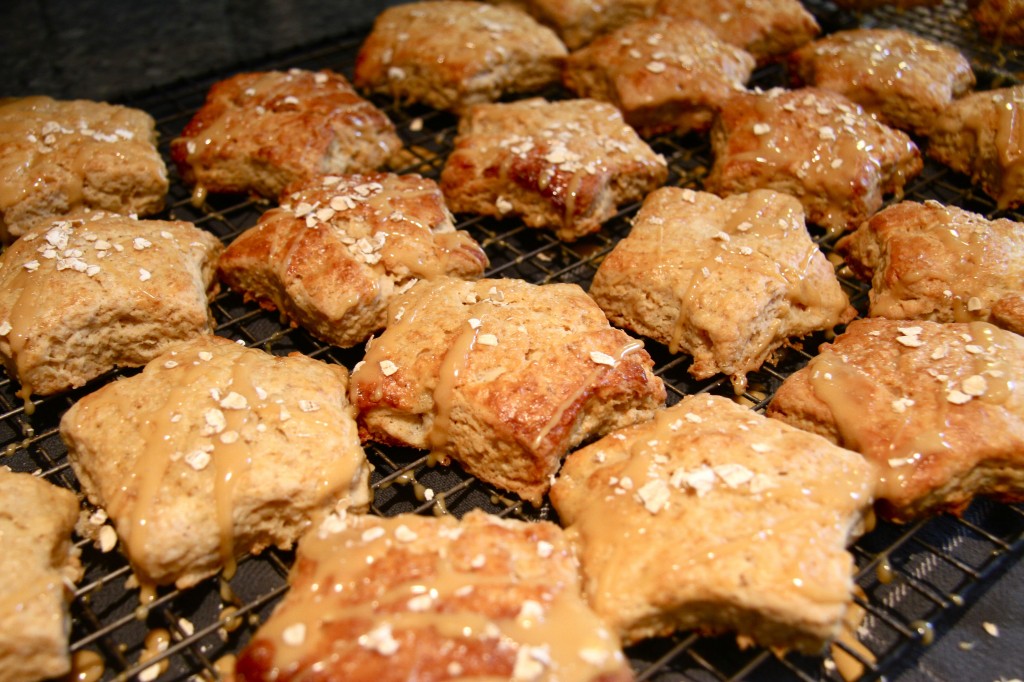 One little tip I have for making these scones is to dice the cold butter and re-refrigerate it before you start with the rest of the recipe. The butter should be very cold when you add it to the dough, which helps the scones rise and adds flakiness. Prepping this beforehand will save you time as you run through the rest of the recipe.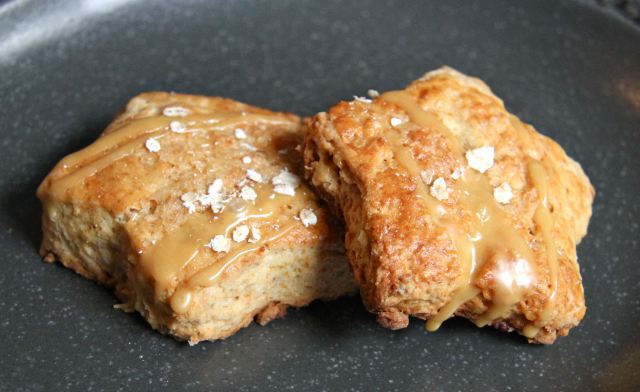 I must direct the credit of this winning recipe to Ina Garten, a woman who I have found to have consistently reliable recipes. Ina, my boyfriend and I thank you each time we enjoy one of these with our morning coffee!
maple oatmeal scones with maple glaze
Author:
Prep time:
Cook time:
Total time:
Ingredients
Scones:
3 1/2 cups all purpose flour
1 cup whole wheat flour
1 cup quick-cooking oats, plus additional for sprinkling
2 tablespoons baking powder
2 tablespoons granulated sugar
2 teaspoons salt
1 pound cold butter, diced
1/2 cup cold buttermilk
1/2 cup pure maple syrup
4 extra-large eggs, lightly beaten
1 egg beaten with 1 tablespoon milk or water, for egg wash
Glaze:
1 1/4 cups confectioners' sugar
1/2 cup pure maple syrup
1 teaspoon pure vanilla extract
Instructions
Preheat the oven to 400 degrees F. In the bowl of an electric mixer fitted with a paddle attachment, combine the flours, oats, baking powder, sugar and salt. Blend the cold butter in at the lowest speed and mix until the butter is in pea-size pieces. Combine the buttermilk, maple syrup and eggs and add quickly to the flour-and-butter mixture. Mix until just blended. The dough may be sticky.
Dump the dough out onto a well-floured surface and be sure it is combined. Flour your hands and a rolling pin and roll the dough 3/4 to 1 inch thick. You should see lumps of butter in the dough. Cut into 3-inch rounds with a plain or fluted cutter and place on a baking sheet lined with parchment paper.
Brush the tops with egg wash. Bake for 20 to 25 minutes, until the tops are crisp and the insides are done.
To make the glaze, combine the confectioners' sugar, maple syrup and vanilla. When the scones are done, cool for 5 minutes and drizzle each scone with 1 tablespoon of the glaze. I like to sprinkle some uncooked oats on the top, for garnish. The warmer the scones are when you glaze them, the thinner the glaze will be.