An easy recipe for big, crunchy, chewy bakery style sugar cookies with beautiful crackle tops and rich flavor. They are not powdery or cakey and are perfect for everyday nibbling!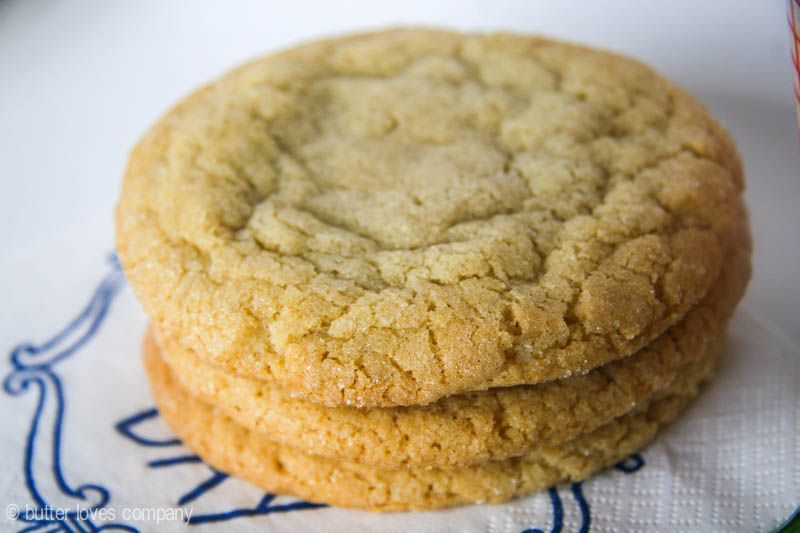 It seems that sugar cookie recipes typically fall into two categories. There are those for the soft and thick sugar cookies like you find amply frosted at the grocery store, and then there are those for the thin, snappy, cutout sugar cookies you make around the holidays. But, what about that third sugar cookie? In my experience, you can't find a recipe for that perfect, crunchy, chewy bakery style sugar cookie: the kind of sugar cookie that has a beautiful crackle top and a rich flavor. The kind of sugar cookie that is not powdery and not cakey and does not need frosting or icing to make it whole. This is the sugar cookie I adore, and this is the recipe I've been looking for.
After exactly seven recent attempts to create the sugar cookie of my dreams (and maybe yours), I finally cracked the code and am so excited to share it with you. There are a few of secrets to these.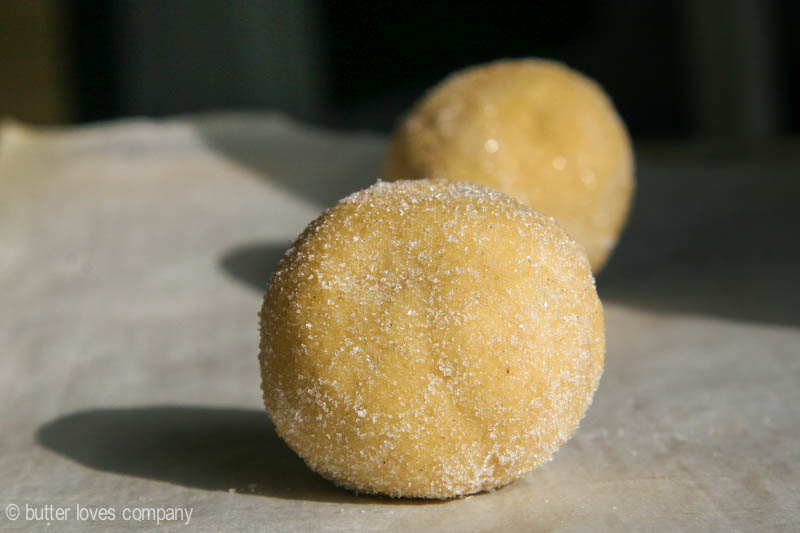 First, instead of using all granulated sugar like most sugar cookie recipes do, we're swapping out for some light brown sugar: not enough to dramatically alter its core flavor, but enough so it benefits from the natural chewiness of brown sugar.
Second, we're using a dash of cream of tartar in the batter. This will also help add chew, and the cream of tartar reacts with the baking soda which is what creates the crackled tops.
Third, we're using bread flour and all purpose flour. Bread flour has a very high protein content and therefore will create more gluten in the final product. Gluten=chew.
Finally, we will let the cookie dough chill overnight. I promise you, I tested baking right away, chilling for a few hours, and chilling overnight and the winner without a doubt was the cookie made from dough that was chilled overnight. While the others tasted mighty fine and had a crunch and some chew, the ones chilled overnight had the perfect moist, candy-like chew in the center.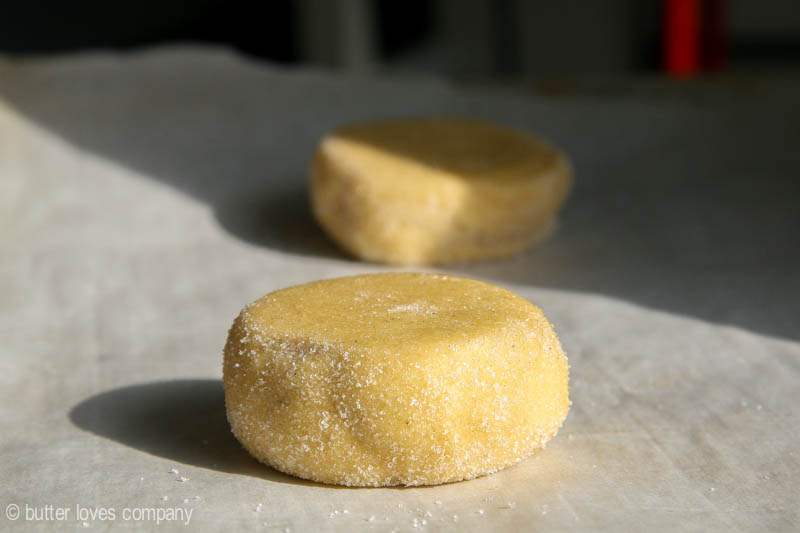 Woof. That's a lot of information, but I hope it helps explain how this cookie came about! You can add this cookie to round out the sugar cookie trifecta: soft and thick, snappy cutouts, and now, crunchy chewy. P.S. I'm pretty positive these cookies would be a dreamy as part of an ice cream sandwich. Just sayin'! ☺
My sweet friends over at Cheeky Home were kind enough to send me the adorable paper goods you see in the photos below. I can totally get down with pretty paper products especially ones that help fight hunger! These puppies are available at Target should they strike your fancy!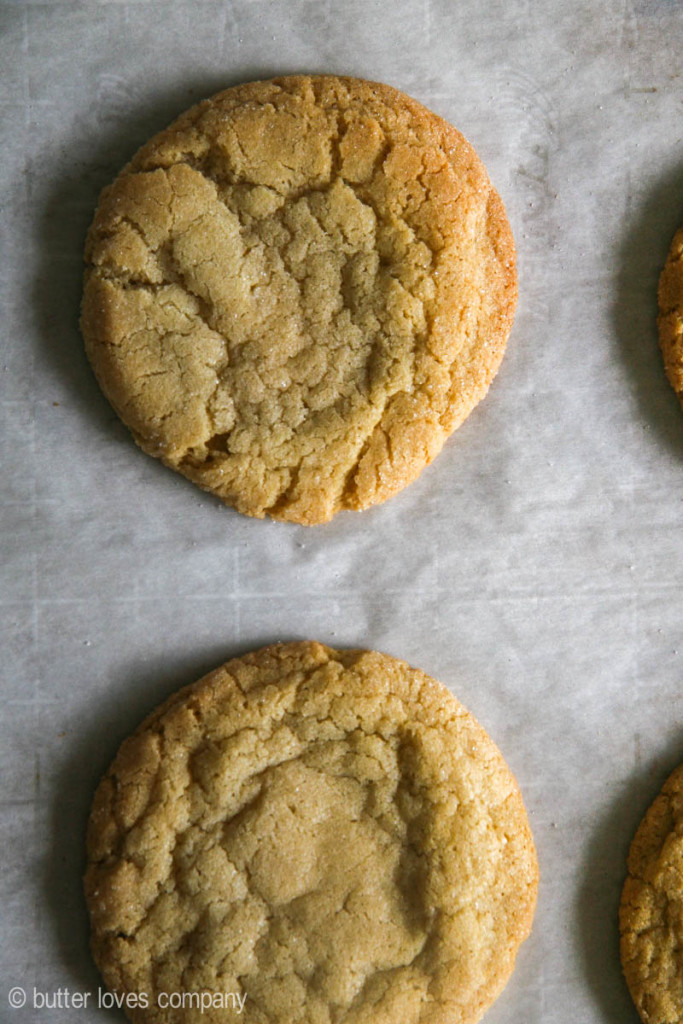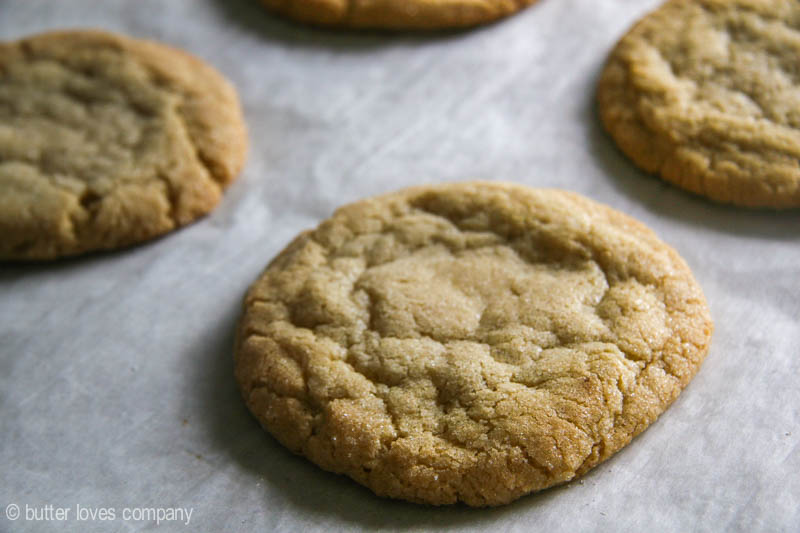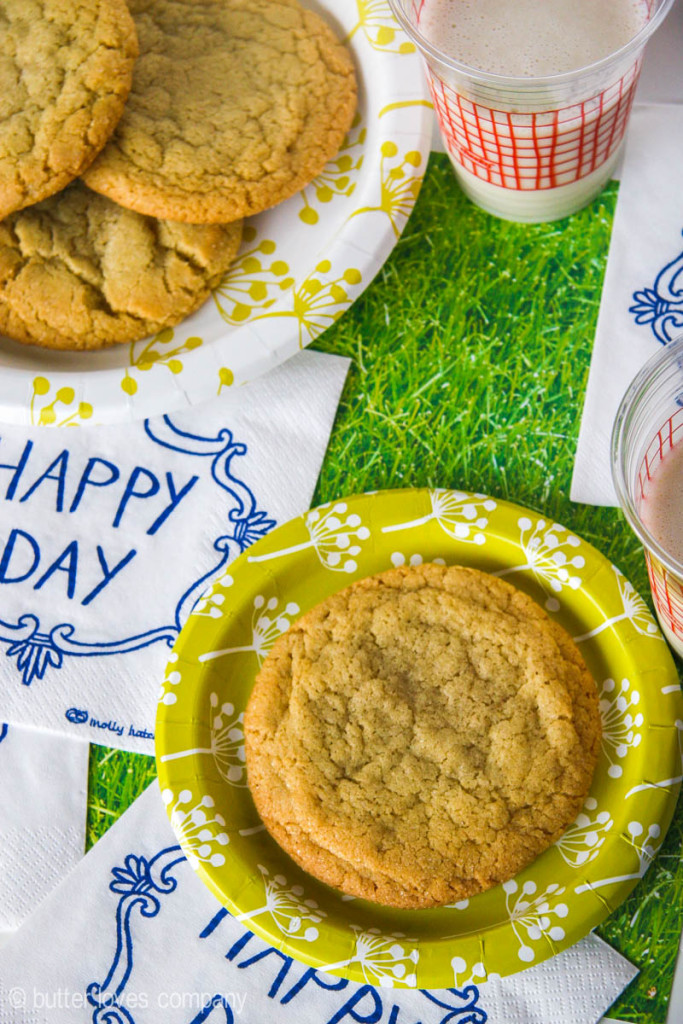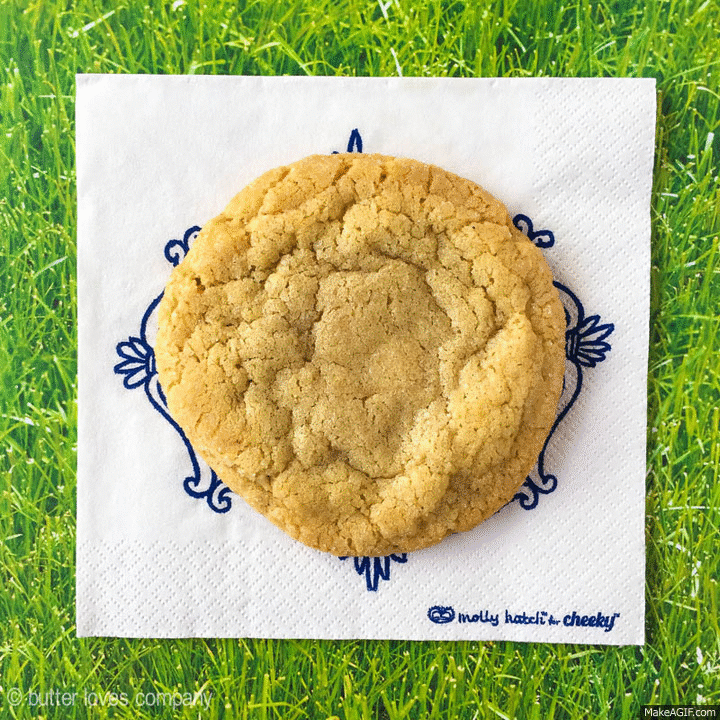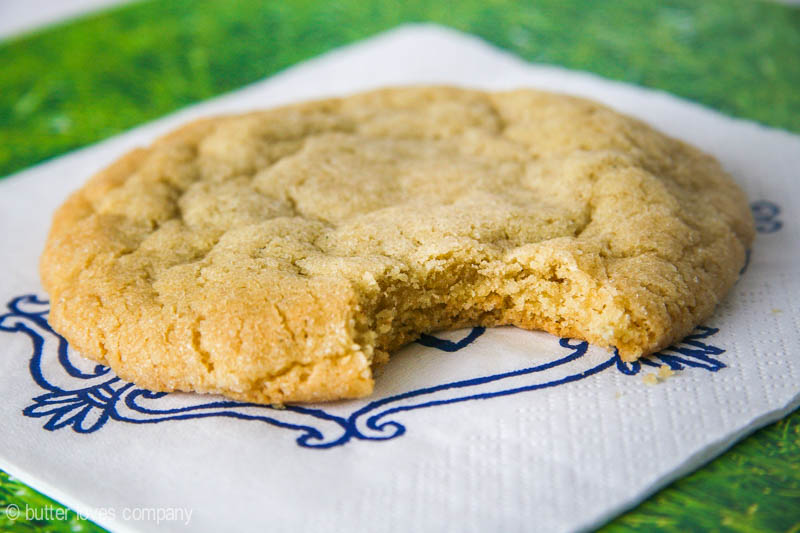 One month ago: Feta Scallion Buttermilk Biscuits

Six months ago: Brown Butter Cinnamon Sugar Pull Apart Bread
One year ago: Spiced Pumpkin Muffins
crunchy chewy bakery-style sugar cookies
This recipe for crunchy, chewy bakery-style sugar cookies yields cookies with beautiful crackle tops and rich flavor. They are not powdery or cakey and are perfect for everyday nibbling!
Ingredients
1 cup all purpose flour
1 cup bread flour
1/2 teaspoon baking soda
1/4 teaspoon baking powder
1/4 teaspoon cream of tartar
1/4 teaspoon table salt
3/4 cup (1 1/2 sticks or 12 tablespoons) unsalted butter, at room temperature
3/4 cup granulated sugar
1/4 cup light brown sugar
1 large egg plus 1 large egg yolk, at room temperature
1 teaspoon pure vanilla extract or the beans from one vanilla bean
1/8 teaspoon pure almond extract
extra granulated sugar, for rolling (about 1/4 cup)
Instructions
In a medium bowl, sift together both flours, baking soda, baking powder, cream of tartar, and salt. Set aside.
In the bowl of an electric mixer fitted with the paddle attachment, cream the butter until smooth, about 1 minute. Add both sugars and beat on medium speed until light and fluffy, about 4 minutes. Add the egg and the egg yolk, mixing to combine after each addition. Add the vanilla and almond extracts and combine.
With the mixer on low speed, gradually add the flour mixture to the butter mixture and beat just until all the flour is incorporated. Scrape down the sides and bottom of the bowl to make sure there are no leftover dry flour bits. Wrap the dough tightly in two layers of plastic wrap and refrigerate for at least 4 hours, preferably overnight for maximum chewiness.
When you're ready to bake, preheat the oven to 350°F and line two cookie sheets with parchment paper. Fill a small bowl with the extra granulated sugar for rolling. Divide the chilled cookie dough into 10 pieces (Or, for smaller cookies, scoop out as desired.). Using your hands, roll each piece of dough into a ball and then roll each ball in the granulated sugar to coat. Place on the prepared baking sheets, leaving at least 4 inches between each. Using the palm of your hand or the flat bottom of a drinking glass, press down on each ball to flatten slightly (this will allow the cookie to bake more evenly). Bake for 15 to 17 minutes or until the edges are golden brown. Allow cookies to cool on the baking sheets for 5 minutes before transferring to a wire rack to cool completely.
https://www.butterlovescompany.com/2015/08/28/crunchy-chewy-bakery-style-sugar-cookies-recipe/
butter loves company | jenna larsson