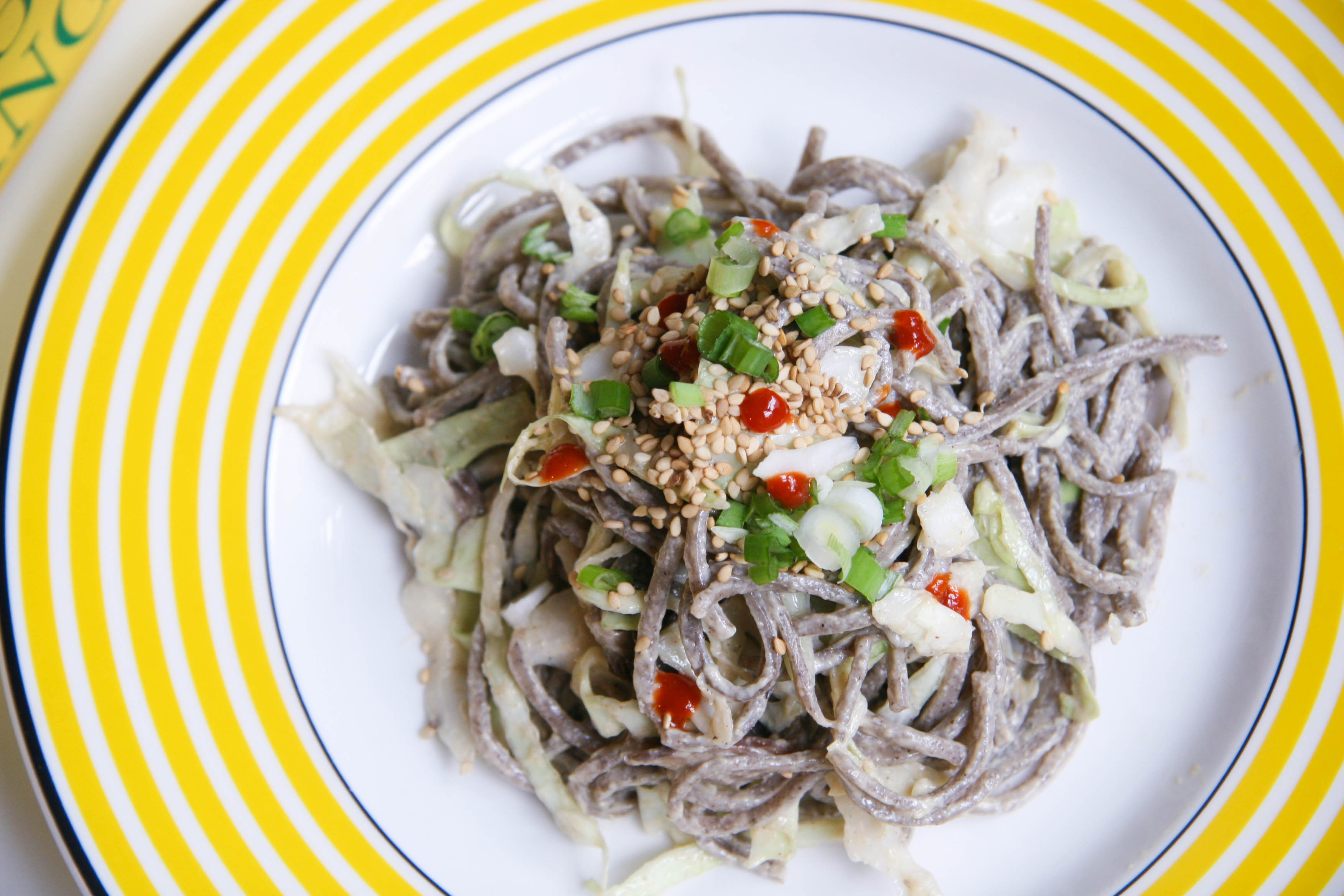 Soba (buckwheat) noodles served chilled with crunchy cabbage, mushrooms, and scallions. Stir up with a creamy, nutty, tahini sesame ginger dressing and you have lunch ready for the week!
If you're anything like me, you'll know sometimes even the greatest intentions to wake up early and make lunch before work succumb to the blessed snooze button; not unlike the early alarm I set to go running before work each morning. I can't tell you how many times I've completed a run only to realize I had run in my dream and I did not, in fact, actually get out of bed to hit the pavement.
Anyways, until I started separating leftovers after dinner to bring for lunch the next day and bulk making things like this noodle salad or this Asian Quinoa Salad, I would inevitably end up lunch-less and forced into the money eating cafeteria abyss.
If you've ever boiled pasta, you can easily make this dish and step away from the café!
Soba noodles are thin Japanese buckwheat-flour noodles and they are super approachable. Tahini is a sesame paste, recognizable for its roles in Hummus and The Condiment on Top of Falafel. It is a bit bitter on its own, so to counter that I added a bit of honey and some citrus juices. This dressing is not a spicy tahini, but more a creamy, nutty, gingery sauce. You can certainly add spice to the recipe or mix some in when serving. If cabbage or mushrooms aren't your thing, I think shredded carrot, shelled edamame, or snap peas would also be great alternatives on the veggie side.
Bonus: This dish is stress free, in that you don't need to worry about working on too many things simultaneously or really over/undercooking anything. Make the pasta, let cool. Slice veggies. Cook mushrooms, let cool. Mix dressing. Mix everything.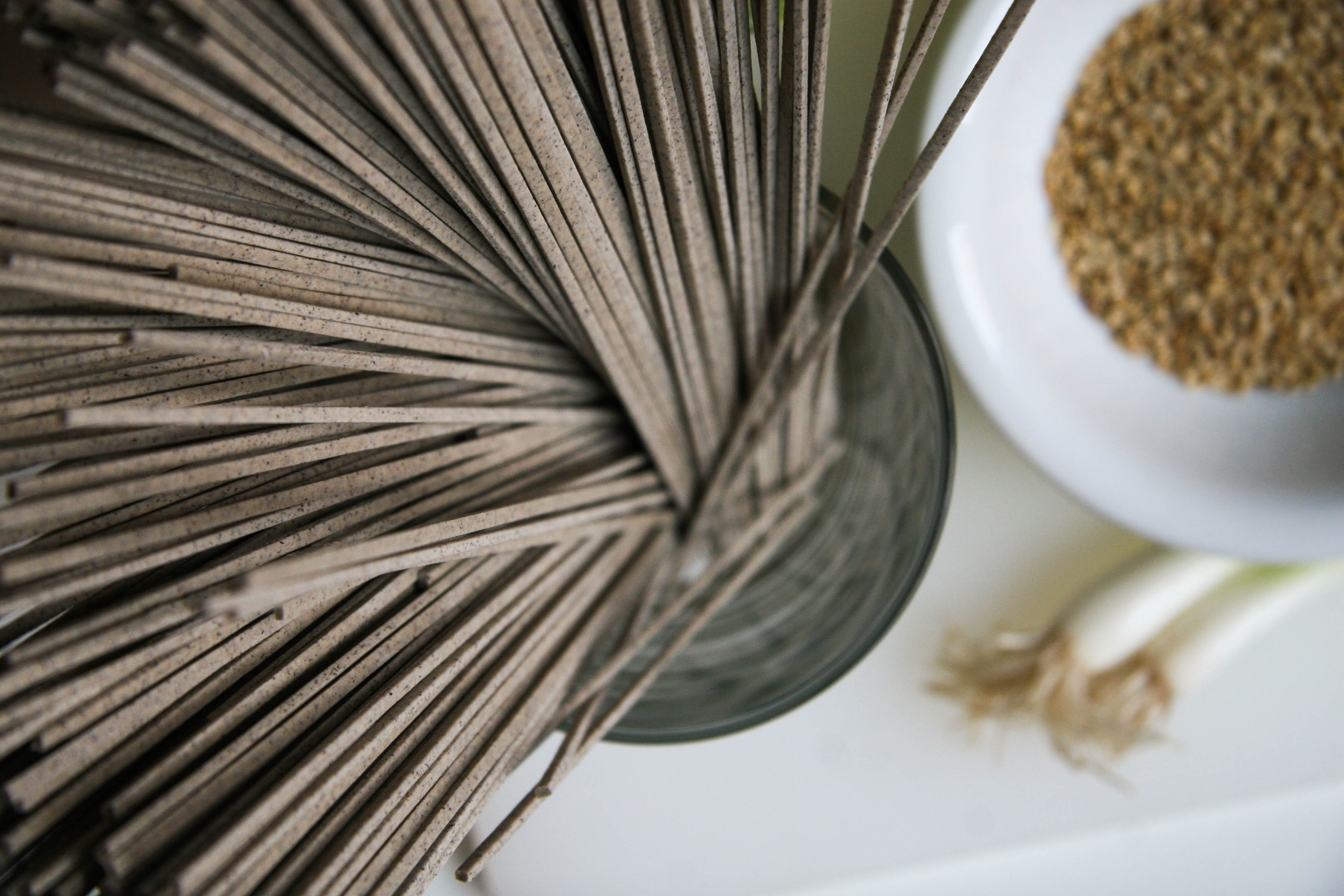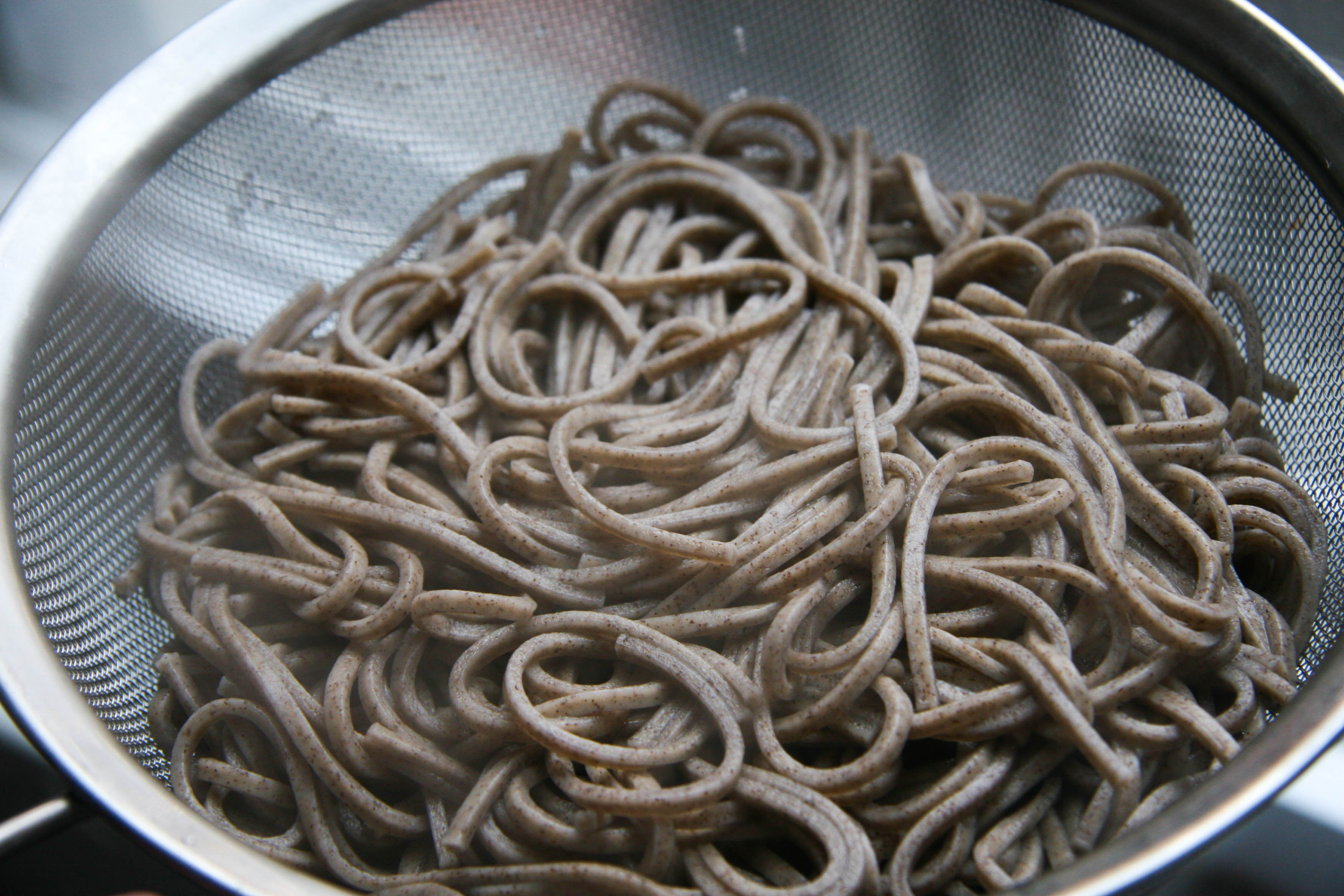 Cold Soba Noodle Salad with Tahini Dressing
butter loves company
Prep Time: 15 minutes
Cook Time: 10 minutes
Total Time: 25–30 minutes
Serves: 4–6
Ingredients:
Soba Salad:
6 oz dry soba noodles
4 cups thinly sliced cabbage (about ½ a small head)
1 tablespoon olive oil
2 Portobello mushroom caps sliced into ¼ inch slivers (or 3 cups shitake mushrooms sliced thin)
1 tablespoon low sodium soy sauce
1 thinly sliced green onion, white and light green parts, for garnishing
Toasted sesame seeds, for garnishing
Tahini Dressing:
¼ cup tahini (sesame paste)
4 tablespoons orange juice (freshly squeezed)
1 tablespoon lemon juice
1 tablespoon olive oil
2 teaspoons dark sesame oil
2 teaspoons honey, raw if you have it
1 teaspoon fresh ginger zest
1 tablespoon thinly sliced green onions, white and light green parts
½ teaspoon salt, plus more to taste
Instructions:
Bring 4 cups water to a boil. Add the dry soba noodles. Cook 5 to 6 minutes, or until tender. Strain and transfer noodles to a bowl. Refrigerate until cooled.
Heat the oil in a small saucepan. Add the sliced mushrooms and soy sauce and cook until the mushrooms have released their juice and the slices have shrunk in size, about 4 minutes. Remove mushrooms, discarding excess juice, and transfer to a small bowl to cool.
While the noodles and mushrooms are cooling, prepare the dressing by mixing all ingredients from the tahini to the ½ teaspoon salt together in a bowl. Season with additional salt—if necessary—to taste.
In a large bowl, mix together the cooled noodles, cooled mushrooms, and sliced cabbage. Using tongs or a large wooden spoon, stir in half the tahini dressing. Slowly add additional dressing until the noodles are covered, but not dripping with sauce. Add the green onions and sesame seeds to the entire mixture now or atop each serving.