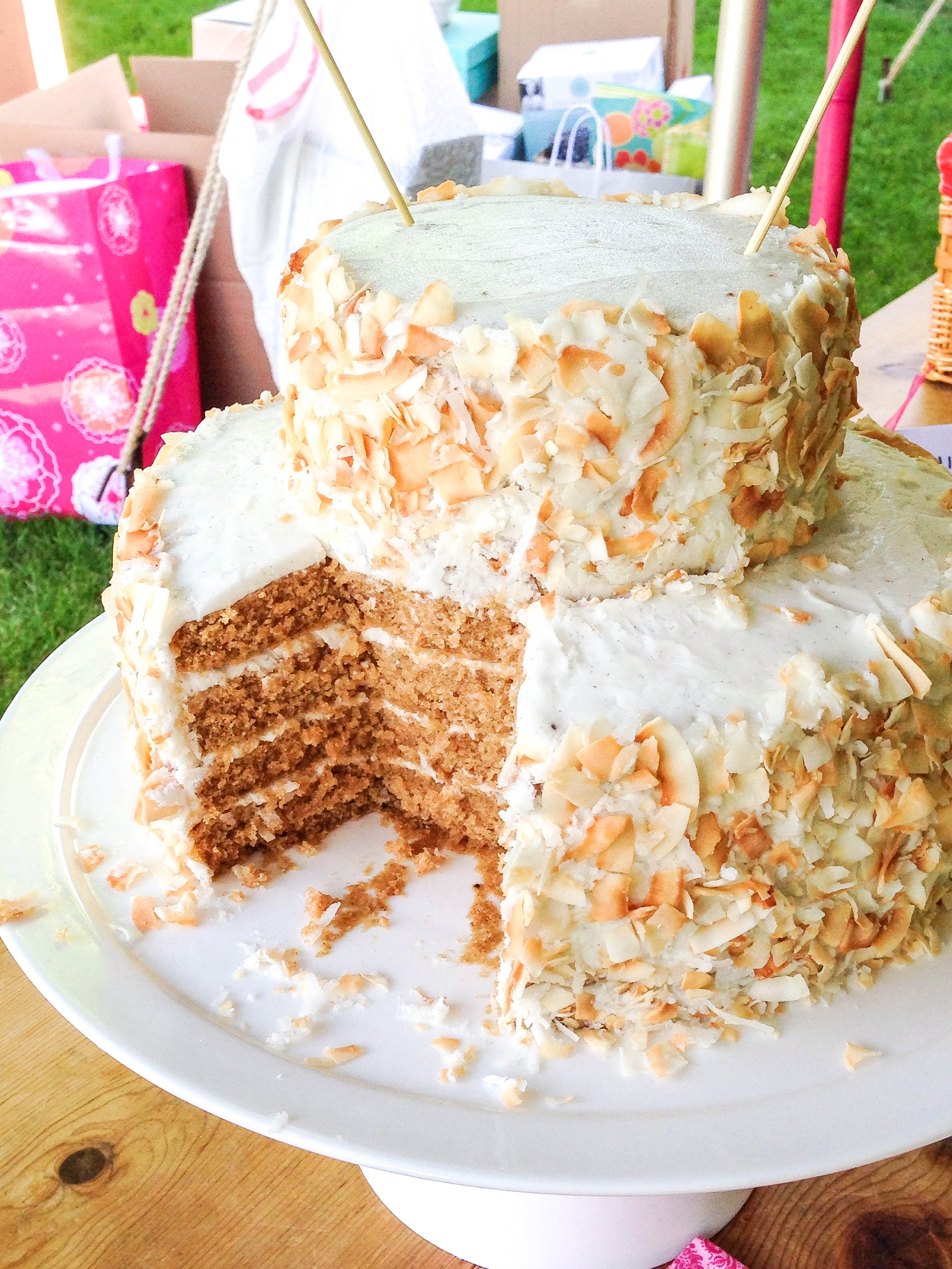 Sometimes my love of baking challenges my sanity. For example, last week I bought five pounds of "vegan buttery sticks." Am I insane? Why would a girl with a food blog named "butter loves company" be in the Whole Foods check-out line with that much faux-butter? This website is certainly not "vegan buttery sticks love company."
Well, I can assure you I haven't completely lost my mind (although you might not be convinced when you read on). The truth is, I was loading up on dairy-free goodies to bake for the bridal shower of a lovely friend of mine. I had researched a bunch of dairy-free and vegan dessert options and one that piqued my interest was a chai tea-spiced cake. It sounded like something the bride-to-be would enjoy.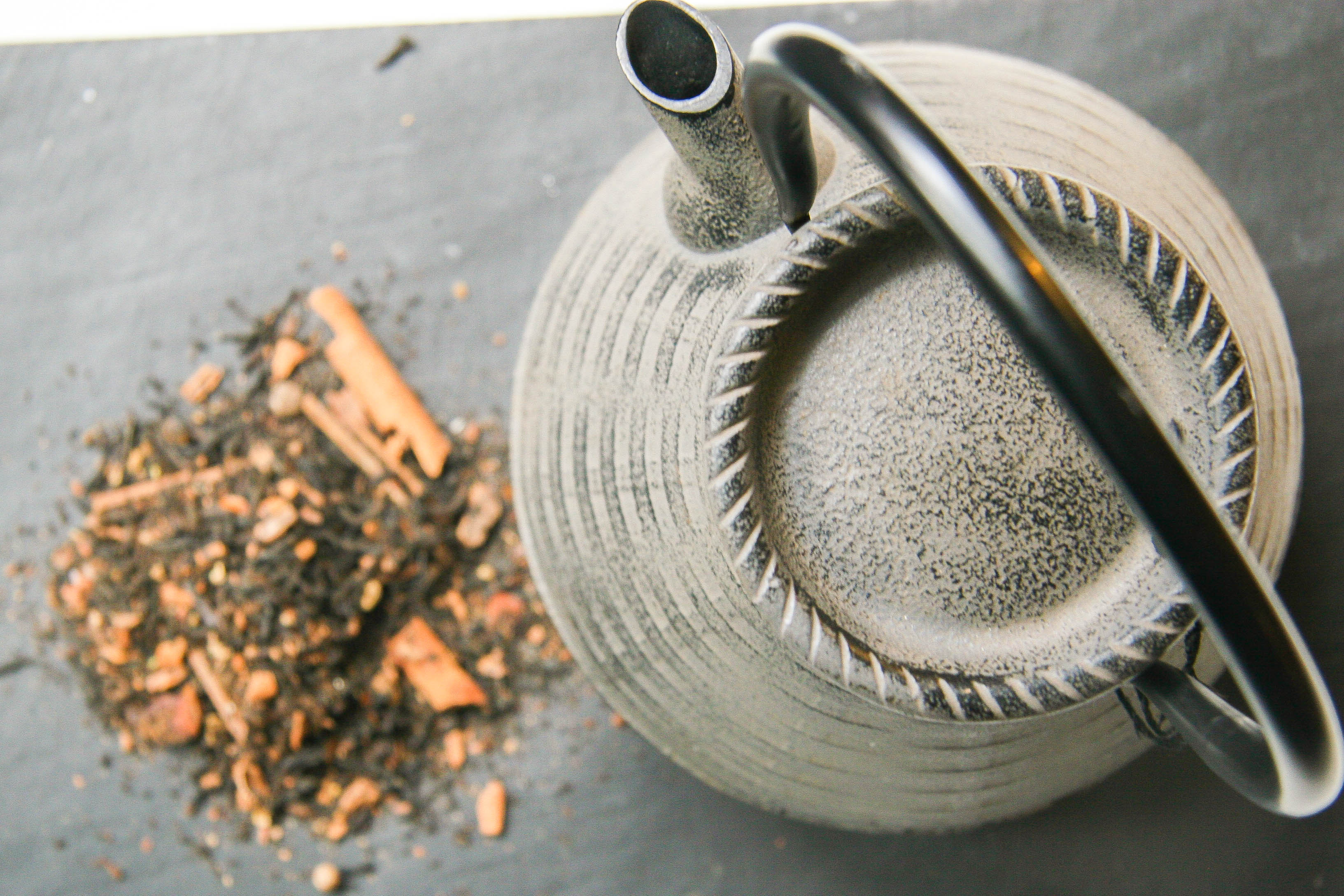 I test-drove this cake a few weeks ago with some non-vegan dairy lovers, although that time I did make it with a full-on buttercream. And let me tell you, it was delicious. Like, no leftovers whatsoever delicious. Like, even my relatives who don't eat sweets cleaned their plates delicious.
The cake would be perfect. I had found a winner. I would just replace the actual butter in the buttercream with the vegan buttery spread and be set with a great tasting cake for the Sunday shower.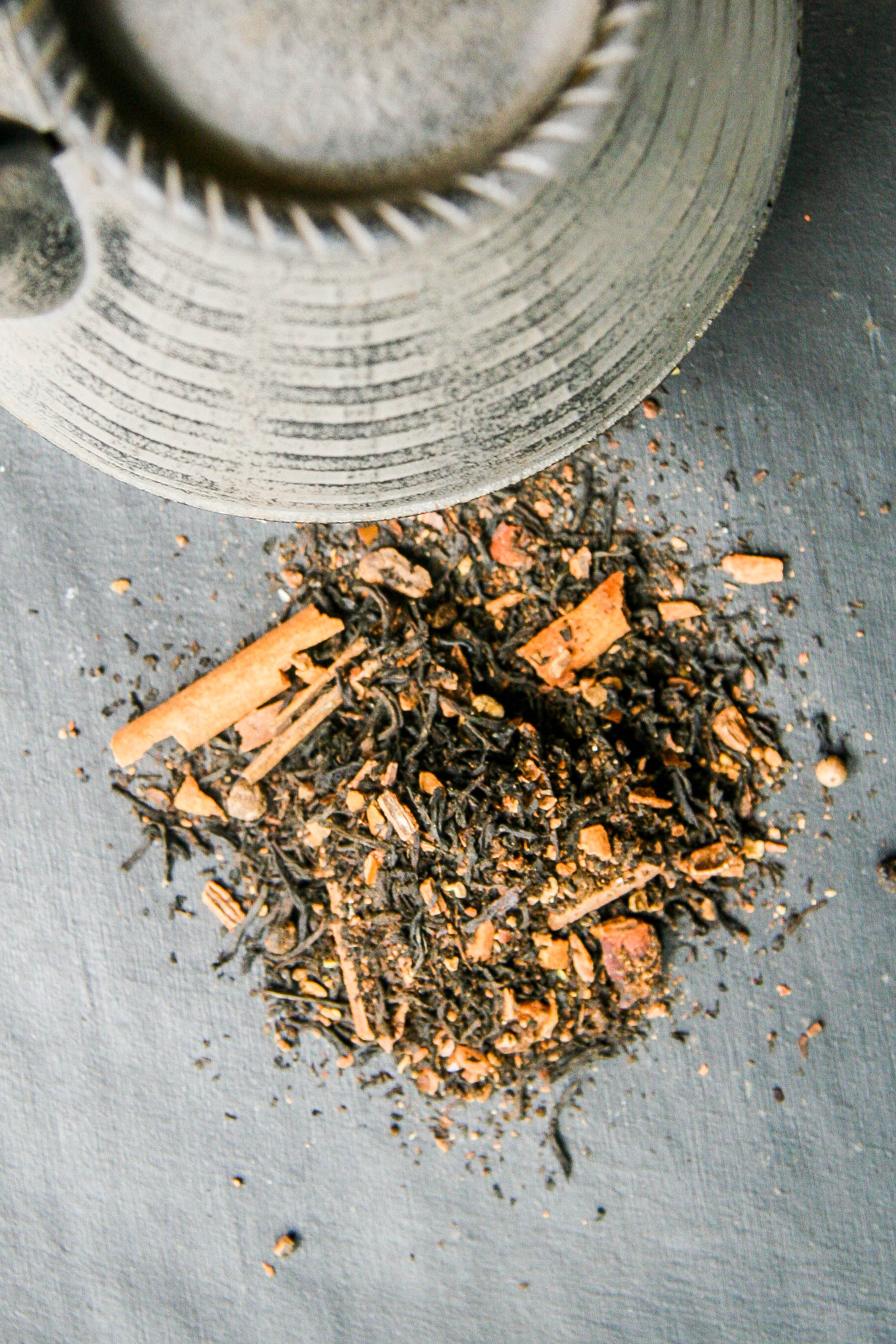 On Saturday night, the handful of other baked goods I was making were done, the chai cake layers were chilling in the fridge and I had reached the tired, baked-all-day deliriousness I love. But I wasn't finished yet, so I started to mix the frosting. I planned for a honey "butter"cream using the vegan buttery sticks (note: dairy-free, not vegan, as honey is not vegan-friendly).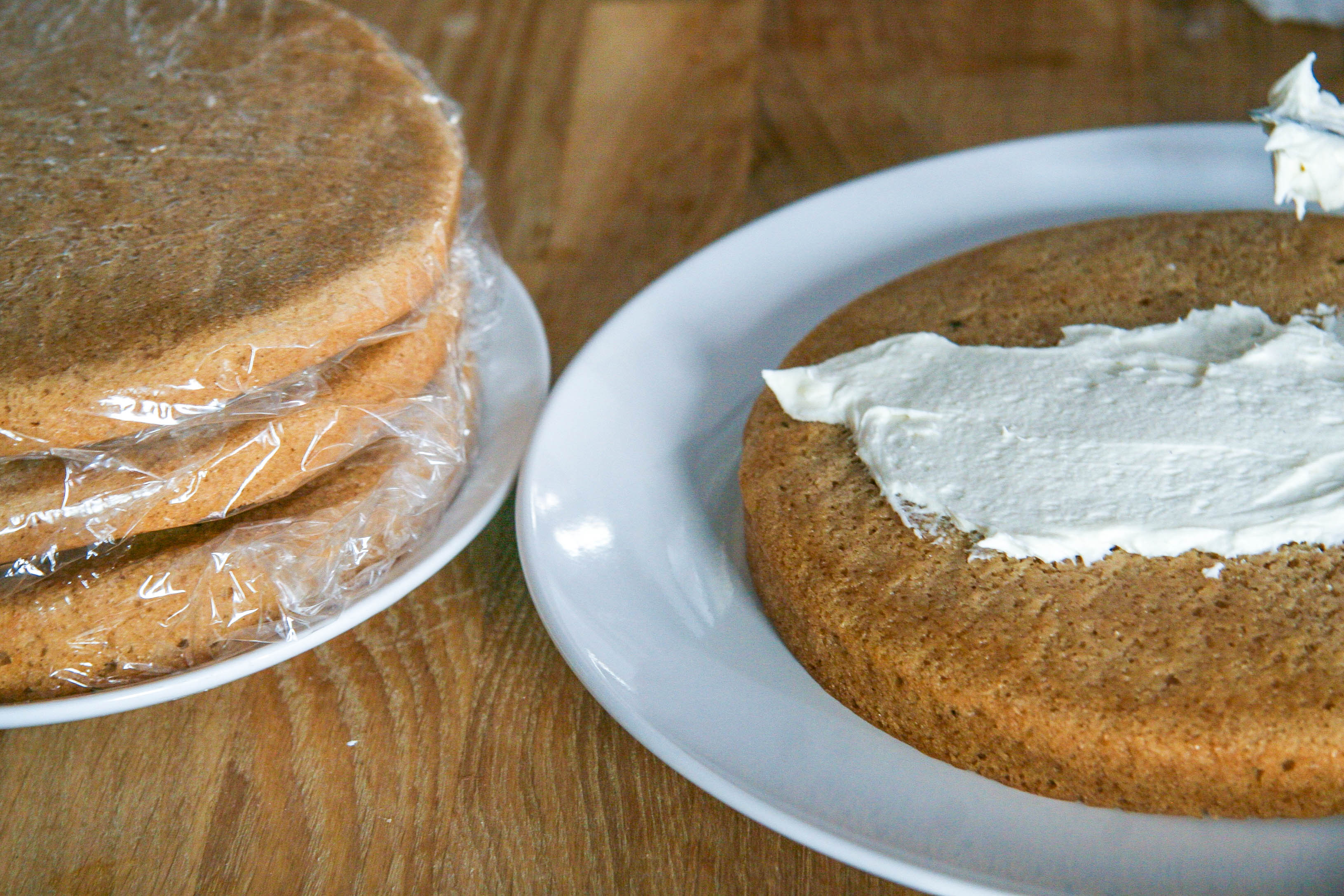 I whipped up all the frosting and it was looking light, fluffy and scrumptious. That is, until I took a taste. Nope. No way. Not a chance. I couldn't believe how far from buttercream it tasted! Tons of confectioners sugar, honey and fresh scraped vanilla beans and it was near flavorless. Greg tasted it and tried to make me feel better with an, "It's not that bad," which he followed moments later with the truth. "It tastes and smells like paint," he admitted.
I scrapped the faux-frosting and washed out my mixer to start again. This time, after the vegan buttery stick betrayal, I grabbed another dairy-free alternative: vegetable shortening. I whipped the frosting up. We tasted it. It was okay. After a few adjustments, including the addition of pureed peach, it was good. This is where you might really start to think I'm insane. While I thought it tasted really good, it was not good enough.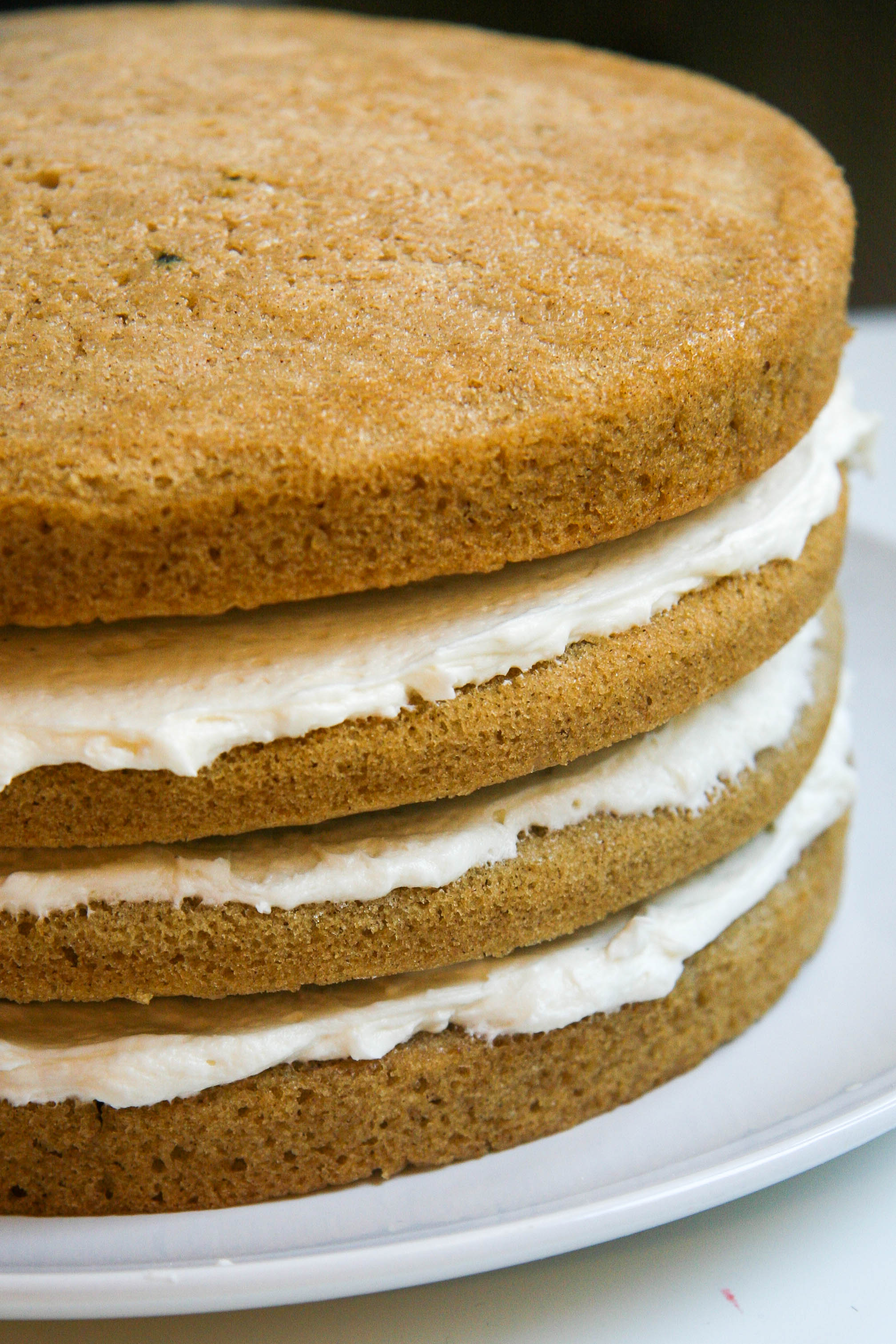 I put this second-attempt-frosting in a Tupperware, in case I had to use it, and [Greg] washed out my mixer so I could start again. I remembered seeing some vegan recipes that used coconut oil as a butter substitute so I decided to try that. I tossed in some vanilla, sugar, coconut extract and shredded coconut, and we had a winner! Even if it left me slightly sleep deprived, it was well worth three tries. I frosted the cake, toasted some coconut for garnish and because I actually am insane, I decided I would make a cake topper. I won't even tell you what time of night (Ahem. Morning.) it was at that point. I was finally happy with how everything came out and the bride and guests seemed to enjoy it all as well! That's why baking is so great! It's hard not to be happy eating cake, and if I can help ignite some smiles, I'll make three batches of frosting any day.
*Note: Photos are from both times I have made this cake. The majority are from the test drive so the frosting is different. The photos with the coconut around the edges are with the frosting listed below.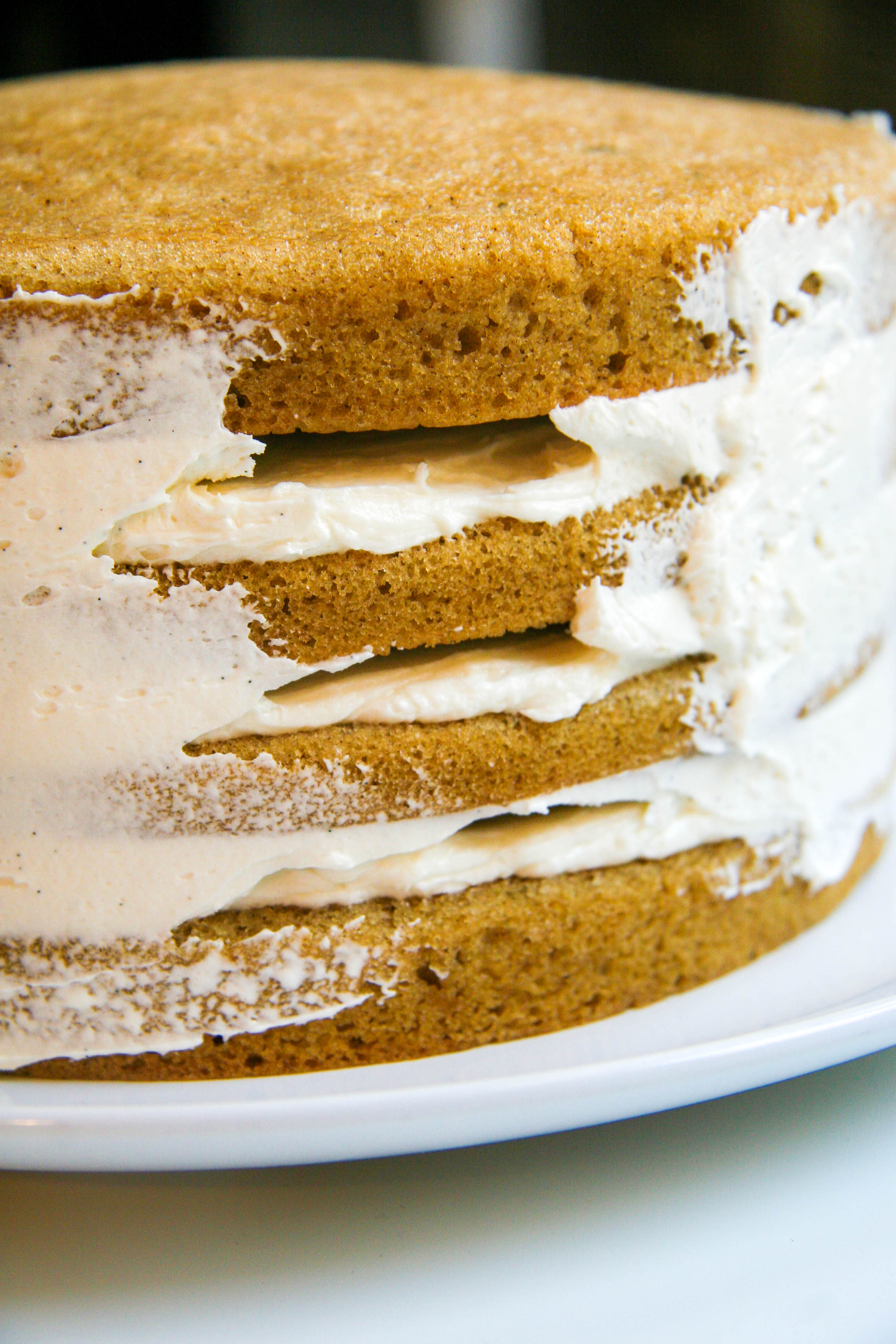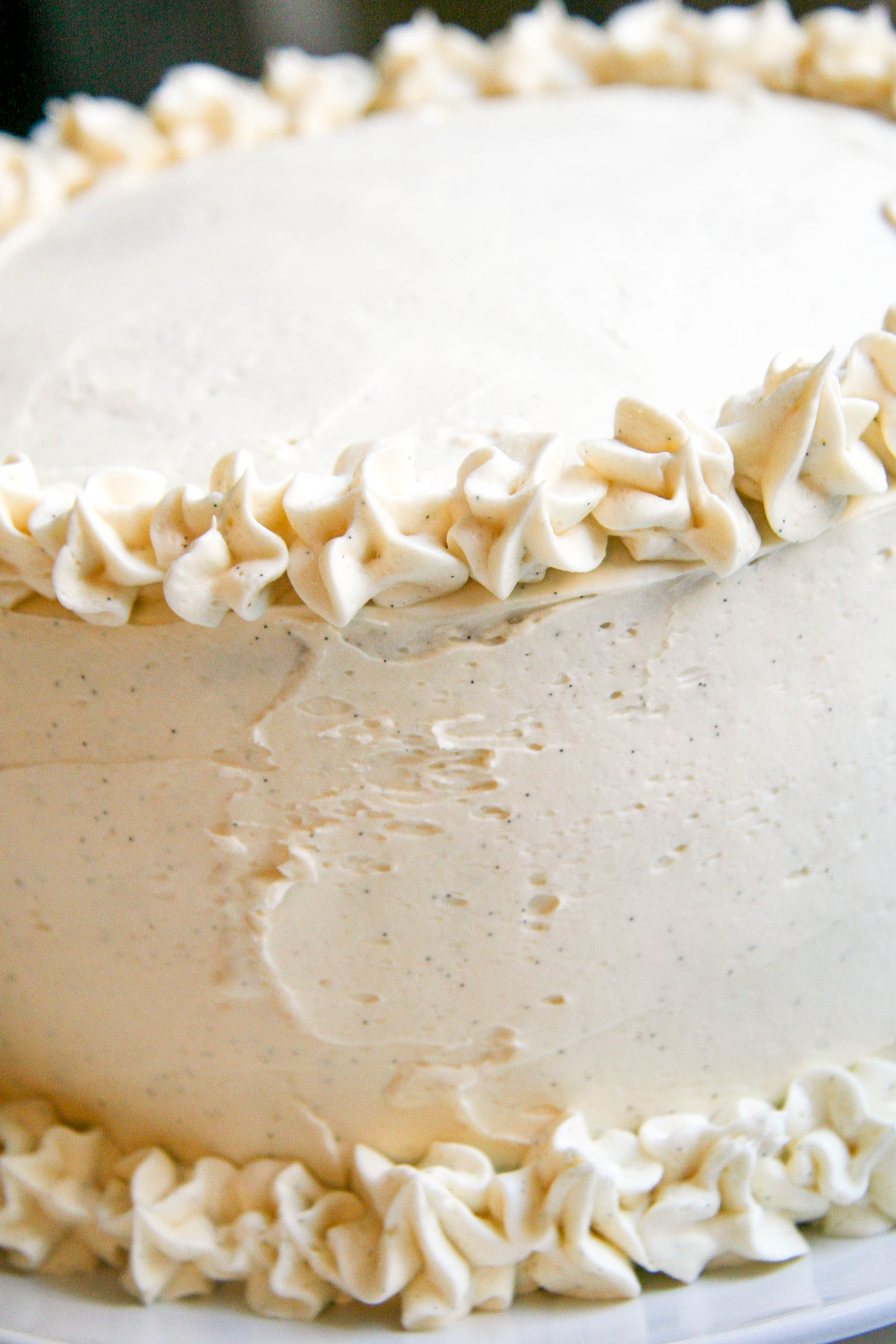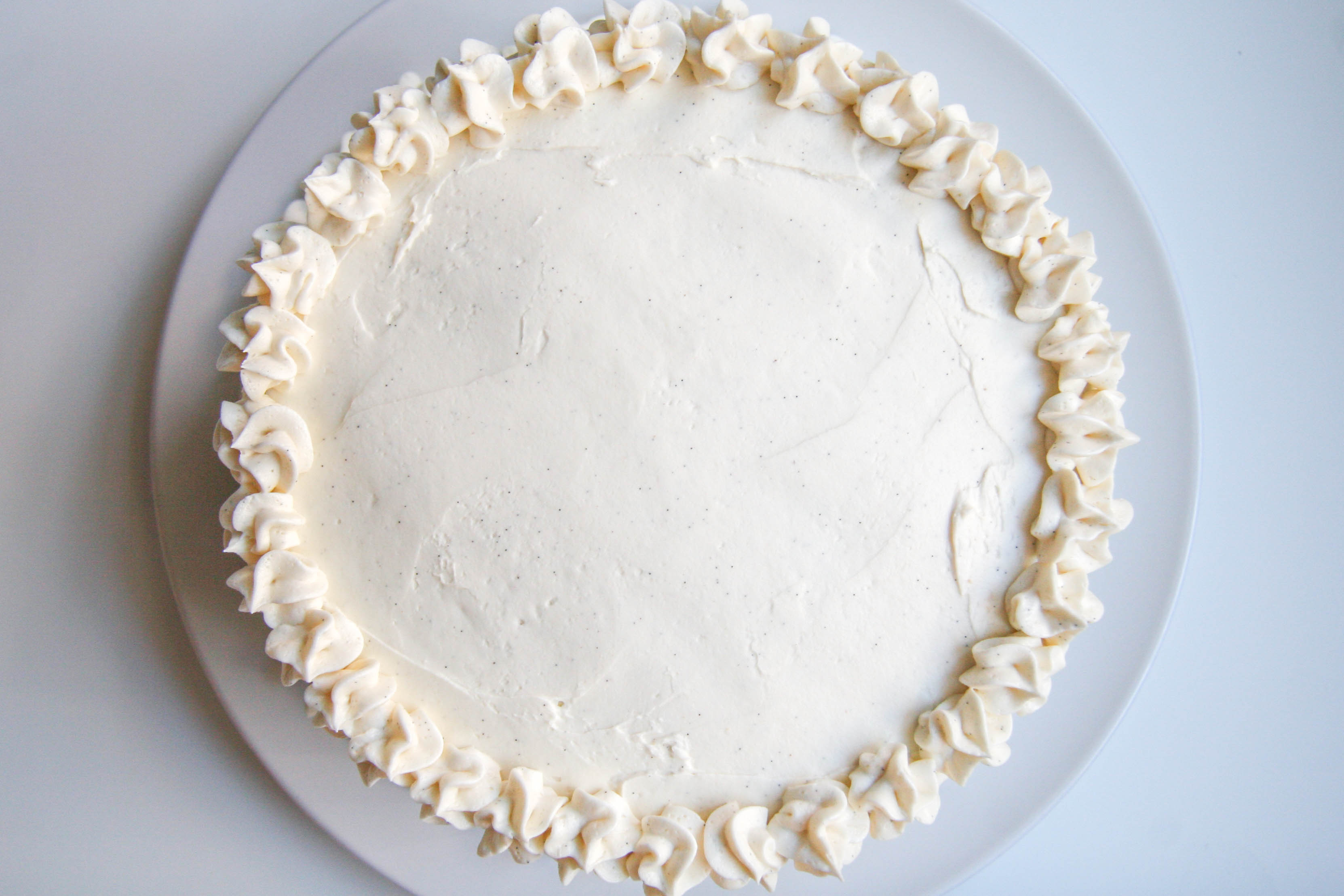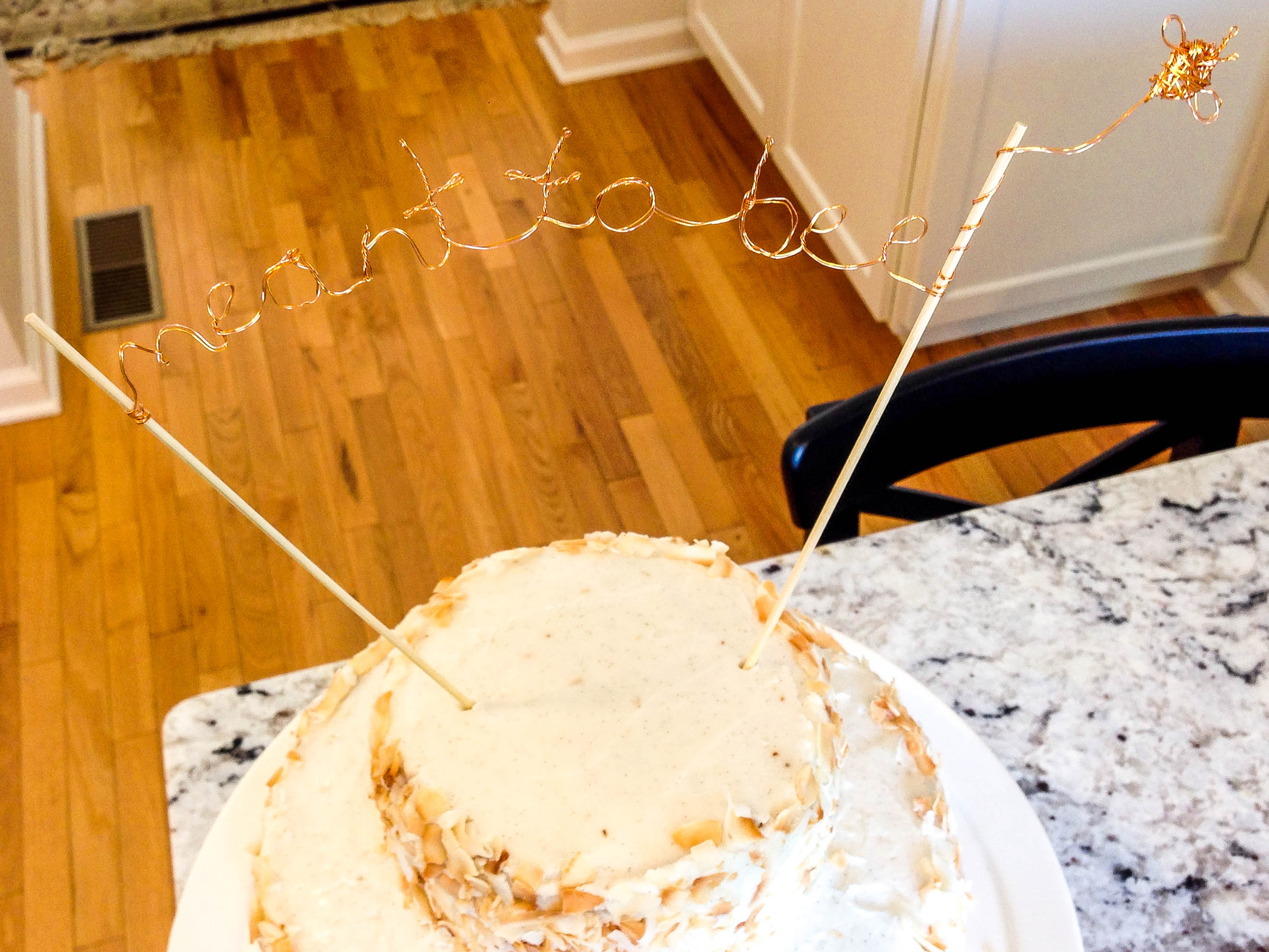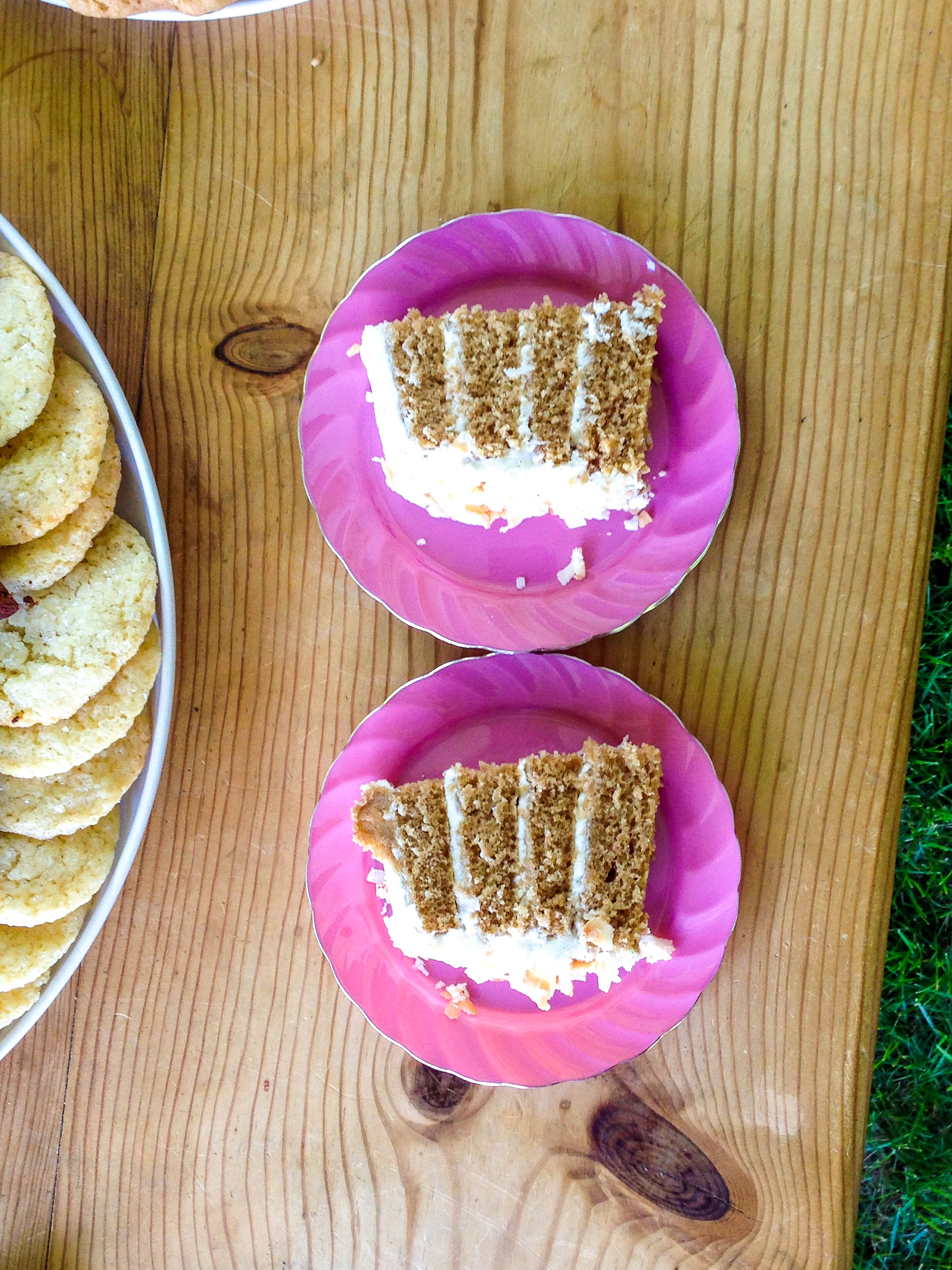 chai tea spiced cake with coconut frosting (dairy-free, plus vegan optional)
adapted from veggieandthebeast.com
Layers of moist, flavorful cakes spiced with cinnamon, ginger, allspice, cloves and cardamom, between dreamy coconut frosting.
Prep time: 20 mins
Cook time: 35 mins
Total time: About 1 hour (plus added time for cooling)
Makes: 1 8-inch layer cake (Either two thick or four thin layers, I chose four. Instructions are for two layers.)
Ingredients:
Cake:
2 cups minus 2 tablespoons unsweetened vanilla almond milk
2 tablespoons apple cider vinegar
3 cups unbleached cake flour, or all-purpose flour
½ tablespoon baking powder
1 teaspoon baking soda
2½ teaspoons ground ginger
1¼ teaspoon ground cinnamon
1 teaspoon ground cardamom
⅛ teaspoon ground allspice
⅛ teaspoon ground cloves
1 teaspoon table salt
1½ cups granulated sugar (vegan option: raw sugar, processed until fine)
¼ cup canola oil
½ cup brewed unsweetened chai tea (steep cup of tea like normal, and then scoop out ½ cup)
1 tablespoon vanilla extract
½ teaspoon almond extract
Coconut Frosting:
1 cup coconut oil, at room temperature (should be solid)
3 cups powdered sugar, sifted (vegan option: ensure it is powdered cane sugar)
1 vanilla bean, split down the middle and scraped, or 1 teaspoon vanilla extract
½ teaspoon coconut extract
½ cup sweetened shredded coconut, plus more to toast and garnish with if desired
2–4 tablespoons unsweetened vanilla almond milk
Instructions:
Make the Cake: Preheat oven to 350 degrees. Grease two 8–inch cake pans and line the bottom with parchment paper, then grease tops of paper. Set aside.
In a small bowl, or a liquid measuring pourer, combine the almond milk and the apple cider vinegar (it will look like it separates and this is totally ok). Set aside for at least 5 minutes.
In a medium bowl, sift together the flour, baking powder, baking soda, spices and salt. Set aside.
In a large bowl, or the bowl of an electric mixer fitted with the paddle attachment, beat together the sugar, oil and chai tea until combined. Add the vanilla and almond extracts and beat on low for 5 seconds to combine.
Alternate adding the flour and the almond milk mixtures to the batter, starting and ending with the flour, mixing until smooth and just combined. Divide the batter between the two cake pans. Bake for 30–35 minutes (about 20–25 minutes if you're making 4 smaller layers). Let sit in the pan for at least 10 minutes before carefully flipping onto a cooling rack to cool completely. Wrap each layer in plastic wrap and refrigerate until you're ready to frost.
Make the Frosting: In a large bowl with a hand mixer, or in the bowl of an electric mixer fitted with the paddle attachment, beat the coconut oil and powdered sugar until smooth and light. It will likely be a little stiff. Add in the vanilla, coconut extract and shredded coconut and beat until combined. Gradually add the almond milk, a tablespoon at a time, until you've reached a creamy, light and spreadable consistency.
Frost the Cake: Place one cake layer on a piece of parchment paper or on a serving plate. Spread about a third of the frosting on the top of the cake, then top with the other cake half. With an offset spatula or knife, cover the cake with a thin layer of frosting to smooth out the edges and the space between the layers (this is also known as the "crumb coat"). Place the cake in the fridge for about 10 minutes until the frosting firms up slightly. Remove and coat entire cake with another layer of frosting. You can also pipe the frosting on in a decorative fashion at this stage. Keep completed cake refrigerated if possible, removing 2–3 hours before serving.