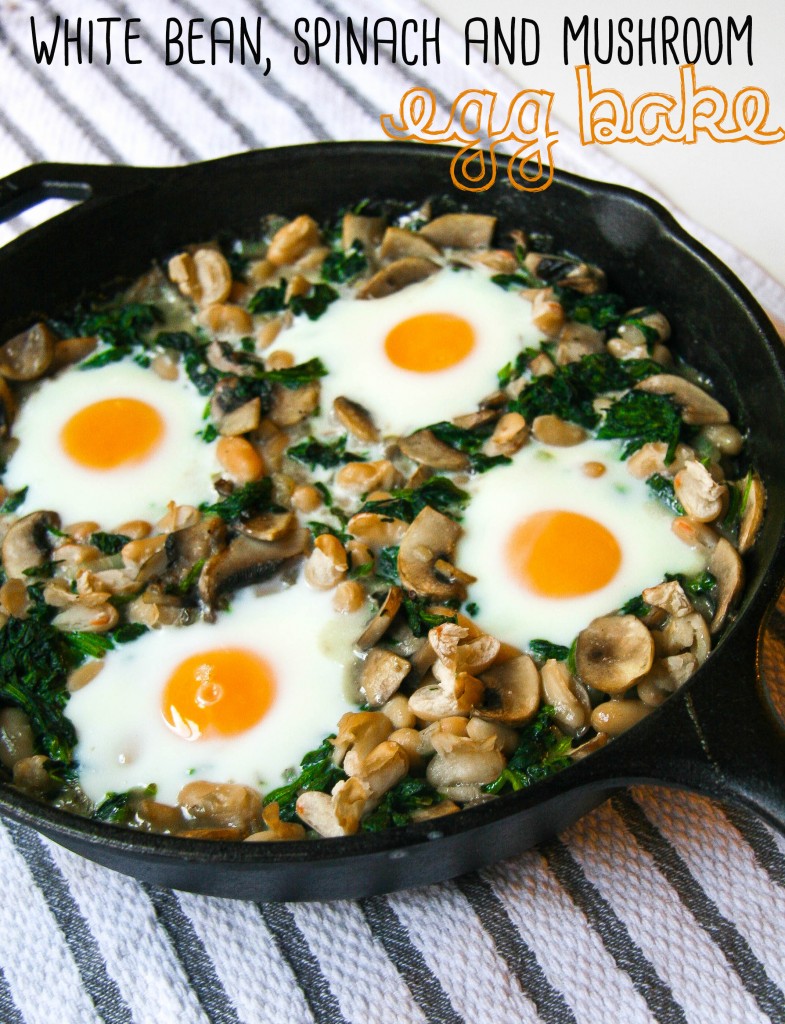 This recipe is amazing because it is a one-dish meal and who doesn't love a one-dish meal? It's also a breakfast, lunch or dinner meal, a fact that compels me to sing the Bagel Bites "pizza any time" commercial. But seriously, this is a wonderful option under almost any circumstance. You can easily adjust this recipe if you hate mushrooms, want to try it with black beans or just add some spice with a dash or two of red pepper flakes. If you don't have a cast iron or oven-safe skillet, you can prepare everything in a pan on the stovetop and transfer it all into a regular baking dish, top with eggs and cook. In that case, it's a two dish meal. Still not bad.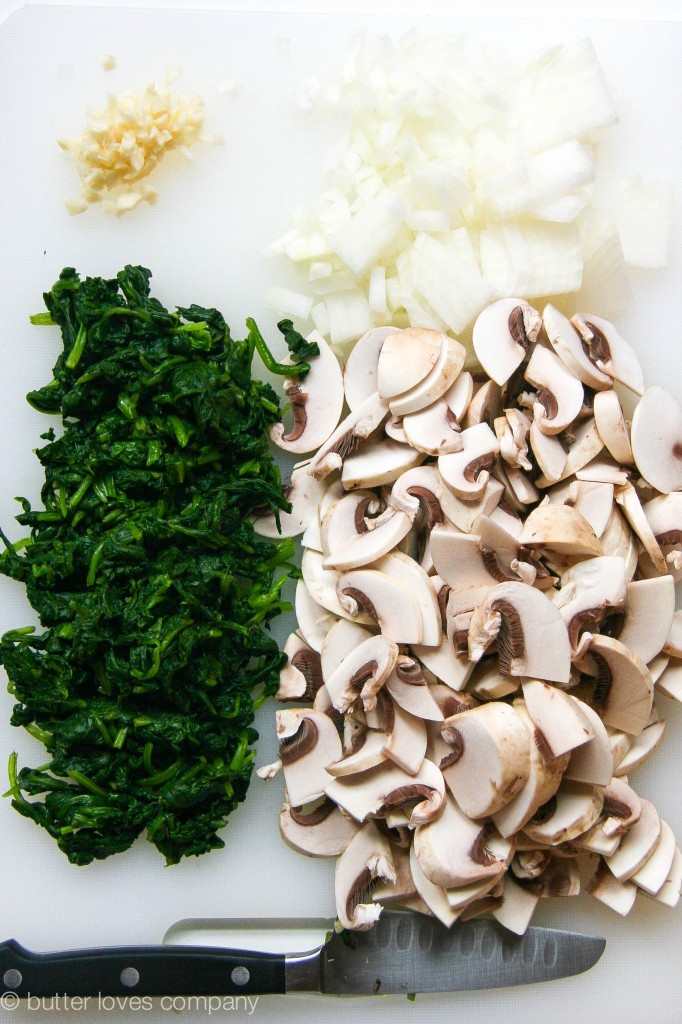 I know all of you lucky ducks with dishwashers are thinking, "Why does this girl care so much about a one-dish meal." Well, let me take you through what brought this recipe to Casa J + G. I call it a "get home from work cleaning rampage."
Tell me if this sounds familiar: you come home from work, look around and realize "oh gosh, there is zero clear space and I'm worse than a toddler who leaves out every last one of their toys and I really should have put my laundry away as soon as it was done and did I really think I would finish that project I took everything out of my closet for and when did that Jenga stack of dishes get that high and when did I get so many* shoes and how did that one end up over there? These are the days I go on one of the aforementioned "get home from work cleaning rampages." I'm a firm believer that physical clutter can have a tremendous effect on mental clutter.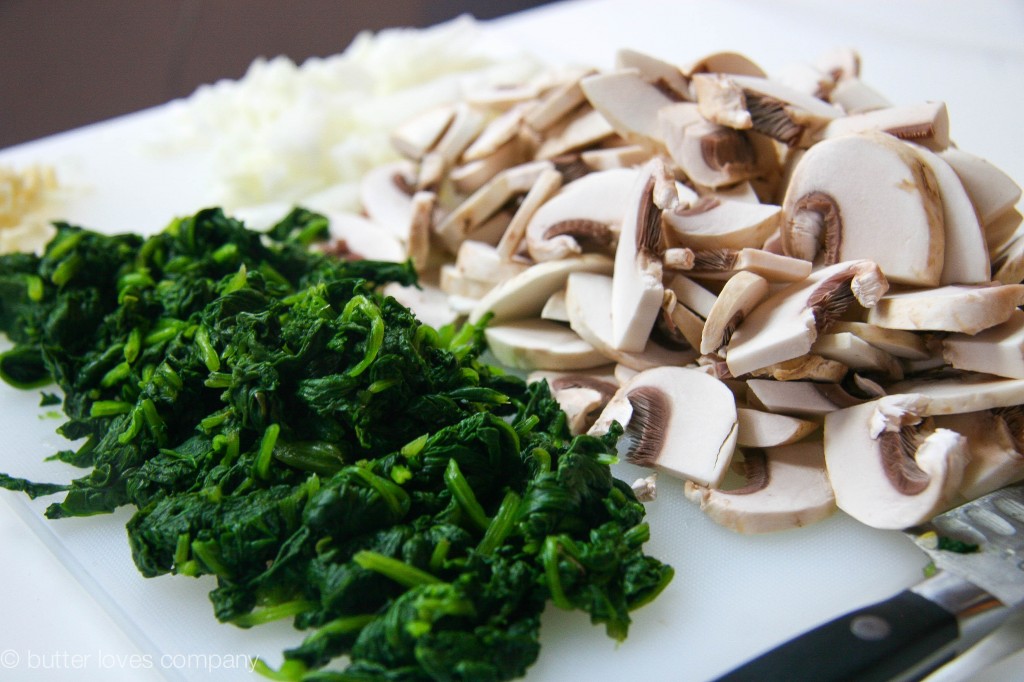 And how does all this relate to today's recipe? Well, after the "get home from work cleaning rampage," the absolute last thing I want to do is fill the sink with another full load of dishes after making dinner.
Enter: the glorious one-skillet White Bean, Spinach and Mushroom Egg Bake. The combination of creamy white beans, meaty mushrooms, iron-rich spinach and runny eggs really works here. I imagine a big dollop of this, egg and all, would be great on a piece of crusty bread. But really, what wouldn't be good on a piece of crusty bread?
Happy Fourth of July, all!
*so many should never be confused with too many. Amen.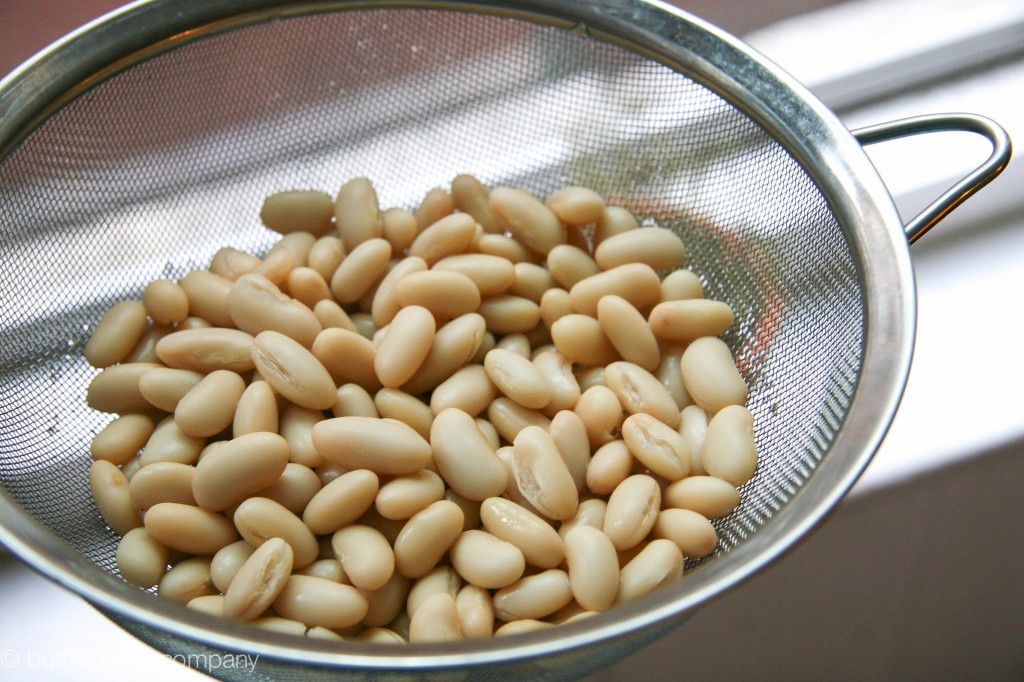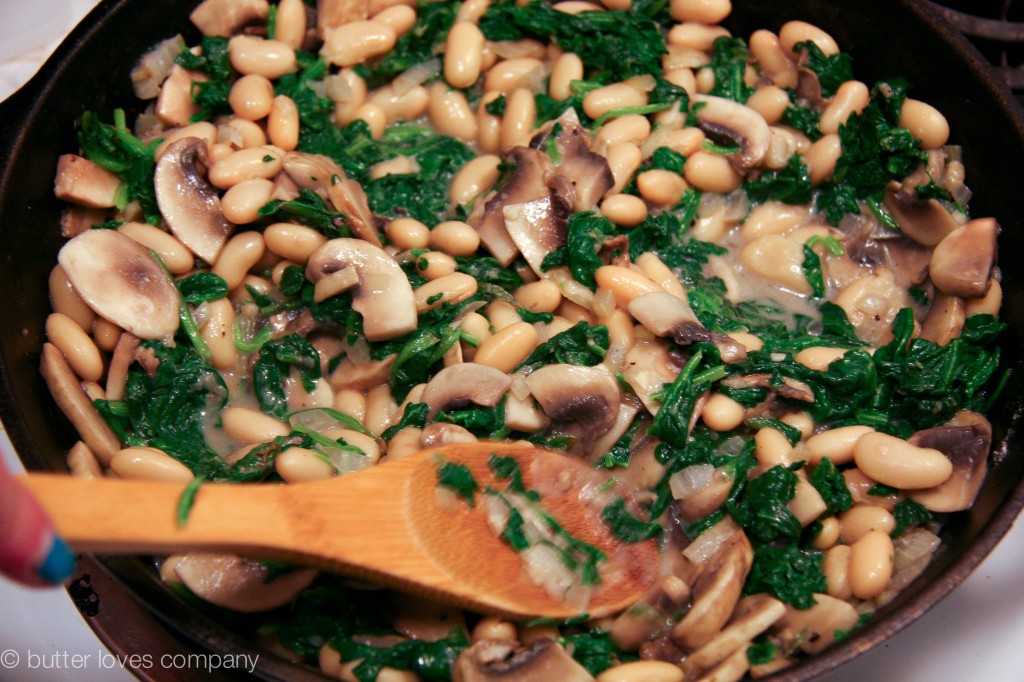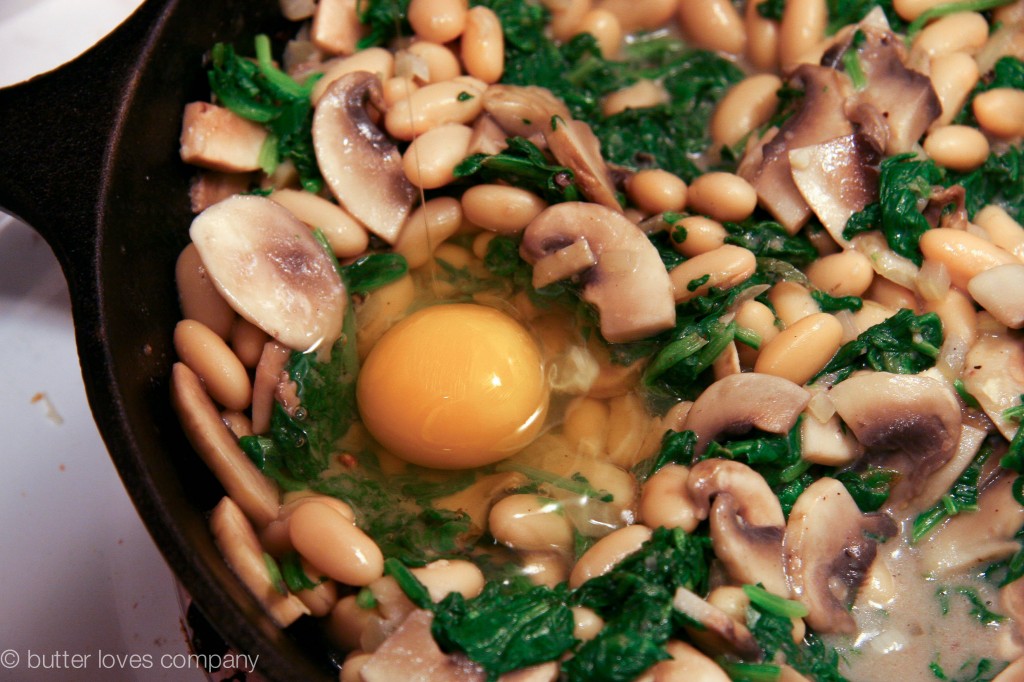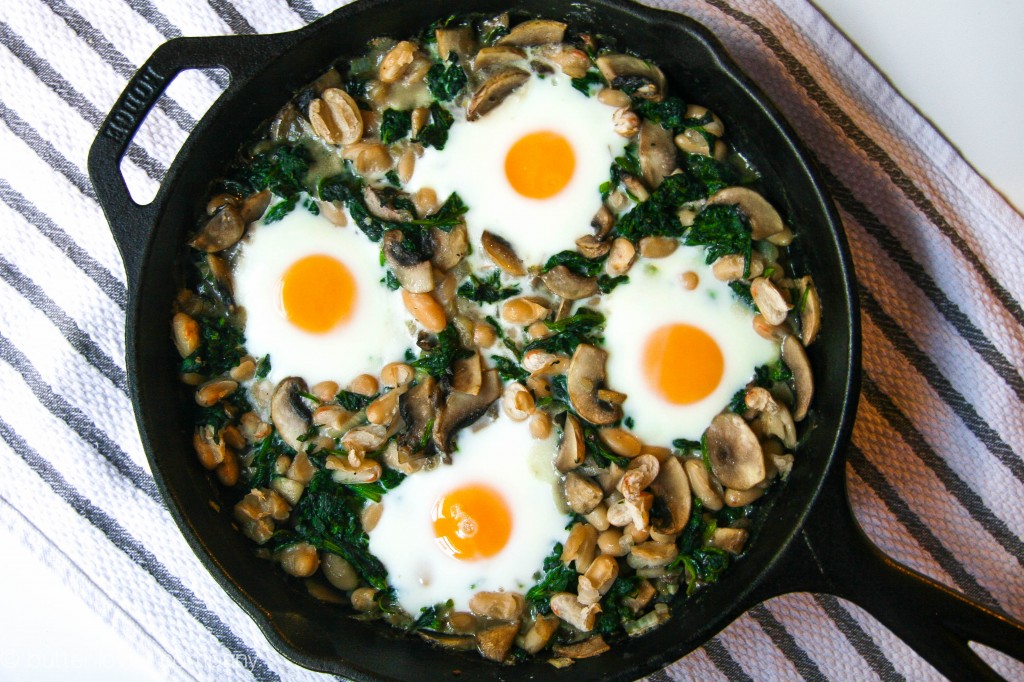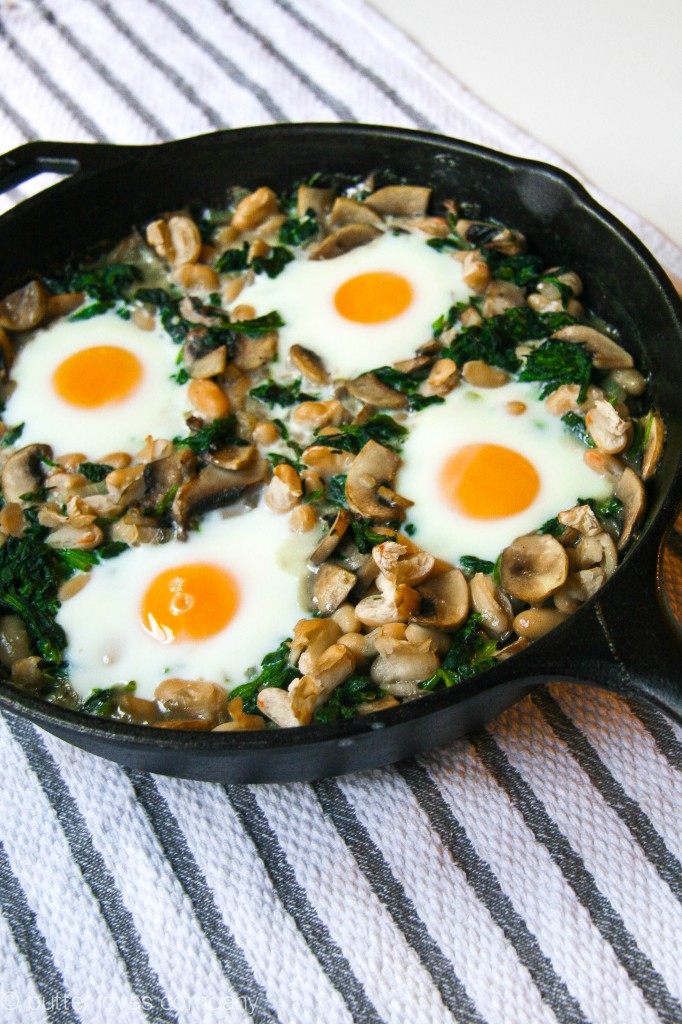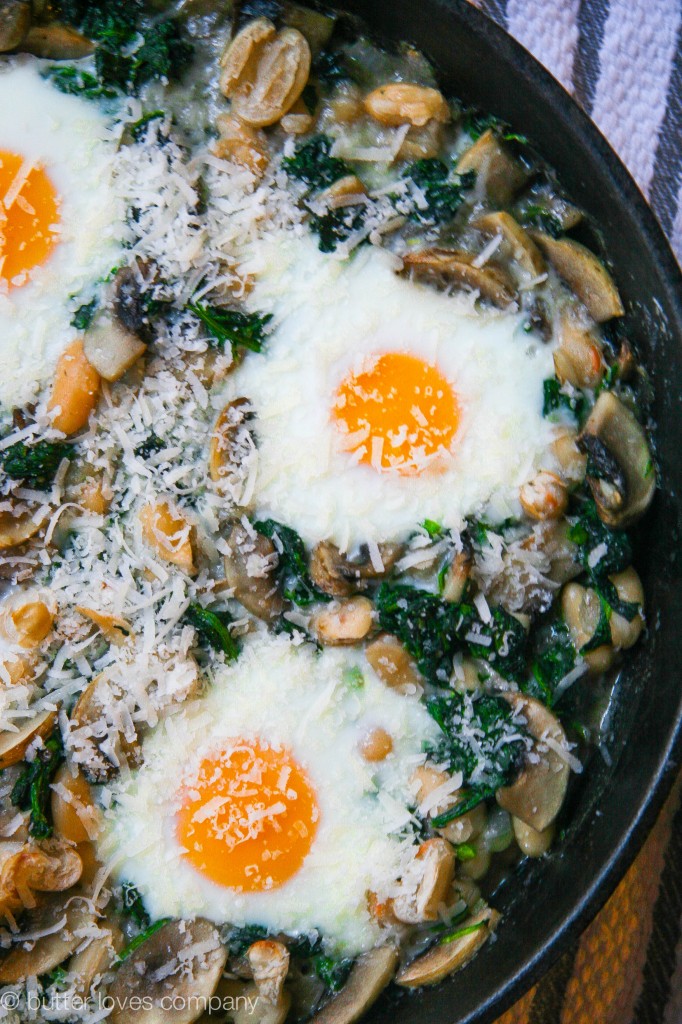 white bean, spinach and mushroom egg bake
Adapted from Gourmet magazine
Prep Time: 15 minutes
Cook Time: 15 minutes
Total Time: 30–40 minutes
Makes: 4 servings
Ingredients:
10 oz. fresh spinach
1/2 medium-sized white or yellow onion, finely diced
1 clove garlic, minced
3 tablespoons butter
2 cups (5–6 oz.) white button mushrooms, cut into 1/2-inch thick slices
1 15 oz. can of cannellini beans, rinsed thoroughly
1/3 cup milk, whole is best
1 heaping tablespoon all purpose flour
1/4 teaspoon salt
1/4 teaspoon pepper
1/8 teaspoon grated nutmeg
4 large eggs
1/4 cup grated Parmesan cheese
Instructions:
Place rack in upper third of oven and preheat oven to 450°. Bring 1/2 inch water to a boil in a 10- to 12-inch ovenproof, cast iron or other heavy skillet. Add half of the spinach to the water and cook, stirring to flip the spinach, until it wilts and shrinks, about 30 seconds. Add remaining spinach and cook until it wilts, another 30 seconds. Continue to cook the spinach over medium-high heat until tender, about 1 more minute. Drain into a colander and immediately cool under cold running water. Gently squeeze handfuls of spinach to remove as much liquid as possible, transfer to a cutting board and coarsely chop.
Wipe the skillet dry, then melt the butter in the skillet over medium heat. Add the onion and garlic and cook, stirring frequently, until softened, 2 to 3 minutes. Add mushrooms and cook, stirring, until the mushrooms are softened and have released some of their juices, about 3 to 4 minutes. Stir in well-rinsed, canned cannellini beans until well distributed. Stir in milk, flour, salt, pepper, nutmeg and chopped spinach and cook for 1 to 2 minutes. Remove skillet from heat and make four large indentations in spinach mixture (like you're making room for gravy in your Thanksgiving mashed potatoes). Crack an egg into each indentation and bake, uncovered, until egg whites are set but yolks are still runny, 7 to 10 minutes. Season eggs with salt and pepper if you like, then sprinkle with cheese.