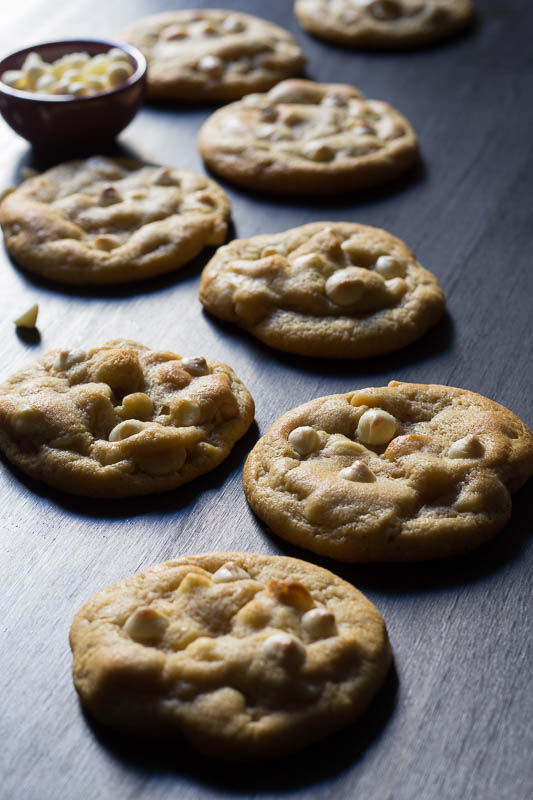 Nestled into a tiny nook in the corner of the kitchen of my parents' house sits a shoddy convection oven. Place a piece of bread inside (potato sandwich bread to be specific), twist the knob to high, and an hour later you may return to find a faintly golden browned toast. And that's if you're lucky. Atop the dud electronic, sits a package of cookies. While they are most definitely from Costco, the residual heat from the oven below warmed them up to a faux homemade fresh-from-the-oven temperature.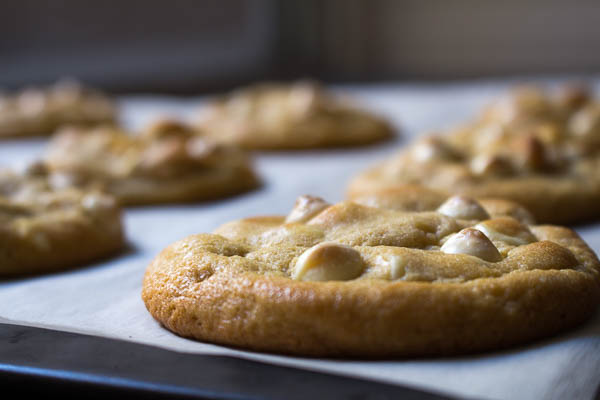 Three types of cookies line up in rows within the container: chocolate chip, oatmeal raisin, and white chocolate macadamia nut. Oooh, those white chocolate macadamia cookies. They are so good. They're sweet from the milkiness of white chocolate, crunchy and nutty from the thick macadamia nuts, and doughy in the centers—the sign they were under-baked to perfection.
This recipe for white chocolate macadamia cookies brings me right back to my parents' kitchen, nibbling on Costco cookies "fresh" off the top of the convection oven. Though, these are even better than I remember, as homemade most often seems to be. They have crispy edges and soft chewy centers. Buttery and sweet with an even spread from a pre-bake chill. I think it is the addition of a dash of almond extract that makes them reminiscent of birthday cake batter too (Skillet cookie birthday cake, anyone?).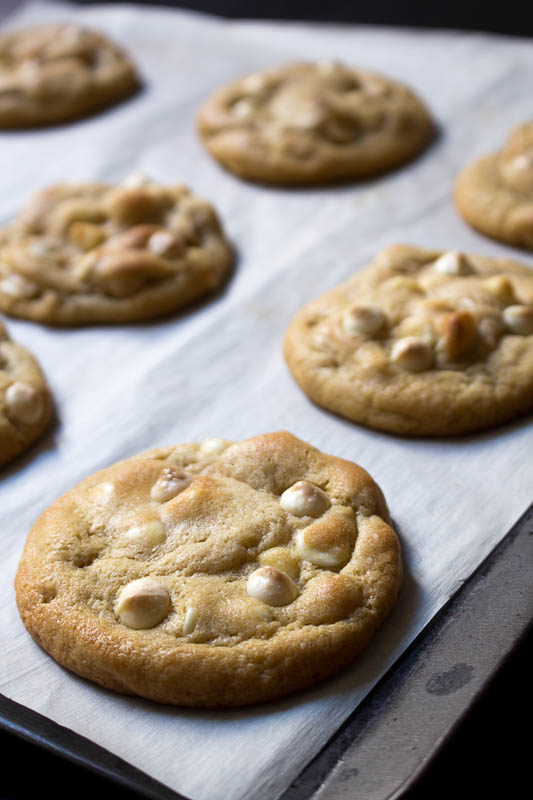 This makes a big batch of white chocolate macadamia cookies, nearly three-dozen 2 1/2-inch cookies. You could save half the dough in the freezer for a future craving if you're so inclined. Mix up a batch and enjoy fresh from the oven, warmed to perfection, no shoddy convection oven required.
Not a white chocolate fan or craving more cookies? Why not give these triple chocolate cookies a try. Or, my favorite M&M cookies are always a winner.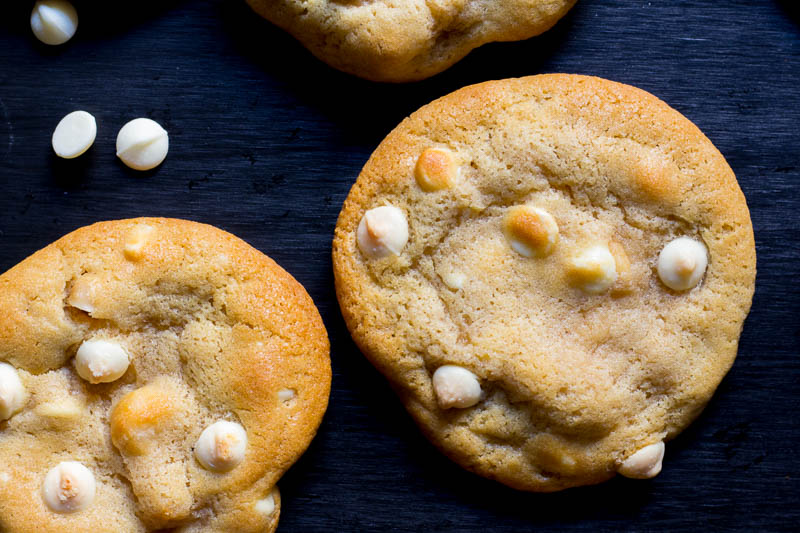 Perfect White Chocolate Macadamia Cookies
Ingredients
1 cup unsalted butter (2 sticks), at room temperature
3/4 cup packed light brown sugar
1/2 cup white sugar
2 large eggs, at room temperature
1 tablespoon vanilla extract
1/4 teaspoon almond extract
2 3/4 cups all-purpose flour
1 teaspoon baking soda
1/4 teaspoon salt (if using unsalted macadamia nuts, increase to 1/2 teaspoon)
1 cup coarsely chopped, lightly salted macadamia nuts
1 1/3 cup white chocolate chips
Instructions
In a large bowl or the bowl of an electric mixer fitted with the paddle attachment, cream together the butter, brown sugar, and white sugar until light and fluffy, about 5 minutes. Beat in the eggs, one at a time. Mix in the vanilla and almond extracts until combined. With the mixer off, pour in the flour, baking soda, and salt. Then, beginning on low speed, mix to until flour is fully incorporated. Stir in the macadamia nuts and white chocolate to distribute evenly. Wrap dough in plastic and refrigerate at least 2 hours, or up to 48 hours.
When ready to bake, preheat oven to 350°F and line cookie sheets with parchment paper. Scoop heaping tablespoon-sized balls of the chilled dough, roll into balls, and arrange on the sheets, leaving 3 inches between each ball (you may need to bake in batches).
Bake for 12¬–14 minutes in the preheated oven, or until golden brown. Enjoy warm or cool completely before storing in a sealed container for up to a week (they will lose some of the crisp edges over time).
https://www.butterlovescompany.com/2016/09/15/white-chocolate-macadamia-cookies/
butter loves company | jenna larsson