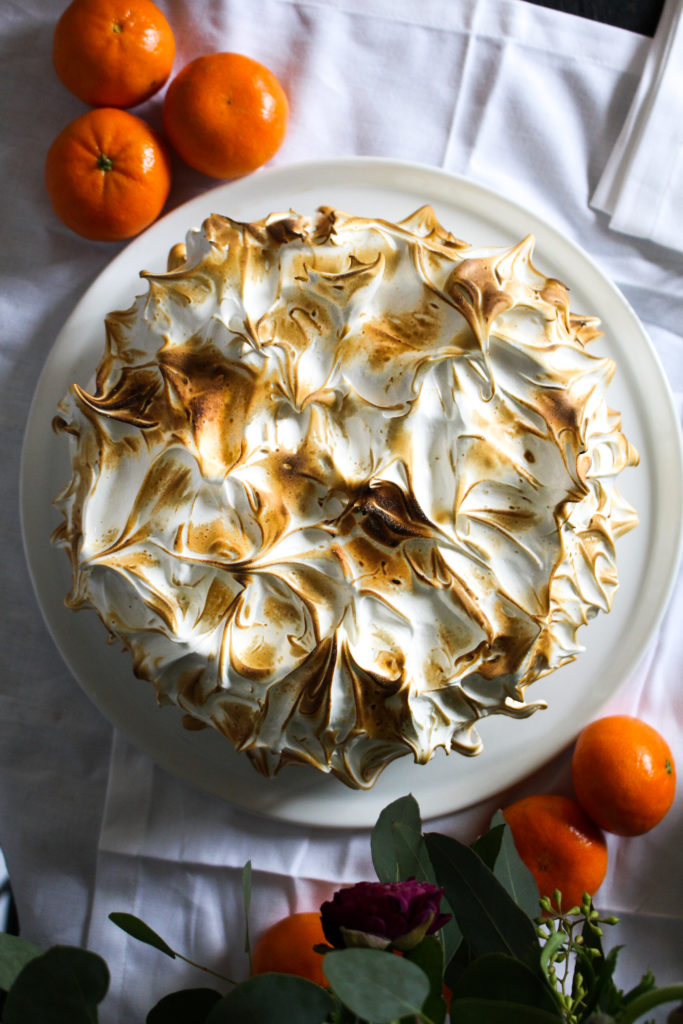 It has been far too long since I've broken out one of my favorite culinary tools: the kitchen torch. This is the little flamethrower of flavor that elevates crème brulée to more than custard and makes snowy meringue frosting golden-tipped and tasting of toasted marshmallows.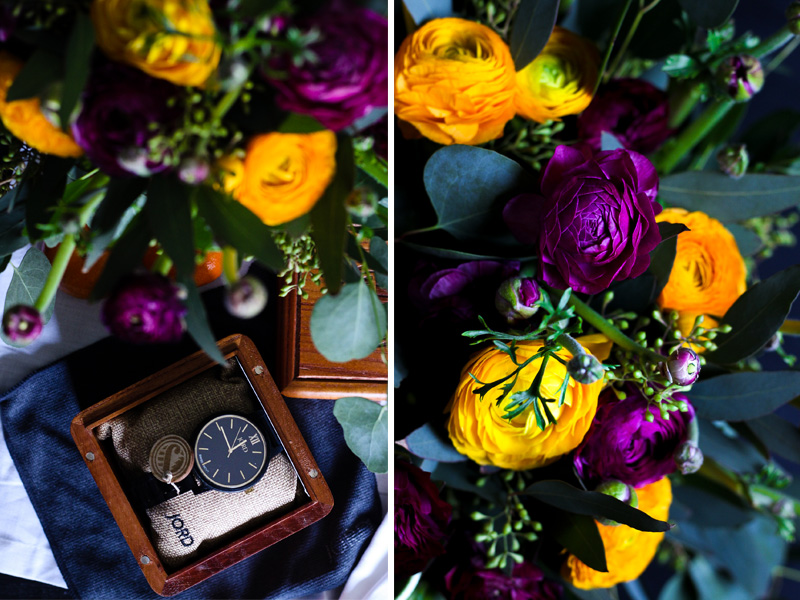 This recipe for Chocolate Buttermilk Cake with Tangerine Curd and Toasted Meringue has what may seem like a lot of steps, but you can easily split them up as to not feel overwhelmed. Bake the cakes and prep the curd one day, then make the meringue and assemble the next. The cake is super moist from the buttermilk and lusciously chocolate-y from the cocoa (I used special dark). The tangerine curd is tangy and quite citrus-forward, but also so smooth and creamy. If you prefer, you could use any kind of oranges or stick to a traditional lemon only curd. Top with fluffy meringue fired up with your kitchen torch and you have yourself a super fun and delicious cake!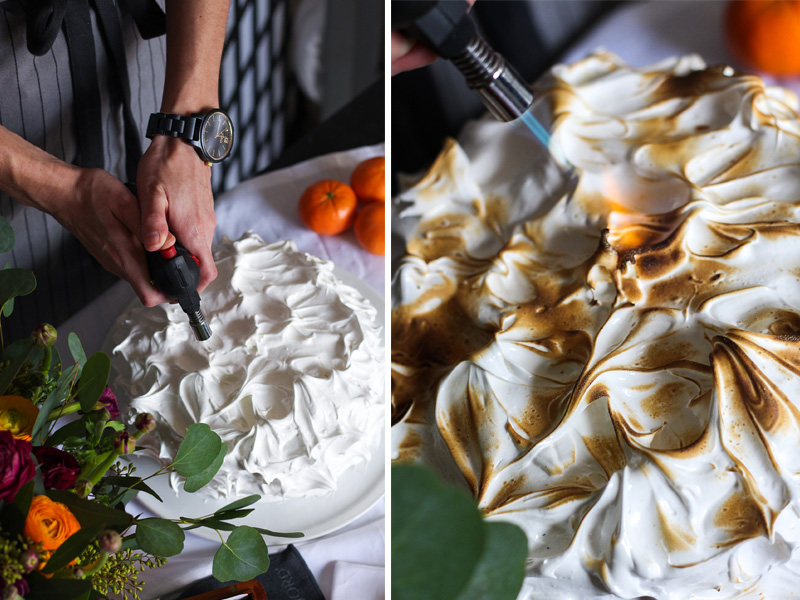 Torched desserts always make me think of my mom. Along her love of crème brulée for its toasted tops, I inherited my mom's style inclination for black clothes and tailored fashion. This watch from JORD watches is a perfect example of that and served as the inspiration for this recipe and its deep chocolate color and golden meringue tips. The band is made from ebony wood so it's lightweight, but bold in style and I absolutely love the large watch-face and gold accents. JORD makes these gorgeous wood women's watches and men's watches with all different wood materials and in a variety of colors. I can't wait to wear it all spring long. It goes perfectly with my wardrobe and with this fun chocolate buttermilk cake if I do say so myself!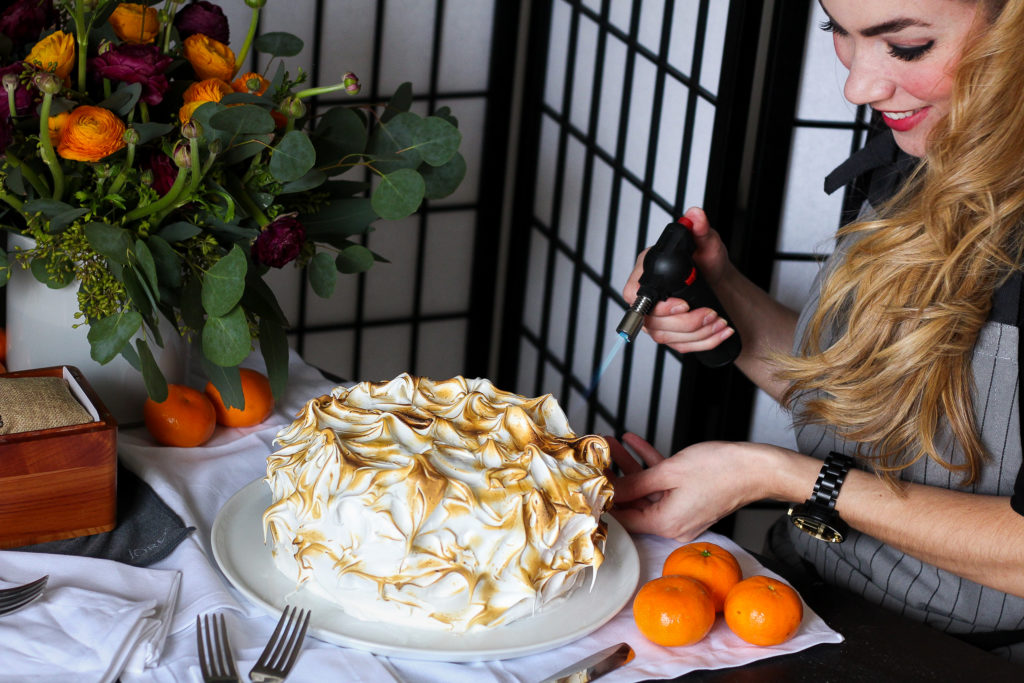 The wonderful JORD team is also offering a giveaway to help you to grab your very own! Enter to win a $100 Gift code to use towards your own JORD watch. Click here to enter!
To make things more fun, everyone will automatically receive a $25 code just for entering! The contest will close on 3/26 at 11:59pm. Both the $100 and the $25 codes will expire on 5/31/2017. Best of luck everyone!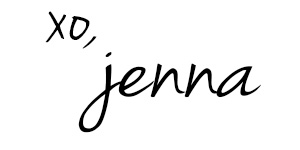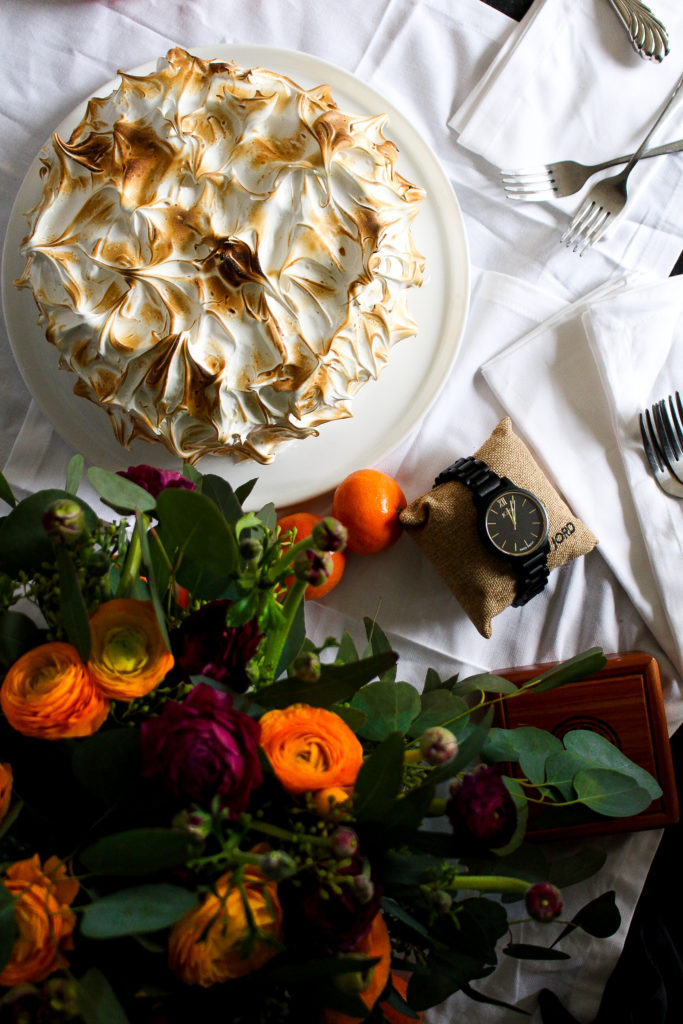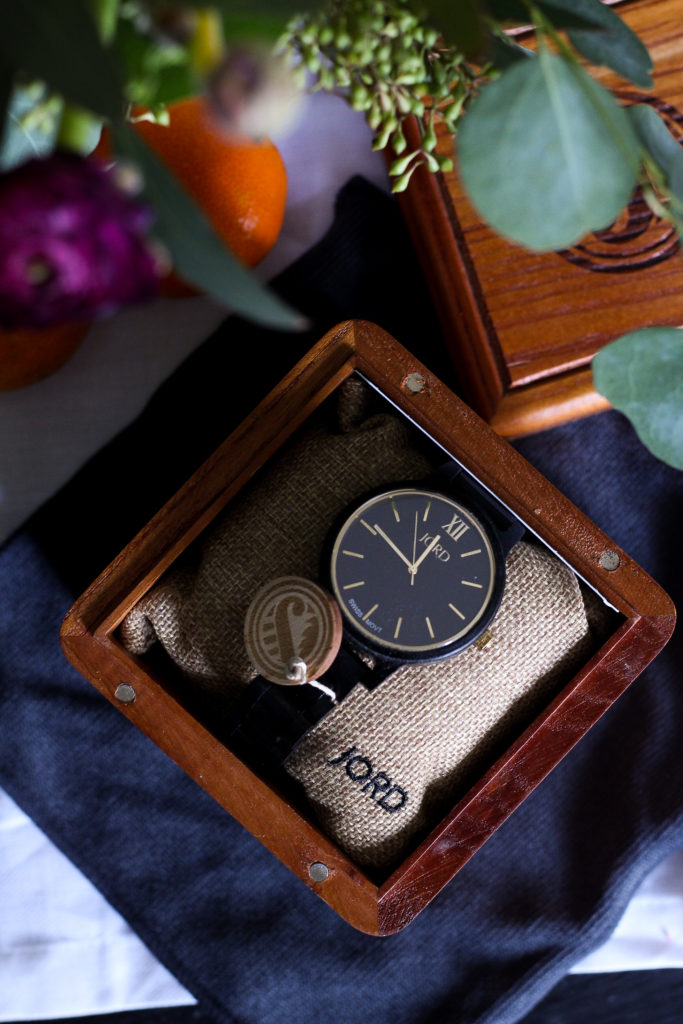 chocolate buttermilk cake with tangerine curd and toasted meringue
Ingredients
For the cake:

1 3/4 cups all-purpose flour
2 cups granulated sugar
3/4 cups unsweetened cocoa powder (I used Special Dark)
2 teaspoons baking soda
1 teaspoon baking powder
1 teaspoon salt
1 cup buttermilk, room temperature (shake and measure first)
1/2 cup unsalted butter, at room temperature
3 large eggs, at room temperature
1 1/2 teaspoons pure vanilla extract
1 cup freshly brewed coffee, hot
For the Curd:

4 large egg yolks (reserve whites for meringue)
1 large egg
2/3 cup granulated sugar
1 1/2 tablespoons cornstarch
1/4 teaspoon salt
2 packed teaspoon grated tangerine zest (or sub orange)
1/2 cup fresh tangerine juice (or sub orange)
1/4 cup fresh lemon juice
1/4 cup unsalted butter (4 tablespoons or 1/2 stick), room temperature, diced into tablespoons
For the Meringue:

8 large egg whites (1 cup)
2 cups granulated sugar
1/4 teaspoon salt
2 teaspoons pure vanilla extract
Special Equipment: Kitchen Torch
Instructions
Make the Cake: Preheat the oven to 350°F. Spray two 9-inch x 1.5-inch round cake pans with non-stick baking spray. Line bottoms with parchment paper and spray the paper.
In a medium bowl, whisk together the flour, sugar, cocoa, baking soda, baking powder, and salt.
In the bowl of an electric mixer fitted with a paddle attachment, combine the buttermilk, butter, eggs, and vanilla (all room temperature!). With the mixer on low speed, slowly add the flour mixture to the buttermilk mixture until just combined. With mixer still on low, add the coffee and stir just until combined, scraping the bottom of the bowl with a rubber spatula. Divide the batter into the prepared pans and bake for 35 to 40 minutes, until a toothpick inserted into the center of the cake comes out clean. Cool in the pans for 30 minutes, then turn them out onto a cooling rack and cool completely.
Make the Curd: In a small bowl, whisk together the 4 egg yolks and 1 egg. Set aside.
In a medium saucepan, whisk together the sugar, cornstarch, salt, tangerine zest and juice, and lemon juice. Bring mixture to a boil over medium heat, stirring frequently, and allow to boil for 1 minute. The mixture will become shiny and almost translucent. Turn the heat off, and very slowly and gradually pour about 1/2 cup of the orange mixture into the egg mixture, whisking constantly to avoid the heat of the mixture from cooking the eggs. Then, pour the egg/orange mixture into the saucepan with the rest of the orange mixture, turn the heat on to low and, stirring constantly, allowing the curd to cook until thickened, about 4 minutes. Remove from heat and whisk in the butter. Scrape into a bowl and cover with plastic pressed to the curd's surface. Refrigerate until cooled.
Make the Meringue: Whisk together the egg whites, sugar and salt in the bowl of your stand mixer. Grab a saucepan that your mixer bowl will sit on top of to form a double boiler. Fill the saucepan with an inch of water and bring to a simmer over medium heat. Place your egg white/sugar filled mixture bowl on top of the saucepan (make sure the simmering water does not touch the bottom of the bowl—just the residual heat). Stir the mixture until all the sugar is melted into the eggs and you no longer feel any graininess when rubbed between your fingers, about 5 minutes. Be careful not to let the mixture get too hot as the eggs will cook—stirring constantly will help prevent this. If you're worried that the mixture is getting too hot, remove from above the saucepan and stir without heat for a little bit before returning.
Place the bowl onto your mixer, add the vanilla extract, and whisk on high speed until the meringue is thick and glossy and the bowl is just warmer than room temperature, about 8 minutes.
Assemble: Place 1 cake layer, flat side up, on a flat plate or cake pedestal. With a knife or offset spatula, spread the top with curd, leaving about 1/2 inch perimeter as the curd will spread once you place the second cake layer on top. Place the second layer on top. Spread the meringue evenly on the top and sides of the cake. Don't worry about making it smooth—the meringue is extra pretty when it forms random peaks. Torch the peaks with a kitchen torch.
https://www.butterlovescompany.com/2017/03/09/chocolate-buttermilk-cake/
butter loves company | jenna larsson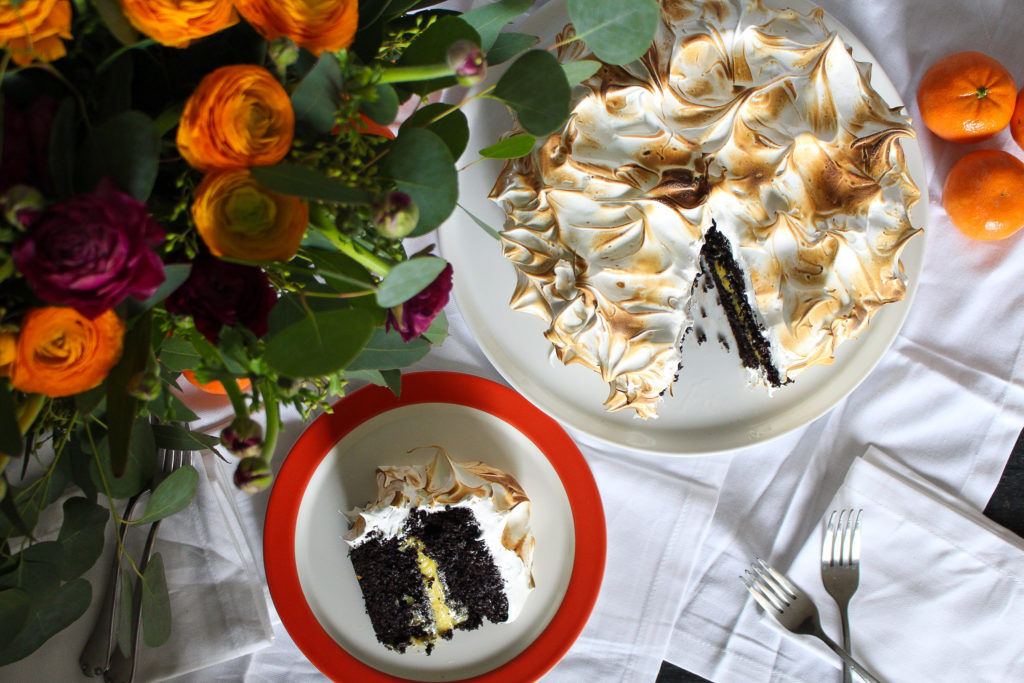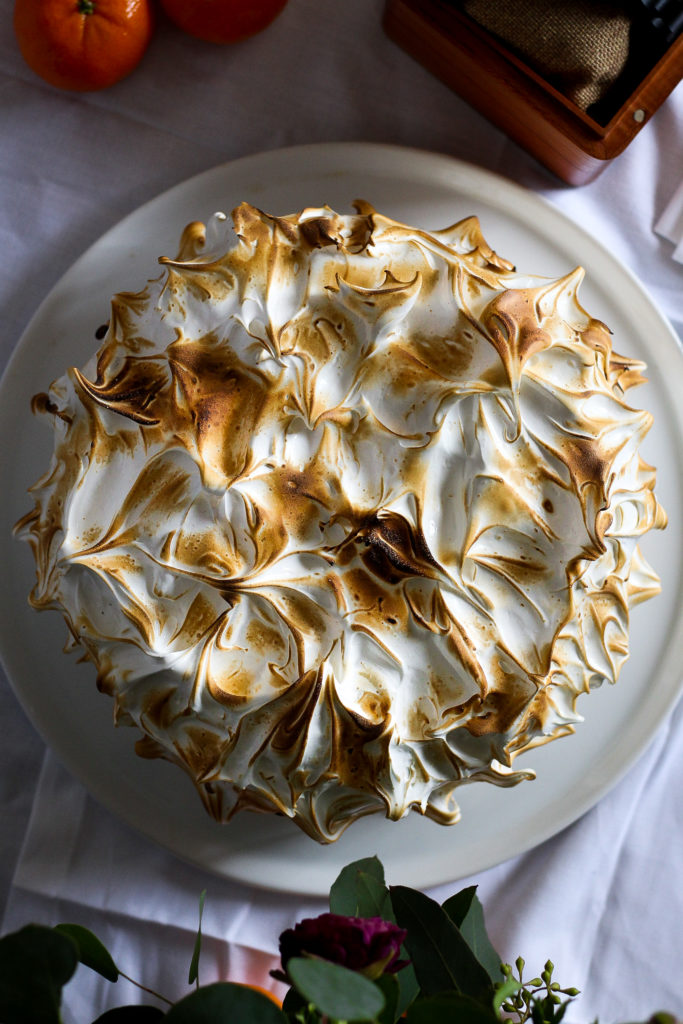 A big thank you to JORD Watches for partnering with me on this post. All opinions are my own!
Luxury Wooden Watch