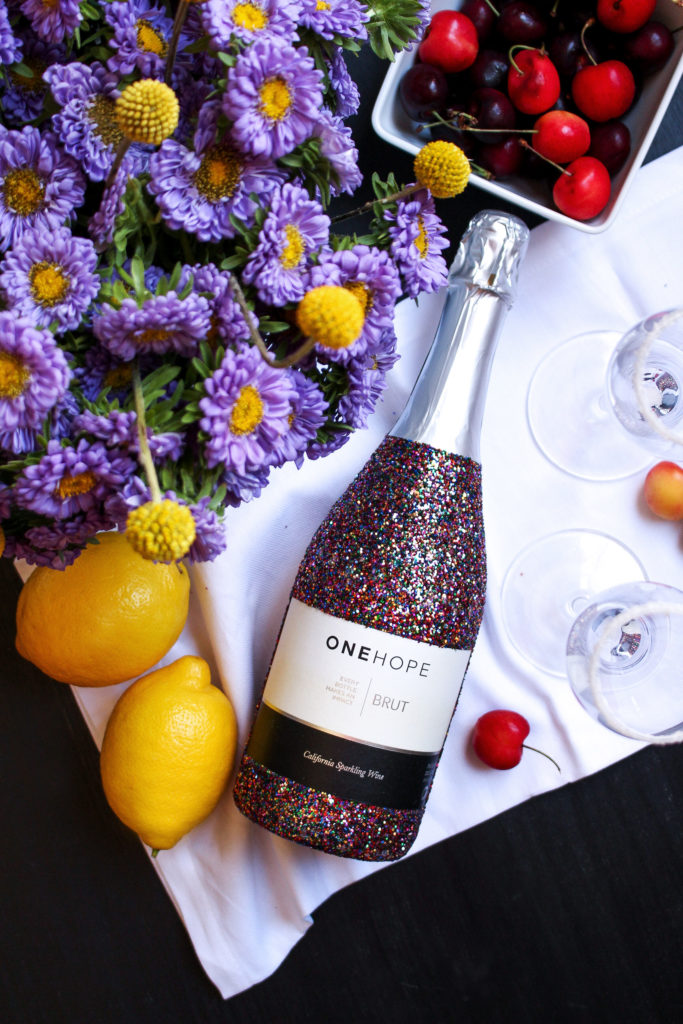 Glitter and sparkling wine. Did you ever think it was possible to combine that much shimmer? June is Pride Month and I'm so excited to be celebrating with this cherry cocktail recipe made with deliciously festive ONEHOPE Sparkling Brut.
I find it pretty wonderful and inspiring that June in Los Angeles is as synonymous with Pride Month and celebrating equality as it is with the sun staying out later. I was recently listening to one of my favorite podcasts, Straight Talk with Ross Mathews on my commute and, on what happened to be their first ever Pride episode, they did a segment called "On this Gay in History" where Ross and his guests shared dates in recent history that were important for gay rights. It was incredible to listen to how far we have come in a relatively short time as a nation in terms of equality, but also shocking to put in perspective the inequality that the LGBTQ community has been facing for so many years. There is so much more that needs to be done.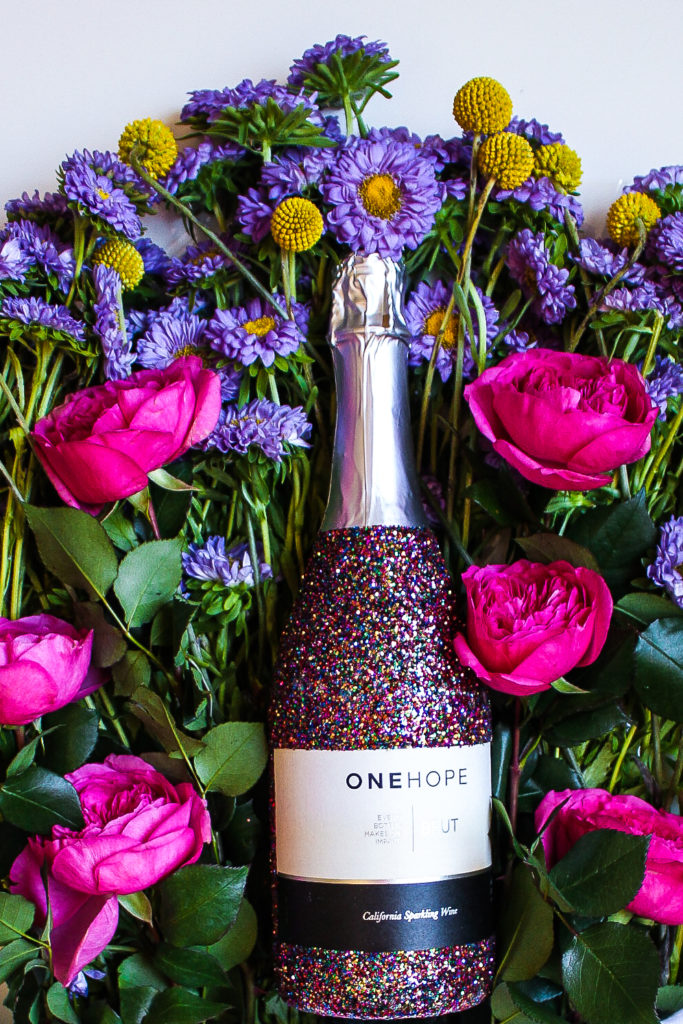 Not only is this bottle the perfect way to celebrate Pride Month and perfect for all of your summer festivities (hello, glitter), this bubbly is also helping to make a difference.
I'm super excited and honored to spread the word about ONEHOPE's pride campaign because it is so important that people have the opportunity to be themselves and know they are worthy of a terrific life. Every four bottles of ONEHOPE Rainbow Glitter Edition Sparkling Brut funds one hour of operational costs for the Trevor Project's Lifeline, an accredited, 24/7 suicide prevention hotline for LGBTQ youth. Find out more about the Trevor Project here.
So let's pop open the glittery bubbly for a good cause, and celebrate Pride!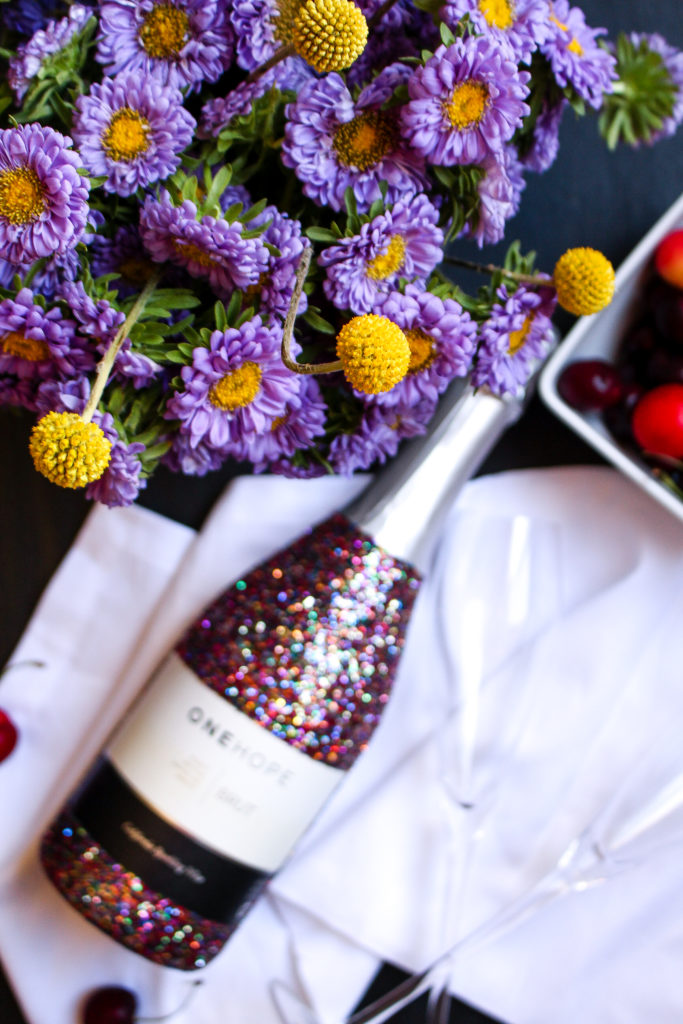 This cherry cocktail recipe is super easy to make and consists of vodka, Cherry Heering, fresh lemon juice, and sparkling brut. I've been looking for ways to use Cherry Heering ever since I bought a bottle for a cocktail party a couple of years ago. The cherry liqueur is made from lightly crushed Danish cherries and spices and has a deep red color and natural, sweet cherry flavor. This sweetness is balanced by a little vodka and tart lemon juice and then the cocktail is rounded out by the amazingness that is ONEHOPE sparkling wine. Voila!
Happy Pride!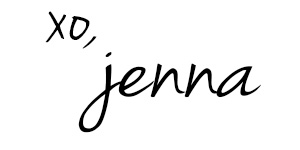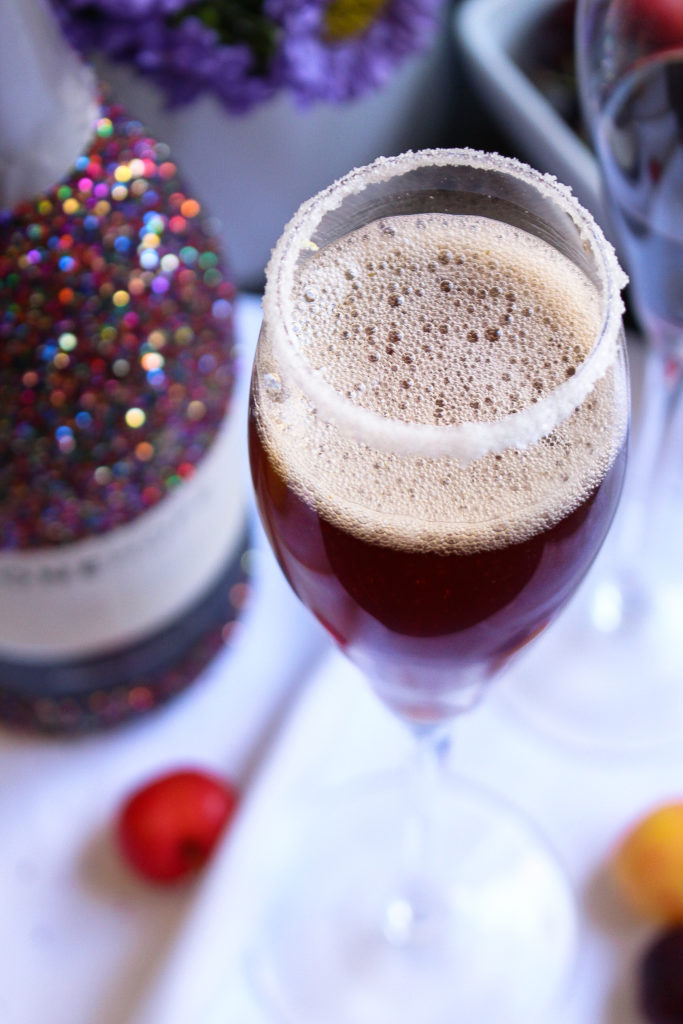 Ingredients
granulated sugar, for rimming the glass (optional)
1 ounce vodka
3/4 ounce Cherry Heering
3/4 ounce fresh lemon juice
3 1/2 ounces brut champagne
Instructions
Rim the edge of your glass with sugar, if desired. I like to use a lemon wedge to wet the rim and then dip in the sugar.) In a cocktail shaker with ice, combine vodka, Cherry Heering, and lemon juice. Shake vigorously and then strain into a coupe or champagne glass. Top with ONEHOPE sparkling brut wine. Garnish with a cherry or lemon twist.
https://www.butterlovescompany.com/2017/06/20/cherry-cocktail-recipe/
butter loves company | jenna larsson