This Recipe for Glazed Pumpkin Bundt Cake with Cream Cheese Filling is perfect for fall. Blooming with warm spices like cinnamon, nutmeg, cloves, and ginger, the moist cake wraps around a tangy, cream cheese filling for a delicious Autumn treat!

I know I've said it before, but I think it bears repeating (as often as possible), pumpkin is one of those magical ingredients that nearly always yields a moist cake. This Glazed Pumpkin Bundt Cake with Cream Cheese Filling is loaded with fall spices like cinnamon, ginger, cloves, and nutmeg. It is the type of fall cake recipe that will smell up your house in the most festive way. You might even forget it is still 90 degrees outside in LA.
It's funny—no matter what, once the pumpkins and apples come out, I immediately revert to full on New England fall mode. Boots on. Sweaters out. I just love the fall vibe, even if we will head to the beach a day later. It is the unofficial kick-off to the holiday season for me when there are endless festivities!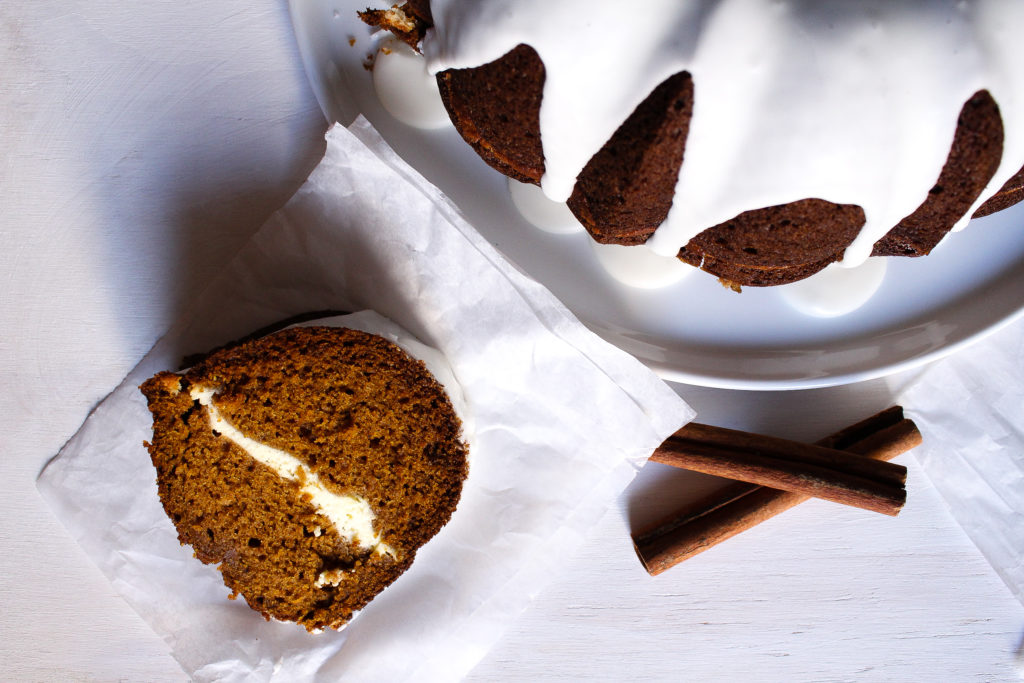 This pumpkin bundt cake recipe makes a big cake, so it is perfect for sharing with friends or colleagues or for a fall gathering. It also keeps well if you make it ahead—just cover it and keep in the refrigerator and bring it back to room temperature when you are ready to enjoy.
I've been a cream cheese fanatic lately so it is only fitting that the moist pumpkin cake is filled with a creamy, tangy, cream cheese filling. This adds a textural contrast to the cake; an unctuous and rich bite between the tender spiced crumbs.
The entire pumpkin bundt cake is drizzled with a simple glaze of confectioners' sugar, milk, and vanilla to add a hit of sweetness. With a few components, this cake does take a little more time as it'll bake for about an hour and you'll want to let it cool completely before serving. If you're feeling like a fall recipe, but looking for a quicker pumpkin recipe, hop on over to these Spiced Pumpkin Muffins. Apparently my love of all things fall hasn't changed a bit since then.
Grab your sweater, a cup of cider, and add this cake to your weekend baking adventures. You'll fall in love.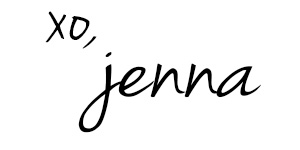 glazed pumpkin bundt cake with cream cheese filling
Ingredients
Cake:

2 and 3/4 cups (345g) all-purpose flour
2 1/2 teaspoons ground cinnamon
2 teaspoons baking soda
3/4 teaspoon ground ginger
3/4 teaspoon ground cloves
3/4 teaspoon ground nutmeg
1/2 teaspoon salt
1 (15 ounce) can pumpkin puree (I use Libby's; not pumpkin pie filling)
1 cup (200g) packed dark brown sugar
3/4 cup (150g) granulated sugar
1 cup (240ml) vegetable or canola oil
4 large eggs, room temperature
1 teaspoon pure vanilla extract
Cream Cheese Filling:

12 ounces (336g) full-fat cream cheese (not whipped), room temperature
1 large egg, room temperature
1/4 cup (50g) granulated sugar
1/2 teaspoon pure vanilla extract
Glaze:

2 cups (200 grams) confectioners' sugar
3 to 4 tablespoons whole milk
2 teaspoons vanilla extract
Instructions
Preheat the oven to 350°F and spray a 10-inch bundt pan with non-stick baking spray. Set aside.
In a medium bowl, whisk together the flour, cinnamon, baking soda, ginger, cloves, nutmeg, and salt. In a separate large bowl, whisk together the pumpkin, brown sugar, granulated sugar, oil, eggs, and vanilla extract until thoroughly combined. Gradually whisk the flour mixture into the bowl with the pumpkin and stir until all of the flour is incorporated. Set aside while you prepare the cream cheese filling.
Using a hand mixer or stand mixer fitted with the whisk attachment, beat together the cream cheese, egg, sugar, and vanilla extract until very smooth.
Scoop half of the pumpkin batter into your greased bundt pan and spread it evenly. Spread all of the cream cheese filling evenly on top. Top with the remaining pumpkin batter, spreading to cover so there is no cream cheese exposed (if possible)..
Bake for 55–65 minutes or until a toothpick inserted into the center of the cake comes out clean.
Remove from the oven and allow to cool at least an 1 hour inside the pan. Then, invert the slightly cooled bundt cake onto a serving dish. Allow cake to cool completely before glazing. To glaze, in a medium bowl, stir together the confectioners' sugar, milk, and vanilla until moistened. Test the thickness of your glaze by lifting a scoop with a fork and allowing it to drizzle back into the bowl. If it drizzles too thin, add a little more confectioners' sugar, or if it is too thick and does not smoothly drizzle, add another tablespoon of milk. Drizzle over your cooled bundt cake. Serve! Store leftovers in the refrigerator, covered tightly.
Notes
https://www.butterlovescompany.com/2017/10/16/pumpkin-bundt-cake-cream-cheese/
butter loves company | jenna larsson