This recipe for cinnamon spiced Dolce de Leche Cookies from the
America's Test Kitchen
cookbook,
The Perfect Cookie
, yields the perfectly sweet, decadent, warming, party-worthy sandwich cookie.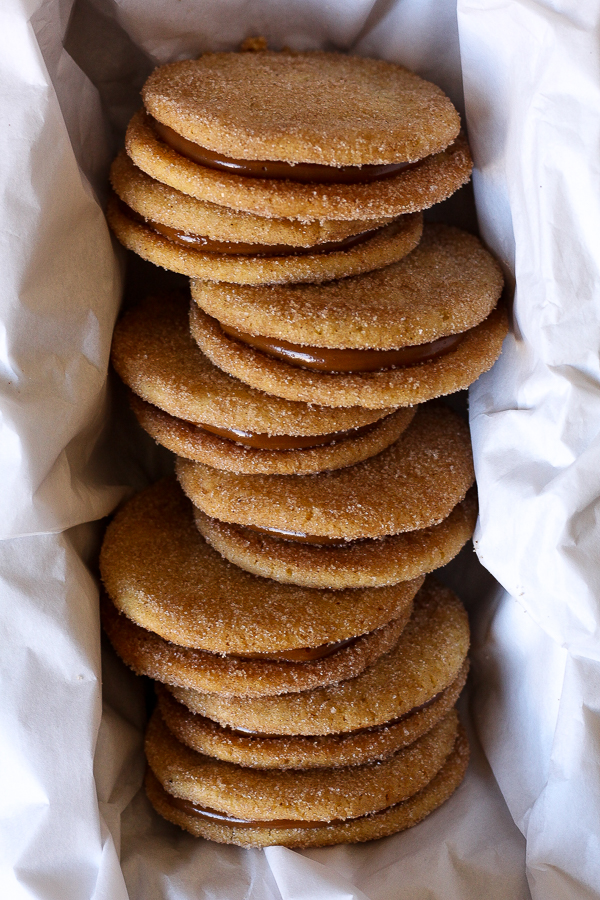 Being from Boston, I have always been a fan of the Beantown based America's Test Kitchen. Their recipes are tested and tested again, so you can feel confident diving into mixing and stirring, knowing your meal will be perfectly seasoned or your pastry will rise just as you imagined. When ATK reached out to me about their latest cookbook, The Perfect Cookie, I knew it was destined to be a new staple on my cookbook shelf.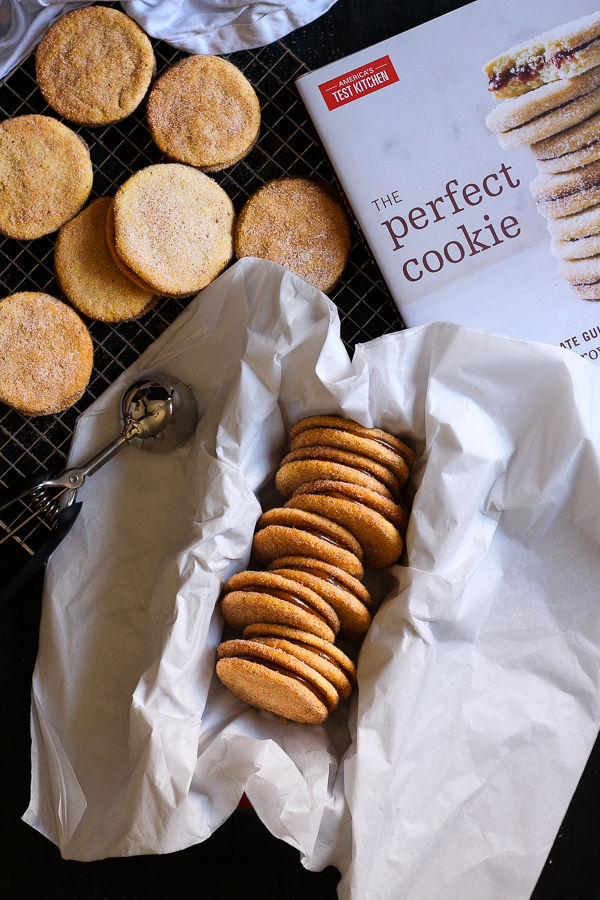 With dozens of recipes for classics like Snickerdoodles, Gingersnaps, Sables, and Palmiers, to new stunners like Peppermint Surprise Brownie Bites, Chocolate Peanut Butter Candies, and Cornmeal Olive Oil Cookies, each page of The Perfect Cookie is deliciously bookmark-able. There is even an entire section dedicated to Christmas cookies, which makes me pumped up for my annual holiday cookie baking marathon. In true America's Test Kitchen fashion, in this cookbook you can expect detailed tips and tricks for achieving the best baking results. Each recipe also has a photograph so you can visualize the cookies you will soon be eating.
These Dolce de Leche cookies are comprised of two cinnamon sugar coated tender sugar cookies, wrapped around a rich, creamy, and caramel-like dolce de leche filling. Dolce de leche is a sweet spread made by boiling sugar with milk. You can certainly make your own or purchase it pre-made. This recipe calls for the latter. These cookies are definitely on the indulgent side—but in the absolutely best way possible!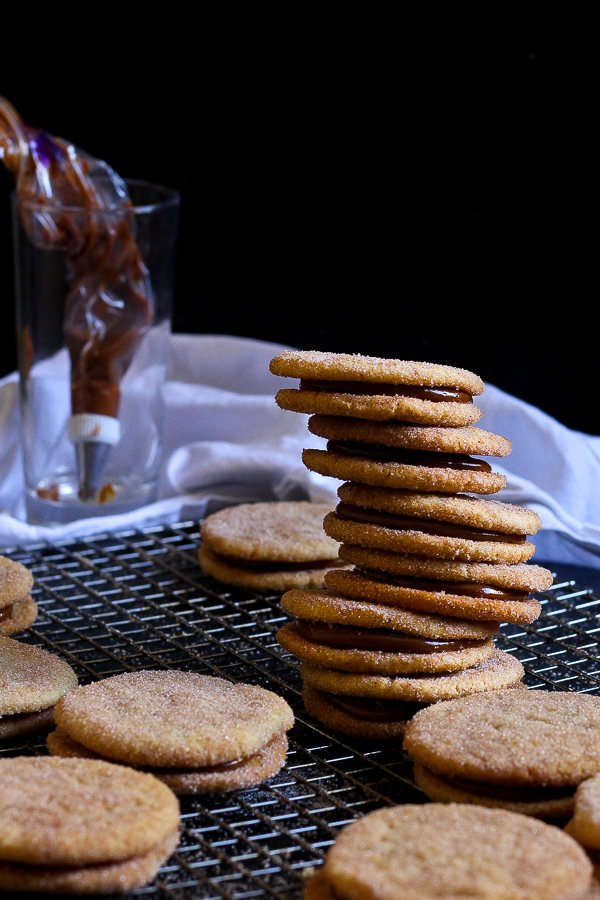 There is a little ground anise both in the cookie dough and the filling, which lends a warm licorice flavor to the cookies. If you are so inclined, you could skip the anise for a different, yet still totally delicious, flavor profile. That said, like all the cookies I have tried so far in the book, the America's Test Kitchen team definitely worked some magic on the recipe details to ensure ultra-tasty results, so I've listed the ingredients here exactly as they do.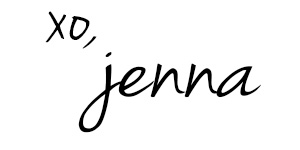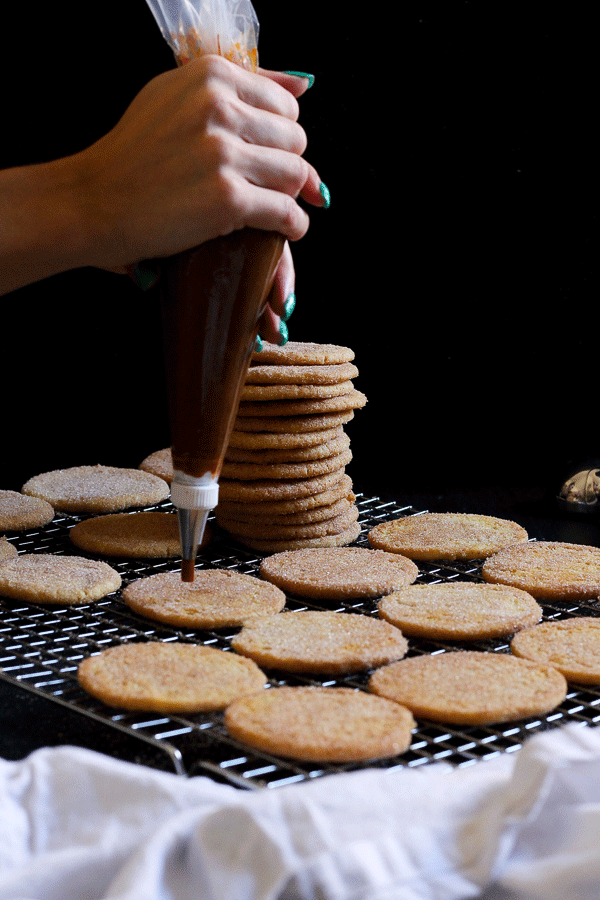 dolce de leche and cinnamon sandwich cookies
Dolce de Leche and Cinnamon Sandwich Cookies from America's Test Kitchen's The Perfect Cookie
Ingredients
Cookies

2 cups (10 ounces) all-purpose flour
1 teaspoon baking soda
1/2 teaspoon salt
1/2 teaspoon ground anise
16 tablespoons unsalted butter, softened
1 cup (7 ounces) granulated sugar, plus 1/2 cup for rolling
1 large egg
1 teaspoon vanilla extract
1 teaspoon ground cinnamon
Filling

1 tablespoon unsalted butter
1/2 teaspoon ground cinnamon
1/2 teaspoon ground anise
1 1/2 cups dulce de leche
Instructions
For the cookies: Preheat oven to 350°F and line a baking sheet with parchment paper. In a small bowl, whisk together flour, baking soda, salt, and anise. Set aside.
Using a stand mixer fitted with the paddle attachment, cream together the butter and sugar on medium-high speed until light and fluffy, about 3 minutes. Add egg and vanilla extract and beat until combined. Reduce the speed to low and add the flour mixture in three additions, until just combined, scraping down the bowl as needed.
Combine cinnamon and remaining 1/2 cup of sugar in a shallow dish. Scooping out the dough 2 teaspoons at a time, roll into 16 balls, roll around in the cinnamon sugar mixture to coat, and space them 2 inches apart on the prepared baking sheet. Bake until edges are firm, 10 to 12 minutes, rotating the sheet halfway through baking. Let cookies cool on the sheet for 1 minute and then gently place each warm cookie in the cinnamon sugar and turn to coat evenly. Transfer to a wire rack to cool completely. Repeat twice more with the remaining dough.
For the filling: In a small saucepan, melt butter over medium heat. Whisk in cinnamon and anise and cook until fragrant, about 1 minute. Remove from the heat and stir in the dulce de leche until incorporated. Pipe or spread 1 1/2 teaspoons of the filling over the bottom of half of the cookies then top with the remaining cookies pressing lightly to adhere. Enjoy!
https://www.butterlovescompany.com/2017/09/04/dolce-de-leche-cookies/
butter loves company | jenna larsson