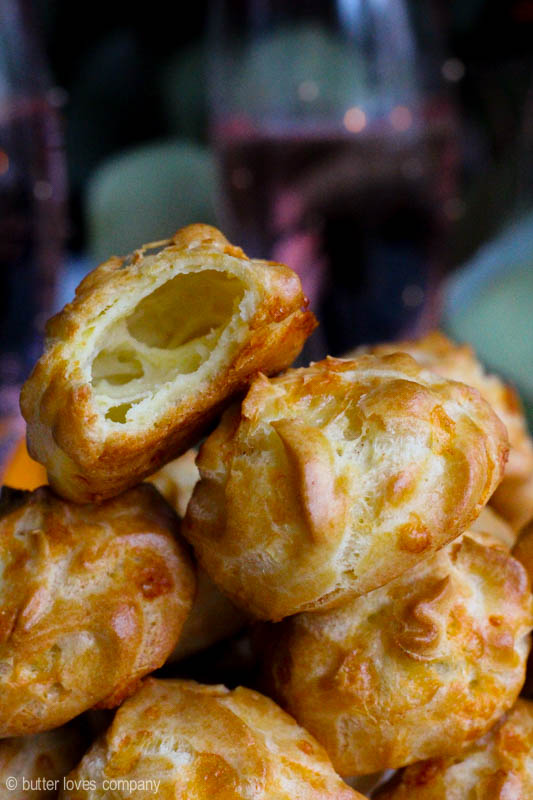 These cheddar cheese gougères are the perfect nibble for a New Year's Eve gathering. They are flavorfully cheesy, yet light and uncomplicated—allowing you to really appreciate the flavor of any champagne or bubbly you might be sipping on for the festivities.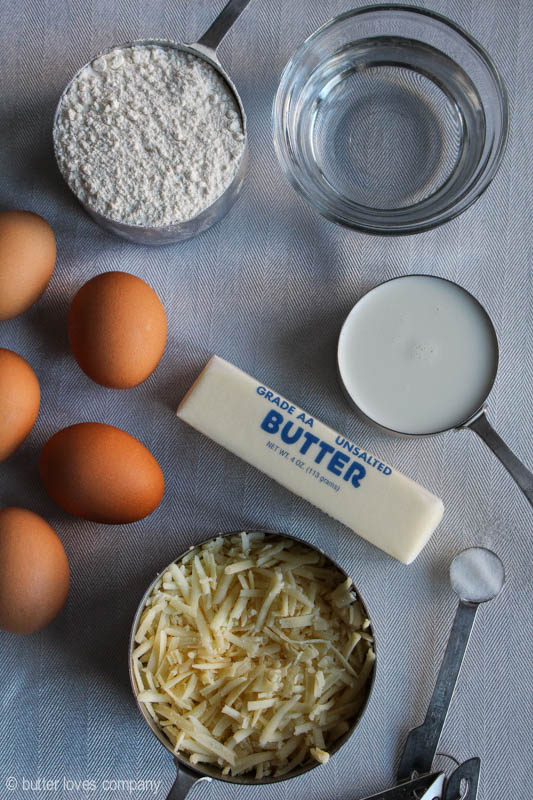 Gougères might seem fancy, with their golden crust, eggy insides, and distinctly hollow cores. However, they do most of the work on their own—the dough is simply spooned or piped onto baking sheets and the cores are a natural result of the dough puffing up during the baking process…an example of baking magic if you ask me! You could easily turn these into a heartier appetizer by piping a savory filling into the baked puffs, just as you would pipe sweet cream into their spherical cousins, cream puffs or profiteroles (both made using the same magical pâte à choux dough).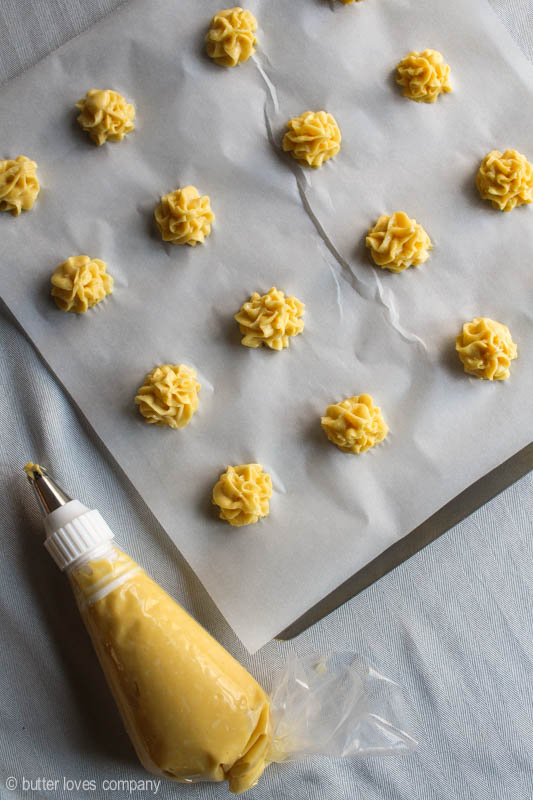 These are undeniably cheesy thanks to a generous addition of extra sharp cheddar cheese—while untraditional, I like how they create a flavor reminiscent to that of a Cheez-It cracker. For a more traditional version of the French gougère, feel free to substitute grated gruyère cheese. You could even sprinkle a little nutmeg or cayenne into to the batter, or top the uncooked scoops with a little fresh cracked pepper to make them your own.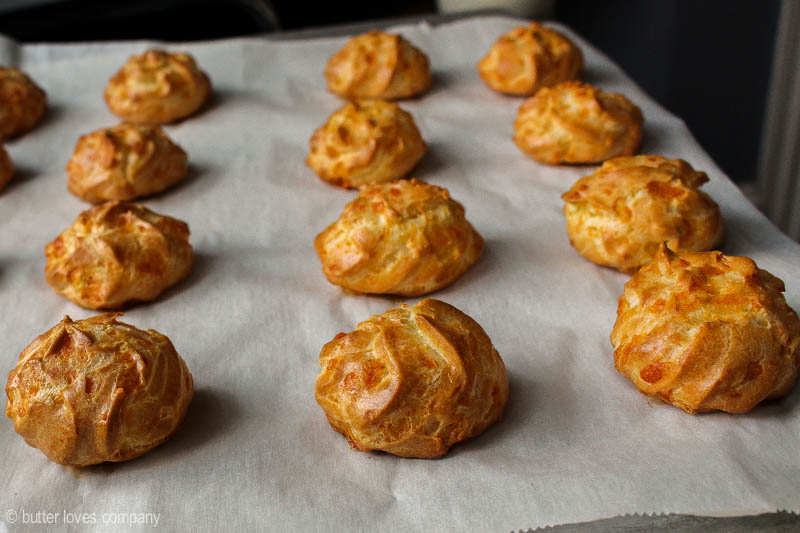 Grab a glass of champagne, laugh about the year's (sometimes failed) resolutions, and grab a light and fluffy gougère. Now you're ready to ring in the New Year!
NOTE: You can make the dough and freeze the uncooked, shaped mounds ahead of time and bake right before eating. Hot, cheesy gougères on demand? Nothing wrong with that!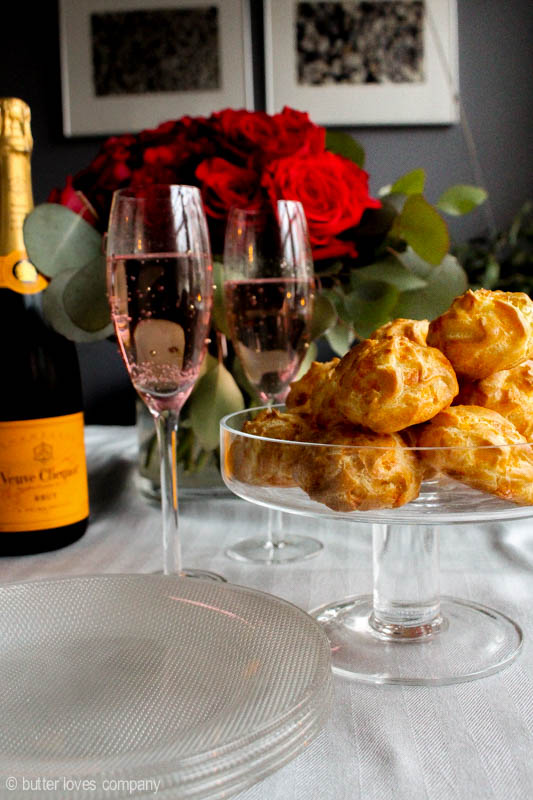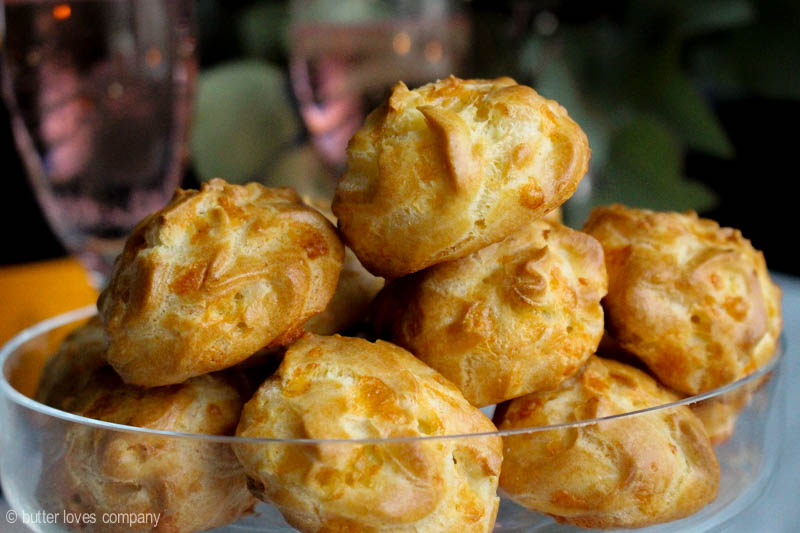 Cheddar cheese gougères recipe perfect for a New Year's Eve gathering (make ahead optional). Undeniably cheesy and seemingly fancy, with their golden crust, eggy insides, and distinctly hollow cores. Add a glass of champagne and you're in business!
Ingredients
1/2 cup whole milk
1/2 cup water
8 tablespoons (1 stick) unsalted butter, at room temperature
3/4 teaspoon table salt
1 cup all-purpose flour
5 large eggs, at room temperature
1 1/2 cups coarsely grated sharp cheddar cheese (about 6 ounces)
Instructions
Position two racks in the upper and lower third of the oven and preheat to 425°F. Line two baking sheets parchment paper.
In a medium saucepan, combine the milk, water, butter, and salt over high heat until the butter is melted and everything comes to a rolling boil. Pour in the flour and immediately lower the heat to medium-low, and whisk vigorously until the dough comes together. A light crust may form on the bottom of the pan. Stir energetically for another minute to help dry the dough. The dough should now be very smooth.
Turn off the heat and transfer dough into the bowl of a stand mixer fitted with the paddle attachment. Let the dough sit for a few minutes to cool down to warm (versus hot), then mix on low speed for about 30 seconds to release some of the steam. Beat in the eggs one-by-one, making sure each egg is completely incorporated before adding the next. Beat until the dough is thick and shiny. Mix in the grated cheese. Once the dough is made, it should be used immediately.
Scoop or pipe out about 1 tablespoon of dough for each gougère onto the lined baking sheet, leaving about 2 inches between them. (MAKE AHEAD TIP: At this point, you can place the sheets with the scooped gougères in the freezer and then pack the frozen gougère mounds in Ziploc bags and freeze until you're ready to use. Bake them straight from the freezer). Place the baking sheets in the oven and immediately turn the oven temperature down to 375 degrees°F. Bake for 12 minutes, rotate the pans and bake until the gougères are golden, firm, and, puffed, another 12 to 15 minutes or a few minutes longer if you are baking previously frozen gougère dough. Serve warm, or transfer the pans to racks to cool. They pair wonderfully with a glass of champagne!
Notes
https://www.butterlovescompany.com/2015/12/27/cheddar-cheese-gougeres-recipe/
butter loves company | jenna larsson