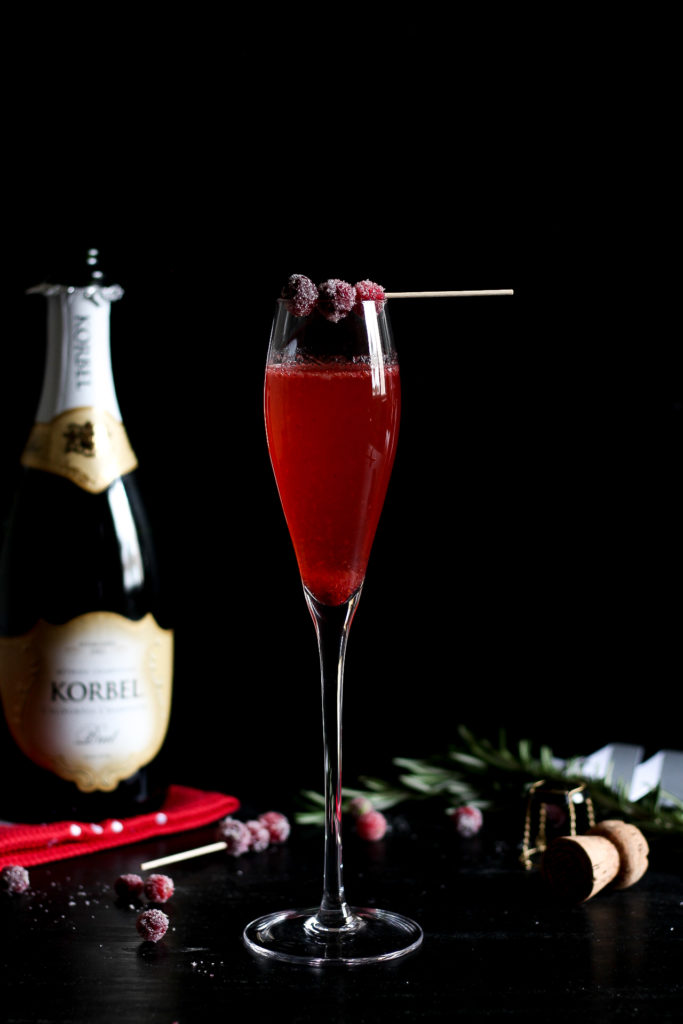 This past Sunday, Greg and I hosted some lovely friends and family at our place for a very merry holiday brunch. I'm not sure if there's anything I enjoy more than getting people together over food and drink, and the holidays always seem to make it feel extra special. I love learning about people's holiday traditions past and present: whether it is matching family Christmas pajamas, take-out with friends, going to an early movie, caroling or having fruitcake.
This holiday brunch is a new tradition for us (2nd Annual this year!) and incorporates a few of our favorite things: cooking, eating, music, and champagne. 😉
What is brunch without a little bubbly? My go-to sparkly sipper for celebrations big and small is Korbel. It is delicious on it's own—love those shimmering bubbles—and also a great champagne for cocktails. For brunch, we went the festive champagne cocktails route with a few different varieties. There was a Cranberry Rosemary Spritz—tart, herbaceous, and effervescent, a Sparkling Raspberry Lime Royale—sweetened with the delicious deep raspberry flavor of Chambord, and a Fig Sparkler, using a super easy house-made fig vodka as the base. All three use Korbel's Brut Champagne but you could substitute with their Brut Rosé for an extra pop of color and flavor variety.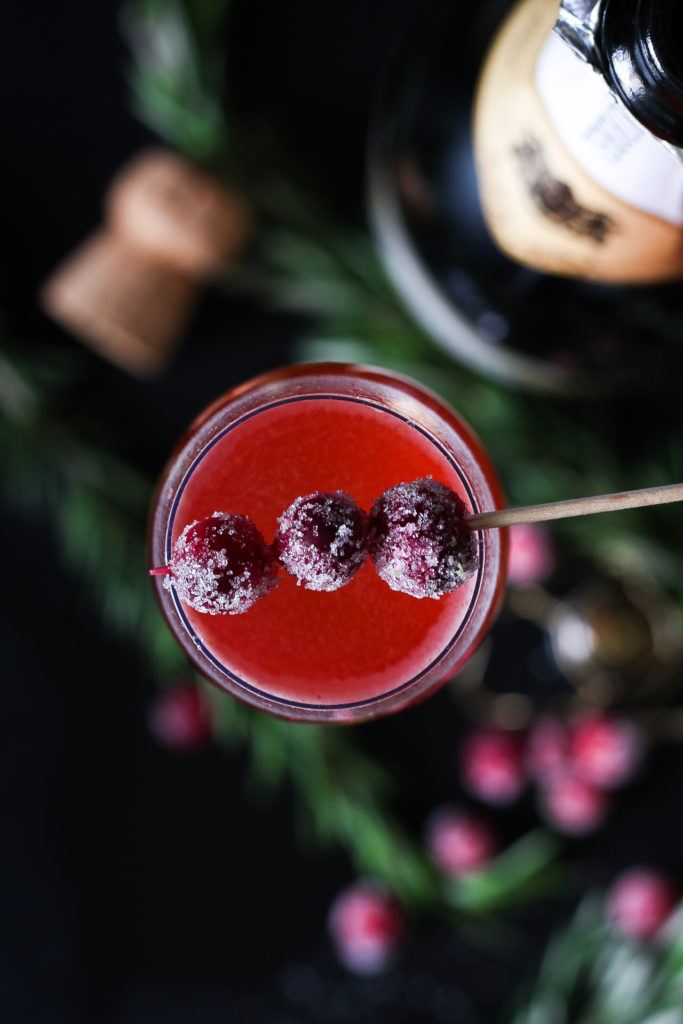 The rest of the menu included Greg's famous sausage gravy, biscuits, Ottolenghi's veggie tart, a sticky-bundt, gravlax and fixings, crepes, hasselback potatoes gratin (Which I undercooked…oh well!), bacon and eggs. We did everything in advance aside from making the eggs and baking the already-prepared biscuits and sticky bundt. I also made cookies the weekend before–and froze them in pre-measured (I realize I'm a little nuts) dough balls so I could just grab and bake once I had time.
Because we had prepped the food in advance, when everyone arrived on Sunday morning, I was stress-free and ready to welcome everyone a sparkly cocktail. If you're ever looking to immediately put your guests in a fun and festive mood, pop a bottle of champagne. The sound alone will be enough to make everyone feel cheery right when they walk through the door. I think that'll be a new holiday brunch tradition of ours—what's yours?
Happiest Holidays to you and your families. Wishing you all a safe and warm time. All the hugs your way!
Cranberry Rosemary Spritz
Makes 1 drink
1 ounce Cranberry Rosemary Purée (recipe below)
4 ounces Korbel Brut Champagne
Sugared cranberries, for garnish (recipe below)
Rosemary sprig, for garnish
Instructions:
Pour the Cranberry Rosemary Purée into a champagne flute. Top with Champagne. Garnish with a skewer of sugared cranberries and a rosemary sprig. Stir gently with the skewer if the purée begins to settle. Enjoy!
To make the Cranberry Rosemary Purée: In a medium saucepan, combine 1/2 cup fresh cranberries, 1 8-inch rosemary sprig, 1/2 cup granulated sugar, and 1/2 cup water. Bring to a boil over medium heat and then reduce to low heat and simmer for about 15 minutes, or until the cranberries burst and the liquid has reduced slightly. Turn off heat and remove rosemary with a fork and discard. Transfer cranberry mixture to a blender, allowing to cool a little beforehand if it is too hot. Blend until completely smooth. Transfer to a bowl or container for later use.
To make the Sugared Cranberries: Line a baking sheet with parchment and set aside. In a small saucepan over medium heat, bring 1/2 cup granulated sugar and 1/2 cup water to a simmer, stirring to dissolve sugar. Add 1/2 cup fresh cranberries and cook until barely starting to soften, about 1 minute. Using a slotted spoon, transfer cranberries to the prepared baking sheet. Allow to cool until no longer sticky, about 20 minutes. Pour 1/2 cup granulated sugar into a small bowl. Toss cranberries in the sugar to coat. Return to the baking sheet until ready to use.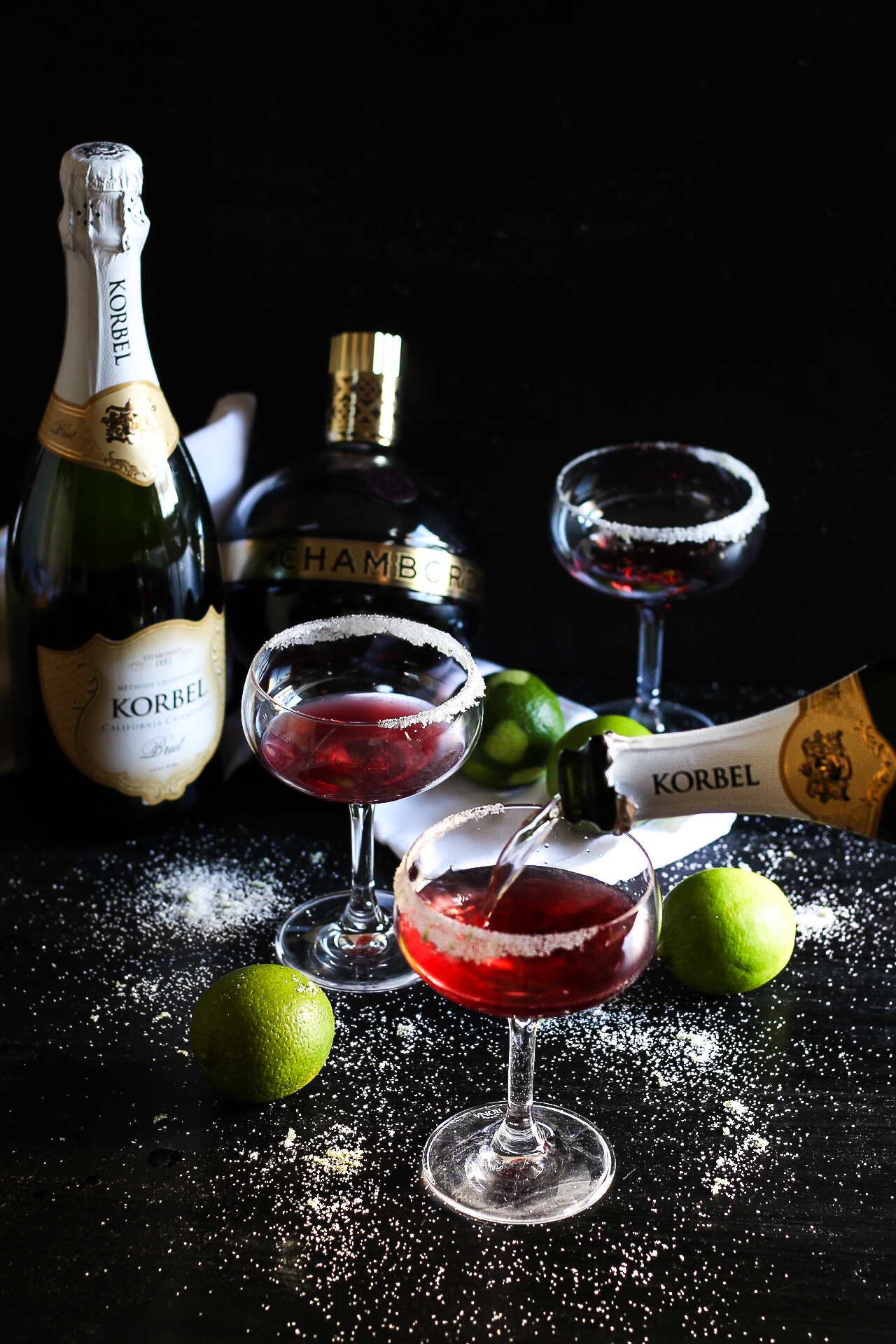 Sparkling Raspberry Lime Royale
Makes 1 drink
1/4 cup granulated sugar, for glass rim
1 teaspoon lime zest, for glass rim
1 ounce Chambord
1/2 ounce fresh lime juice
ice
3 1/2 ounces Korbel Brut Champagne or Brut Rose
Instructions:
In a wide shallow bowl or plate, combine the granulated sugar and lime zest with your hands, until the sugar is fragrant with lime. Use the cut side of a lime to moisten the rim of your coupe glass or champagne flute and press it into the lime sugar to rim the glass. Set aside.
In a cocktail shaker, combine Chambord, lime juice, and ice. Shake vigorously for 15 seconds and strain into a coupe glass or champagne flute. Top with champagne. Enjoy!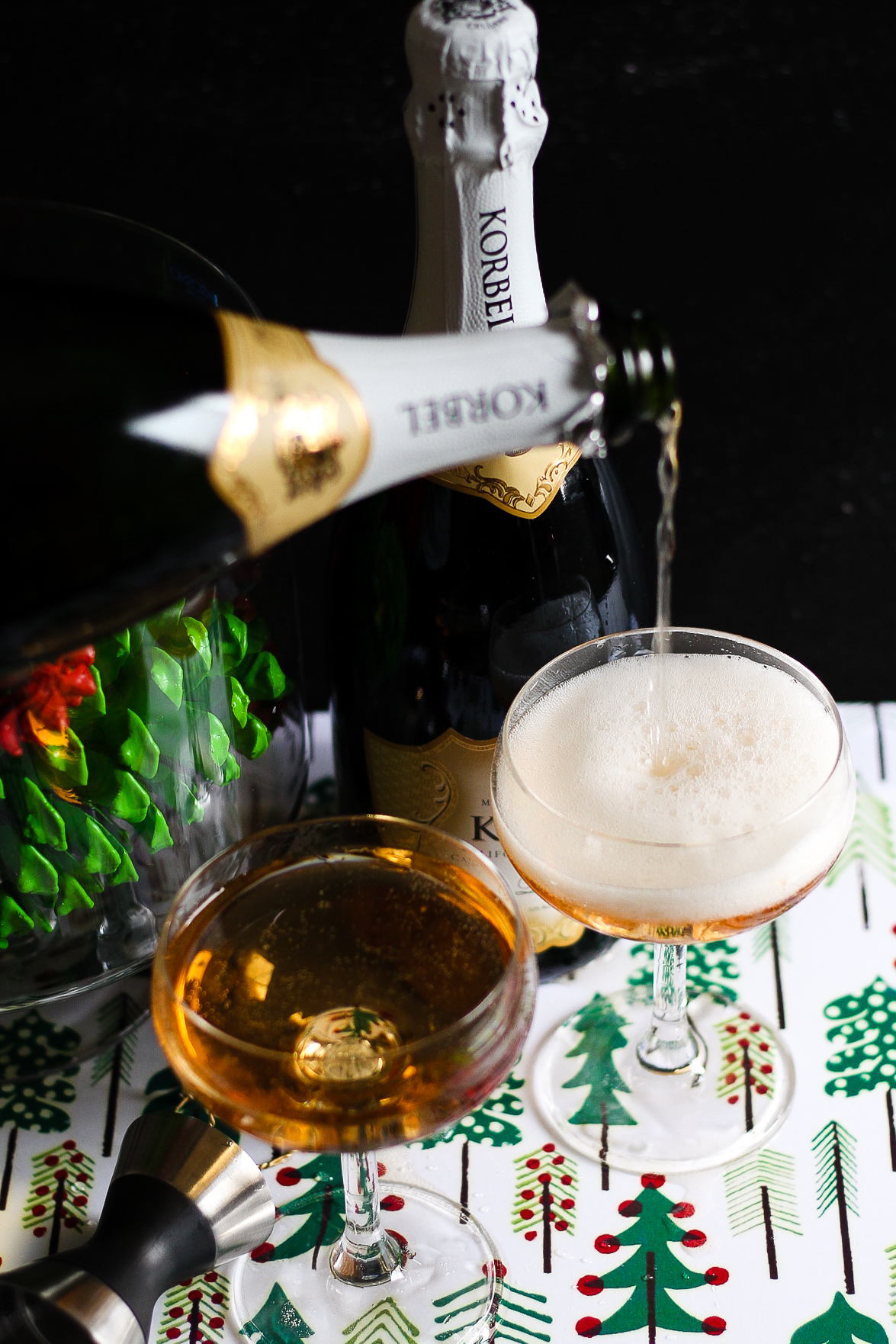 Fig Sparkler
Makes 1 drink
1 1/2 ounces fig vodka (recipe below)
1/2 ounce lemon juice
ice
3 ounces Korbel Brut Champagne
Instructions:
In a cocktail shaker, combine fig vodka and ice. Shake vigorously for 15 seconds and strain into a coupe glass or champagne flute. Top with champagne. Enjoy!
To make the fig vodka: Combine 1 1/2 cups vodka and 5-6 dried mission figs, each sliced in half (10-12 halves total, into a medium sealable jar or container. Seal jar and shake. Refrigerate for at least 2 days and, if you have time, a week or two, shaking the container every day. The longer you allow it to marinade, the more 'figgy' it'll become. Strain out the dried figs, if desired, or save them to use as garnish on your figgy cocktails!